The Croods is a reminder that animated movies can take a really long time to materialize. This project was first announced in May 2005 as Crood Awakening. It was to be a stop-motion film

as part of Aardman Animations' five-picture DreamWorks deal. Aardman was then putting the final touches on their Oscar-bound Wallace & Gromit movie. Chris Sanders, meanwhile, was at Disney, working on American Dog, his follow-up to his warmly-received directorial debut, Lilo & Stitch. In late 2006, Sanders would leave Disney, being removed from the movie that would be retooled into Bolt. In early 2007, Aardman would leave DreamWorks, citing creative differences.

Sanders quickly found a job at DreamWorks and was put in charge of Crood. But that project would have to wait when in the fall of 2008 Sanders and his frequent collaborator Dean DeBlois replaced Peter Hastings at the helm of How to Train Your Dragon. After that film was released in 2010 to rave reviews, terrific business, and eventually an Academy Award nomination, Sanders was free to return to Croods, which he did.

In the three years it took to produce, computer animation has ceased being the industry's one certain cash cow. DreamWorks has outgrown its notorious sequel craze while Pixar has warmed to the practice. In addition, DreamWorks ended its 7-year distribution deal with Paramount and set up shop at 20th Century Fox, while two of their three latest films have floundered at the box office, with their most recent release, Turbo, becoming the company's first effort to fall short of the domestic $100 million benchmark since Aardman's split-inspiring Flushed Away (2006).

The Croods actually bucked that downward trend, its $187.1 M domestic haul being the biggest for a DreamWorks non-sequel since Dragon and its nearly $400 M foreign gross making it one of 2013's biggest hits globally.
Attributing its story to Sanders, co-director Kirk DeMicco (Space Chimps), and comedy legend John Cleese, The Croods tells the story of a family of six cavemen. They live up to that moniker a little too fully for the film's narrator and protagonist, curious teenaged girl Eep (voiced by Emma Stone). At the command of protective patriarch Grug (Nicolas Cage), the clan stays inside a dark and constricting cave dwelling for days at a time. It's not unreasonable, as illness and predators have claimed the lives of every other family they've known. But Eep is fascinated by the sunlight and desperate to explore the world beyond the Croods' stone shelter.
One night, she sneaks out, lured by blowing embers, and discovers a young man named Guy (Ryan Reynolds), who is in possession of the mind-blowing power of fire. Guy is convinced that the world is ending and gives Eep a seashell with which to contact him. The Earth is in fact in the midst of continental drift, a process that destroys the Croods' desert home but leads them to discover a lush land full of vegetation and wildlife.
Guy shares his advanced knowledge with the family, all of whom embrace it except for the old-fashioned Grug, who has raised his children to fear that which is new and different. With dramatic geographic change occurring all around them, the Croods may need to adapt in order to survive.
Considering the limitless nature of animation, it's absurd how frequently in the medium's ongoing boom of twelve years or so that we've encountered a major film resembling another. The Croods is not the first to set itself during prehistoric times. There have been four Ice Age movies and thirteen installments of The Land Before Time.

But Croods differs from these and others by keeping animal characters speechless and focusing on human ones. Though Wikipedia's "Prehistoric fantasy films" category includes 84 entries, from The Flintstones to Year One, most of them would never be mistaken for this high-budgeted 3D DreamWorks production.

While that is a solid starting point, The Croods still manages to feel familiar and perfunctory. The film seems preoccupied with sensory stimulation. It's populated by saber-toothed tigers, legged whales, punchy monkeys, and a scene-stealing sloth. The colorful and lively spectacle makes for pretty animation and I'm sure an engaging 3D experience. But the busy atmosphere and penchant for physical gags contribute to an inconsistent tone and makes it tough for us to completely buy into the family drama meant to be the crux of the film.

Sanders, whose resume extends to Disney's 1990s animation renaissance and "The Muppet Babies" before that, has twice struck a chord with moviegoers by depicting friendships between human outsiders and their not conventionally verbal pets. It's tougher to generate that warm fuzzy feeling when both characters speak and belong to the same species. Croods' father-daughter relationship does not especially resonate, which is a problem since the film leans heavily on it. With the emotional core unable to support much weight, this doesn't amount to much more than a nice-looking diversion, which is a lot less than how Dragon and Lilo fans would describe them.

Neither the characters nor the setting nor the story reach that level of sophistication where animation soars past "family entertainment" and lands on "art." Sanders' first two films as director approached that territory but didn't quite get there. This one falls quite a bit shorter, inviting faint praise simply because it's kind of fun, its heart is clearly in the right place, and, well, it's not as crassly commercial as, say, Ice Age's sequels. If Dragon brought DreamWorks near Pixar's ordinarily high levels of fulfillment, then Croods perhaps compares favorably only to Cars 2. In a better or busier year for animation, you'd easily be able to dismiss such a middling effort from the Oscar race, but in 2013 this has a legitimate shot at snagging a nomination, especially since it recently became one of the first movies to send screeners to award voters this season, timing that often garners notice and pays off.

Old habits die hard. DreamWorks didn't even wait a full month after release to announce plans for a sequel that would bring back Sanders, DeMicco, and the principal voice cast. Well before opening day, the studio filed a trademark request for a Croods television series (Yabba Dabba Doo!). CEO Jeffrey Katzenberg has already declared this DreamWorks' sixth franchise, although it remains to be seen if the company can exhibit some restraint, so that supply does not exceed demand, as it did on the flagship Shrek series.

The first DreamWorks feature distributed by Fox in theaters and on home video, The Croods doesn't seem to have been treated any differently than titles handled by Paramount (other than the fact that per Fox policy, review copies aren't sent out until after street date). The movie was released last week in a number of combo packs, some with on-pack bonuses. Reviewed here is the plain two-disc Blu-ray + DVD + Digital HD UltraViolet edition that we were sent.
Blu-ray & DVD Details

2.35:1 Widescreen (DVD Anamorphic)
Blu-ray: 7.1 DTS-HD MA (English), Dolby Digital 5.1 (DVS, Spanish, French, Arabic, Greek, Hindi, Urdu, Icelandic, Polish, Romanian, Serbian, Turkish)
DVD: Dolby Digital 5.1 (English, English DVS), Dolby Surround 2.0 (Spanish, French)
Subtitles: English SDH, Spanish, French; BD-only: Arabic, Greek, Hindi, Icelandic, Polish, Romanian, Serbian, Turkish; BD Extras Subtitled in English, Spanish, Greek, Polish, Portuguese; DVD Closed Captioned
Release Date: October 1, 2013 / Suggested Retail Price: $38.99
Two single-sided, dual-layered discs (1 BD-50 & 1 DVD-9)
Blue Eco-Friendly Keepcase in Cardboard Slipcover
Also available with Toy ($38.99 SRP) and as Blu-ray 3D Combo ($49.99 SRP), DVD ($29.98 SRP), DVD + Toy ($29.98 SRP), and Amazon Instant Video
VIDEO and AUDIO
In what should surprise nobody, The Croods boasts exceptional picture and sound in its Blu-ray's direct digital transfer. The flawless 2.35:1 picture enables you to marvel at the impressive locations and lively animated action. The 7.1 DTS-HD master audio soundtrack, meanwhile, is aggressive and exciting throughout. The early avalanche scene where rock falls all around you is the stuff of home theaters demos. A slew of dubs and subtitles translate the film into foreign languages, including a number you won't be able to identify without some research or the table above.
BONUS FEATURES, MENUS, PACKAGING and DESIGN

The Croods gets a lighter load of bonus features than most past DreamWorks films

and no audio commentary or other playback-enhancing mode.

First among the Blu-ray's all-HD extras is "The Croodaceous Creatures of Croods" (6:12), a feature narrated by Eep (definitely not Emma Stone) and Thunk (probably Clark Duke). It profiles nine of the film's invented species, most of them hybrids like the piranhakeet and sharkodile.

"Belt's Cave Journal" (6:15) is a short in the 2D cave drawing style of the film's opening. Guy (seemingly Ryan Reynolds) narrates the slightly animated illustrations about the adventure he, his sloth companion Belt and their new friend, the pink jackrobat Jack, went on. It lacks the effort and impact of DreamWorks' more heavily-promoted spin-off shorts, but it's somewhat charming nonetheless.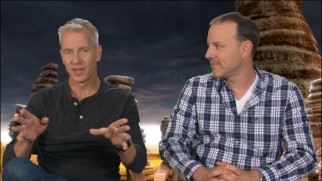 "Croods' Cuts (Lost Scenes)" (8:20) presents four deleted scenes, mostly in story reel form. They're collectively and individually introduced with personality by writers-directors Chris Sanders and Kirk DeMicco. They serve up some Nic Cage improvised lunacy, an alternate scene in which the Croods improbably experience their first rain, a fully-animated snippet, and another moment of physical comedy.
Running 35 minutes and 16 seconds with intro, three "Be an Artist!" segments find supervising animator Sean Sexton teaching you how to draw Belt, a macawnivore, and a mousephant. This type of feature is always welcome on an animated film, but these tutorials are slower, longer, and more detailed than they need to be.
The Croods' theatrical trailer (2:11) is preserved. That's one definite upside to DreamWorks being in the hands of Fox, the only major studio to consistently include the trailer of a movie on its own disc.
Digging around the Blu-ray, I found a bizarre, English-subtitled music video (2:42) for a French song called "Daddy Crood" featuring a rapping elementary school teacher (someone apparently named Faf Larage, a.k.a. Le Dope Rhymes Sayer) whose students are hip to his hip hop lessons about the Croods.

Maybe it was just the thrill of finding something random (and I have no idea if you'll be able to without a BD-ROM drive and time on your hands), but this could be the best thing on the disc.

Both discs open with trailers for Turbo, Shrek: The Musical, and Epic. In addition to those, the Sneak Peek sections hold a trailer for Percy Jackson & the Olympians: Sea of Monsters and an additional section for promoting the following "Holiday Favorites": Shrek the Halls, Merry Madagascar, Kung Fu Panda Holiday, Dragons: Gift of the Night Fury, Rise of the Guardians, Classic Media's The Original Christmas Classics collection, and VeggieTales: Merry Larry and the True Light of Christmas.

If all that hasn't satisfied your appetite for promotion, then you'll be glad to find the World of DreamWorks Animation section has survived the leap to Fox, sort of. It lets you choose one of the studio's cornerstone franchises -- Shrek ("I'm a Believer"), Madagascar ("I Like to Move It, Move It"), How to Train Your Dragon ("Fly High"), Kung Fu Panda ("Kung Fu Fighting") -- for the same old short music videos you've probably encountered a bunch of times. Only, now they close with a static pitch for the franchise's current discs.

Fox might be the only studio still supplying disc-based digital copies. To accommodate that without adding to the set's disc count and weight, the combo pack's DVD is stripped of everything but the movie, the aforementioned sneak peeks, and the promotional World of DreamWorks Animation videos. The DVD sold on its own apparently also includes at least "Belt's Cave Journal" and the deleted scenes.

The Blu-ray's menu plays an excerpt of Owl City and Yuna's end credits song "Shine Your Way" over a screen-filling montage of standard clips. The BD both supports bookmarks and resumes playback, which helps make up for the long time it takes for selected extras to start playing and return you to the menu.

Though this combo pack is available with a toy for the same price, Fox only sent over the plainly-packaged version for review. It tops an eco-friendly Blu-ray keepcase with a slipcover. Joining the two colorfully-labeled discs inside are a booklet promoting DreamWorks and VeggieTales holiday season offerings and another supplying directions and your unique code for the set's complimentary transferrable iTunes digital copy and downloadable UltraViolet.
CLOSING THOUGHTS
An uneven mix of slapstick, action, and family drama, The Croods never comes together as it intends to. It looks sharp and remains harmless, but fails to make a strong, meaningful impression.
Fox's Blu-ray combo pack naturally delivers wonderful picture and sound, but its bonus features are few in number and unusually light on substance.
Buy The Croods from Amazon.com:
Blu-ray Combo / Blu-ray Combo + Toy / Blu-ray 3D Combo / DVD / DVD + Toy / Instant Video