In the early 1980s, with most of Disney's recurring or repeat leading men of the past two decades having moved onto bigger (Kurt Russell found director John Carpenter) or smaller (Tommy Kirk found drugs; Fred MacMurray, retirement) things, the studio had mostly abandoned its time-tested practice of relying on a handful of stars to regularly show up in live action vehicles. One exception was none other than Elliott Gould, whose 1963 marriage to Barbra Streisand (the first for each) seemed to lead inevitably to Hollywood, where he gained a Best Supporting Actor Oscar nomination for his turn in the 1969 sex comedy Bob & Carol & Ted & Alice and further recognition for performances in a trio of well-received early '70s films directed by Robert Altman (M*A*S*H, The Long Goodbye, and Nashville). Gould's run with Disney would not rival those of Russell or Dean Jones; he would headline just two small comedies in his early forties. The first, The Last Flight of Noah's Ark (1980), was an old-fashioned stranded-on-island...with animals...and kids...and nun tale. The second, The Devil and Max Devlin (1981), was more representative of the type of movies being made in Disney's edgy period, a span which began with 1979's The Black Hole and would provide not-so-squeaky-clean fare like college comedy Midnight Madness, coming-of-age drama Tex, and suspense pieces The Watcher in the Woods and Something Wicked This Way Comes.
In The Devil and Max Devlin, Gould plays Max Devlin, a greasy California landlord who has few scruples but many angry tenants who don't appreciate his unwillingness to deal with their problems or his firm stance prohibiting children and pets from his apartments. Running to track down a man who owes several months of rent, Devlin finds escape from his irate morning mob when he trips over a blind woman's walking stick and falls smack into the path of a bus. As the unflattering introduction (and the title) might have suggested, Devlin's new destination is far worse than his previous location: it is hell, literally. Amidst a backdrop of fiery doom, Devlin hears his history of transgressions and finds himself sentenced to the fourth level of the underworld. But Devlin's is not a lost cause; as "souls manager" Barney Satin (the one and only "Cos", Bill Cosby) informs him, he can avoid eternal damnation if he can find and corrupt the three unsullied young people he is assigned by midnight on May 15th.
Faced with a no-win situation, Devlin of course accepts the task from the sharp-dressed Satin and emerges from his shrouded stretcher on Earth with nary a scratch. Max proceeds to pursue his three innocent targets, aided by alluring magical powers while in sight of his prey (one of a number of rules the film introduces and mostly upholds). He also receives guidance from Satin, who turns up from time to time in a variety of costumes to check up on the status of the project. The movie takes its time to let Max and the viewer get acquainted with the souls whose signatures Devlin must collect. Each of the three is seeking something, which enables Max's newly-acquired, near-limitless abilities to grant them their desires in the hopes that their personal successes will be the key to them unknowingly entrusting him (and in turn, the devil) with their souls. For his first two subjects, Max becomes a manager of sorts. First, he meets Stella Summers (Julie Budd, who is "introduced" here but claims this as her only on-screen film credit), a small town girl who has moved out west with ambitions to sing. The trouble is, she's lousy. Next, there is Nerve Nordlinger (David Knell), a gawky high school student frequently referred to as nerd, who dreams against his nature to be a motocross biker. Enter "Max's Mobile Motocross School."
The third youth whose soul Max must acquire is Toby Hart (Adam Rich), who longs for a dad like Max who can fill in for his deceased real father. It doesn't hurt that his mother Penny (Susan Anspach) is a pretty widow who runs a benign daycare center out of her home.

With Max using his powers to gratify his targets' desires, the film charts a pretty standard but quite engaging path of redemption (of the clearly misguided variety) for Max and his three new friends. Though it is billed as a comedy and its two stars have been known for working in that genre more than any other, Devil deals very few laughs. Still, it's diverting all the same. It clearly can't be taken entirely seriously, but the humor is of the kind that you somewhat have to search for and if you find it, its

reward is more likely to be an acknowledging smile than knee-slapping hilarity. Some of the movie's attempts to be funny stand out more clearly and will be deemed by some as being overly cute: Barney objects when Max says "Oh my God", while Devlin goes through a majority of the movie wearing tiny pieces of bloody toilet paper on his face because shaving clearly poses a problem for someone who casts no reflection (as is true of Max in his return to Earth).

The screenplay, which was penned by Freaky Friday author/screenwriter Mary Rodgers, works the film into a hole when it becomes clear that neither Max nor his three dreaming corruption victims can be damned to hell with the audience's approval. Still, the climactic moments, which include one of the oddest visions the silver screen has ever been home to (Bill Cosby as an enraged, red-bearded Beelzebub) and a concert by Stella which brings all of the principles together, resolve themselves about as satisfactorily as possible, all things considered.

Certain elements of Devil date it as a product of the early '80s and not just the plaid blazers, display of chest hair, and the fact that Elliott Gould has a starring role. Julie Budd's film debut seems composed for advancing two careers at once; she performs "Any Fool Can See" probably about two times more than is needed, but at least it's a catchy tune, or at least the instantly hot sales of her album suggest so. The song has a distinct late '70s/early '80s sound to it, and as the film evolves, you begin to see more and more that Budd's character seems to resemble Gould's first wife (who he had divorced ten years earlier), Barbra Streisand. (In real life, Budd still has a musical career but has never approached the mainstream market or the success of Babs.)
The acting challenge Budd is most frequently asked to perform is to sing to adoring audiences, which she does capably, and she even pulls off tears in

one dramatic scene. Gould is serviceable but unexceptional in the leading role - he flirts with being tough-to-read and inevitably comes across as a little creepy in his planned acts of befriending the youths, but on some lines, there is just no believability and it's odd that no one asked him to do them again. Cosby, who boasts bags under his eyes to varying degrees of noticeability, seems more consistent and his restrained menace (outside of the one silly scene late on) makes him fully convincing and roughly 180 degrees from Cliff Huxtable, the role he would become most famous for three years after this.

In his four-decade-long career, director Steven Hilliard Stern has primarily helmed TV movies and hour-long dramas. This explains why scenes never capitalize on the visual power they could hold and certain things ripe for reshooting were left in as is. Stern leaves Devil with a level-headed perhaps but mostly flairless direction.

With its soul-snatching premise, prevalent uses of "God" and "hell" (for comedic purposes, usually), and theme of damnation, Devil must have been unusual for Disney twenty-five years ago. It became only the third PG-rated film released by the Mouse and reached theaters at a time when the studio seemed desperate to reclaim any demographic out of the moviegoing public. By today's standards, it is pretty tame. But it holds up as an entertaining little film, if not as much as some of Disney's older and immediately subsequent productions, then much more so than most family films from this period.

The Devil and Max Devlin was first released to DVD in November of 2000 by a small studio called Anchor Bay, to whom Disney had leased a number of its lesser-known catalogue titles. It contained a 1.85:1 widescreen presentation (which was enhanced for 16x9, a rarity for Anchor Bay's Disney discs) and no extras, and that pattern has been followed for Disney's new DVD, which does add a 5.1-channel soundtrack.
DVD Details

1.85:1 Anamorphic Widescreen
Dolby Digital 5.1 (English, French)
Subtitles: English; Closed Captioned
Release Date: January 17, 2006
Single-sided, single-layered disc (DVD-5)
Suggested Retail Price: $19.99
White Keepcase with Side Snaps
VIDEO and AUDIO
As it did for Anchor Bay's DVD, Devil has lucked out again and received a 1.85:1 anamorphic widescreen transfer. Some artifacts turn up irregularly, and there is just not the level of detail you may hope for (probably in part because of inferior filming equipment), but otherwise, this is a solid presentation. Grain is a minor issue, but forgiving something like that and other infractions due to the modest production budget, this is about as nice looking a DVD you could hope to receive from Disney for a 25-year-old live action comedy. Though the soft visuals and mostly subdued color palette both scream "early '80s" (the bright colors were just a few years away), they are rendered nicely. The same is true of the film as a whole, illustrating the pleasing results that a 16x9-enhanced transfer often yield.
Offering something above Anchor Bay's stereo presentation, Disney has delivered a remixed Dolby Digital 5.1 soundtrack. Actually, I doubt too much remixing was done, since it doesn't really feel like anything greater than Dolby Surround encoded to five channels, but the thought is still appreciated, even if purists might balk. A level of distortion is present throughout, but I just get the feeling that this was inherit to the theatrical prints based upon the nature of the production. There is subtle reinforcement for music and ambient noises from the rear speakers, but as you can bet, channel separation is not so evident. As with the picture, I'm not sure if Devil could sound much better without artificial tweaking. As it is, both the picture and sound excel when compared to The Last Flight of Noah's Ark, the previous Disney/Gould outing, which was released to theaters less than a year before.
Having only rented the Anchor Bay disc once about four years ago, I can't compare the two presentations to any degree of accuracy, but if memory serves, then Disney's release probably holds slightly improved visuals.
BONUS FEATURES, MENUS and DESIGN

Unfortunately but unsurprisingly, no bonus features are included. Anyone who fondly remembers this film would surely have loved an interview or commentary with either of its two stars and they'd probably have settled for a 25-year-old trailer, which should have been easily obtainable

from Disney's vaults. Alas, the studio scores no points for supplements.

There are the customary sneak peeks which promote Lady and the Tramp: Platinum Edition, The Shaggy Dog (a featurette/trailer hybrid), "Walt Disney Classic Family" titles (a spot that's several years old now), and the first two volumes of the Timeless Tales series. The Sneak Peeks menu holds an additional preview for Bambi II.

The 16x9-enhanced menus feature some hellish imagery, including a translucent look of the ridiculous Cos sequence in back of Gould on the Main Menu. It is set to an instrumental of "Rainbows and Roses", the second song that Stella seems to learn, which is performed in succession at the film's end and over the end credits. None of the menus are animated, none of the submenus are accompanied by music, and you or I both could have probably done a better job at designing them. As it is, acknowledge the fact that they were quite likely churned out rapidly and you can probably enjoy the pitchfork cursors.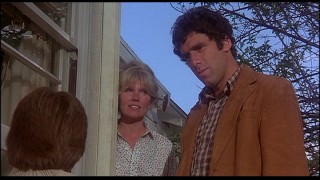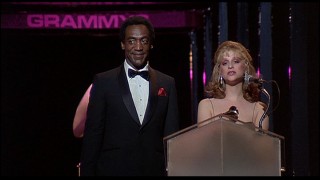 CLOSING THOUGHTS
Disney's DVD release of The Devil and Max Devlin gives little reason for those in ownership of the long-discontinued Anchor Bay disc to upgrade, but those without the movie who are in search of some of the studio's lesser-known live action films should check out and enjoy this one. Though certainly not considered one of the jewels in Disney's crown, Devil has been fortunate enough to receive an anamorphic widescreen transfer on DVD not once, but twice, and that simple fact alone distinguishes this disc from the numerous travesties in the studio's past and present of issuing its catalogue of live action movies to the format.
I'm not sure why many seem to hold Devil with such low regard. Is it because it is dated? Or perhaps because the ever-likable Bill Cosby must represent evil in human form? Ponder that if you want to, but I think you'd have a better time either giving this one a chance or, if you saw it long ago, revisiting it to see if your opinion of it hasn't improved. It's an apt bargain bin buy, so if you can't find it for a low price just yet, you may wish to hold off for a price drop that will eventually come.