If Disney's live action comedy The Boatniks is clearly a product of its era, then it speaks very poorly of 1970. It is tough to believe that the same decade of cinema which would produce films like Willy Wonka and the Chocolate Factory, Jaws, and Star Wars gave us this waterlogged mess, an apparent low point for the Disney studio. In the wake of Walt's death, his son-in-law, the Company's C.E.O. Ron Miller, ushered in what many would label a dark age.

While I can find plenty of nice things in most of the forty-two live action films Disney released in the 1970s -- from wackily-premised Dean Jones comedies to the Dexter Riley sequels, from flawed but delectable partly-animated works like Pete's Dragon to a trio of solid films featuring Jodie Foster -- I am at a loss when it comes to The Boatniks, a production I struggle to believe anyone could fully enjoy upon theatrical engagement and whose appeal I doubt even more thirty-five years later.

The film opens with a clunker of a joke, as it shows U.S. Coast Guard Lt. Jordan (Joey Forman) responding to a half-brained plea for help from sailors whose compass has been thrown off by a can of beer. This is the type of poppycock, we assume, that the Coast Guard has to put it up with on a regular basis and it is one of the job perks that is driving Jordan to transfer to a new station. He is handing over the reins to Ensign Tom Garland (Robert Morse), a polite but remarkably clumsy fellow who will now report to Commander Taylor (Don Ameche), a man who fought in war with (and highly regards) Garland's father.

The film divides its attention to two uninspired places. Through a series of countless silly gags, we see Garland's ineptitude as the area's new skipper. He repeatedly flounders in tending to the various minor issues plaguing the crowded waters' impatient travelers. It also doesn't take long for him to set his eyes on Kate Fairchild (Stefanie Powers), a "girl next door" type who runs a local boat rental and sailing school spot on the coast.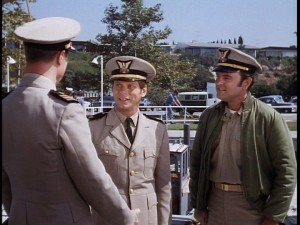 Meanwhile, three mobsters who establish a new low for stupid movie villains are conspicuously bumbling their way to Mexico while listening to reports of their pursuit. There's ringleader Harry Simmons (Phil Silvers) who dons a suit that makes him a "commodore"

and dispatches orders to his two lackeys, the especially slow one Charlie (Mickey Shaughnessy) and the forgettable third party Max (Norman Fell, who would go on to "Three's Company"). This imbecilic trio has somehow managed to steal a collection of jewels, and they intend to smuggle them inside an assortment of casually-hollowed food. They decide to rent a boat from Kate to make their way south of the border, which is especially bright since none of the three knows how to sail.

The Boatniks follows Tom's nautical misadventures and sparkless, predictable romance, while at the same time, keeping us informed of every move that the birdbrained jewel thieves make. It is transparent, as are most things in the film, that the paths of Tom and the baddies will cross. With Kate's suggestion that the crooks' suspicious behavior might indicate criminality, she and Tom naturally begin to suspect that they are indeed the three men reported about in a newspaper article which coincidentally happens to be face-up in a wastebasket being passed. Yes, it's that type of movie. Of course, Tom is right about the evildoers, but Commander Taylor doesn't believe it and so the facts presented to the viewer need to be unwound by the protagonist to obtain some neat kind of redemption that is truly undeserved and highly uninteresting. With gag after gag which you have surely foreseen, this laughless comedy plays out in a harebrained fashion through its drawn-out submarine climax, which sadly is as engaging as anything else in the film.

One wonders how a film which unravels just as poorly on screen as it does on paper was able to leap off the drawing board and onto Disney's production charts. Why would anyone greenlight a screwball comedy lacking in originality, humor, or anything to hold an audience's attention? Perhaps the unfortunate nature of The Boatniks explains why, by today's standards, the film seems remarkably short on recognizable talent. The Disney studio was usually able to attract some names which if not big at the time would go on to greater things, but that's not the case here. The best we can settle for are gap-toothed, charmless leading man Robert Morse and Stefanie Powers, the poor man's Suzanne Pleshette. Behind the camera was Norman Tokar, the studio's second most popular director of the day. Tokar's career highs rarely registered as potently as Disney's preferred live action helmer Robert Stevenson, but even if Tokar's flat, barely detectable directorial style cannot be especially blamed (that honor should go to Marty Roth and Arthur Julian, responsible for the story and screenplay, respectively), he has here laid an egg unmatched by any other show of futility.
Complementing The Boatniks' thin, two-tiered plot are a handful of throwaway characters and scenes, including some unflattering ethnic caricatures and Wally Cox as the captain of a motor-less boat filled with ladies clad in bathing suits. With their limited screen time, these supporting personalities are actually among the few who do not manage to excessively annoy the viewer. Still, they're part of an atmosphere which is truly short on intelligence in a movie which balances stupid mobsters screaming at one another with the new Coast Guard skipper crashing boats and causing the type of havoc he's supposed to aid. This qualifies The Boatniks as one of the most brainless Disney comedies to have ever been made; it's noticeably lame even next to the other none-too-popular, oft-maligned films to come from the Ron Miller era.
Unfortunately, it's not even bad enough to provide an unintentional good time. Filled with jokey setups but completely absent of laughs, the proceedings wind up being almost entirely dull. It's the type of movie where a torpedo turns out to be a salami. Literally. It doesn't help things out that practically every scene in the film talks down to the audience and fails to stand up to questioning. For instance, the none-too-bright bad guys are said to have pulled off a major heist, which seems an unlikely act based on their boldly-displayed witlessness. Furthermore, they are given no motivation for their transgression and we have no reason to believe they care about their loot except from their through-the-motions methodical pursuit of a getaway. In turn, we have no reason to care about their task either.
That's merely one of the more evident of many bones to pick with a film plagued by problems and unable to overshadow them with the slightest bit of hope. Inanity, thy name is Boatniks.
DVD Details

1.33:1 Reformatted Fullscreen
Dolby Digital Mono (English, Spanish)
Subtitles: English; Closed Captioned
Release Date: August 2, 2005
Single-sided, dual-layered disc (DVD-9)
Suggested Retail Price: $14.99 (Reduced from $19.99)
White Keepcase
VIDEO and AUDIO
On DVD, The Boatniks is presented in a 1.33:1 "fullscreen" transfer. It's not likely that a new live action film would have been exhibited in the Academy Ratio in 1970, so it's safe to say that the disc does not reproduce the film's theatrical dimensions. It's tough to tell if the presentation is "open matte" or cropped; if forced to suggest one, I'd choose the former. Either way, it's clearly not intended to be a very wide film and the modification offends more in principle than in viewing, where you'll be more troubled by the movie than anything else.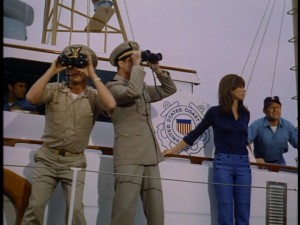 Picture quality is not too bad, but mostly mediocre, particularly when compared to the more pleasing presentations on display in the concurrent DVD debuts of the older films Johnny Tremain and Toby Tyler. Scratches show up on the print with surprising regularity. Sharpness and detail are good.

Colors look a little faded or washed out, but that can more likely be attributed to the stylistic sensibilities and film stock of the 1970s than the process of putting the film on DVD. Though the element has endured three and a half decades in fairly good condition, the film's transfer to DVD leaves plenty of room for improvement, which would be realized in a fully-remastered anamorphic presentation. Nonetheless, The Boatniks is not a very nice-looking film and you'd probably only notice its visual shortcomings all the more.

Like most of the live action Disney comedies from the pre-1980s, The Boatniks' audio is delivered in a two-channel Dolby Mono track. This presentation mostly serves the purpose, and the soundtrack consists primarily of dialogue and a very dated score. At times, the speech is surprisingly distorted and lifeless, but for the most part, it's passable if unremarkable. One thing you might notice missing from the presentation is the sound of audience laughter, although the film leaves ample space for that in unfulfilled expectation.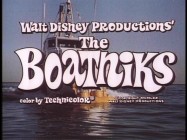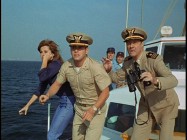 BONUS FEATURES and DESIGN

Unlike such classic films as That Darn Cat!, Treasure Island, and Honey, I Shrunk the Kids, The Boatniks is actually treated to some bonus features.

They're certainly not much, but it's a surprise they're there at all. First up is an "Outtakes" reel (8:44), which while intriguing in theory, is one of the lamest bonus features I've come across. It's basically footage from filming that was not used, plus some that appears to have been (from different angles, perhaps). Of course, none of the sound recordings from this footage is presented; we get only the visuals and some goofy looped instrumentals. Essentially, it's a nearly ten minute waste of time, delivering roughly the same amount of laughs as the movie but mostly giving you absolutely no idea what is going on. If it were for a film I could care about, maybe I'd find some value in it; it's a slight step above nothing, but not by much. There is also the original theatrical trailer (2:44), which is always interesting to see, particularly for a film that has aged a bit, even if it doesn't make you want to "go to sea." If Disney could make greater efforts to include this most basic extra on all their films' DVD, I know that many would be pleased.

The absence of "new" or additional bonus features is not surprising. In the thirty-five years since the film was released, almost the entire cast has passed away. Stars Robert Morse and Stefanie Powers are both alive, but I doubt either is especially tickled at the idea of reflecting on this film.

The static 16x9 menus feature sea green scenery and a couple of selections from the unmistakably '70s score. Before the menu loads, previews play for Valiant, other (more worthwhile) live action Disney films on DVD, and November's upcoming releases, Old Yeller 2-Movie Collection and four Muppet reissues for Kermit's 50th Anniversary.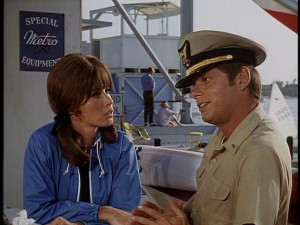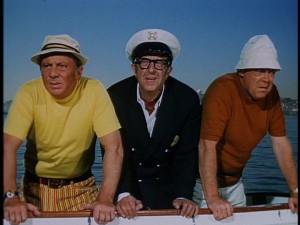 CLOSING THOUGHTS

The Boatniks is a worthy contender for the title of Worst Disney Movie Ever Made. While plenty of the studio's live action comedies have been subject to critical deriding for plot holes or lowbrow humor, few seem as deserving as this wreckful waste of time. Its various shortcomings might have been mildly excusable if the sea-set proceedings could garner so much as one laugh, but unfortunately, that's not the case.

Those with fond childhood memories of this one, be prepared for disappointment, for it is surely not as much fun as you may remember it to be. Anyone else is encouraged to stay away and remember that plenty of post-Walt, pre-Eisner Disney comedies do actually deliver quality entertainment. The select few who have been eagerly awaiting this DVD should be excited by the surprising inclusion of bonus material, but it really amounts to a trailer and a frustrating reel o' confusion. If there are points still to be lost, they are taken away for the lack of a transfer which preserves the film's original widescreen aspect ratio.