One look at the cover for Thale and you can't expect much. This 2012 Norwegian genre film,

which reaches America via home video next week, sells itself on the image of a seemingly naked woman with a tail in a forest of large mushrooms (added for this release), shadowy figures, and the hint of magic. Sure, there's some intrigue to that artwork, but it sets the bar around Species.

Sideburned, weak-stomached Elvis (Erlend Nervold) and the scruffy, unflappable Leo (Jon Sigve Skard) work for a crime scene cleaning service. That calling supplies both blood and vomit within the film's opening moments. While on the macabre job, the two young men discover a filthy underground laboratory in the woods. It's full of strange textbooks and long-expired canned foods. It's also, they learn, home to the feral, titular Thale (Silje Reinåmo), who is not the ordinary young woman she appears to be.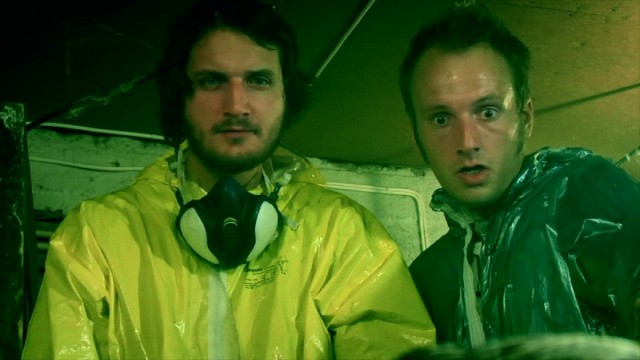 Nonverbal and frisky but easily pacified, Thale raises a number of questions about her nature and unsavory living conditions. While awaiting the arrival of their superiors, Elvis and Leo serve her coffee and buns, but do not get any immediate answers. She is entranced by an audio cassette player and prone to lying under a bed and humming melodically. Thale seems traumatized and fearful, but she's not saying why. Because she doesn't talk. A few flashbacks and clips suggesting she is being tracked do not shed much light either. But there is the discovery of a large amputated tail in a freezer, which the guys correctly speculate may have once been attached to their new acquaintance.
Thale smoothly injects some comedy into its sci-fi horror proceedings. Though there are a couple of jump scares, it's more of an atmospheric mystery than a frightfest, regardless of the subject matter. The comparisons to Species this could invite are warranted and ones from which Thale can emerge slightly victorious. Despite the cover art, Aleksander Nordaas, the film's young writer, director, cinematographer, editor, set director and associate producer, is seemingly uninterested in using the film as an excuse to flaunt a blonde actress in the altogether. Nudity is kept about as minimal as it can be and the film's "Not Rated" badge is not the product of graphic content but of non-submission to the MPAA, an understandable savings of a few thousand dollars. (Thale grossed under $300 thousand in Norwegian theaters.)
Thale is thrifty, but incidentally and not out of stifling budget limitations. It's economical storytelling largely confined to three characters and a small set. After dropping a bundle of exposition by voiceover, the climax arrives and with it, some less than beautiful CGI. Even as it becomes more the movie you'd expect than the one you'd like, the film keeps its focus on the two lead humans and mostly resists an urge to go bigger than it should. The tail angle, which ties this to the "huldra" of Scandinavian folklore and seems so central in the key art, is late to surface and then slightly overplayed. At least Nordaas presents his ideas in a coherent and grounded fashion with a compelling degree of artfulness.
The film's content, firmly fixed between horror schlock and art house fare, must hinder its commercial prospects. While it looks dumb enough to be of interest to undiscerning horror junkies, it plays more like it could elicit the kind of thoughtful, serious critical response of a Guillermo del Toro or David Cronenberg film. The latter quality may explain how Thale managed to make it into the respectable Toronto International Film Festival last year, where it played in the Vanguard programme of "convention-defying, genre-twisting international cinema."

XLrator Media, who also makes Thale available in a Blu-ray combo pack, presents the film in its original Norwegian language with English subtitles. However, the default playback option is an English dub. Embarrassingly and hilariously clunky, the dub sounds like the work of two guys who make YouTube videos in their basement. Even those who can stand live-action dubs will be surprised by the unpolished, ambivalent,

environment-inappropriate deliveries, which furthermore have disastrous effects on the sound design. While the dub does a decent job of matching the actors' mouth movements, the sampling I gave it found it to be shockingly terrible for a 21st century production. Perhaps it will be of use to those disappointed that the film itself is far less campy than they might expect.

VIDEO and AUDIO

Thale's 1.78:1 anamorphic widescreen presentation is pretty unsightly. The blurry video gives the film an amateurish feel it otherwise lacks. The inexpensive production methods probably assume as much blame as the DVD's transfer. As addressed above, you get to choose between the original Norwegian soundtrack in Dolby Digital 5.1 and the world's worst English dub in plain Dolby Stereo 2.0. The former is quite satisfactory, while the latter is only good for those wanting to laugh at a bad movie (which Thale immediately becomes with that option selected). The English subtitles and closed captions are identical, but do not perfectly resemble the dub, suggesting that they provide a more literal translation of the Norwegian dialogue.
BONUS FEATURES, MENUS, PACKAGING and DESIGN
The DVD contains no extras, save for a two-minute Thale trailer in Norwegian with burned-in subtitles.
Trailers for The Thompsons, Bigfoot: The Lost Coast Tapes, and Outpost: Black Sun launch the disc but are not accessible by menu.
The main menu plays a montage of semitransparent clips over a static forest view while looping some piano score. Submenus are static and silent.
The plain black keepcase holds no inserts, but is topped by a glossy slipcover, while the disc's full-color label reformats the cover art.
CLOSING THOUGHTS
Better than it looks, Norway's Thale proves to be surprisingly engaging in its brief runtime. It's a film that will fall in between audiences, not ballsy and graphic enough for horror fans, but too weird for those with a taste for "European cinema." In its own strange way, though, the movie manages to be better than both of those classes and slightly better than it has any reason to be. It's still a tad ridiculous, especially at its end, but not the utter waste of time you anticipate.
The DVD, bearing XLrator's Screamfest banner, offers underwhelming picture, fine sound, and the added amusement of an atrocious (bizarrely default) English dub you'll certainly want to avoid on your initial viewing.
Help keep this site online when you buy Thale now from Amazon.com:
DVD / Blu-ray + DVD / Instant Video