There must be people out there whose knowledge of Godzilla starts and ends with the 1998 Matthew Broderick film. Critically pounced and a box office flop, Dean Devlin and Roland Emmerich's follow-up to Independence Day claims the top two search results for "Godzilla" on Yahoo!.

Fortunately, the listing that follows them gives you a typically thorough Wikipedia entry that establishes the Hollywood movie as something of a footnote to a long line of Japanese sci-fi cinema.

The destructive giant lizard got his start in the 1954 film titled Gojira in its native Japan and Godzilla, King of the Monsters! upon its re-edited 1956 American release. A pretty substantial hit in Japan, the film inspired a quick sequel, released the following year. Since the imported Godzilla had done minor business in the US, the sequel received a more dramatic Americanization and the title Gigantis the Fire Monster, to no avail. After a seven-year hiatus, Godzilla became a fixture in the schedule of Japanese studio Toho, starting with 1962's highly successful King Kong vs. Godzilla. Toho continued to put out a new Godzilla film almost every year (and two in 1964), before halting with the unprofitable Terror of Mechagodzilla in 1975.

Toho got back into the Godzilla game with 1984's The Return of Godzilla. A modest success at home, the film struck out with critics and moviegoers in America where it was retitled Godzilla 1985. After that, Godzilla was direct-to-video fare as far as the US was concerned and that is how Godzilla vs. Biollante, which Japan released theatrically in 1989, made its international debut in the fall of 1992 from Miramax and their then distribution partner HBO Home Video.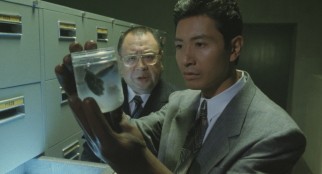 Though widely available in Japan and many other parts of the world, Godzilla vs. Biollante has not made it to Region 1 DVD until now.

This 17th film in Toho's flagship franchise makes both its US DVD and Blu-ray debuts next Tuesday from Echo Bridge Home Entertainment, who gained its rights as part of the less flashy third of the Miramax library they acquired early last year.

Godzilla vs. Biollante is faintly a bilingual production. The first words spoken are in English and villains uncomfortably use that language throughout (clearly actors speaking phonetically), with burned-in symbols translating. Most of the movie is in Japanese, although this Blu-ray gives you options that I'll cover in the Video and Audio section below.

At the film's opening, scientists are working with Godzilla's cells in a project with much potential. The samples are stolen, however, by a mercenary. In the Middle East, Dr. Shiragami has his research facility bombed, an act that kills his daughter Erika. We jump ahead five years and Shiragami is working with plants. Specifically, he is developing an immortal rose with a human spirit (that of the late Erika) and some genetic material from Godzilla as well. That super plant, named Biollante, becomes humanity's best defense when Godzilla resurfaces from the island volcano Mt. Mihara where he has been imprisoned.

Though some of it can be chalked up to cultural differences, the lines are not drawn in a terribly clear fashion here. Scientists, military, and businessmen scramble after the Anti-Nuclear Energy Bacteria that was to be deployed goes missing. Meanwhile, the lone agent from the Saradian oil company is serving his own purposes. Ultimately, though it does a decent job of establishing at least some of these perspectives and official response strategies, the film gets to a point where it is content to just marvel at the Tokyo battles that ensue between Godzilla and military (relying on an aircraft built of synthetic diamonds designed to reflect the fire he breathes). Eventually, the title is upheld as the comparable monsters ("one is an animal, the other is a plant") square off, pitting fire and mobility against suffocating vines and killer teeth.

I guess it shouldn't be much of a surprise given what everyone knows about the franchise, but this Godzilla looks very fake, a man in a costume that hardly looks organic. The city he demolishes is one consisting of obvious models, whose scale never convinces as it aims to.
Having virtually no prior exposure to this cinematic universe, I suspect it is one that, like most franchises, seems more ordinary and uninspired the more you see of it. Getting one random taste from the middle of the run is sure to have more meaning than slavish devotion to the series. At the same time, to inspire the kind of devotion that Toho's movies have, there must be something of interest. And even without any kind of context, one finds bits of intrigue here, from the ethical implications of genetic engineering to a plant as the reincarnation of a dead daughter. It's nothing profound, but it gives the movie more value than its monster clash design suggests, while also raising the stakes of that main attraction.
In the twenty-three years since this film was released, there have been eleven additional entries to this series, each of them released theatrically in Japan and all but one (Godzilla 2000) going straight to video in the US. It's quite understandable then that the name "Godzilla" makes the Western world think of a rainy Manhattan, the likes of Hank Azaria and Jean Reno, and the negative connotations attached to that misfire. The Criterion Collection's DVD and Blu-ray release early this year of the original film in both its Japanese and American versions must have done a little to change that prevailing view. There's also the upcoming American reboot from Warner Bros. Pictures that is to start shooting next March for 2014 release.
Godzilla vs. Biollante has one of the best MPAA ratings I've ever seen. It is rated PG "for traditional Godzilla violence." Naturally.
VIDEO and AUDIO

Blu-ray presents Godzilla vs. Biollante in its original 1.85:1 widescreen aspect ratio. The picture is a tad grainy, especially in moments of clearly licensed footage, but it's watchable on the whole. While colors are pale and contrast is certainly lacking, I can't pretend to know if the movie has ever looked better or if this is an accurate reflection of turn-of-the-'90s Japanese cinema.

The disc gives us far more to say about audio than most Blu-rays. The default soundtrack is a 5.1 DTS-HD master audio in the original Japanese. The mix is robust and crisp. The differences between it and our only English dub option, a monaural Dolby Digital 2.0 track, is night and day. The English dub, undoubtedly performed prior to the film's 1992 importing, is extremely anemic, fuzzy, and aged.

Only the illiterate who don't speak Japanese would have any reason to choose this English dub. In between those options, there is a Dolby 2.0 stereo Japanese mix, which doesn't have the impact of the 5.1, though it may be handy for those without home theater systems.

There are three subtitle options as well. The default is the second stream, which translates the Japanese dialogue pretty cleanly. There are some grammatical blunders (e.g. "We are looking for a stuff"), but they are few and far between. More of an issue are the occasions when the Japanese cast tries to speak English. Their words are translated into Japanese by the aforementioned burned-in characters, but they're unintelligible enough to warrant English subs too and may have you rewinding to turn them on. Of the other two English subtitle options, one simply translates on-screen Japanese text and the other is an English SDH track transcribing the feeble dub.
BONUS FEATURES, MENUS, PACKAGING and DESIGN

Echo Bridge isn't a studio renowned for their bonus features, as they typically

only offer whatever's been turned over to them, which most of the time is nothing. But, though far removed from the heyday of catalog DVDs getting extras, Miramax doesn't leave them or us empty handed here.

First up, "Making of Godzilla vs. Biollante" (49:17, SD), a substantial and thorough Japanese documentary presented with English subtitles. It complements interviews with key creators (among them, director Kazuki Ohmori, original story writer Shinichiro Kobayashi, and special effects crew members) with production footage. It's way more than you'd expect; how many American films from the '80s are joined by hour-long documentaries?

Beyond that, we get "Behind the Design" (2:58, SD), which applies subtitled Japanese remarks to looks at the models for Biollante and the military aircraft.

The menu features actiony clips amidst the title logo, green water, and a bar of listings. While the disc does not support bookmarks, it does resume playback if you didn't finish watching the movie. The case-touted Smart Menu Technology, meanwhile, is another way of saying it allows you to use the pop-up menu while the movie (but not extras) are playing.

The standard Blu-ray case is not joined by any inserts or reverse side artwork.
CLOSING THOUGHTS
If we were regularly being hit with movies like this, Godzilla vs. Biollante might very well seem insufferable. But taken on its own, without context or overfamiliarity, this late-'80s monster movie isn't so bad. Echo Bridge's relatively speedy Blu-ray is better than expected, with its satisfactory language options, passable feature presentation, and solid accompaniment. While only completist collectors of Toho's franchise will probably feel compelled to buy this, it's a fine release of a film long in need of a US disc.