After breaking out in the 1980s and hitting his stride in the 1990s, Liam Neeson has enjoyed a renaissance over the past six years. Despite his work in blockbuster franchises like Batman, Star Wars, and The Chronicles of Narnia,

it was Taken that really redefined Neeson as a badass leading man. That hit hard-PG-13 revenge thriller created a niche for the 63-year-old Irish actor and one he has mined for two sequels and several other kindred vehicles. Neeson hasn't had as much success outside his newfound comfort zone, finding commercial disappointment in things that aren't squarely Liam Neeson movies, be they comedies (A Million Ways to Die in the West) or dramas (Third Person).

Run All Night reunites Neeson with Jaume Collet-Serra, the Spanish director behind two of the actor's quintessential post-Taken triumphs, Unknown and Non-Stop. Run, the only R-rated one of the bunch, broke up the duo's financial winning streak, performing almost identically to the disappointing R-rated crime drama A Walk Among the Tombstones both domestically and overseas.
It's Christmastime in New York City and career criminal Jimmy Conlon (Neeson) is reluctantly playing Santa Claus for a holiday gathering hosted by his longtime boss and confidante, Shawn Maguire (Ed Harris). Earlier in the night, Shawn vehemently vetoed a proposal by Albanian gangsters to get involved in the sale of the purest heroin in the world. The plan was pitched by Shawn's son Danny (Boyd Holbrook), who has been using hard drugs. Shawn bristles at the idea of getting involved in that racket, insisting he has become a legitimate businessman.
Instead of paying back the Albanians the money they gave him to secure the meeting, Danny kills them. Witnessing the act is Michael Conlon (Joel Kinnaman), a limousine driver, boxer, neighborhood role model, and married father of two daughters with a son on the way. As you might have guessed, Michael is also the estranged son of Jimmy, who resents his father for not being a part of his and his mother's life and for the wayward life he's led. (Police suspect Jimmy has killed 17 people over the years as one of Shawn's most trusted hitmen.)
Jimmy saves Michael's life, but not without jeopardizing both of theirs. This sets up the night of running, with dirty police accusing the father and son of killing the Albanians as well as several cops. With Shawn suddenly determined to see both Conlons and Michael's loved ones dead, Jimmy turns to an unlikely source for help: the NYPD homicide detective (Vincent D'Onofrio) who has been dreaming of putting him away for decades. Meanwhile, Shawn enlists a stone cold killer (Common) to tie up his loose ends.
Run All Night is, like Unknown, the very definition of an okay action thriller. This film is a little grittier than the Taken series but comparable to that in content, giving Neeson another opportunity to be a stoic man of action. There are flashes of a better movie here, the kind that Harris has occasionally been part of.

But though there is a decent amount of time and thought devoted to character development, there is also a lot of action in the form of mediocre chases and shootouts that might not do a whole lot for you. It's the kind of movie you might recommend to someone who likes what Denzel Washington has mostly been doing of late, but not to someone who requires intellectual stimulation with their thrills.

Since evidently embarrassing himself on his directing debut, 2005's House of Wax remake, Collet-Serra has been consistently adequate, never transcending the quality of his screenplay (the best of which he's had was the only mildly ridiculous Orphan), but generally providing something with the ability to hold your attention for a couple of hours. That's a fair way to describe Run All Night without either overstating or understating its fairly generic and familiar results.
Blu-ray & DVD Details

2.40:1 Widescreen (DVD Anamorphic)
Blu-ray: 7.1 DTS-HD MA (English), Dolby Digital 5.1 (English DVS, French, Spanish, Portuguese)
DVD: Dolby Digital 5.1 (English, Descriptive Service, French, Spanish)
Subtitles: English for Hearing Impaired, French, Spanish; BD-only: Portuguese
Not Closed Captioned; Extras Subtitled
Release Date: June 16, 2015
Suggested Retail Price: $35.99
Two single-sided, dual-layered discs (BD-50 & DVD-9)
Blue Eco-Friendly Keepcase in Cardboard Slipcover
Also available as standalone DVD ($28.98 SRP) and on Amazon Instant Video
VIDEO and AUDIO
Run All Night has a dark and stylish element that looks great in the Blu-ray's 2.40:1 presentation. The sharp, clean picture is complemented by potent 7.1 DTS-HD master audio sound, with Warner seemingly recently becoming the first studio to make 7.1 mixes the new standard. The sound design is extremely strong throughout.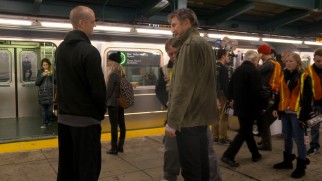 BONUS FEATURES, MENUS, PACKAGING and DESIGN
The Blu-ray's HD extras begin with "Shoot All Night" (10:26), a making-of featurette that looks at the overnight filming schedule required by the plot and the actors who make up the supporting cast.
"Liam Neeson: Action All Night" (6:09) focuses on the star and the mix of genre and emotional demands he meets in this film. Everyone -- co-stars, stuntman, and behind-the-camera crew -- speaks highly of the leading man.
Finally, and perhaps of greatest interest to the average viewer is a fairly long reel of six deleted scenes, running 16 minutes and 20 seconds. The batch includes a haunting flashback,

an alternate scene demonstrating just how serious Common's character is, Shawn Maguire performing a humanizing hospital magic trick and an impassioned monologue, and extended versions of Nick Nolte's and Lois Smith's only scenes.

The Blu-ray opens with trailers for San Andreas and Entourage. The DVD, which only includes the deleted scenes as far as extras goes, starts with those and then moves on to promote The Man from U.N.C.L.E., Justice League: Gods and Monsters, Focus, and the Mad Max video game.

Each disc sports a static, silent menu utilizing poster art. Though it doesn't support bookmarks, the Blu-ray resumes unfinished playback like the DVD.

An insert with digital copy code and directions is all that accompanies the two plainly-labeled discs inside the slipcovered eco-friendly keepcase.
CLOSING THOUGHTS
Those who lament the fact that we've seen fewer R-rated action flicks from the major studios in recent years may be the most appreciative of Run All Night, a reasonably engaging Liam Neeson thriller that doesn't do quite enough to stand out for better or worse.
Warner's Blu-ray boasts high quality picture and sound plus a perfectly adequate handful of extras.
Buy Run All Night from Amazon.com: Blu-ray + DVD + Digital HD / DVD / Instant Video