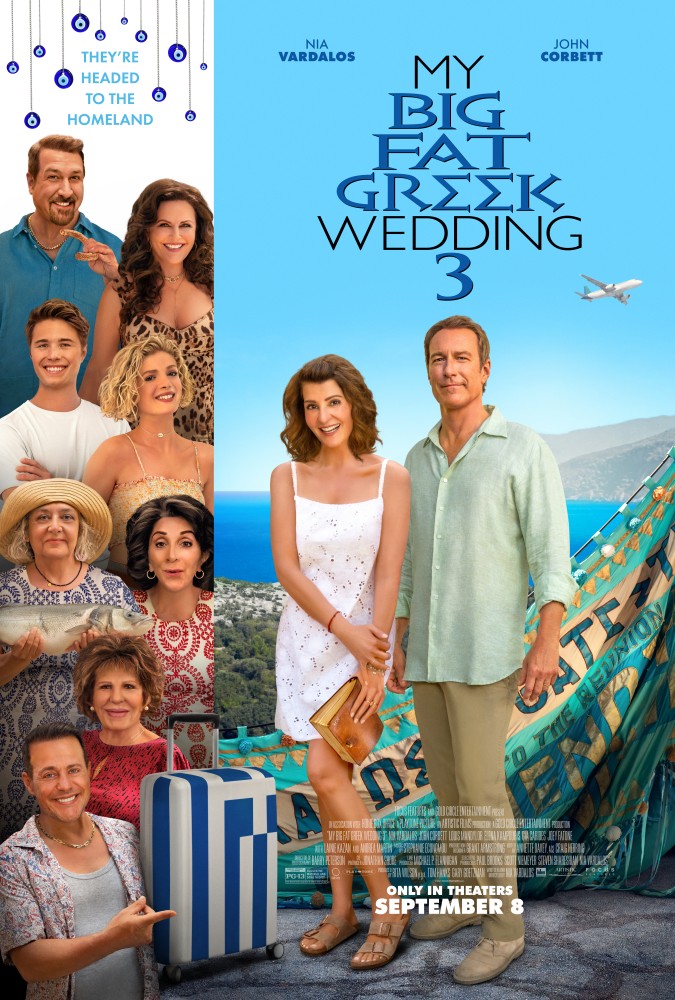 Despite clunky expositions and a cast shaking off rust, this threequel maintains a refreshing and unexpected amount of charm in lieu of palpable demand. Jump to review ↓
---
"My Big Fat Greek Wedding 3" Movie Review
No one could have foreseen My Big Fat Greek Wedding existing as a film franchise more than twenty years after its debut. That 2002 romantic comedy was a once-in-a-lifetime success story, the ultimate word-of-mouth hit, a $5 million Energizer Bunny of an indie movie that kept going and going until it grossed $240 million domestically and $368 million worldwide.
Anyone following the industry could have told you that performance was lightning in a bottle and not something you could ever strategically reproduce, which is probably why writer-star Nia Vardalos and her producers, most notably Hollywood power couple Tom Hanks and Rita Wilson, did not immediately even try. Instead, while the movie was still doing some business in theaters, they adapted it into a CBS sitcom called "My Big Fat Life." Despite a much-watched premiere, the series was cancelled within two months after only seven episodes had aired.
The soon-forgotten failure did little to diminish the movie's enthusiastic and near-universal embrace. Nonetheless, Vardalos, an Academy Award nominee for Best Original Screenplay and Golden Globe nominee for Best Actress in a Comedy or Musical, did not find herself thrust to It Girl status on either side of the camera. Cynics might point to her ethnicity or age (she turned 40 during the movie's triumphant run) as reasons why she didn't immediately transition to a popular leading lady of film or television. She had a number of opportunities: as star and writer of the 2004 buddy comedy Connie and Carla, leading lady of the Greece-set romantic comedy My Life in Ruins (2009), and writer, director, and star of fellow 2009 romcom I Hate Valentine's Day, across from her Greek Wedding groom John Corbett. They all fell flat, critically and commercially. So too did the 2011 romantic comedy she co-wrote with Hanks, the roasted Larry Crowne.
In her fifties and still defined entirely by her breakout hit, the only obvious move for Vardalos was to return to the world that won the planet over. Arriving fourteen years after its predecessor, My Big Fat Greek Wedding 2 was not timely and it was not well-received by critics. But with an A- CinemaScore from moviegoers and a $90 million global haul on a still-modest budget of $18 million, it was not a commercial failure. The sequel currently sits with a respectable 6.0 user rating on IMDb and a favorable 4.7 out of 5-star average rating on Amazon, so clearly the general public did not hate it.
And so, we're back at it again with My Big Fat Greek Wedding 3. Whereas last time out, Universal Pictures distributed the film and opened it in over 3,000 theaters, this time the studio has its indie/specialty arm Focus Features handle the release with modest expectations. September is not a month renowned for commercial success and romantic comedies have struggled on the big screen for years, increasingly relegated to streaming services where the viewership numbers are private and the comparisons to big budget superhero fare are not as embarrassingly newsworthy.
It is a weird time to be putting the genre to the test and betting on Vardalos, who as always takes solo screenplay credit and this time also directs for the first time. But the allure of familiar IP and built-in branding is as real as it's ever been, so here we go.
Perhaps inevitably, this threequel takes the cast to Greece, a concept that was a selling point and actual tagline of My Life in Ruins some fourteen years ago. Greek-American Toula Portokalos (Vardalos) has recently lost her father (reflecting actor Michael Constantine's death in 2021) and her mother (Lainie Kazan) is struggling with dementia. What better time than now to make her first pilgrimage to her family's homeland, a little island village in the Mediterranean? Coming along for this trip — which is billed a reunion for the late Gus' family and friends — are Nia's recently retired professor husband Ian (Corbett), the couple's collegiate daughter Paris (Elena Kampouris), Toula's image-conscious brother Nick (Louis Mandylor), wild card aunt Voula (Andrea Martin), and Aunt Freida (Maria Vacratsis). Oh, and there's also a nice young Greek-American boy named Aristotle (Elias Kacavas), whom Paris once ghosted and is now surprised to see working as Voula's assistant for this trip. You'll never guess what the movie has in store for these attractive "teens."
Part of the secret to the original film's success was, despite the independent production methods, it was a film with mainstream sensibilities. There was nothing dark or complicated about Vardalos' screenplay. It simply presented the experience of a grown-up American descendant of immigrants wittily and earnestly. That was relatable enough for many and specific/novel enough to stand out from studio romcoms, plus the public has always had an appetite for "Ugly Duckling" transformations. This third time out, Vardalos has not rocked the boat. She is not borrowing from Richard Linklater's similarly long-running and Euro-centric Before trilogy or trying to imbue this probable finale with newfound artistry or edge. She is simply leaning back into the colorful characterizations that won moviegoers over and giving them more broad shenanigans, only this time against the endlessly scenic backdrop of Greece.
The comedy gags often miss the mark. The film is so devout in its belief that scenes of a partially undressed Nick grooming himself at the breakfast table will split your sides that it serves up a preposterous volume of them, never once eliciting so much as a chuckle from my scarce daytime screening crowd. Other comic bits do not fare much better. There is the terrifying old-world host, an aging former flame of Gus who doesn't know the meaning of the word "hospitable." More diverting is the group's other host (newcomer Melina Kotselou), a lively free spirit who serves as both mayor and taxi driver in the town of six.
There are some turns in the narrative that surprise the characters, although they are less likely to subvert the expectations of seasoned moviegoers. And yet, through its clunky expositions and with a cast shaking off rust, the sequel maintains a refreshing and unexpected amount of charm. There is the natural assumption that a franchise loses steam and its appeal as it progresses, particularly when it does so in absence of palpable demand and defiance of a reasonable expiration date. Maybe it was just the fact that the Kirk Jones-directed second installment was just so cringeworthy, but this third episode actually qualifies as a minor improvement. It is extremely watchable and that may be due in large part to the clear love and passion that Vardalos and her returning colleagues hold for these characters and their journeys. So while the film flounders to crack you up and inspires eye rolls at certain moments (for example, the sight gag of 20 relatives stuck in a large airport revolving door), it never rubs you the wrong way or angers you for continuing to exploit success from literally two decades ago.
If nothing else, this third Wedding (which lives up to its title) inspires thoughts on aging and mortality from those old enough to remember when the first film was a sensation. The cast's reckoning with getting older is mostly nondiegetic in nature, save for Nick, who "humorously" keeps dying his white hair black. At 62, Corbett is the standout of defying Father Time, prompting you to wonder if dabbling in country music, playing a dad in a Netflix film franchise, or marrying Bo Derek is the secret to his inexplicable fountain of youth. Vardalos seems to pay special attention to keeping herself, 60, looking like a viable leading lady, although some of her co-stars are not shot as flatteringly.
For me, the oddly enduring nature of this series raises more thoughts like this about its makers than about the characters they portray. I think that's fundamental to me liking this movie more than this year's other "aging stars take a scenic European vacation for a sequel nobody asked for", Book Club: The Next Chapter. As the heart and soul of this franchise, Vardalos has a career path that elicits sympathy. The only roles of substance that she has gotten are in the movies she's written and/or directed. The original Wedding is clever and heartfelt enough to know that she deserves better. Her spotty track record post-2002 seems as much a reflection of Hollywood's historically limited opportunities for creative females as of her own potentially limited wheelhouse.
With all that in mind, it's somewhat bewildering that My Big Fat Greek Wedding 3 exists, let alone with a top-secret budget that is visibly significant enough to inspire curiosity. When it disappoints at the box office, and it will, keep in mind that this is sadly another blow to mid-budget moviemaking and films that aren't squarely aimed at teenaged boys.
Like Luke's work?
Consider leaving a tip and sharing this review to support DVDizzy.