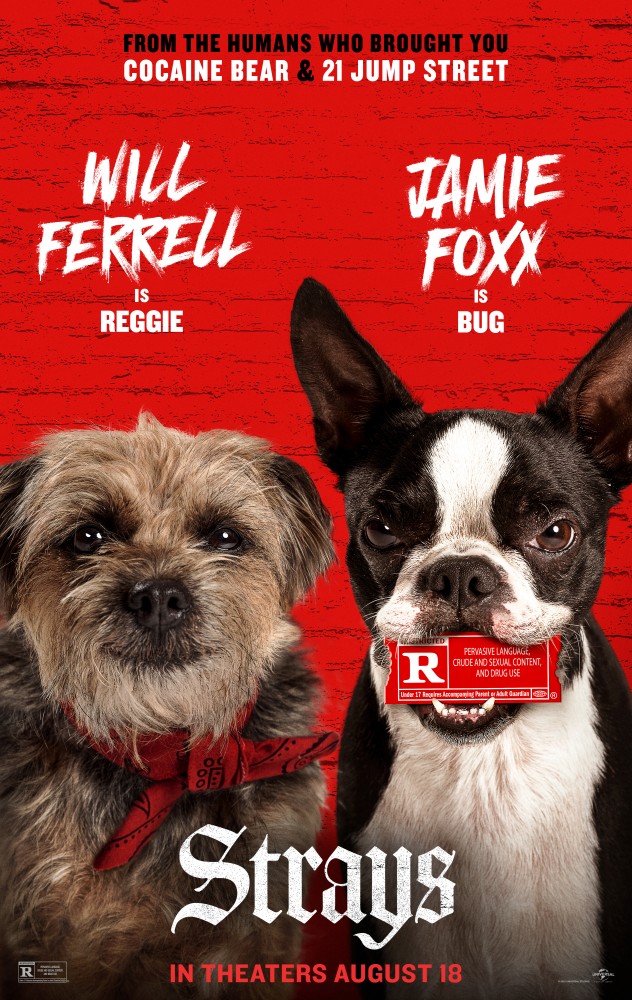 It remains to be seen how much the audiences for gross-out comedy and talking dogs overlap, but "Strays" provides a decent amount of laughs with the right expectations. Jump to review ↓
---
Since making it big, the creative tandem of Phil Lord and Christopher Miller has had success in virtually every undertaking. Their hits have occupied a wide variety of forms, beginning with mainstream family animation (Cloudy with a Chance of Meatballs), abruptly shifting to R-rated action comedy (21 Jump Street), and then moving to something in between with the adult-oriented apocalypse single-camera comedy "The Last Man on Earth." Those who recognize the duo's names likely associate them most with two epic animation franchises, the one that began with 2014's The Lego Movie, which they wrote, directed, and produced together, and Sony's highly acclaimed and increasingly lucrative Spider-Verse franchise as producers and writers.
Despite their biggest triumphs coming in PG-rated animated films with massive commercial and critical appeal, Lord and Miller have not abandoned their raunchier tastes. They produced Cocaine Bear, the batty sort-of true horror comedy that turned a healthy profit for Universal this past winter. And now they give us Strays, a talking dog movie that is kind of — but also very much not — in the tradition of movies like Disney's Homeward Bound and Buddies franchises. As the marketing campaign makes abundantly clear, this is not one to bring the kids to. It's a hard-R adult comedy filled with off-color material.
Our protagonist is Reggie (sweetly and amusingly voiced by Will Ferrell), a naive Border Terrier who fails to recognize or understand just how awful his human owner is. Doug (Will Forte) is a nasty loser content to spend his life on the couch deriving pleasure from a mix of bong hits and onanism. After Reggie discovers panties that do not belong to his live-in girlfriend, Doug finds himself single and soon to be evicted since his mom hasn't covered his rent. He blames his predicament on the dog he never wanted yet who he refuses to let his departing ex take.
Subjected to increasingly elaborate games of fetch (or, as we see it, attempted abandonment), Reggie ends up stranded in a city alley, unprepared for life on the streets. Fortunately, he soon crosses paths with Bug (Jamie Foxx), a Boston Terrier with street savoir faire; a Great Dane named Hunter (Randall Park), a cone-wearing Police Academy dropout turned therapy dog for the elderly; and Maggie (Isla Fisher), an Australian Shepherd with quite the nose.
The story possibilities of domesticated animals in the wild have been extensively explored in countless family films. The only twist that Strays brings to its routine narrative is to present it as raunchy, crude, no-holds-barred comedy. Reggie's three new friends help him try to return to his owner, not for a happy reunion but rather toothy vengeance for years of neglect and abuse.
There is a clear love of canines in the screenplay by Dan Perrault, the Peabody Award-winning creator of the streaming mockumentaries "American Vandal" and "Players." Imagine the gags of The Secret Life of Pets but then crossbreed them with the types of shenanigans found in R-rated comedies like The Hangover and Pineapple Express. That meeting place might be most comparable to failures like Sausage Party and The Happytime Murders, but Strays fares a bit better than both. Admittedly, your tolerance for bodily humor is put to the test as these scrappy dogs become "PFFs" by urinating on one another, plot an escape from the pound using mass defecation, and experience the hallucinogenic effects of wild mushrooms.
This particular blend of gross-out comedy and talking dogs has not been attempted and it remains to be seen how much the audiences for those disparate forms overlap. But Strays delivers a decent amount of laughs if your expectations are properly established. Comic adventures for the family starring animals with CG-animated mouths have proven to be a commercial draw over the years. Their costs are minimal and the technology is not even a minor challenge for effects crews these days. And yet, whether they perform well enough to inspire sequels (e.g. Alvin and the Chipmunks, Cats and Dogs, Beverly Hills Chihuahua, Eddie Murphy's Dr. Dolittle) or not (Zookeeper, G-Force, Marmaduke, Robert Downey Jr.'s Dolittle), they're all widely regarded creatively as one of the lowest rungs on the ladder of family entertainment. By comparison, Strays isn't so bad. There are several movies out in theaters right now with less wit and imagination than this and some of them have performed remarkably well.
TV-seasoned director Josh Greenbaum (Barb and Star Go to Vista Del Mar, "Behind the Mask", "New Girl") does not surprise us, but nor does he pull any punches or soften edges. Strays is unabashedly crude but it has just enough heart to realize its goals, without exactly convincing you that it is a worthwhile and rewarding endeavor. Adult comedy in theaters has become such an endangered species that it's hard to really take any issue with a mid-budget movie like this taking some pretty big swings. Lord and Miller's interests here may be more commercial then artistic and their top priority seems to be diversifying their portfolio, but this is never stupid or bad enough to outright dismiss.
Like Luke's work?
Consider leaving a tip and sharing this review to support DVDizzy.