Over the course of just a few years (five or ten, depending on when you start counting), Disney has managed to revisit and remake a staggering number of their esteemed animated classics, including nearly every hit from a generation ago. This month, they arrive at the studio's crown jewel by public opinion, box office receipts, and home video sales. Released a quarter-century ago, the original The Lion King was one of Disney's few animated films to feature an all-animal cast.
Since nobody makes narrative films with real wild animals anymore, that means 2019's The Lion King is still very much an animated film, just one employing the photorealistic CGI we expect of Disney's lavish "live-action" remakes. The last of those to rely predominantly on such CG animals was 2016's The Jungle Book, a huge success for the studio, and its director Jon Favreau has been given the helm to do the same for the even more beloved '90s musical.
Favreau's Jungle Book gives us a perfect idea of what to expect from his Lion King. Animals that look real but talk and sing. A clear respect for the original source. The mildest of departures, mostly in the interest of looking the part of a late-2010s "live-action" tentpole. This time around, there's no human boy in a loincloth to ground the proceedings. Not that you need anything like that because The Lion King's mix of Shakespearean drama and the African wild was as relatable and moving as any big movie of the '90s.
Your expectations begin to be met immediately. Of course, the new Lion King opens in the same dramatic fashion as the original, with an apparently shot-by-shot recreation of the iconic "Circle of Life" sequence, possibly the most majestic opening to any animated film. The very next scene is perhaps the one that more accurately conveys the nature of this production. In the original film, there was a shot of a scurrying mouse who ended up in the paw of the evil Scar. It ran a few seconds. In Favreau's version, the same thing happens but it goes on for almost a minute as that mouse you struggle to believe is completely a digital creation eventually winds up in the possession of Scar, giving him an opportunity to deliver a monologue on the way of the world. The new Scar doesn't have the jet black mane of his 1994 counterpart, but he is disfigured around his left eye. He also has a strangely receding hairline and is voiced by Chiwetel Ejiofor in an underwhelming characterization. Seemingly cast for clout and ethnicity, Ejiofor is not a voice actor and you remain aware of that throughout as you try not to compare him to Jeremy Irons' dripping-with-evil take on the villain.
Scar, of course, would like to be the king of Pride Rock, but that is a position that is held by his brother Mufasa (James Earl Jones, reprising the role but with less grandiosity). Mufasa's son Simba (JD McCrary) has just been born and it was his ceremonial annointing on which we opened that Scar failed to attend. Simba is excited to one day rule like his father, but as a cub he exhibits the mischief and timidity of youth. But this isn't a movie I need to synopsize because I know you've both seen and remember it.
Jeff Nathanson (Catch Me If You Can, Indiana Jones and the Kingdom of the Crystal Skull, Pirates of the Caribbean: Dead Men Tell No Tales) does not do much to earn his unshared screenwriting credit. He and Favreau stay true to the original narrative as much as they can, retaining a good amount of the original dialogue verbatim. That approach serves to call attention to the places where things go off the script you might well know by heart as I do.
The changes that are made are mild and do little to justify the remake's existence for non-commercial reasons. Little playful bits are repeatedly toned down, seemingly to serve the notion that this is a live-action work that adults, even non-parents(!), can enjoy. The idea that animation is for children is so dumb and should have been long retired by the likes of Pixar, Miyazaki, Wes Anderson, Aardman, Lord & Miller, and so on. But I have no doubt that Disney's market research would bear out the fact that many close-minded childless moviegoers aren't comfortable buying a ticket for a cartoon.
And that seems to be one major reason why the studio will not submit this for the Best Animated Feature Oscar, even though it would absolutely qualify (no matter how real it looks, it's all digital animation) and probably also contend. James Cameron similarly didn't want Avatar marginalized like that and it's not as if Disney needs more internal competition for kid's table honors.
Little gags that brightened up the original are mostly discarded here in a favor of a more unified and somber tone. And yet you can't make The Lion King without comedy. The lion's share of the laughs again fall to Timon and Pumbaa (voiced by Billy Eichner and second-billed Seth Rogen), the meerkat and warthog who welcome a traumatized Simba to their grub-eating "Hakuna Matata" existence in a lush green valley. Eichner and Rogen are given the most freedom to reinvent their iconic characters and they do so, close to excess. Most 2010s live-action tentpoles don't have a place for a wisecracking comic duo of sidekicks, but even in their slightly reimagined form (Pumbaa bears little resemblance visually to his portly red 1994 appearance), these characters entertain. It's worth pointing out that Timon and Pumbaa are at the center of multiple revisions big enough to draw small gasps from those as familiar with and fond of the original as me. The worst of these swaps out their Hawaiian war chant hula dance for a Beauty and the Beast homage. Perhaps due to heightened cultural sensitivity, the wackier aspects of the baboon shaman Rafiki (now voiced by John Kani) have been eliminated, rendering him less flavorful and lovable.
You're grasping at straws if you're trying to find a reason to be outraged by this remake. Sticking close to the original is the only way for Favreau and company to succeed here. And while, unsurprisingly, it's true that this remake is not better than the original in any single way, that isn't enough to classify it as a failure. The public's love for The Lion King is rivaled by few films and it is clear that this remake is born out of that love, both from the filmmakers and the moviegoers they're trying to win over. It won't replace the original, but it also won't tarnish it. It's simply an extension of that colorful masterpiece that people should still be enjoying after we're all gone. And yes, it's an extension that will most profit the giant corporation that already has the four biggest hits of the year (with Frozen 2 still to come), but who can begrudge them for getting such extraordinary mileage out of their intellectual property?
Some scattered observations that I consider worth sharing... Ejiofor must not have much of a singing voice because "Be Prepared" is turned into something of a dramatic poetry reading (with mostly new lyrics and no Nazi overtones). Eichner and Rogen, two other actors that have not displayed musical talent before, get by on their two numbers with generous amounts of Auto-Tuning. As adults, Simba and Nala are voiced by Donald Glover and Beyoncé Carter-Knowles and naturally both hyphenates bring their best to "Can You Feel the Love Tonight", the Elton John and Tim Rice-penned tune that won the Oscar for Best Original Song. Beyonce has an original song, "Spirit", squeezed into a moment it doesn't fit, which deprives us of one of the original's most stirring scenes getting faithfully recreated. Despite that casualty, Hans Zimmer's Oscar-winning score is still all over this. The composer even took a break from concocting drones for Christopher Nolan to write some new themes that are perfectly compatible additions and help account for the half-hour longer than the original that this runs. Any charm the hyenas had in the original movie is lost. The characters (no longer numbering three but voiced most prominently by Eric André, Keegan-Michael Key, and Black Panther's Florence Kasumba) are ugly and given the film's most tonedeaf comedy, most glaringly in a miscalculated tension-cutting joke.
Beauty and the Beast grossed over a billion dollars worldwide and Aladdin is well on its way there. Their bases were the contemporaries that The Lion King dwarved when it set the box office ablaze in 1994 and it's not hard to see history not repeating itself with these remakes, even in a summer when most big movies (even Pixar's Toy Story 4) have come in below box office expectations. Disney's utter domination of the business shows no sign of stopping or slowing.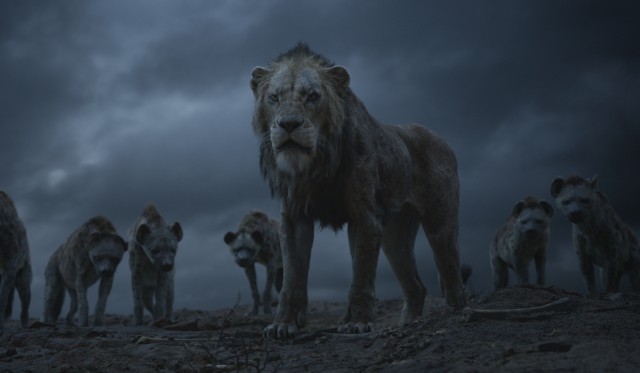 As for awards, the film has more of an uphill challenge. Best Visual Effects might have been its to lose, if Jungle Book hadn't already won it for largely the same techniques, while Marvel still has never won that award. The four nominations the original Lion King drew at the Oscars were for score and three songs, none of which this seems to qualify for. But, Original Song isn't the hardest category to crack, so perhaps that Beyoncé tune could compete there. Otherwise, perhaps the two sound categories are in play. Treating this as a live-action film obviously eliminates the one category where animated films command respect.

There are still more live-action remakes to come, some for theaters and some directly to the soon-launching Disney+ streaming service, including Niki Caro's Mulan and David Lowery's Peter Pan. But it kind of feels like The Lion King is as big and maybe as good as it gets for this class, which makes up for its lack of originality with effort, craft, and, most of all, the powerful memories and emotions conjured by the original movies on which they're based.

Related Reviews:
Disney Remakes: Aladdin (2019) • The Jungle Book (2016) • Dumbo (2019) • Beauty and the Beast (2017) • Cinderella (2015)
Directed by Jon Favreau: Elf • Iron Man
Written by Jeff Nathanson: Catch Me If You Can • Indiana Jones and the Kingdom of the Crystal Skull • Pirates of the Caribbean: Dead Men Tell No Tales
Now in Theaters: Toy Story 4 • Spider-Man: Far from Home • The Secret Life of Pets 2
Life of Pi • The Chronicles of Narnia: The Lion, The Witch and The Wardrobe

DVDizzy.com | DVD and Blu-ray Reviews | New and Upcoming DVD & Blu-ray Schedule | Upcoming Cover Art | Search This Site

DVDizzy.com Top Stories:


Reviewed July 12, 2019.



Text copyright 2019 DVDizzy.com. Images copyright 2019 Disney.
Unauthorized reproduction prohibited.