In the eighteen years since Twister was released, its $241.7 million domestic gross has been eclipsed by twenty-one subsequent Warner Bros. movies. Of those twenty-one, only three have actually sold more tickets than Twister: the very first Harry Potter and the second and third of Christopher Nolan's Dark Knight movies. That makes you realize that Twister was a true, bona fide blockbuster,

the likes of which we rarely see today. Adjusting for inflation, its North American gross is the equivalent of $444 M today, which is more than any film has earned this year and four of the last five years. That's not even taking into account that most of today's box office champs benefit from the premium prices of IMAX and 3D admissions and most of them are franchise sequels. Twister was an entirely original film; recent films that have achieved similar (but not quite as much) commercial success with no pre-existing source material, like Gravity and Inception, are few and far between.

I tell you this not because I am reviewing some snazzy new edition of Twister and not to argue that the film is some underrated masterpiece (it definitely is not). I only wish to remind you of this somewhat forgotten disaster movie's remarkable commercial success, which undoubtedly was a factor in the creation of Into the Storm. Eighteen years is a long time and certainly long enough to try to put a new spin on a past triumph, which is certainly what appears to be going on here.

Unofficially, of course. Twister isn't a strong enough brand to warrant paying screenwriter Anne-Marie Martin and the estate of Michael Crichton for concepts and characters. Into the Storm simply borrows the general concept -- extraordinary tornadoes tearing up the Great Plains -- and the logical decision to present this action from the perspective of storm chasers. Yeah, it's basically the same thing, but with no legitimate claim at copyright infringement.
The most prominent way in which Into the Storm puts a new spin on the material is by latching onto the found footage craze. The film is presented with first-person camerawork from both the aforementioned storm chasers and a couple of teenage brothers. Seventeen-year-old Donnie Fuller (Max Deacon) is making a video about his life for a time capsule he'll open in twenty-five years. The school year is ending and Donnie is supposed to be filming the senior class' graduation at Silverton High where his widowed father (Richard Armitage) is vice principal. Instead, Donnie seizes an opportunity to help attractive classmate Kaitlyn Johnston (Alycia Debnam-Carey) with a video project she needs to complete, leaving his 16-year-old brother Trey (Nathan Kress) to film the ceremony.
Of course, as you can tell from the title and marketing, Into the Storm isn't so interested in any of that. It's interested in devastating tornadoes blowing through northern Oklahoma. One of these tornadoes kills four students in the opening scene. The worst is yet to come and that is music to the ears of a team of tornado chasers who haven't captured anything noteworthy on film all season. The team includes de facto leader Pete Moore (Matt Walsh), who is committed to get a good shot at any cost; the educated Allison Stone (Sarah Wayne Callies), who is not digging being away from her young daughter; and anxious new cameraman Jacob Hodges (Jeremy Sumpter). The team rides around in a van which is fitted with all sorts of meteorological displays and equipment. They also travel by Titus, "the ultimate storm-chasing vehicle", basically a tank designed to withstand extreme elements and full of cameras to capture storms as never seen before.
An apparently unexpected tornado comes blowing in through the graduation, sending students and faculty to take shelter in the school, which apparently does not have a really good storm shelter plan despite being in the middle of tornado country. While this is going on, Donnie and Kaitlyn are at the old paper mill, getting themselves trapped in a tight situation as water rises and cell phone signal evaporates. Mr. Fuller and Trey tag along with the storm chasers, trying to find the missing kids and help others in the area who are all ill-equipped to survive what is basically the biggest series of tornadoes in human history.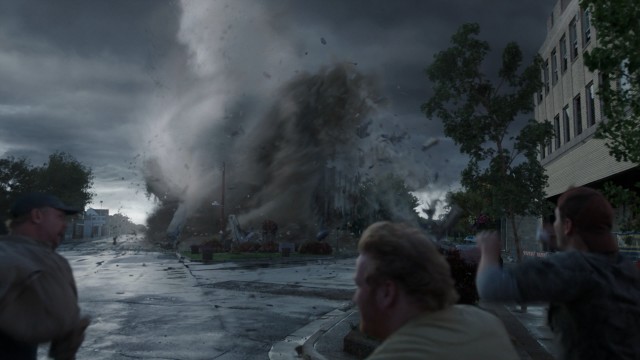 The found footage format does Into the Storm no favors whatsoever. There is almost no novelty left to the concept after it has been mined extensively over the past several years by a variety of horror and science fiction movies. The design doesn't lend to this movie at all. Though it hatches a lot of reasons for its characters to film, few of them are good enough for characters to keep shooting while in grave danger.

Have you seen steady handheld videos capturing recent tsunamis, school shootings, and hurricanes? You have not. Even the September 11th attacks on the World Trade Center in the heart of one of the world's biggest and most media-driven metropolises yielded very little first-person footage from the heart of the action. That's because humanity's compulsion to document never overpowers its desire to stay alive. That these characters, and not just the professional storm chasers hungry for a big break, keep their cameras rolling in peril requires way more suspension of disbelief than you can offer.

Even the movie doesn't believe its own fiction, having to cheat with implausible cuts, taut editing, at least one glaring helicopter shot, and the use of score. Yes, score. Into the Storm wants the immediacy, rawness, and spontaneity of found footage, but also to be able to rely on conventional filmmaking techniques. While there is no need to get worked up about such inconsistencies, there's so little entertainment value that the viewer can think of nothing else.

This movie is extremely contrived, with its unnatural, forced exchanges about storms and dead mothers. No one knows exactly how they'd act in a life-threatening situation unless and until they find themselves in one. It is safe to say that no one involved with this film has ever been in a situation or even spoken to someone who has. There just isn't a genuine moment to be found.

Disaster movies may be an old tradition in Hollywood, but it is rare to encounter one from a major studio treated to wide theatrical release against the industry's most expensive heavyweights. With a budget of $50 million, Into the Storm was not exactly David in a sea of summer Goliaths. But this unabashed B-movie clearly is in way over its head.

Most of the budget seems to have been spent on visual effects (which impress, but not as nearly much as they would have in the mid-'90s), because the cast assembled here is almost entirely devoid of star power. Whereas Twister at least had decorated sitcom star Helen Hunt and movie veteran Bill Paxton, Storm doesn't have anyone with any shot at upstaging the real star, those tornadoes. Armitage is unrecognizable out of his Hobbit dwarf make-up. Callies is unfamiliar to someone who hasn't watched "The Walking Dead" since Season 1. You'll have to have a really good memory to recall Sumpter as 2003's Peter Pan. And you might wonder if your eyes are deceiving you, because comedy veteran Walsh isn't given even a single joke here. (The comedy is left to a pair of "amateur daredevils" evidently inspired by Jackass.)
There is no reason to recognize or remember the names of the film's writer and director. Scribe John Swetnam previously wrote Step Up All In and an obscure thriller called Evidence. Director Steven Quale previously helmed Final Destination 5, but might be prouder of his second unit direction on James Cameron's Titanic and Avatar (though he's also credited as visual effects supervisor on the latter, he wasn't among the four who won the Best Visual Effects Oscar on that film). Into the Storm is not a movie that hints at better things to come for either.
Despite being outmatched by the competition, Into the Storm didn't fare too terribly at the box office. Its $47.6 million domestic take makes it a disappointment (not to mention, it only sold a tenth of Twister's tickets), but $112 M from foreign markets are almost enough to lift it to a realm of respectability. Honestly, from the trailer and no-name personnel, I expected it to struggle to reach an eight-figure gross, which it did in just two days.
Into the Storm hits DVD and Blu-ray combo pack today from Warner Home Video.
Blu-ray & DVD Details

2.40:1 Widescreen (DVD Anamorphic)
Blu-ray: 5.1 DTS-HD MA (English), Dolby Digital 5.1 (French, Spanish, Portuguese)
DVD: Dolby Digital 5.1 (English, French, Spanish)
Subtitles: English for Hearing Impaired, French, Spanish; BD-only: Portuguese
Not Closed Captioned; Extras Subtitled
Release Date: November 18, 2014
Suggested Retail Price: $35.99
Two single-sided discs (BD-25 & DVD-9)
Blue Eco-Friendly Keepcase in Cardboard Slipcover
Also available as standalone DVD ($28.98 SRP) and on Instant Video
VIDEO and AUDIO
By design, Into the Storm looks like video, not a film. The Blu-ray's 1.78:1 presentation is not as jerky as found footage realistically would be. The picture is clean and sharp throughout, except when cameras go haywire, which you come to realize means a character has died (who knew cameras required a pulse to keep running?).
The BD's 5.1 DTS-HD master audio is rip-roaring. It's often very loud and occasional quiet moments may have you reaching for the remote to adjust. But the soundtrack certainly delivers the dynamic experience you expect from a reasonably big disaster movie.
BONUS FEATURES, MENUS, PACKAGING and DESIGN

Three HD featurettes accompany the film on Blu-ray.

"Into the Storm: Tornado Files" (10:48) lets real storm chasers, the filmmakers,

and the visual effects artists describe the different types of tornadoes observed in nature and dramatized in the film.

"Titus: The Ultimate Storm Chasing Vehicle" (8:23) discusses the armored vehicle created for the film, considering its internal and external design.

"Fake Storms: Real Conditions" (5:37) addresses the practical ways in which storms were simulated with rain towers, giant fans, and wire suspension.

The DVD only includes "Fake Storms: Real Conditions."

The Blu-ray opens with trailers for The Hobbit: The Battle of The Five Armies and Jupiter Ascending. The DVD starts with those and then adds promos for The Hobbit: The Desolation of Smaug Extended Edition, Dolphin Tale 2, and Gone with the Wind (not sure how that fits here), and Island of Lemurs: Madagascar.

The main menu plays score over a wide rendering of the poster-turned-cover art. The Blu-ray resumes unfinished playback of the movie, but otherwise makes you repeat trailers.

The Digital HD UltraViolet code included with your purchase joins the two plainly-labeled discs inside the slipcovered eco-friendly keepcase. For some reason, the insert's back promotes the latest season of "Arrow."
CLOSING THOUGHTS
Into the Storm basically aspires to be the Twister of a new generation. Unfortunately, Twister isn't very good and this is even worse. The acting and visuals of this mindless disaster flick do compare favorably to TV movies that have tread similar ground. Judged against contemporary theatrical fare, though, this is bottom rung entertainment that is severely lacking tact, realism, and any redeeming value.
Warner's combo pack delivers a rousing sound mix that may please those looking for tornado-based home theater thrills. Everyone else would be fine to pass on this movie, which is too serious and drab to even enjoy in a way other than intended.
Buy Into the Storm from Amazon.com:
Blu-ray Combo Pack / DVD / Instant Video