It's well-documented how few opportunities Hollywood has for actresses over forty and female directors of any age. The new comedy The Hot Flashes, which features five 40+ leading ladies and is directed by Susan Seidelman,

will do absolutely nothing to make the industry rethink its biases.

Beth Humphrey (Brooke Shields), a housewife of Burning Bush, Texas, is crushed to learn that the town's mobile mammography unit named after her deceased best friend is about to disappear over a lack of funding. The news is especially devastating because it's the result of Beth forgetting to submit paperwork for matching funds annually.

Told the breast cancer screening vehicle needs to raise $25,000 in two months to stay in operation, Beth hatches a plan for her and other local middle-aged women who played high school basketball to slap on some gym shorts and compete against Burning Bush High School's current Lady Armadillos team. Beth brings the idea to a number of former athletes, including Flo Clarkston (Wanda Sykes), the town's widowed mayor up for re-election; long-closeted car dealer Ginger Peabody (Daryl Hannah); chunky pothead Roxie Rosales (Camryn Manheim); and town slut Clementine Winks (Virginia Madsen). Each rejects Beth's plan, but with a little additional prodding, they hit the court to start practicing.
Beth enlists a disgraced veterinarian dwarf (Mark Povinelli) as coach and schedules three charity games for consecutive Friday nights that will pit these supposedly over-the-hill women against accomplished teenage girls, including Beth's own daughter (Charlotte Graham). The plan is to raise $15,000 in ticket sales and the remaining $10,000 from bets. Few turn up for the initial game, which requires the ladies -- team name: The Hot Flashes -- stay within twenty points to see the best-of-3 series all the way through. But the women's efforts for a cause come to earn some press, inspiring other women and even attracting a "Good Morning America" camera crew with breast cancer survivor Robin Roberts in tow.
One quick glimpse of The Hot Flashes' DVD cover is enough to not expect a very good movie. Once you realize that these five actresses in their late 40s and early 50s are forming a basketball team (they each wear different uniforms for some reason, none of which the cover accurately represents), your expectations assume the form of a typical rags-to-riches underdog sports comedy in the tradition of The Bad News Bears and The Mighty Ducks. Although the film does not subvert those expectations, it also aims for Bridesmaids-type appeal with some innuendo and profanity earning it an R rating. All the while, it's also functioning as a type of public service announcement for mammograms. Inevitably, the movie has partnered up with the American Cancer Society to raise its profile.
The Hot Flashes tries hard, but throws up an airball on all three of these fronts. Comedically, the movie is hopeless. It earns nary a laugh with its jokes you see coming minutes in advance. Still, you'll wish the debut screenplay from Brad Hennig (who also produces) stuck to comedy, because its more serious moments display even less taste. Beth discovers that her husband, unsympathetic postmaster Laurence (Eric Roberts), is having an affair with married church lady Kayla Rash (Andrea Frankle), catching them in the throes of committing adultery with mail-related euphemisms.
The portrayal of a two-timing, two-faced parishioner isn't the movie's only beef with the Baptist Church. Kayla's teenaged daughter Millie (Jessica Rothe), who of course plays for the opposing team, is a popular snob needing no prompting to sling some homophobia in the direction of the widely suspected lesbian Ginger. Intolerant "Christians" are perhaps the most widely accepted target for antagony these days, so of course, Hennig incorporates that into his lazy, inane script.

The five marketable leads, most of them distanced from their apexes of fame, had to know what they were getting into when they signed onto this, an independent movie certain to be marginalized commercially and trashed critically. With its R rating, this isn't even fit for a premiering on Lifetime, a channel it takes a swipe at.

And it's unclear how producers thought the $4 million budget could be recouped. Director Seidelman found her career on the rise in the 1980s, having helmed mid-range comedies like Desperately Seeking Susan and the Roseanne/Meryl Steep vehicle She-Devil. The director has long since been relegated to television and her latest efforts are lucky to even make it to video and a handful of theaters.

The movie's for and by 50-year-old women design is clear from its musical selections, which range from the late '70s (The Commodores' "Brick House" and a Wanda Sykes karaoke version of "Hot Stuff" that changes the chorus to suit the titular menopausal symptom) to the early '90s (Technotronic's "Move This"). That 15-year stretch must stand as a kind of glory days for Seidelman and at least some of the cast members.

I generally blame Hollywood for having nothing of substance to offer actresses over 45 (besides Meryl Streep and maybe Sandra Bullock). The system is clearly the reason why a 21st century Academy Award nominee like Madsen must say yes to a project like this. On the other hand, middle-aged women need to do a lot better than this, a movie that makes Wild Hogs look inspired, to shift the balance of power.
Blu-ray & DVD Details

1.85:1 Anamorphic Widescreen
Dolby Digital 5.1 (English), Dolby Stereo 2.0 (English)
Subtitles: None; Extras Not Subtitled
Closed Captioned
Release Date: August 13, 2013
Single-sided, single-layered disc (DVD-5)
Suggested Retail Price: $20.99
Black Keepcase in Cardboard Slipcover
Also available on Amazon Instant Video
VIDEO and AUDIO
Spared a release in unforgiving HD, The Hot Flashes sports an average standard definition presentation on DVD. The 1.85:1 anamorphic widescreen transfer doesn't show a great amount of detail or sharpness, but the element stays clean and doesn't exhibit any issues worse than player-varying shimmering.
Sound is offered in both Dolby Digital 5.1 and plain 2.0 stereo. The default former mix came alive some for the numerous needle drops, but otherwise didn't command any notice positively or negatively. Vertical Entertainment made a poor choice to only include closed captions and not English subtitles, since increasingly standard HDMI cables render the captions inaccessible these days. You'll only need them if you're genuinely hard of hearing, however.
BONUS FEATURES, MENUS, PACKAGING and DESIGN

In what seems to be an increasing rarity for such direct-to-video films, the DVD actually includes a Special Features section,

one the case attributes to "charity partner" American Cancer Society. All it holds, however, are two mammogram-encouraging breast cancer PSAs (4:19) featuring cast members Brooke Shields, Virginia Madsen, Wanda Sykes, and Camryn Manheim (where's Daryl Hannah?!); the promo "ACS at 100: Helping People Get Well" (1:05); and a Hot Flashes trailer (1:55).

The static, silent menu screens recycle cover art pictures with a number of shades of pink.

Topped by a slipcover repeating the artwork below (which itself recycles the poorly-Photoshopped poster design of the film's limited theatrical release), the keepcase holds a double-sided insert for the American Cancer Society, but sadly fails to add a lithograph of this marvelous piece of art, an inclusion that would have easily tripled the value of this release.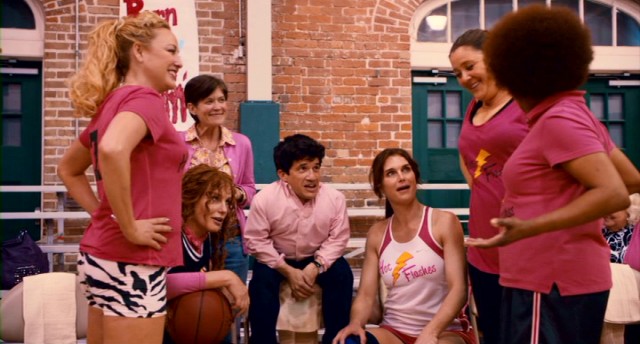 CLOSING THOUGHTS
One quick look at the cover of The Hot Flashes suggests something terrible and while this movie meets those expectations, it fails to get anywhere close to "so bad it's good" territory. No one making this movie seems to have any awareness of just how stupid and unfunny a sports comedy this is, which results in a joyless experience whose R rating may even scare off the only audience -- middle-aged women -- this has a shot of winning over.
Buy The Hot Flashes from Amazon.com: DVD / Instant Video