There's a good chance you know that movies like Gabe the Cupid Dog exist. Maybe you've seen the cover at a Redbox or on an unappetizing clearance rack. It's much less likely that you've actually sat down and intentionally watched a film of this sort. I chose to do just that after Gabe showed up among more expected parcels. I didn't ask to review this and I never would, but seeing those puppy eyes staring at me from the cover,

I felt I owed it to you, myself, and Gabe to find out just how bad a low budget movie with minimal commercial prospects could be.

Very, very bad, it turns out. Gabe the Cupid Dog is the worst movie I've seen in a while and the worst I expect to see for some time. I'm not entirely unfamiliar with rancid direct-to-video fare, but I certainly don't seek it out, with past and present theatrical films and the occasional television show or movie keeping me more than sufficiently occupied as a critic. Still, there is a pretty big leap between a terrible 50 Cent movie and something that has the makings of a Tommy Wiseau production.

So, Gabe the Cupid Dog, who the incomplete sentence of a tagline proclaims "the mischievous matchmaking mutt", is the small pet of Eric Miller (Brian Krause), the features editor of Left Coast Magazine. Eric is prepared to spend a year abroad with a move to a London division. He just first has to figure out the identity of R.L. Dutton, the mystery author of a #1 bestselling crime novel. Why a transatlantic relocation is dependent on this one assignment, I don't know. But Gabe doesn't like the plan. He needs to be vaccinated before traveling or else he'll supposedly spend six months in quarantine. To avoid that, he takes a horse's advice and tries to find lifelong bachelor Eric love worth staying in the US for.
Learning about romance exclusively from Lana Valentine (Ashley Jones), the host of inexplicably DVRed no-budget advice show "Cupid's Arrow", Gabe arranges for his owner to run into a sunbathing neighbor, random beachgoers, and nuns. When that doesn't work, the pooch sets his sights on Sarah Walters (Boti Bliss), a single neighbor and publisher who numbers among the few to know Dutton's true identity. Sarah resists Eric's pleas for an exclusive interview, but she can't ignore the signs he seems to be sending her, as flowers, poetry and jewelry are dropped off on her doorstep. Eric isn't behind such gallant gestures, but I bet you know who is. Need a hint? The rear cover proclaims "True Love is Fur-Ever!" in big, bold letters.
Shockingly, Gabe is not the feature film debut of writer/director/producer Michael Feifer. The 44-year-old New Yorker, an actor turned producer turned still photographer and first assistant director, has been keeping very busy since graduating to directing in 2005. According to IMDb, Gabe is his 26th credit as director and 13th as writer, though chances are you haven't seen any of them, not even the seven deemed significant enough to elicit Wikipedia pages and populate the "Films directed by Michael Feifer" category. That category is comprised of an odd mix of horror and heartwarming canine comedies. All of them are independent productions that either went straight to video or premiered on television.
Leads Brian Krause and Boti Bliss are hardly the first big name talent that Feifer has had the privilege of directing. He's also worked with the likes of Brittany Murphy, Dean Cain, Val Kilmer, Mimi Rogers, Elisa Donovan, Shelley Long, Judd Nelson, Stacey Dash, and Antonio Sabato Jr. Seeing a trend there, perhaps? Yes, a Michael Feifer movie appears to be the job offer you accept when your acting career isn't anywhere near where you'd like it to be.
Bliss, who the case proudly touts as a "CSI: Miami" cast member, appears at the very bottom of a Wikipedia entry titled "List of minor CSI: Miami characters" in a role the encyclopedia defines as "semi-recurring" through 2009. She gave birth to a son in 2011, so this is a way of easing back into employability. "Charmed" alum Krause, on the other hand, seems to be modeling his project selection process after Nicolas Cage... on speed. Krause has been making as many as eight movies a year recently, none of them for theaters, and he currently has thirteen credits in various stages of production, as indicated by red parentheticals on IMDb.
The families, friends, and fans of those actors are likely to make up a large portion of Gabe's audience. Beyond them, it's tough to imagine this film getting much of the general public's attention.

I expect that only those who can't say no to a dog movie and those buying gifts who think the cover is cute and just don't know any better may be the two other demographics Gabe has a shot at.

Even those who don't know any better should see the error of their ways after watching this film for a couple of minutes. Realizing you probably haven't made it this far, I hate to dwell on the film's failings, but there are so many of them that are unusual and interesting. For instance, Feifer seems to have insufficient coverage of scenes, resulting in choppy and unpredictable edits. The lighting is spotty. There are a number of unflattering camera angles. There is an overreliance on awkward dog point-of-view shots. The pacing is off. Music is dropped in with little rhyme or reason and features prominently to fool you into not noticing the unfunny material. Even the fonts used in graphics are terribly unimaginative. The acting is atrocious, a fact that isn't easily forgiven when you discover these are aspiring professionals and not local amateurs eager to have a part in a movie. Krause, Bliss, and Linden Ashby (Mortal Kombat, Wyatt Earp, and MTV's "Teen Wolf") as freeloader friend Jerry are the only three performers with any comfort.

Even the design on which the entirety of the film rests is highly flawed. For one thing, the voice of Gabe (Pete Sepenuk) is much too ordinary to identify as he's talking. That then requires us to get a close up on the dog to know that he's talking every time that he's talking. Cinematically, it's quite tedious. The film breaks from its simple effects-free design in two scenes, one in which Gabe and a ranch horse's mouths are computer-animated to move as they talk, to distinguish animal communication from the essentially inner voice we normally get. That voice provides an unbearable, obnoxious running commentary, as Gabe constantly talks to his "Dad" (Eric) as if he might get a response back.

If "Dad" did respond, it would immediately put an end to the very stupid story. It also might spare us some of the least funny material I've ever seen committed to film. It's too bad to even warrant repeating, with a couple of "not" jokes being about the height of its comic brilliance.

Made for seemingly nothing, Gabe the Cupid Dog didn't even spend the few thousand dollars necessary to get an MPAA rating, instead opting for a clearly meaningless Dove Foundation "Family Approved" seal. I personally approve this movie neither for families nor any other audience.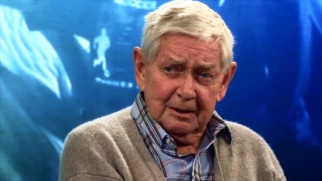 VIDEO and AUDIO

A brand new film like this should look great on DVD, but Gabe's 1.78:1 anamorphic widescreen transfer suffers from some edge ringing and shimmering backgrounds. The unspectacular digital video visuals and unremarkable Dolby Digital 5.1 soundtrack leave plenty to be desired, but sadly distributor XLrator Media hasn't seen fit to release this on Blu-ray, deciding that just the still widely preferred home video format would be sufficient to incur losses.

Though no subtitles are offered, English closed captions are available for displays that can access them.

BONUS FEATURES, MENUS, PACKAGING and DESIGN

The DVD's only extra is a Gabe the Cupid Dog trailer (2:38), which overstates the cast and runs slightly longer than those submitted to the MPAA. (Studios get to pick one film a year to exceed that 2½-minute limit...imagine if this went through that route and was chosen as that annual exception.)

The disc opens with a trailer for fellow XLrator dog movie Cinnamon. Miss it and you miss out; this promo is inaccessible by menu.

The menu plays clips in a thought bubble above Gabe's cover pose. The plain black keepcase includes no insert, but is topped by a cardboard slipcover that's embossed on three of its four sides.
CLOSING THOUGHTS
I watched Gabe the Cupid Dog so you don't have to. This atrocious, amateurish canine comedy proves your gut reaction to such a generic looking movie is an entirely appropriate one. Movies like this deserve none of your time and don't even have the decency to be unintentionally entertaining. This does no favors for the world of low-budget dog films. It stands to reason that most of them are, uh, dogs. If they weren't, they might not go straight to home video obscurity.