Free Fire gives prominent billing to Martin Scorsese, who is one of the film's nine executive producers, but I'm not sure that means any more than Steven Spielberg's name being attached

to the Transformers movies. I'm assuming Scorsese saw the film shortly after it was edited and liked it enough to lend his support, something he doesn't do for a ton of projects. As much as I respect Scorsese as both a filmmaker and cinema lover, I struggle to share his enthusiasm for this one-note action crime comedy set in 1978 Boston.

Directed by the UK's Ben Wheatley (Kill List, High-Rise), who co-wrote the screenplay with his wife and regular collaborator Amy Jump, Free Fire gathers a number of criminals from all over the world at a warehouse for an arms deal. Chris (Cillian Murphy) from Ireland has ordered a large number of M16 assault rifles from English-South African weapons dealer Vernon (Sharlto Copley). Instead, Vernon shows up with AR-17s. But Chris fires off a few test rounds and agrees to proceed with the transaction as planned.

As the thirty-minute mark approaches, a complication emerges. One side's associate (Jack Reynor) takes issue with the other side's low-ranking hood (Sam Riley) having assaulted his cousin with a bottle last night. Tensions flare and then there is a mystery gunman with a rifle opening rounds. By the end of the film's first third, we have arrived at the main event: a warehouse shootout in which pretty much every one is on their own.
Distrust abounds among this group of crooks which includes the smooth-talking, bearded Ord (Armie Hammer) and a single woman named Justine (Room's Academy Award winner Brie Larson). There isn't any more plot of which to speak. The guys and girl take cover and endure non-fatal wounds from one another while trying to think of a way all can leave this situation alive.

My one previous viewing of a Wheatley movie (High-Rise) has made me think it's common for his films to fall apart, but Free Fire doesn't even offer anything special before it devolves into simply guns a-blazing in every direction.

It's like Reservoir Dogs or The Hateful Eight without the story, characters, and dialogue that make Tarantino's movies worth caring about. It's not devoid of creativity, but it is not particularly compelling.

Still, two-thirds of critics narrowly approved the film on Rotten Tomatoes, with their mediocre 6.3/10 average rating being vouched for by the usually more easily impressed IMDb voting demographic, whose 6.6 and dropping average score is far from noteworthy. Despite Scorsese's name, some star power including the prominently marketed Larson whose wins a year earlier were still in mind, and a surprisingly wide release of over 1,000 theaters from the typically conservative A24, Free Fire failed to perform like anything but the niche film it appeared to be. It opened in 17th place with a measly $929 per theater average and sunk with some of the biggest drops of all time. In the end, it grossed just $1.8 million domestic, a number it exceeded in foreign markets but not by much.

Lionsgate recently released the film in the Blu-ray + Digital HD edition reviewed here.
Blu-ray Disc Details

2.39:1 Widescreen
5.1 DTS-HD MA (English)
Subtitles: English for Hearing Impaired, Spanish
Not Closed Captioned; Extras Not Subtitled
Release Date: July 18, 2017
Suggested Retail Price: $35.99
Single-sided, single-layered discs (BD-25)
Blue Eco-Friendly Keepcase in Cardboard Slipcover
Also available as DVD + Digital ($29.95 SRP) and on Instant Video
VIDEO and AUDIO
Although its $7 million budget was lower than most films released in over 1,000 theaters today, Free Fire still boasts significant production values and is easy to appreciate in the Blu-ray's nice-looking 2.39:1 presentation. The yellow and brown-heavy period visuals make less of an impression than the fine 5.1 DTS-HD master audio soundtrack, which of course sees gunfire whirring around you in every direction on a fairly regular basis.
BONUS FEATURES, MENUS, PACKAGING and DESIGN

Free Fire is joined by an audio commentary

by writer-director Ben Wheatley and, though the case doesn't mention them, Irish actors Cillian Murphy and Jack Reynor. The group setting allows laughs to flow and though the track is informative, it also is easygoing, allowing the speakers to enjoy little things they notice and remember about filming. It's not worth a listen, but Murphy and Reynor fans probably don't have many other commentaries to hear them on.

Beyond that, we only find "The Making of Free Fire" (15:58), a standard featurette which allows everyone to express how enjoyable it was to make an all-action film. Everyone but Larson marvels at the weapons their characters get to brandish. There's also insight to the period costumes and styles and comments as to how the single location was staged for filming and shot.

"Trailers" repeats the disc-opening full previews for Moonlight, American Honey, It Comes at Night, Swiss Army Man, and Ex Machina (which plugs, via closing text, the upcoming 4K Ultra HD release). Free Fire's own trailer unfortunately isn't included here.

The groovy '70s-fashioned menu cycles through the characters with color-coordinated animated images and their names. The movie might have benefitted from introducing characters in a similar way.

A Digital HD-supplying insert accompanies the plain gray disc inside the slipcovered eco-friendly keepcase.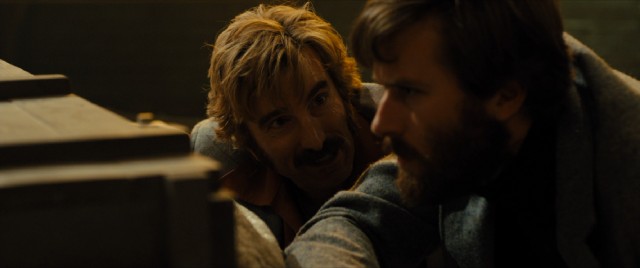 CLOSING THOUGHTS
Though it boasts a number of names that might catch your eye and the apparent blessing of the legendary Martin Scorsese, Free Fire doesn't do anything to subvert expectations. It's a prolonged shootout movie and nothing more. While there's a touch of creativity in that design, there isn't enough story or character to make you enjoy the ride, even if it's a short one.
Lionsgate's Blu-ray offers fine picture and sound, a couple of okay extras, and a digital copy, so those who enjoy the movie should be satisfied. But the unpleasant film itself does not warrant a recommendation.
Buy Free Fire from Amazon.com: Blu-ray + Digital HD / DVD / Instant Video