The careers of actors John Cusack and Nicolas Cage have had similar trajectories. While Cusack spent most of the 1980s playing teenage leads, Cage, who is just two years older, already looked too old to be in high school in 1986's Peggy Sue Got Married and moved on to adult roles immediately afterwards. Both hung onto star status into the 1990s and 2000s. Cage won an Oscar for Leaving Las Vegas (1995) and became a fixture of big action movies, many of them produced by Jerry Bruckheimer.

It was Cusack venturing into Cage's world on their first collaboration, Bruckheimer's 1997 hit Con Air. But Cusack had his own stream of work, from auteur-driven indies (Being John Malkovich, The Thin Red Line) to mainstream thrillers (Runaway Jury and Identity) and romantic comedies (Serendipity and America's Sweethearts) to vehicles in between (Grosse Pointe Blank and High Fidelity).

Cage's box office best occurred in his early forties with the Christmas 2007 release of the National Treasure sequel. Cusack's highest grosser came two years later on the disaster movie 2012. Shortly after these commercial successes, each found their careers grinding to a halt. Cage had multiple opportunities to flounder with 4-digit theater counts. Cusack was more or less written off after The Raven flopped hard in 2012. By the time they reunited as co-leads of the 2013 serial killer drama The Frozen Ground, neither actor had the clout to carry a movie in theaters. Thus, Frozen Ground was one of an increasing number of essentially direct-to-video credits the two early Generation X actors were suddenly racking up.

Four years later, things have not improved for either Cusack or Cage. The two find themselves in supporting roles behind Adrian Grenier and Johnathon Schaech in Arsenal, an action flick that supposedly received a limited theatrical release in January, but has nothing to show for it. The film opens in what I guess is 1994, though you'd never guess that and only figure out when doing the math after the body of the movie opens with a "23 years later" caption. The prologue establishes Mikey as a keeper and protector of his younger brother JP. The two hang out in arcades and Mikey gets mixed up with the closest Biloxi, Mississippi has to a gangster in Eddie King (Cage) after stumbling on a scene following his father's suicide.
In the present day, Mikey (Schaech) is troubled. He's out of work and running low on money. Meanwhile, little brother JP (Grenier) is thriving, as the owner of a successful landscaping business. JP's friend, undercover cop Sal (Cusack), alerts him that Mikey has bought a package of cocaine he apparently intends to sell. Mikey is robbed and his drugs are stolen, which puts him in a pickle. But that's not something that matters after JP gets news that Mikey has been kidnapped and a demand for $350,000 within four days for his safe return.
That six-figure ransom is something JP can afford...if only his finance guy hadn't invested his money on something else. Mikey's teenaged daughter Alexis (Abbie Gayle) gets mixed up in this sordid business and, using some intelligence from Sal, JP plots to get his brother back alive and unharmed.
Arsenal is not a good film, but one look at the cover and you know better than to expect that. Perhaps the hope is that this could be so bad it swings around to good, something it flirts with doing on occasion. Cage may only take third billing, but he is by far the most exciting thing about the movie. This is Cage unhinged, losing his proverbial shit multiple times in every scene he's in. He sports a pointy prosthetic nose,

the most outlandish of wigs, and a not even slightly realistic bushy mustache. Cage has long shown an interest in cultivating characters with a distinct hairstyle and voice. The industry may have largely moved on from him, but he's still doing what he does, channeling weirdness into some tragicomic performance that you can neither commend in good faith nor look away from.

Cusack's role is pretty insignificant both in screentime and plot function. He's kind of playing against type, but it's not clear how much his character is a mess and how much is the actor. Grenier is okay but underwhelming in the lead role, making it perfectly clear to understand why his "Entourage" alter ego's film career was a lot more bustling than his own. Schaech, who's been on the fringe of a breakthrough for the 21 years since That Thing You Do!, is actually pretty good here, but it's too bad that no one important will see this and hire him for something juicier because of it.

The film's low profile may be a blessing in disguise for first-time screenwriter Jason Mosberg and young but seasoned director Steven C. Miller, both of whom could ostensibly bounce back from this and land some juicy gigs. That's unlikely given the film's inability to truly surprise or stir you. You expect so little from the film that you can almost see some good qualities in it, like the fact that is short and relatively fast-moving and also fairly coherent. Miller's flashes of flair aren't enough to lift him out of the business of non-theatrical Lionsgate Premiere fare.
Blu-ray Disc Details

2.40:1 Widescreen
5.1 DTS-HD MA (English)
Subtitles: English, English for Hearing Impaired, Spanish
Extras Not Subtitled; Not Closed Captioned
Release Date: March 28, 2017
Suggested Retail Price: $24.99
Single-sided, single-layered disc (BD-25)
Blue Eco-Friendly Keepcase in Cardboard Slipcover
Also available on DVD ($19.98 SRP) and Amazon Instant Video
VIDEO and AUDIO
Director Steven C. Miller is not someone being studied in film school anytime soon, but the young helmer is seasoned enough to make Arsenal look and sound okay from a technical standpoint. The Blu-ray's stylized 2.40:1 visuals don't really pose any concerns, nor does the 5.1 DTS-HD master audio soundtrack. It's not demo material, but Lionsgate's presentation is, like most Blu-ray ones these days, perfectly fine.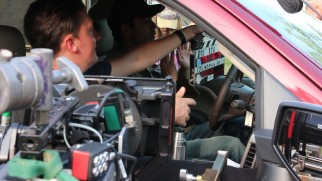 BONUS FEATURES, MENUS, PACKAGING and DESIGN

Extras begin with an audio commentary by director Steven C. Miller and actor Johnathon Schaech.

Their commentary is a very conversational one, with Schaech's presence giving this somewhat of an actor's point of view primarily. Though they also take pains to make sure to celebrate the work of relevant other departments and performers as they appear onscreen. Miller commits the cardinal sin of mentioning a lot of deleted scenes which are not included here.

On the video side, we get "Building an Arsenal" (9:47), which collects clips and lots of upbeat talking heads talking about Southern Fury (a working title that seems transparently changed in the interests of alphastacking). Everyone is so proud of the film. Why, I'm not sure.

"Extended Interviews" gives us more of the complimentary sitdowns from which the featurette pulls. We hear at modest length from Adrian Grenier (4:31), Schaech (5:05), Lydia Hull (4:08), director Miller (3:43), and cinematographer Brandon Cox (9:13), who cites The Place Beyond the Pines as a visual inspiration. The two biggest names in the cast remain no shows as they were in the featurette.

Extras draw to a close with Arsenal's trailer (2:05), which probably played in few, if any, theaters.

"Also from Lionsgate" repeats the disc-opening trailers for kindred Lionsgate releases: Imperium, Solace, Urge, The Prince, and Marauders.

The menu loops dramatic score and actiony clips that are heavy on Johnathon Schaech with listing placed along a bloody horizontal bar.
CLOSING THOUGHTS
In Arsenal, you get just about what you expect from a basically direct-to-video 2017 Nic Cage action movie. Bad acting and an unoriginal narrative do nothing to make this B-movie stand out in any good way. Lionsgate's Blu-ray offers good picture and sound plus passable extras. Only morbid curiosity viewings apply.
Buy Arsenal from Amazon.com: Blu-ray + Digital HD / DVD / Instant Video