So, the Golden Globes are this Sunday and that's fun, but the final stretch of the industry's long award season begins next Thursday morning with the announcement of nominations for the biggest honors of all, the Academy Awards.

This year has been more unpredictable than many, though some clear favorites have emerged from the many critic and guild awards.

I'm still holding hope that we could see a repeat of last year's big coup, in which the Academy awarded the fun, exciting '70s-set movie over the dry, serious slavery drama that more closely aligned with historical picks. Director David O. Russell is riding a wave of good will with American Hustle, his third major contender in four years. There's the possibility that the at times brutal content of 12 Years a Slave doesn't sit well with voters, particularly the older ones who make up a large portion of the votership. There's also the question of whether Academy members will feel obligated to reward the more historically significant film over the more enjoyable, stylish one that showcases better writing and characterization. Remember, the film that Hustle most closely resembles, Goodfellas, lost to the long, dry Dances with Wolves. These are thoughts that will be entertained and debated over the seven weeks until Oscar night and should ensure a ceremony with some much-needed intrigue and uncertainty.

In the meantime, here's who and what we might expect to be named in Thursday's early morning announcements. I've listed my predictions in order of strength, so that the top one is that one I'm currently expecting (or maybe just hoping) to win, though that will change after we get the actual nominees and other awards are announced.
Best Picture
American Hustle
12 Years a Slave
Gravity
Nebraska
Her
Captain Phillips
The Wolf of Wall Street
Saving Mr. Banks
Inside Llewyn Davis
Lee Daniels' The Butler
The field for the Oscars' top prize can support anywhere from 5 to 10 nominees, but in the past two years has included exactly nine. If that's the case this year, then Lee Daniels' The Butler would likely miss the cut, an outcome that seems quite feasible based on its modest reception at other awards. I would be surprised, though, if prestige-driven, oft-decorated The Weinstein Company didn't get a single Best Picture nominee. The Butler is one of four (or five, if you're generous) of the studio's films that seem right on the bubble but probably unlikely to get in. The others are Philomena, August: Osage County, Fruitvale Station, and Mandela: Long Walk to Freedom. I assume Butler and August have an edge on these because they fared the best in the SAG Awards and actors make up the by far largest portion of the Academy votership, but Philomena has also cracked some top prize fields. If completely shut out, this would be the Weinstein brothers' first time without a Best Picture nominee since 2007 when they were still finding their footing after leaving Miramax. Based on everything else, the only other films with a legitimate shot of breaking this field are Dallas Buyers Club (which also got SAG love) and Blue Jasmine, both of which yielded votes through the Producers Guild's comparable preferential ballot.
Best Director
David O. Russell, American Hustle
Alfonso Cuarón, Gravity
Steve McQueen, 12 Years a Slave
Martin Scorsese, The Wolf of Wall Street
Joel and Ethan Coen, Inside Llewyn Davis

Other strong possibilities: Alexander Payne, Nebraska; Spike Jonze, Her; Paul Greengrass, Captain Phillips
While I think Nebraska will resonate more with voters, the Academy really likes the Coen Brothers. Jonze seems to have a small but passionate group of supporters. While Greengrass' docudrama instincts are commendable and he was nominated on non-Best Picture nominee United 93, Captain Phillips seems to have been losing a steam for a while, opening before most of the other contenders. I'd say Russell, Cuarón, and McQueen are locks, but then this category shockingly left out Ben Affleck, Quentin Tarantino, and Kathryn Bigelow last year.
Best Actor
Matthew McConaughey, Dallas Buyers Club
Bruce Dern, Nebraska
Chiwetel Ejiofor, 12 Years a Slave
Robert Redford, All Is Lost
Leonardo DiCaprio, The Wolf of Wall Street
Acting awards often seem to take into account a performer's career. In the cases of Dern and Redford, those are long careers with only Dern's 1978 Coming Home supporting actor nomination between the two of them. Ejiofor has been quietly building respect for a while. McConaughey has not only performed dramatic physical transformation for this role, but a dramatic career makeover from shirtless romantic comedy guy to serious actor. A vote for him may also be a vote for Mud, a film released too early to compete but one that many liked. As for DiCaprio, he remains surprisingly winless and has been overlooked by the Oscars enough in his exemplary recent years to feel like he's overdue. He may be, but he's not winning for Wolf and I wouldn't be surprised to see him miss out on the nomination to Captain Phillips' Tom Hanks (who has one standout scene near the end of that film), Hustle's often terrific Christian Bale or possibly even The Butler's Forest Whitaker or Inside Llewyn Davis' Oscar Isaac.
Best Actress
Cate Blanchett, Blue Jasmine
Emma Thompson, Saving Mr. Banks
Sandra Bullock, Gravity
Meryl Streep, August: Osage County
Amy Adams, American Hustle

Other strong possibility: Judi Dench, Philomena
This is one category that seems to have already been decided. Blanchett's been out of the running for a while, since winning supporting actress for The Aviator, but she knocks it out of the park with this Woody Allen heroine and has accordingly been dominating the race, even though the movie came out back in summer. The dearth of substantial female roles make Thompson and Bullock's admirable work virtual shoo-ins. Few are calling August a great film, but then again Streep won this for The Iron Lady and it's tough to imagine such a frequent nominee missing out. This would be Adams' first lead actress nomination, though she's been a supporting actress fixture over the past decade. People online are pulling for Short Term 12's Brie Larson and Blue Is the Warmest Color's Adele Exarchopoulos, but I don't see either of those happening. If a long shot is included, I'd rather it'd be Frances Ha's Greta Gerwig.
Best Supporting Actor
Jared Leto, Dallas Buyers Club
Michael Fassbender, 12 Years a Slave
Bradley Cooper, American Hustle
Barkhad Abdi, Captain Phillips
Will Forte, Nebraska

I'm not a big fan of Leto's performance, which is a really showy and obvious Oscar bid, but one that has been recognized repeatedly. Fassbender isn't campaigning, but people (who aren't me) still complain about his Shame snub and these supporting actor awards often play like a Best Villain category. Abdi probably doesn't have a career ahead of him, but he did a great job in a movie that needed him. Cooper has a bunch of goodwill, some carried over from Silver Linings Playbook and some from out of the running The Place Beyond the Pines,

and no one is holding The Hangover Part III against him. Forte seems like an out of left field choice, but there is no obvious fifth nominee and I'm imagining his understated role resonates with the old votership. Otherwise, if the Academy likes Hustle as much as I hope they do, perhaps Jeremy Renner could crack this field. German actor Daniel Brühl has also been cited for Rush, one of the few contenders I've yet to see.

Best Supporting Actress
Jennifer Lawrence, American Hustle
Lupita Nyong'o, 12 Years a Slave
June Squibb, Nebraska
Oprah Winfrey, Lee Daniels' The Butler
Sally Hawkins, Blue Jasmine

Other strong possibility: Julia Roberts, August: Osage County

If Lawrence hadn't won lead actress honors last year, she would be a lock for this victory. There may be some resistance to make her a two-time winner at age 23, but it's another strong performance from someone who is incredibly managing to remain both a movie star and a serious actor. Many praise Nyong'o's performance, but like much of 12 Years, it didn't do all that much for me. Still, this is her best shot at winning and if Lawrence doesn't, she probably will. One-time presumed frontrunner Winfrey has lost some traction, after getting snubbed by the Golden Globes, but the field just isn't that deep. That last slot is up for grabs and if previously snubbed Hawkins and 2000 Lead Actress winner Roberts don't get it, 2011 winner Octavia Spencer could, for Fruitvale Station. There's probably not much chance of Her's Scarlett Johansson becoming the first Oscar-nominated voice-only performance.

Best Original Screenplay
David O. Russell and Eric Singer, American Hustle
Spike Jonze, Her
Bob Nelson, Nebraska
Woody Allen, Blue Jasmine
Joel and Ethan Coen, Inside Llewyn Davis

If Argo hadn't won for (adapted) screenplay last year, I might not expect Hustle to have a good shot to do so this year. Her is a little offbeat for the Academy to get behind, but this is historically one of the more open-minded categories. Nebraska feels like it could have been written by Alexander Payne himself, which bodes well for it. The writing of the Coens and Allen is always popular at the Academy. Enough Said has some buzz, but probably not enough to get "Nicole Holofcener" said on Nominee Thursday.
Best Adapted Screenplay
Richard Linklater, Ethan Hawke and Julie Delpy, Before Midnight
John Ridley, 12 Years a Slave
Terence Winter, The Wolf of Wall Street
Steve Coogan and Jeff Pope, Philomena
Billy Ray, Captain Phillips

Other strong possibility: Tracy Letts, August: Osage County
It seems silly to classify Before Midnight as adapted, but that's what threequels get. This will likely join Toy Story 3 as the only threequel nominated for this award. The series deserves recognition and this is its best place to get it, but buzz for it has been fading and I'm not sure the industry values these European conversation films as much as critics do. This is a weak field and 12 Years would make a boring winner. There's definitely potential for something other than these six to be announced on Thursday to pundits' surprise.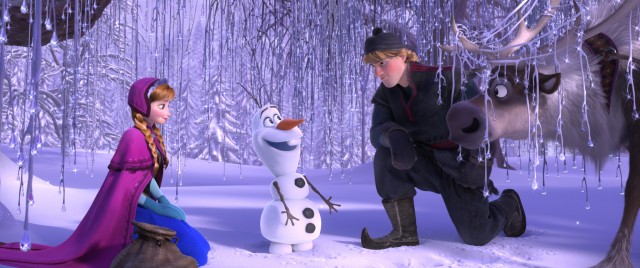 Best Animated Feature
Frozen
The Wind Rises
Monsters University
Ernest and Celestine
Despicable Me 2
Disney Animation is overdue for this award and though I don't love Frozen anywhere near as much as I did Wreck-It Ralph, I don't prefer any of these other contenders. "Pretenders" may be more accurate a label for all but The Wind Rises, but I don't see Hayao Miyazaki's retirement getting him a sympathy vote on that and he already won this category for Spirited Away. There's usually one unknown/foreign nominee in this category and there's little doubt in my mind that Ernest and Celestine is it this year. Pixar's technical prowess is enough to ensure they get a nomination, although Brave's win could work against them. The Croods and Epic are both better choices than Despicable, but more have seen (and presumably enjoyed) the latter and its successful predecessor wasn't nominated.
Best Makeup and Hairstyling
American Hustle
Dallas Buyers Club
The Great Gatsby

My worst-case scenario is that this is all that Hustle wins. From the shortlist the Academy released (which strangely omitted perceived frontrunners The Butler and The Hobbit), it seems like the only possible victor. It would be funny if Jackass Presents: Bad Grandpa becomes an Oscar nominee, though.

Best Original Song
"Let It Go", Frozen
"Young and Beautiful", The Great Gatsby


"Ordinary Love", Mandela: Long Walk to Freedom
"The Moon Song", Her
"You and I Ain't Nothin' No More", Lee Daniels' The Butler

It's too bad the Academy is so picky about this category, because "Please Mr. Kennedy" could have been Inside Llewyn Davis' best shot at an Oscar. Instead, Frozen will probably win, which would make it Disney Animation's first Academy Award-winning film since Tarzan and, if Animated Feature also goes as expected, their first two-time Oscar winner since Pocahontas.

Best Original Score
Hans Zimmer, 12 Years a Slave
Steven Price, Gravity
Thomas Newman, Saving Mr. Banks
Alex Ebert, All Is Lost
Henry Jackman, Captain Phillips

Other possibility: William Butler and Owen Pallett, Her

The deeper we get, the less authoritative my predictions become. These are basically only slightly educated guesses, based on the movies that moved with material other than dialogue. I do like a good Thomas Newman score and he's overdue for a win. His wait for an Oscar is nearly as long as the one endured by his oft-nominated cousin Randy, who finally won for his Monsters, Inc. song.
Best Costume Design
The Great Gatsby
American Hustle
12 Years a Slave
Oz the Great and Powerful
Saving Mr. Banks
Best Production Design
The Great Gatsby
12 Years a Slave
Gravity
American Hustle
Saving Mr. Banks
The Great Gatsby ought to win something, even if it's one or both of these minor design honors. These are some of the most likely places for The Hobbit to get recognized, but I'm skeptical that the Academy will feel compelled to keep including that critically mixed trilogy that could have easily been one film. Her also has a shot at cracking Production Design, where it would represent some outside-the-box thinking.
Best Visual Effects
Gravity
The Hobbit: The Desolation of Smaug
Pacific Rim
Elysium
Iron Man 3
Best Cinematography
Gravity
Rush
12 Years a Slave
Nebraska
Inside Llewyn Davis
Gravity should have little trouble capturing both of these honors that will recognize the experiential film's major technical achievements.
Best Editing
Gravity
American Hustle
12 Years a Slave
Captain Phillips
The Wolf of Wall Street
If The Wolf of Wall Street gets nominated (a move that would baffle many detractors), it might be as an acknowledgement of Scorsese and longtime editor Thelma Schoonmaker's ability to finish this long film in time for Christmas, after missing the intended Thanksgiving release date.
Best Documentary
Stories We Tell
Blackfish
The Act of Killing
20 Feet from Stardom
Dirty Wars
I've found Documentary to be one of the tougher Oscars to predict. The Act of Killing has been cleaning up critics' awards, but it does seem a little dark and appalling for an organization as large and sensitive as the Academy. That leaves the SeaWorld exposé Blackfish and Sarah Polley's lineage search Stories We Tell as more appealing contenders. Meanwhile, 20 Feet is from the Weinsteins and you never count them out. Dirty Wars is a complete guess on the basis of its title, though it could become, along with Blackfish and Stories We Tell, one of the few Oscar nominees available to stream on Netflix.
Best Foreign Language Film
The Great Beauty
The Hunt
The Broken Circle Breakdown
The Grandmaster
Two Lives
Blue Is the Warmest Color has done well in critics' awards, but it is ineligible for this category. I've only seen two (Hunt and Broken) of the nine submissions shortlisted and have quite different reactions to them, but I could see them each getting in.
As for the remaining categories -- Best Live-Action Short, Best Animated Short, Best Documentary Short, Best Sound, and Best Sound Effects Editing -- you're on your own. I could make guesses, but they would just be based on what others are predicting and not what I've seen, heard, and felt.