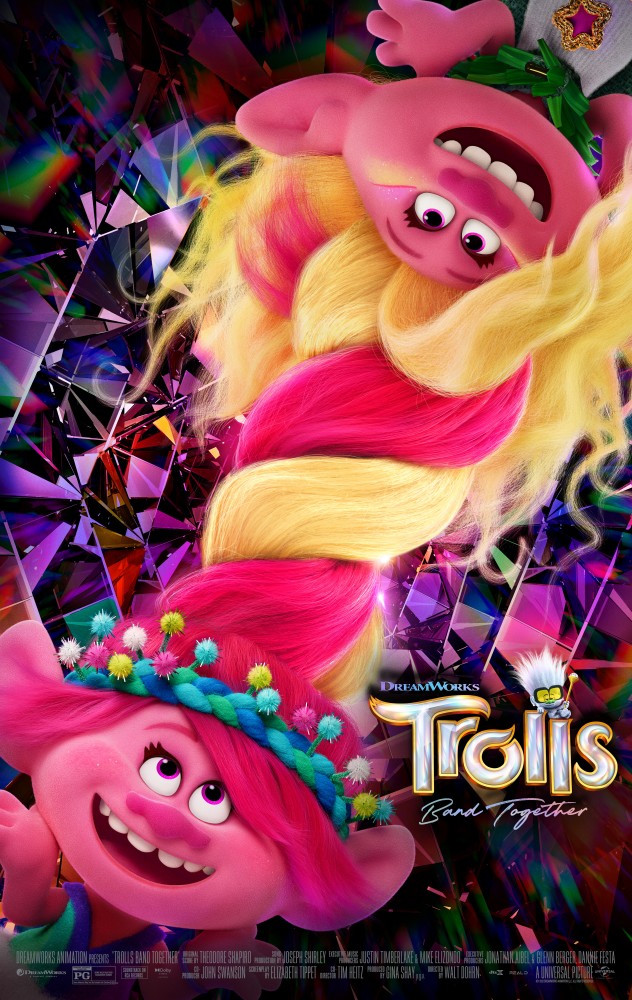 DreamWorks' threequel subjects us to an endless string of boy band puns and no shortage of medleys comprised of new covers of familiar pop songs.
---
---
Trolls Band Together (2023)
It has been both sad and eye-opening to see DreamWorks Animation slowly devolve over the past quarter-century from an industry-leading powerhouse to an unpredictable, sometimes irrelevant wild card. In the early 2000s, DreamWorks was, commercially at least, a major competitor and threat to the then-struggling Walt Disney Animation Studios and fully thriving Pixar Animation Studios. DreamWorks won the first Best Animated Feature Oscar for Shrek (2001) and 2004's overall box office crown for Shrek 2. While the sequels in that line failed to reach such lofty heights, by then the studio had already introduced other colorful worlds to major interest: 2008 brought Kung Fu Panda and in 2010 we got How to Train Your Dragon.
DreamWorks was never content with a hit movie. Each of those would be expanded into sequels, television series and holiday specials, and all the merchandising and creative partnerships that could be fostered. To say the company saturated the market would be an extreme understatement. More competition emerged thanks to advancement of computer animation technology and an increase in available workforce. No longer was animated filmmaking the exclusive domain of Disney, Pixar, DreamWorks, and Blue Sky (R.I.P.). A record volume of cartoon features was released in 2005-06 and many of them disappointed commercially. Meanwhile, Pixar, which had long preached the power of original storytelling, started coming around to the lucrative nature of making sequels to movies that only grew more beloved over time. This bolstered their bottom lines but occasionally compromised their artistic principles.
In the years since, promising animation houses have come and gone; Rango makers ILM never followed up their Oscar-winning hit, Warner Bros.' creative Lego Movie franchise inexplicably fizzled out in a flash. Illumination, the cost-conscious animation outfit founded by former Blue Sky supervisor Chris Meledandri, somehow became a worldwide force on broad comedies (Despicable Me, Sing) and DreamWorks-level of sequel pervasion. DreamWorks themselves have endured but as a shell of their former glory. The studio hasn't had a $200 million+ domestic gross in over a decade. Even their biggest recent hits (the first Boss Baby, the third How to Train Your Dragon, and last year's Puss in Boots: The Last Wish) are putting up numbers that would have been disappointing for Shrek, Madagascar, and Kung Fu Panda sequels a decade or two earlier.
And yet, DreamWorks has not folded or overhauled the fundamentals on which they once flourished. The studio still believes in colorful comedies that simultaneously yet separately court children and adults. And they still believe in sequels.
So here is Trolls Band Together, the third installment of a franchise launched in the fall of 2016. By some measures, the first Trolls movie was successful. It grossed nearly $350 million worldwide on a reported $125 million budget, numbers in line with those of original one-and-done efforts Megamind, Monsters vs. Aliens, and Home. It also made a mark on pop culture via one of the most popular songs of its time, "Can't Stop the Feeling!", a tune that not only dominated the airwaves and Billboard charts but also earned an Academy Award nomination and a Grammy Award win.
Like most works to emerge in 2020, the sequel Trolls World Tour commands a giant asterisk. With most of the world's theaters shut down for COVID-19, it premiered simultaneously in theaters and digitally, a move that ruffled feathers in the world of movie exhibition. Its box office numbers were reported at just $450,000 domestically and $48 million worldwide. At the same time, an estimated 3-5 million people paid to stream the movie on the various services on which it could be found including Amazon and DirecTV. Those numbers, along with distributor Universal Pictures not having to share as much of the revenue as they would in a traditional theater run, are enough to bring us to this week, where the threequel gets a traditional, extremely wide theatrical release.
You are very much forgiven if you can't remember the specifics of the two previous Trolls movies. Unless they've been heavily featured in your children's rotation, these are not movies that stay with you. If you do remember anything about this world of colorful wild-haired creatures adapted from the popular, long-running plastic doll line, it's that they sing. Frequently and usually songs that you already know.
Band Together invents some backstory for Branch, the grumpy gray survivalist who fell for perpetually chipper mint green protagonist Poppy (voiced by Anna Kendrick). Mirroring the past of his voice actor, Justin Timberlake, Branch was once in a boy band named BroZone as the youngest of five brothers. He was still in diapers when the brothers went their separate ways, never to see each other again. In the present day, they are to reunite when one of them has the misfortune of having his talent literally exploited by popular (and secretly talentless) Mount Rageous sibling duo Velvet and Veneer (Amy Schumer and Andrew Rannells).
Apparently, the most obvious way to save Floyd (Australia's Troye Sivan) from his diamond captivity is not to alert authorities but for BroZone to reassemble and find the perfect harmony. Band Together is not oblivious to its goofy nature. It has no illusions of being anything else.
Poppy also discovers she has a long-lost sister named Viva (Fifth Harmony's Camila Cabello), although their cheerful reunion is threatened by Viva's understanding of the Bergens, the race whose royal wedding we open on. If an animated movie doesn't tackle prejudice/xenophobia in some way, is it even 2023?
Like its two predecessors, Band Together is heavy on style and short on substance. This year's animated films have demonstrated how broad a range there is for the medium historically associated with children. The second Spider-Verse movie remained committed to that line's belief in viewer intelligence and appetite for thoughtful, complex world-building. On the other hand, Illumination's The Super Mario Bros. Movie made more than twice as much money on an identical budget by simply translating elements from a goofy, beloved video game franchise.
Trolls doesn't have the goodwill or content of those blockbusters to dive into. So instead, it subjects us to an endless string of boy band puns and no shortage of medleys comprised of new covers of portions of familiar pop songs. Just two days removed from my screening, I've already forgotten most of the covered, but off the top of my head, I can recall NSYNC's "I Want You Back", Boyz II Men's "Motownphilly" and Dolly Parton's "9 to 5." Judging by the apparent ongoing success of competition shows like "American Idol", "The Voice", "The Masked Singer", and "America's Got Talent", there is a huge market for people singing beloved songs differently (and not as well). Illumination's Sing series consists of little more than this with an assortment of anthropomorphic animals. The Trolls movies similarly prioritize this song and dance above storytelling, which is what makes them so tremendously forgettable.
It's an approach that some will love, as evidenced by the enthusiasm shown at my screening and the kids dancing in the aisles to the end credits that I had to avoid when exiting. It's also an approach that many will hate, as evidenced by the millions who won't pay this threequel more than a thought.
I have always argued that animation is a medium and not mere child's play, but it's hard to apply that stance to anything in Band Together. Sure, there are some jokes for the adults: a ring pop as a controlled substance, a throwaway line by Bridget the Bergen Queen about getting tied up on her honeymoon. And I'm guessing adults are the only ones who will catch the overt references to Menudo, 98 Degrees, etc. Or care that Timberlake's old boy band *NSYNC comes together to perform a closing number, their first song together in over twenty years. But discerning, childless adults are not going to be won over and like it or not, I guess that class includes me.
Like Luke's work?
Consider leaving a tip and sharing this review to support DVDizzy.