As far as I'm concerned, Willy Wonka & the Chocolate Factory is one of the greatest movies ever made. In 2005, Tim Burton and Johnny Depp tried to top perfection with technically a new adaptation of the same Roald Dahl source text. Their movie made a lot of money, but was far from magical. Now, in the summer of 2017, here is Tom and Jerry: Willy Wonka & the Chocolate Factory.

You read that right. 2017. Tom and Jerry. The nonverbal cat and mouse are on the short list of truly iconic characters from the early days of animation that haven't stayed in fashion. But this new direct-to-video feature length movie is proof that they haven't completely gone away either.

Introduced by William Hanna and Joseph Barbera back in 1940, the animated frenemies have had a longer shelf life than you've probably realized, including a new direct-to-video movie in most of the past fifteen years. Who is watching them and buying them? I have no idea but someone must be for Warner Bros. Animation to keep on making them and linking these Interwar era creations to famous literary figures and other animated properties via crossovers.

The duo's latest seems much less about them and much more about Willy Wonka. From the start, this production takes full advantage of Warner Bros. holding the distribution rights to the Paramount-released 1971 live-action musical. It uses the Oscar-nominated original score and songs, the settings, and even the likenesses of the actors from the film. We're not just talking Gene Wilder's Wonka, but all the kids, the guardians accompanying them, Slugworth (whose role is expanded) and even characters we only briefly see, from Charlie's teacher to the candy shop owner.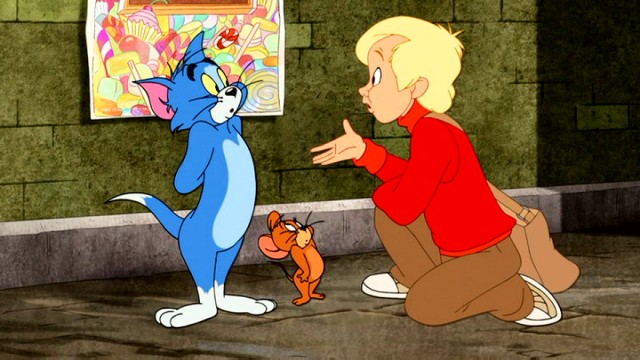 The feature stays very close to the original, only condensing it and adding Tom and Jerry, which really feels like less of a big deal than it should, at least entering as a far bigger fan of Wonka than of the cat and mouse. The two give us lots of low-angle shots and some peripheral slapstick. In addition, some other anthropomorphic animal characters feature, like Tuffy, a mouse who's always wanted to be an Oompa Loompa but is too small. He's still living his dream and dispensing exposition as well.

I assume you already know the plot of Wonka, in which an enigmatic candymaker opens up his mysterious workshop to five children lucky enough to find golden tickets wrapped inside their assorted Wonka candy purchases. They all break the rules and meet their implied but probably not final demise as a result. Tuffy, the presence of a big dog guard, and the additions of Tom and Jerry are really the biggest ways that distinguish this from the original film.

Slugworth gets to perform Veruca's anthem "I Want It Now" (and join in on a duet later). But most of it is intact, down to the period fashions and Wonka's introductory red carpet tumble that Gene Wilder so loved.

This is a pretty strange thing. I can think of no other instance where a nearly 50-year-old live-action movie is tapped for a faithful animated adaptation. It seems like an epic head-scratcher. Why this? Why now? Why are Tom and Jerry still a thing? But the movie ranges from harmless to diverting, as it is set upon celebrating and paying homage to the original movie that Dahl evidently didn't care for, despite being credited with the screenplay. It has none of the Burton-Depp version's illusions about matching or even improving upon that masterpiece. And while not exactly ripe for big screen exhibition, the production values are light years ahead of what they were in TV and DTV animation twenty years ago. All things considered, this makes for a pretty easy one-time viewing.
VIDEO and AUDIO
Tom and Jerry may not get the benefit of a Blu-ray release with high definition, but its home video presentation is tough to fault judged on the standards of DVD. The 1.78:1 anamorphic widescreen presentation uses every available pixel for a consistently, clean, sharp, colorful image. The Dolby Digital 5.1 soundtrack also serves the movie well.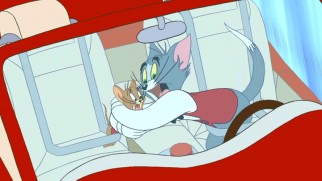 BONUS FEATURES, MENUS, PACKAGING and DESIGN

As perhaps you would expect, the DVD includes no making-of featurettes to shed light on this project, but does add a number of bonus Tom and Jerry episodes to complement the feature.

The menu and package gives literally no description of these at all, but of course I've done my research for you.

"Here's Lookin' A-Choo, Kid/Superfied" (21:26; originally aired July 10, 2014)

comes from "The Tom and Jerry Show", which has been running since 2014, initially on Cartoon Network and now on Boomerang. In the first segment, Spike the dog's allergic reaction to Tom brings vacuuming hijinks and a hypoallergenic kitten into the mix. In the second, a scientist's experimental chocolate chip cookies create a lab full of shenanigans and a mouse with super strength.

"Joy Riding Jokers/Cat Got Your Luggage/City Dump Chumps" (22:43; originally aired September 30, 2006) hails from Tom and Jerry Tales", a Saturday morning series that aired on The CW from 2006 to 2008. First, Tom and Jerry work as valet drivers, then as hotel bellhops, before crashing a garbage dump in search of food.
Finally, although "No Biz Like Snow Biz" (8:40), "The Maltese Poodle" (8:40) and "Cast Away Tom" (8:41) originally aired together on November 17, 1990 as an episode of the early '90s "Tom & Jerry Kids Show",

they are presented as three separate standalone segments here. The show gives us young versions of Tom and Jerry.

In the first, noisy mice annoy Tom and Jerry on their snowy ski vacation. In the second, an obvious play on The Maltese Falcon, Droopy and Dripple are detectives hired to find a ceramic figure rumored to have a fortune hidden inside it. In the third, too old to be an obvious play on Cast Away, Tom and Jerry enjoy tropical shipwreck life, with treehouses, swinging vines, and run-ins with other animals big and small.

A Trailers section supplies individual access to ads for DC Super Hero Girls: Intergalactic Games, Jetsons & WWE: Robo-Wrestlemania, Scooby-Doo! Shaggy's Showdown, and "Justice League Action."

The disc opens trailers for The Lego Batman Movie and Max 2: White House Hero, which should produce two opposite reactions and are not accessible by menu.

The basic static main menu adapts the cover art to fill the 16:9 frame with a short excerpt of score looped over it temporarily.

No inserts accompany the silver and blue disc inside the eco-friendly keepcase whose artwork is reproduced, with extensive embossing effects in the obligatory slipcover.
CLOSING THOUGHTS
Tom and Jerry: Willy Wonka & the Chocolate Factory is as bizarre to grasp as it sounds, but ultimately pretty easy to warm to. If you share my love of Willy Wonka, you should appreciate this animated film's celebration of it with faithful renderings and new interpretations of the classic music. If you're a Tom and Jerry fan who's never seen Willy Wonka, I imagine this would encourage you to check out that wonderful film, although I can't pretend to understand why you haven't already seen it or what's keeping you hooked on T and J. This certainly merits a curiosity viewing from those who are interested from either angle, but it's disappointing that there apparently wasn't enough demand to garner a Blu-ray release.
Buy Tom and Jerry: Willy Wonka & the Chocolate Factory from Amazon.com: DVD / Instant Video