Ash Brannon was just 30 when he picked up his first writing and directing credits. They came on Toy Story 2, the Pixar follow-up given more love than seemingly any sequel since The Godfather Part II. Rather than stay at Pixar,

where he had worked as a story artist on the original Toy Story and A Bug's Life, Brannon moved on, perhaps lured by the possibility of greener pastures. Eight years passed before he received another screen credit. Brannon was one of two directors and four screenplay writers of Surf's Up, Sony Pictures Animation's penguin surfing mockumentary. It was a non-entity at the box office, but it would go on to receive an Academy Award nomination for Best Animated Feature, which it naturally lost to Pixar, who had released Ratatouille the same summer.

Ten years later, Brannon gets his third feature writing and directing credit of Rock Dog. A Chinese-American co-production adapted from the graphic novel Tibetan Rock Dog by Chinese rocker Zheng Jun, Rock Dog gives Brannon story, screenplay, and solo directing credits. This film, a blip on the radar in North America where it never cracked the top ten at the box office, does nothing to restore the promise Brannon's career seemed full of nearly twenty years ago.
Rock Dog opens with an introduction from Fleetwood Yak, a Sam Elliott-voiced troubadour who Big Lebowski-style directs our attention to the hero of the film, Bodi. Bodi is from Snow Mountain, a place where wool and music are made. Music gets outlawed, though. Bodi (voiced by Luke Wilson) is supposed to follow in the footsteps of his father, Khampa (J.K. Simmons), a drill sergeant who trains sheep who wear outfits that make them look like a dog army. That tactic is designed to scare off the wolves, who would otherwise be a threat to Snow Mountain's sheep and ecosystem.
Bodi isn't really about that life. After he discovers rock and roll music, he wants nothing more than to pursue the dream of making his own, exploring things with a guitar he lifts from lockdown. Needless to say, Dad doesn't approve. But he gives his son one chance to chase his dream...or to get it out of his system, come home, and never look back.
Bodi's journey leads him to a shred-off at which he is embarrassed and then to the highly guarded estate of Angus Scattergood (Eddie Izzard), a cat who seems like Mick Jagger if Mick Jagger was a solo artist. Angus laughs off Bodi's request for private lessons. Meanwhile, two wolf henchmen are on the prowl for Bodi, hoping a kidnapping will pave the way for them taking over Snow Mountain.
You can tell that something is lost in translation here. A Chinese graphic novel wasn't likely going to lend itself to an animated film with universal four-quadrant appeal.

The names remain foreign, but the spiritual angle and apparent darkness of the source go missing and there is nothing in their place to excite or captivate. In one way or another, most animated films are about chasing your dreams. But there's nothing that really makes Bodi's dream stand out. The music isn't classic rock and roll or something directly inspired by it, but generic tunes produced by the kind of people you'd expect to be hired to lend music to a little animated film called Rock Dog.

With its all-animal cast and quests for understanding and harmony, Rock Dog can't help but remind you of Zootopia, an Oscar-winning film so overflowing with wit and commentary that this looks like child's play by comparison. And it pretty much is, but the play of children whose parents couldn't be bothered to find something better for them to play with.

A year after it opened in China and three months after it disappointed in the States, Rock Dog recently hit stores in the Summit/Lionsgate Blu-ray + DVD + Digital HD combo pack reviewed here.
Blu-ray & DVD Details

1.78:1 Widescreen (DVD Anamorphic)
Blu-ray: Dolby 5.1 DTS-HD MA (English), Dolby Digital 5.1 (Spanish)
DVD: Dolby Digital 5.1 (English, Spanish)
Subtitles: English for Hearing Impaired, Spanish
Not Closed Captioned; Extras Not Subtitled
Release Date: November 29, 2016
Suggested Retail Price: $34.99
Two single-sided discs (BD-25 & DVD-9)
Blue Eco-Friendly Keepcase in Cardboard Slipcover
Also available as standalone DVD ($29.95 SRP) and on Instant Video
VIDEO and AUDIO
While the animation isn't close to the level of Pixar, Rock Dog looks good and colorful. The Blu-ray's 1.78:1 direct digital transfer leaves nothing to be desired, while the 5.1 DTS-HD master audio soundtrack is suitably immersive.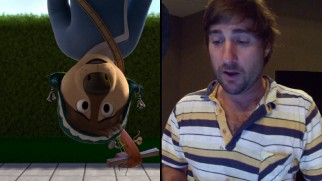 BONUS FEATURES, MENUS, PACKAGING and DESIGN

Both the Blu-ray and DVD get five short video extras,

four of which could and maybe should have easily been combined into one 25-minute documentary.

"Finding the Fire: The Making of Rock Dog" (6:16) is a general piece that at least acknowledges the source graphic novel and the rocker who wrote it while also pointing out that the movie departs from the source drastically.

"Mic Check: Casting the Voices" (6:05) directs us to the fairly big name actors who give the movie its voices, with a mix of interviews and recording session clips.

"A Rockin' New World: Animating Rock Dog" (5:53) considers the film's creation in CGI, with crew comments on character design, their words complemented by concept art.
"Rock Dog and Roll: Exploring the Music" (6:20) covers the film's unremarkable soundtrack, with behind the scenes looks at Adam Friedman's song and Rolfe Kent's score contributions.

Finally, we get a music video for the original number "Glorious" (3:43),

which simply plays the song over clips from all over the film with the lyrics over them enabling singing along. It sounds quite a bit like Christian rock.

Finally, "Also from Lionsgate" repeats the disc-opening trailers for Middle School: The Worst Years of My Life, The Weinstein Company's Leap!, Norm of the North, and Shaun the Sheep: The Movie. Rock Dog's own trailer is not included here.

The colorful menu moves through character stills and clips while an excerpt of "Glorious" is looped.

The two full-color discs (Bodi on the DVD, Angus on the Blu-ray) share an eco-friendly keepcase with a Digital HD insert. The case is topped by a textured slipcover.
CLOSING THOUGHTS
The possibilities of animation are limitless, which is why it's frustrating to get another bland, forgettable tale of anthrorpomorphic animals. Rock Dog was never on most people's radars and having seen the film, I can't say there's any great reason for it to be. The biggest takeaway may be that it's just as possible to make a generic CGI family comedy from a Chinese graphic novel as it is from anything else.
Buy Rock Dog from Amazon.com: Blu-ray + DVD + Digital HD / DVD / Instant Video