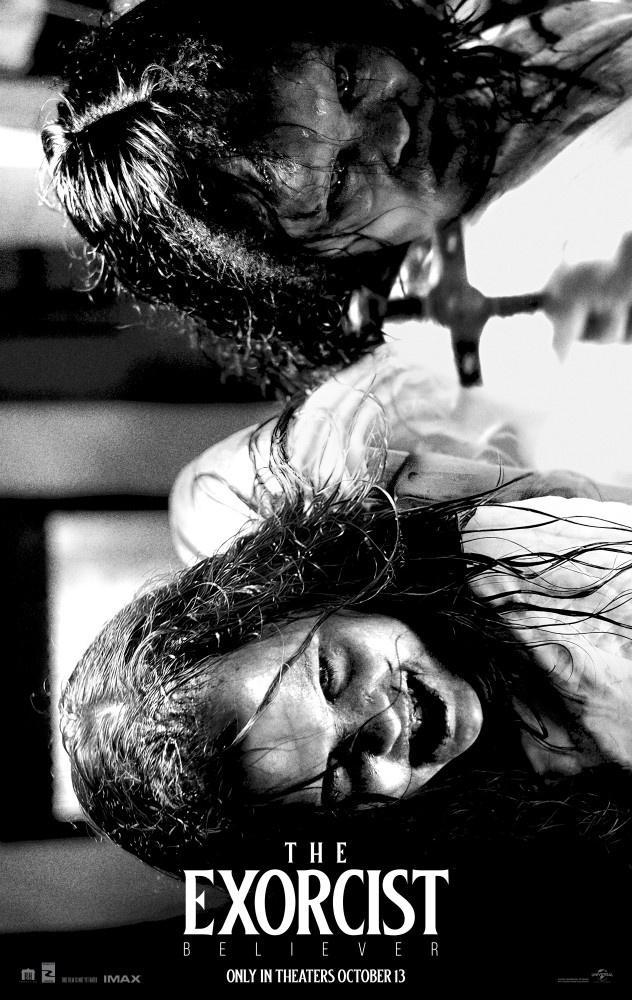 With a handful of jump scares and an assortment of body horror, The Exorcist: Believer doesn't unearth anything wholly new or revolutionary, but it should still manage to satisfy if not impress all but the most jaded of horror junkies.
---
The Exorcist: Believer (2023)
Writer-director David Gordon Green has entered a distinct fourth phase of his unpredictable career. Like many a filmmaker, Green began his career with low-budget indie movies. These were generally well received by critics, particularly his debut, 2000's George Washington. After a few years of making little movies of commercial irrelevance, Green took the call to direct Seth Rogen and Evan Goldberg's action-comedy Pineapple Express (2008). Thus began Green's mainstream stoner phase, a period that flamed out quickly with the underperforming 2011 follow-ups Your Highness and The Sitter.
Green's third stretch is his hardest to define. From 2012 to 2017, the director tried to occupy some kind of intermediate space between high and low art. He continued to work with big name actors, including Paul Rudd (Prince Avalanche), Nicolas Cage (Joe), Sandra Bullock (Our Brand Is Crisis), and Jake Gyllenhaal (Stronger). But the results were all over the place, the only consistent being box office grosses below even their typically modest budgets.
Since 2018, Green's sensibilities have been easy to pinpoint and categorize. He wrote, directed, and produced a trilogy of Halloween sequels starring Jamie Lee Curtis. Though the excitement around these dissipated pretty quickly, the box office returns remained substantial, with the first revival grossing $260 million worldwide, twenty-six times its modest $10 million budget. Those extremely lucrative numbers have led directly to Green getting to do basically the same thing all over again. Universal, the studio behind his Halloween trio, now turns over the reins to The Exorcist, another '70s-launched horror franchise that has been dormant for a while but remains iconic, particularly at this time of year.
As on his Halloween trilogy, The Exorcist: Believer finds Green attracting original cast members back into the fold, their presence serving as a meaningful seal of approval for fans who idolize their work. Most significantly, 90-year-old Ellen Burstyn reprises her as Chris MacNeil, the woman whose 12-year-old daughter Regan was horrifically possessed by a demon some fifty years ago.
Unlike Curtis, who held on to heroine duties through all three Green Halloweens, Burstyn has only a supporting role here and a fairly thankless one at that. She is sought out by Victor Fielding (Leslie Odom Jr.), the father of one of two pre-teen girls who went missing in the woods for three days and now appear to be demonically possessed.
Modeled after the original film, Believer opens with a disjointed prologue in a distant place, this time Port-au-Prince, Haiti where Victor loses his very pregnant wife in a chaotic tragedy. Father and daughter (Lidya Jewett) seem to be doing okay in the present day until she doesn't come home for dinner as promised after an afterschool playdate with her classmate Katherine (Olivia Marcum).
The girls' disappearance and discovery thirty miles away with no explanation or memories is a mystery to medical examiners. They discover nothing awry in their toxicology reports and sexual assault investigation. But if you're watching an Exorcist movie in 2023, odds are that you know what these learned doctors do not.
Much of the impact of the original Exorcist requires some context. Today, exorcism thrillers are a dime a dozen. But back in 1973, moviegoers had never seen anything like it. Hence, the blockbuster numbers and ten Academy Award nominations. That's not to marginalize the film, a well-made and still unsettling work of art from director William Friedkin and author/screenwriter William Peter Blatty. To appreciate its originality, though, you need to recognize that it had no true precursors. It's the same thing with Jaws; no modern shark thriller will ever be able to recreate the tremendous effect it had on its initial audiences.
Believer does not have the benefit of being novel. Viewers who missed Russell Crowe riding around Italy on a Vespa in The Pope's Exorcist this past spring have likely seen similar movies like The Last Exorcism, The Exorcism of Emily Rose, or, you know, the original Exorcist, its two sequels and two prequels. With built-in brand recognition comes audience familiarity and an inevitable impulse to compare this legacy sequel to prior installments. This is not news to Green and Universal, who saw the goodwill towards their recent Halloween saga fizzle out but not before making an awful lot of money from it.
Believer is similarly designed as the first part of a proposed new trilogy and unless it somehow severely falls short of industry expectations — a $30 million opening and $100 M+ final haul domestically on a reported $30 million budget — I suspect they'll be able to see it through. The first sequel, subtitled Deceiver, already has been assigned an April 2025 release date.
Green has about as much success reviving this landmark series as he first did with Halloween. He's faithful to the original film, but willing to build upon its folklore. If you're not already versed in The Exorcist, it's possible to not even realize this is a legacy sequel. Green and his co-writer Peter Sattler (Camp X-Ray) are focused in the present and their story holds a moderate grip over you as it deals with family baggage and Victor's faith or lack thereof. The dependable Ann Dowd chips in some intrigue as the neighbor/nurse who persuades Victor to do whatever is necessary to stop his daughter's suffering.
Burstyn's participation and the inclusion of an easily foreseen but not to be spoiled surprise final scene cameo do add some of the fun expected of a legacy sequel. Even without those levels, Green's movie is watchable and unproblematic. You can probably guess that there's more diversity here than in the original, with our leads being a black family and even the enlisted Catholic priest being complemented and overshadowed by some alternative faith rituals. With a handful of jump scares and an assortment of body horror, Believer doesn't unearth anything wholly new or revolutionary, but it should still manage to satisfy if not impress all but the most jaded of horror junkies.
Like Luke's work?
Consider leaving a tip and sharing this review to support DVDizzy.