R-rated animation is rare. Rarer yet is R-rated animation aimed at mainstream moviegoers. Sausage Party is the first 2,000+ theater release to fit that description since Trey Parker and Matt Stone's South Park (1999) movie

and Team America: World Police (2004). Unlike those crude comedies, Sausage Party employs the now-prevalent three-dimensional CGI, opting for an aesthetic akin to Pixar and all the competitors that have cropped up in their wake.

Sausage Party isn't adapted from television or made by people primarily employed on the small screen. The accomplished comedy duo of Seth Rogen and Evan Goldberg come from a line of mostly successful adult-oriented live-action comedies (including Pineapple Express, Superbad, and This Is the End) to make an animated movie with their distinctly crass, juvenile, and raunchy sensibilities completely intact. They share story credit with Jonah Hill and screenplay credit with The Night Before writers Kyle Hunter and Ariel Shaffir.

Foods at the supermarket Shopwell's have an interesting understanding of the world. They desire nothing more than to be brought home by "the gods", the human shoppers whom they believe will take them to a better life in "The Great Beyond." Our attention is most devoted to a package of male sausages and their compatible neighbors, female buns, who are excited to move on on the eve of "Red, White & Blue Day." Their expectations are adjusted after a returned jar of honey mustard reveals that they have been misled and that they would be better off dead than consumed by "the gods."
There's a funny and clever idea somewhere along the lines of Toy Story in there, but Sausage Party never really sells it or figures it out. Oh, the plot belabors this nihilistic food's eye view of the world, but the movie seems much more interested in making sex and ethnic jokes. You see, the sausages are phallic and the buns have a certain vaginal quality to them. Each dreams of mixing it up with the other, but for now, our central couple, Frank the frankfurter (voiced by Seth Rogen) and Brenda the bun (Kristen Wiig), has to settle for just the tips. As in touching the tips of their fingers to one another.
Ethnic depictions have come a long way since the mushrooms of Fantasia, but Sausage Party looks to have fun with them. A principal character is a very Jewish bagel, who is voiced by Edward Norton doing a Woody Allen impression. Another is Lavash, a Middle Eastern flatbread voiced by David Krumholtz. The two butt heads throughout, a very transparent send-up of the age-old differences dividing the Israelis and Palestinians. In the end, all is healed by the two dabbling in a little gay sex, as part of the film's big graphic orgy climax designed to bring down the house.
Along the way, we also encounter a bro who's an actual douche (voiced by Nick Kroll), who gets off by juicing up; a human stoner (voiced by James Franco) whose experimentation with bath salts briefly provides clarity; a wise, pot-smoking Native American bottle of booze called Firewater (Bill Hader); a cracker-hating black box of grits (Craig Robinson); a taco named Teresa (Salma Hayek) who tries to fight her lesbian urges; a wheelchair-using chewed-up piece of gum resembling Stephen Hawking; and a sticky, used condom.
Like most people, Rogen and his collaborators here have seen Pixar's movies and kind of know how they tick,

with many of the cast members having lent their voice to various animated features from DreamWorks and Sony. But they don't really aim for the imagination and heart that puts many animated films above most of their live-action counterparts. They'd rather just crack sex jokes and potentially offend. As someone who has appreciated most of Rogen and Goldberg's live-action comedies and who frequently laments that most American animation plays it safe, I should have been able to enjoy this. But it's really nasty and vulgar material that is never funny enough to justify that tone. The best joke in the movie (a Meatloaf song performed by a motorcycle-riding meatloaf) falls apart once you remember you can't buy pre-packaged meatloaf at a supermarket.

Sausage Party is directed by Conrad Vernon, a DreamWorks alum who co-helmed Shrek 2, Monsters vs. Aliens, and Madagascar 3: Europe's Most Wanted, and Greg Tiernan, whose directing filmography is limited almost entirely to Thomas & Friends shorts and DTV movies. The two ensure that the movie looks polished enough, but it is the never agreeable, sometimes unbearable crass comic stylings that drain the importance of everything from character design to sets and animation.

Even with my fellow critics voicing their appreciation, I expected Sausage Party to stumble at the box office like most daring animation made by outsiders does. (Auteurs as seasoned as Wes Anderson and Tim Burton have struggled to attract the masses to their slightly different stop-motion films.) Surprisingly, this film found a pretty substantial audience, one nearly comparable to those that have turned up for Rogen and company's bigger live-action hits. Grossing nearly $100 million domestically and an additional $42 M overseas, Sausage Party wound up being a bigger hit domestically than several family-friendly 2016 animated films, including Storks, Kubo and the Two Strings, and Ice Age: Collision Course.

Sony is campaigning Sausage Party for Oscars, with its hopes on the Animated Feature and Original Song categories. While those would be long shots at best, the movie recently became available to own on 4K Ultra HD, Blu-ray, and DVD. We review the Blu-ray edition here. Though the big orgy scene reportedly required some cuts for the film to secure an R rating, no unrated version is provided here.
Blu-ray Disc Details

1.85:1 Widescreen
5.1 DTS-HD MA (English), Dolby Digital 5.1 (Descriptive Video Service)
Subtitles: English, English for Hearing Impaired, Spanish
Not Closed Captioned; Extras Subtitled
Release Date: November 8, 2016
Suggested Retail Price: $34.99
Single-sided, dual-layered disc (BD-50)
Blue Keepcase with Side Snap in Cardboard Slipcover
Also available on DVD ($30.99 SRP), 4K Ultra HD + Blu-ray ($45.99 SRP), and on Amazon Instant Video
VIDEO and AUDIO
Naturally, as a computer animated film, Sausage Party makes the leap to Blu-ray with no obstacles whatsoever, the 1.85:1 direct digital transfer boasting the same pristine visuals and vibrant colors of theatrical exhibition. The 5.1 DTS-HD master audio soundtrack is suitably lively and crisp. There are fewer dubs and subtitles than you might expect.
BONUS FEATURES, MENUS, PACKAGING and DESIGN

The Blu-ray's all-HD extras begin with "Good Food Gag Reel" (7:29),

which sees actors cracking up and cracking up those around them while recording their filthy lines.

"Shock and Awe: How Did This Get Made?" (5:11) is a short making-of featurette, which lets Rogen and Goldberg recall all the rejections the project pitch got before Megan Ellison stepped in and helped finance it.

"The Booth" (9:28) documents the actors' experiences recording their line

"Line-O-Rama" (4:57) collects alternate lines ad libbed by the actors in the recording session.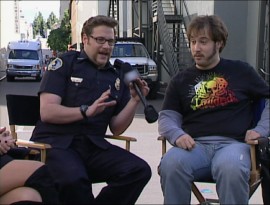 "The Great Beyond: Music of the Gods" (4:01) looks at the recording of the original Alan Menken number with which the film opens.

Seemingly dating back from the production of Superbad ten years earlier,

"The Art of the Pitch" (2:33), licensed from MTV Canada, lets Rogen and Goldberg share their tips for selling a movie on ideas, complete with multiple mentions of the title Sausage Party (the title came before the concept).

Finally, "Seth Rogen's Animation Imaginatorium" (1:05) lets Rogen parody Walt Disney, as he sells the movie with help from Frank. It's creative, though one wonders how many viewers will appreciate this.

The disc opens with a promo for what's inside your Sony Rewards insert and trailers for Ghostbusters (2016), The Magnificent Seven (2016), The Brothers Grimsby, Don't Breathe, and The Bronze.

Much like the theatrical posters, the static, scored menu features characters against a yellow background.

The full-color disc sits in a slipcovered, side-snapped keepcase across from an insert holding both your Digital HD code and a code to get a Sony movie for $4.99.
CLOSING THOUGHTS
I found Sausage Party just as unfunny and distasteful in a home viewing as I did in theaters. This crude-for-crudeness' sake comedy does represent something other than the norm for American animation, but also something harder to enjoy and respect than even the most routine and conventional of CG family comedies.
The picture and sound of Sony's Blu-ray are solid and the extras are more substantial and serious than you might expect. Still, the movie is deplorable enough to recommend skipping, even if you think you would like this, as I thought I would.
Buy Sausage Party from Amazon.com:
Blu-ray + Digital HD / 4K Ultra HD + Blu-ray / DVD / Instant Video