My knowledge of Thomas the Tank Engine is limited to fading memories of the early-'90s show "Shining Time Station", commercials for the 2000 theatrical film Thomas and the Magic Railroad, and the Ringo Starr segment on "Rock Profile". Perhaps I'm not the most qualified person to review Thomas & Friends: Hero of the Rails - The Movie, but an advance copy arrived, and after some thought, I decided I'd be up to the challenge. After all, the target audience may be younger than I, but they're not expected to be schooled on all this.
Hero of the Rails is the third direct-to-video feature emanating from the universe that dates back to the 1940s, when Reverend W. Awdry began his Railway series of children's books. To many, the series is more familiar from its television presence, which it established twenty-five years ago in the United Kingdom and maintains today in computer animation beamed around the world.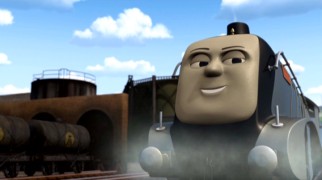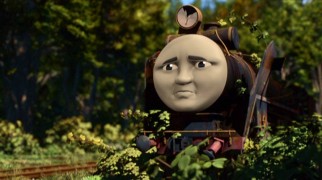 Like all things Thomas, Hero is set on the island of Sodor, a place filled with trains that have faces, personality, and speech. Although the cast of regular characters is pretty large, Thomas is easy to identify by his bright blue paint, Number 1 designation, triangular eyebrows, and comparatively normal demeanor and voice. On that last point, it is worth noting that for the first time, Thomas and his friends are uniquely voiced instead of having one narrator speak for all. This change will evidently carry over to future works.

At the film's opening, Thomas and his many train friends are all chafed by the arrival of Spencer, a speedy and arrogant engine who has been whizzing past them on the tracks.

Spencer is in town for the season while he tries to hastily construct a summer home for the Duke and Duchess of Boxford.

Challenged to a load-pulling race by Spencer, Thomas winds up lost. He then encounters Hiro, a broken-down engine who has been abandoned in remote outskirts. The old, apparently Japanese engine has stories of glory from his days as the renowned "Master of the Railway", but now he is homesick, alone, and afraid of being sent to the Smelter's Yard. Thomas is happy to help and secretly sets out to acquire replacement parts and get his new friend back in working order. He gets help from others, including his best friend Percy and steam works operator Victor (another new character), while trying to keep Hiro's existence off the radars of the boastful Spencer and often cross controller Sir Topham Hatt.

Although Michael Brandon now has to compete with character votes, this one-hour production is still packed with his adjective-heavy narration. Sometimes it is useful in conveying a point otherwise missed. More often, it is just wordy, stating things that could just be conveyed (and usually are) visually. When the trains themselves are allowed to speak, they are apt to pull out steam engine talk, throwing around exclamations like "bust my buffers" and "cinders and ashes." Both of these aspects play to the youthful audience that most heartily embraces this fare.
Surprisingly, though, parents, older siblings, and other adult relatives should find this pretty watchable. Despite the compact running time, the feature is fairly dense in terms of story. Its educational values are general, as opposed to the spoon-fed problem solving of "interactive" children's programming. Even the computer animation, done by Canada's Nitrogen Studios, is decent. It may lack the lighting and shading that lends realism to good big screen fare and the humans may move a little clunkily,

but the visuals are pleasing and not hindered by the shortcuts you might expect of something low-budgeted. In some cases, the animation may be too good; there is a slightly creepy quality to some of the more human-looking train faces.

All in all, I was pretty satisfied by this outing. You will be too if Thomas & Friends are popular in your family. If they're not, you may want to consider giving them a chance here or on public television.

VIDEO and AUDIO

Its package claims full screen format, but Hero of the Rails is actually presented in 1.78:1 anamorphic widescreen. As a digital creation on a sparsely-populated platter, there are no concerns with the picture quality, especially if you're okay with the CGI's stylings. A Dolby 5.1 soundtrack doesn't play by default, instead having to be chosen as "enhanced audio." It makes minimal but tactful use of the sound field. Plain stereo tracks are provided in English, French, and Spanish. Unfortunately, no subtitles whatsoever are offered, but the disc is closed-captioned.
BONUS FEATURES, MENUS and PACKAGING
Four bonus features are provided here.
The "Thomas & Spencer" Racing Game takes some getting used to and it may be tough for kids asked to swiftly press remote control buttons. Once players get the hang of it, though, it should mildly entertain. To help Thomas beat Spencer, you must monitor and adjust steam, water, and heat levels as directed.
The "Who's Pulling into the Station?" Game requires less dexterity, which is to say none. Viewers are simply asked to call out trains as they arrive and steam dissipates at the Knapford Station. It's also good for getting to know some of the engines who only briefly feature in the film.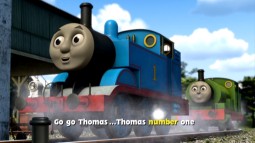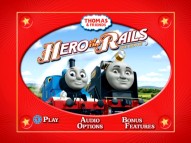 Next comes a karaoke music video for "Go, Go Thomas" (2:08), which plays the movie's closing song, Sam Blewitt's country pop recap of the film's happenings. Lyrics and a bouncing steam ball encourage the literate to sing along.

Last and by far most memorable is the 8-minute video "Thomas & Friends Bedroom Makeover." It begins harmlessly enough with a brief history of the franchise, but then settles on a "Designing Spaces" segment with HiT Entertainment PR director Denielle Webb as guest.

As one "very special little boy" gets his room transformed with Thomas murals, bedding, toys, clothes, and books, we speed way past full promotional mode to end up in territory that must be parody (yet isn't).

I couldn't decide whether I got a bigger kick out of the two ladies' ceaseless, specific, unnatural enthusiasm or the repeated use of the phrase "sets the whole scene." But then we get something that trumps both: the boy's reaction, an "Awesome!" exclaimed before the door is even open and lifeless trainplay. The company's miscalculation of line-crossing entertained me more than anything else on the DVD and, of course, it still achieves its goal of making viewers think of accessorizing with available Thomas merchandise.

The DVD loads with commercials for Thomas toys, Leapfrog DVDs, Wallace & Gromit: A Matter of Loaf and Death, Bob the Builder On Site: Skyscrapers, Shaun the Sheep: Off the Baa!, and The Best of Barney: 20 Years of Sharing, Caring, and Imagination. The same promos are accessible from the bonus features menu's "Trailers" listing and, excessively, play again immediately following the movie.

Featuring a design resembling the cover art, the three static 4:3 menus are equipped with cheery score excerpts (some of which curiously resemble "Inside the Actor's Studio" music). The disc is also enhanced with "Auto Play", the equivalent of Disney's FastPlay method, which prompts playback of the feature and select extras without needing to use your remote control. It would have been nicer to get a scene selection menu and remainder timecode displays.

Housed within a stylish embossed slipcover, the DVD's blue keepcase holds a subscription form for Thomas & Friends magazine and a booklet promoting Thomas toys, other HiT Entertainment/Lionsgate family DVDs, and a Legoland trip with a coupon for a free child's admission with paid adult admission.
CLOSING THOUGHTS
HiT Entertainment has no doubt made some changes to the Thomas & Friends franchise, including now granting characters their own voices. Those who have been following closely could tell you more about such changes. To me, a confessed novice, the universe seems faithful to its origins, with the cultural diversity and contemporary closing song standing as perhaps the strongest indications that Hero of the Rails is a new creation.
Calling this a movie seems acceptable for direct-to-video fare. Clearly, Hero's ambitions are too small for theaters (although screenings were held there this past weekend) but it has enough of a story to stand up as more than digital babysitter. No matter how promotional the disc may be in design and bonus features, the feature itself holds moderate appeal and is worth checking out for those with children who like this world or might.