One day, Once Upon a Deadpool will just be a bonus feature. But right now, it stands as one of the biggest curiosities in film of 2018 or any year, really.

Unless you've been living under a rock the past three years, you know about Deadpool. The character of modest Marvel Comics fame, first introduced on the big screen in a supporting role in 2009's X-Men: Origins - Wolverine, became a passion project for Ryan Reynolds,

who produced and starred in the 2016 film that exceeded all commercial and critical expectations. Integral to Deadpool's appeal was its hard R-rated content, something Reynolds and others had to fight for in an effort to remain true to the comic books. R-rated superhero movies -- Watchmen, Kick-Ass -- were few and far between and they almost always underperformed at the box office no matter how big they opened. If 20th Century Fox was going to give an X-Men character a spin-off movie, they were going to want it to make money. That, Deadpool did, outgrossing every X-Men movie ever both domestically and worldwide.

After generating such big numbers and moviegoer enthusiasm, a sequel was inevitable and it arrived in May 2018, with Reynolds adding writing to his list of contributions. Even just two years after the original, Deadpool 2 may not have been quite as much a novelty, but it drew strong reviews and put up really big numbers not far from its predecessor's. It seemed like that might be where this franchise ended, as Reynolds sounded unusually opposed to a threequel in the weeks leading up to Deadpool 2's opening.

In the months since then, Disney's plan to buy Fox became cemented, raising all sorts of questions for excitable fans of the Marvel Cinematic Universe. Then late last September, exhibitors' release schedules were updated with a mystery release billed "Untitled Deadpool Film." These days, news of superhero sequels is all over the Internet before deals are even signed and surely not enough time had passed for a film to have been produced in secret and completed for release by Christmas. In time, we got our answers. Once Upon a Deadpool, whose title became official just barely a month before release, would be a PG-13 version of Deadpool 2 with toned-down violence and language along with some newly-produced material.
The bulk of the new material, as laid out in trailers and posters, is a new frame story, which sees fully costumed Deadpool (Reynolds) retelling Deadpool 2 in storybook fashion to one Fred Savage. Just as in the classic 1987 film The Princess Bride, the former child actor wears a long-sleeved Chicago Bears shirt and lays in bed (faithfully reproduced,

like the rest of the room) reluctant to hear a story. Whereas in Princess Bride, he was sick, here he is a captive, his legs bound to the bed with duct tape. Exuding his signature snark rather than the warmth of Peter Falk's Grandpa, Deadpool presents the film with most F-bombs removed and a good amount of violence softened.

Even with the edits, this is no Disney movie, a topic that comes up as Savage and Deadpool argue over the classification of the movie. Savage says he prefers Marvel movies. Deadpool points out this is Marvel. Savage explains that it's "Marvel produced by Fox", which he likens to "the Beatles produced by Nickelback." This new material is funny, particularly if you're among the millions of people who know and love The Princess Bride. The interruptions are minimal, as they should be in a properly executed frame story. But they create some of the biggest laughs, particularly if you enter having already seen Deadpool 2. A gag in which Deadpool repeatedly bleeps out Savage's use of a different F-word is as racy as anything in a PG-13 movie, but it falls within the MPAA's increasingly tolerant PG-13 guidelines.

If you are watching this primarily for the new content (which also includes some bits that apparently were shot for Deadpool 2, cut, and then presented as deleted scenes on the Blu-ray), you will want to keep watching until the very end of the end credits, which adds a touching little tribute to the recently deceased Stan Lee to the riotous mid-scroll tags.

Beyond that, you mostly get Deadpool 2 in an only mildly watered-down state. This sequel, starring Josh Brolin as Cable, a powerful man traveling back in time to prevent the future murder of his wife and daughter, is big on wit and creativity. Whereas the first film was largely a showcase for shock comedy with the wall-breaking, invincible antihero disarming you with inappropriate barbs and asides, this one is pretty committed to telling its own story, one which sees Deadpool round up a team he calls the X-Force to stand up to Cable, a humorously humorless time traveler he razzes for wearing a fanny pack.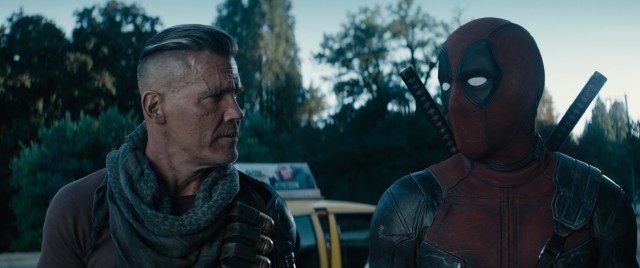 Plenty of innuendo remains intact here and the narrative that finds Deadpool grieving for his girlfriend Vanessa (Morena Baccarin), killed off in the first act, and repeatedly trying to off himself is rather dark and mature when judged against the PG-13 plots of Black Panther and the like. I did notice a few enjoyable bits from Deadpool 2 getting cut here, including Celine Dion's big original song and the reflective opening that fired shots at Logan.
After seeing this, I remain uncertain of the intended audience. If you think this marks the first time that kids under 17 are getting to see Deadpool's antics, then you're back under that rock again. While no doubt some parents will object less to their offspring seeing this version than the R-rated alternative, it doesn't really make sense to jump into this without seeing the original Deadpool first. And then there is the fact that the Princess Bride bits will play best with kids of the '80s and '90s who grew up watching that William Goldman-penned, Rob Reiner-directed fairy tale. Surely not many of those kids, who today range from their late twenties to early forties, would have avoided Deadpool because of its R-rated content.
Nonetheless, seeing Fred Savage, himself now in his early forties, back up on the big screen and still a sharp comic talent, sort of reprising his Princess Bride role right before Christmas was something I very much enjoyed and would have even if there weren't comfortable reclining chairs topped by cinnamon roll-scented seat covers at my barely advance theatrical screening.
There is not a long lineage of alternate edits of hit films. There was a period after Avatar when classics like Titanic, The Lion King, and Pixar movies were given 3D makeovers.

Avatar itself got rereleased in an extended special edition, sort of like how the original Star Wars trilogy got updated in 1997. But in terms of editing down graphic content to increase mass appeal, there is just one prominent example more recent than Saturday Night Fever, which, well-attended with an R rating in 1977, was edited down to a PG for a 1979 reissue. One year after Mel Gibson's The Passion of the Christ, a controversial film no major studio wanted anything to do with, shattered all kinds of box office records (prompting a name drop here from a fellow R-rated blockbuster), the director edited out six minutes of violence and rereleased it to nearly 1,000 theaters as The Passion Recut. The edits weren't enough to earn the film a PG-13 rating, so it went out unrated...and bombed spectacularly. Its 28th place debut stands as the fifth-worst wide release opening weekend in history.

Once Upon a Deadpool opened in 1,500 theaters and seemed likely to suffer a similarly ignominious fate. As if to pre-empt the fanboy groans that might well have greeted this curious re-edit otherwise, $1 of every ticket sold -- and now $1 of every Blu-ray and DVD purchased -- is being donated to a charity that for the purposes of this release has been temporarily renamed "Fudge Cancer." There is an obvious thematic link to the material, with Wade Wilson being a cancer victim. This PG-13 holiday season experiment proved to be commercially insignificant. The new edit opened in 11th place and ultimately grossed a little more than $6 million, playing slightly longer than the two-week engagement initially announced. That gross was chump change compared to just about every superhero movie of this century and especially to both R-rated Deadpool releases. This does not hold much promise for Disney trying to turn Deadpool into a PG-13 franchise within the Marvel Cinematic Universe.

After that modest showing, it wouldn't have been all that surprising for Once Upon to forgo physical media altogether, but instead Fox has sent a Blu-ray + DVD + Digital combo pack to stores barely a month after this version's theatrical debut, which presumably must mark the shortest theater-to-disc window for a major studio film.

It is worth noting that the tribute to Stan Lee that was attached to the end of the end credits of Once Upon's theatrical release is not found here. The discs were authored in late November, merely two weeks after Lee's death, suggesting that the cameo-;launching tribute had not been put together yet when this home video release was produced. So if that was an incentive for you to buy this, it should not be. However, the "RIP" update to the building graffiti mural sighting of Stan Lee seen at the 1-hour, 3-minute mark as Domino paraglides down, is seen here.
Blu-ray Disc Details

2.39:1 Widescreen
Blu-ray: DTS-HD 7.1 MA (English), Dolby Digital 5.1 (Spanish)
DVD: Dolby Digital 5.1 (English), Dolby Surround 2.0 (Spanish)
Subtitles: English for Hearing Impaired, Spanish
DVD Closed Captioned
Release Date: January 15, 2019
Suggested Retail Price: $29.99
Two single-sided, dual-layered discs (BD-50 & DVD-9)
Blue Eco-Friendly Keepcase
Also available on Prime Video
Deadpool 2 available on Blu-ray + Digital, 4K Ultra HD + Blu-ray + Digital, DVD, Prime Video
Deadpool & Deadpool 2: The Complete Collection (For Now) available on Blu-ray + Digital and 4K Ultra HD + Blu-ray + Digital
VIDEO and AUDIO
Not surprisingly, Once Upon a Deadpool boasts the same high quality you'd expect of any major studio film. The Blu-ray's sharp, pristine 2.39:1 presentation leaves nothing to be desired and the 7.1 DTS-HD master audio mix is as lively as it ought to be. The biggest surprise in this department may be the lack of any dubs or foreign subtitles other than Spanish.
BONUS FEATURES, MENUS, PACKAGING and DESIGN

Once Upon a Deadpool reaches Blu-ray with nary an on-disc bonus feature, which is kind of understandable given its nature and also kind of inexcusable,

given the fact that Deadpool 2 had enough bonus material to fill a second disc both on Blu-ray and 4K Ultra HD. Obviously, the PG-13 nature of this presentation renders some of those bonus features inappropriate or in need of editing, but you feel like Fox could have easily included some trailers or at least the ability just to watch the Deadpool/Fred Savage bits.

On the plus side, this release scores points for creativity, with a front cover graphic touting this is "In Glourious 3D" while the rear cover bills this as "from the studio that brought you Anastasia and Ever After."

The knowing funnyness extends to a humorous menu that looks opens with Deadpool Bob Ross glimpses before disintegrating into a grainy, jittery, taped-over 1988 VHS montage set to A-ha's original "Take On Me." After one run-through, the menu makes the leap to full HD (or better-looking SD).

The unslipcovered eco-friendly keepcase includes an insert supplying a code for the digital HD copy of the film that is available through Movies Anywhere and other services alongside the plain blue Blu-ray and white DVD.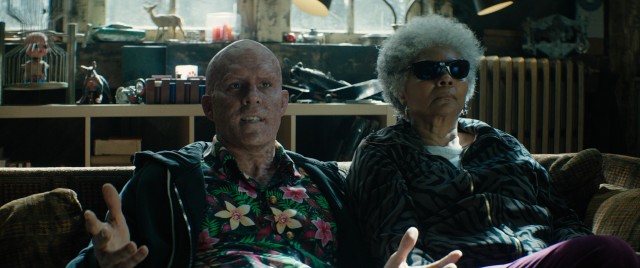 CLOSING THOUGHTS
Once Upon a Deadpool raises a lot of questions about the future and integrity of Fox/Marvel/Ryan Reynolds' racy superhero series, but it also stands as a very fun time. It's easy to recommend as a curiosity viewing and seems destined to end up a bonus feature on subsequent Deadpool 2 reissues. It's tough to recommend Fox's barebones Blu-ray combo pack at pretty much standard new movie pricing, but it is an enjoyable, if slightly choppy, oddity I don't think I'll be parting with anytime soon.
Buy Once Upon a Deadpool from Amazon.com: Blu-ray + DVD + Digital / Prime Video





Buy Deadpool 2: Blu-ray + Digital / 4K Ultra HD + Blu-ray + Digital / DVD / Prime Video

Buy Deadpool & Deadpool 2: The Complete Collection (For Now):
Blu-ray + Digital / 4K Ultra HD + Blu-ray + Digital