By Aaron Wallace

Moira Kelly made her big screen debut in the early 1990s, quickly making an impression on the industry. At the age of 24, she was chosen for three starring roles in 1992, including that of Kate in the very popular ice skating rom-com, The Cutting Edge. That film cemented her career and she's remained a fan favorite ever since. With nearly two dozen film credits to her name, she turned to television in 1998, starring in the short-lived CBS drama "To Have & to Hold" and moving on to a season-long run as Mandy Hampton on "The West Wing" the next year. Other notable appearances on Kelly's resumι include Chaplin, Twin Peaks: Fire Walk with Me, With Honors, and Entertaining Angels: The Dorothy Day Story.

Though her on-screen performances launched her to stardom,

Kelly's distinctive voice also gained her recognition, leading to her frequent audio book recordings and voice-overs. In 1994, Walt Disney Feature Animation cast her as the adult voice of Nala in The Lion King. The film went on to become one of history's highest-grossing and Nala emerged as everyone's favorite lioness. Kelly returned to the franchise in 1998 for The Lion King II: Simba's Pride and again in 2004 for The Lion King 1½.

Today, she stars in the hit drama "One Tree Hill", currently in its fourth season. As Karen Roe, she plays the mother of central protagonist Lucas Scott (Chad Michael Murray) and anchors the adult story-line that runs alongside that of the younger cast. The show debuted on The WB in 2003 and made headlines this summer as an outpouring of support from devoted fans convinced the new CW network to renew it for the 2006-07 season.

Though she is busy with her television show and two young children, Moira Kelly recently took the time to talk with UltimateDisney.com, lending her insights on the TV and film industries, hinting at what's to come, and reflecting on her work from Pride Rock to Tree Hill.
---
UltimateDisney.com: How did you get started in the acting business?
Moira Kelly: I went to Marymount College in New York City. I grew up around music and when I was in high school I got into doing some of the musicals in school and really enjoyed it so I looked at colleges with good theater programs and thought, "Well you know, I'm interested in this; let me try it out" and that's pretty much it. I was enrolled in Marymount, part of the theater program there, and just after my senior year I did an audition for my agent... and they signed me. I had never anticipated film work; I always thought I would do stage work in the plays on Broadway. But he said, "What about film?" and I said, "Well let's go out on some auditions" and it took, and here I am almost 20 years later.
In 1994, you had a big year. First it was With Honors, which I loved, and then of course The Lion King. How did you come to be involved with The Lion King project?
I was asked to go in and audition. They wanted to listen to different voices and I wasn't the first choice. I don't know who they had in mind but I was not their first choice. So a few months had passed and I got called back in again and I just had to read for them and they chose me to play the part of Nala, which I was very excited about because it was nice to be a part of, you know, a Disney treasure. There had not been all-animal animation in quite some time so it was a big deal for Disney and it was great just to be part of that process. Very different than anything else, as far as film and stage.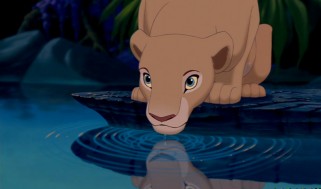 What is it that attracts someone who has been trained for and is used to acting in front of the camera like yourself to go behind the microphone for animation?

I think that what I enjoyed about it was that it really was about the voice and how you were going to deliver your lines, so it's a real focus on understanding the lines and how to present them in a colorful way, like reading a story to a child -- it's kind of fun to play with different voices and try to color the lines for the child so they can imagine it more fully. As an actor, when you're just relying on your voice, it's just a nice dynamic to focus on. Rather than the full picture, it's just one unique element of performance. It's good for training too. Plus, going to work -- I'm not one for hair and makeup, you know? I get very antsy when I have to sit in the works, so it's really nice just to be able to throw on my jeans and a T-shirt and baseball cap and go to work and stand in a little dark room and speak into a microphone. I like that.

When you're in the studio recording, how much involvement did you have, if any, with the other voice actors there?

We actually all pretty much recorded separately. It took about two and a half to three years to finish the project. I remember Jeremy Irons was working at one point in, I think, London

and Matthew Broderick was in the States. At one point, I was in the states and then I was in Canada. So it was wherever they could find you, they'd get you in a studio and try to record you.

What was really fascinating was that when they record you, they also videotape you a little bit to get your facial ticks, if you have any, so they can kind of draw into the character a little bit of the physicality of the actor who's delivering the lines. When you first see that in the black and white sketch that they put up -- they showed me bits and pieces that they had finished in different steps -- and it truly is amazing, the process, the amount of people with just amazing talent [and] what they can do to bring these characters to life.

I remember seeing that first sequence, the "Circle of Life", with the whole opening finished, the music put to it... I remember standing there crying the first time I saw it, it was so moving. So to me, it really is that there is magic in what happens in that process. Most of us can remember just growing up on Disney and the animation of Disney and how it really was able to transport you to a place unlike where you are and put you really in touch with the magic of life and storytelling. And it's nice to know that as an adult, it still kind of hit that chord. I didn't lose it, and that's a testament to Disney. Whatever their formula is, it works.

And what an incredible opportunity for you to be a part of something that has become such a major Disney classic.

I know! I feel like I'm part of Snow White or Bambi. It's really wonderful. My children actually haven't seen it yet. They're four and two, but I really can't wait to show it to them.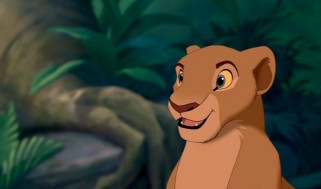 Was there a sense at the time that The Lion King was going to be as successful as it was?
No, I figured it would be probably be as successful as most of the Disney productions had been, like Beauty and the Beast and [The Little Mermaid] -- well those came out afterwards, didn't they?
The Lion King came out in '94. Beauty and the Beast was a few years before.
It was just before it, yeah. You know, I figured it would have probably about the same success rate as those; the only [difference] was that it was all-animal animation, no human characters in the story, and they had not done that in a very long time and so I guess they were all waiting to see whether or not that would be exhilarating to audiences. I don't think anyone really had any idea of the impact that The Lion King would have, but I'm very proud of it. I'm glad it did. I think it's a beautiful story and it's told so well. The other great thing about Disney is that it allows people, especially children, to have an understanding of the working of life -- you know, how it works in the Prideland and the fact that lionesses are the ones that go out and hunt the food. It's a little bit of education in the process of bringing that back to the audience.
A lot of times an original cast will be reluctant to return for a sequel, whether it's animated or live-action, but that wasn't the case for The Lion King. Most of the original cast returned for the sequels. When Disney decided to go forward with those, were you immediately on board?
Absolutely. Oh yeah. They came right to me and I said, "Sure, you wanna do a third, fourth, fifth? I'm right there," although I think all of us are going to be very old. But yeah, oh, I was very excited. Very excited.
The Lion King 1½ used some of what had already been seen in the first film and was really focused on changing things with the characters of Timon & Pumbaa, so how much work did that require on your part and for some of the others?
Oh, a lot more on the others. I mean, I think I had just a couple of days to go in and record. There wasn't very much for me to have to do. As far as the involvement, I think Timon and Pumbaa were the main characters at that point. They're just a funny character act. I mean, the two of them as a comedy act is great. So yeah, it wasn't that much work. But even if it was like a line that they had me to say, I'd be there. (Laughs)
I want to talk to you a little bit about "One Tree Hill". It's a Wednesday night must-see for me and I think that you and the whole cast do just a tremendous job. Lately it's proven itself to be the show that refuses to go away. Was there a point that you didn't think you'd be back for Season 4?
I think we think that every season. That's the hard thing about working in television. There are so many networks and so many shows and it seems like there's such a need for the networks to prove right out the gate that they have shows that are going to grab the audience and hang on. I feel like if you don't come out of the gate with that kind of an impact that they immediately cut and drop and they start to kind of freak out a little. What was great for "One Tree Hill" in the beginning was it was part of The WB, which wasn't really a network that tried so much to compete with the other networks. It just identified itself with a different demographic that "One Tree Hill" fit. But especially this past season with the new network, when the two (UPN and WB) combined, you know, we weren't really quite sure. I think it was really 70-30 that we weren't going to be coming back for a lot of us. But the fact that we did -- we're just very happy and... I don't know if it's just the formula of the show or the concept of providing this look at high school life while including adults in the forefront too, you're kind of reaching a larger demographic. I'm not sure, I'm just happy it's back.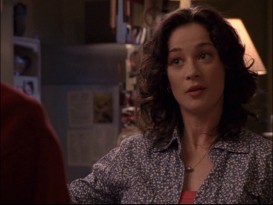 Have you felt the effect of now belonging to a new network on the set or is it pretty much the same?

It's pretty much the same, I mean it's the same crew, it's the same actors, and that's really what I focus on when I'm at work: the people I'm actually working with on a daily basis.

I haven't met any of the CW network heads or anything but yeah, I'm just happy to be back and in a normal working day. It's amazing how quickly it becomes just like your work day.

On the show you play the mother of a high school senior. In real life, you're the mother of much younger children. Are you taking any pointers from Karen Roe?

Oh, absolutely. (Laughs) I'm looking at this as my test run and unfortunately for Chad [Michael Murray], he's my guinea pig. But again, I still have to do what the writers write for me. I mean, if I had my way, things would be a little different. (Laughs) I'd have a little bit more of my mother in it.

What is it like to play an adult character on a show that is primarily targeted towards teenagers?

I think it's nice, as long as they keep Karen [as] the words of wisdom, the kind of sane one, the one who is trying to make her son understand what it is that they're really going through at this age, you know, that she keeps it together, then I'm happy because it's nice to be the voice of reason. It's better for me, personally, to have that kind of role, especially on that kind of show that's geared towards teenagers. There's got to be, I feel, a role model that says, "Okay look, it seems this way right now, but it may very well be this way later." But it's good. You know what's interesting is that I've got a lot of fans who kind of grew up on The Cutting Edge that are now tuning into the "Tree Hill" show, so it's really nice. I think they're excited to see Karen or Kate, or however they view it. (Laughs)

Speaking of The Cutting Edge and "One Tree Hill", you've done quite a bit for both film and TV. Which do you prefer?

Film. To me... I like the type of work that I'm doing on a character: play it out, let it go, and move onto something else. It's hard for me to really, honestly state that because I'm also looking at my position in life, as a mom. Having a television show, there's great stability. Especially on this show, I have a lot of time off to be Mom, so that's the upside for me. Creatively, though, I'd much rather move on after a point and sink my teeth into something else.

"One Tree Hill" is filmed in Wilmington, North Carolina. Do you find it difficult or refreshing to be working outside of Hollywood but still on a major project?

I find it refreshing. (Laughs) I honestly don't know if I'll be able to handle going back to Los Angeles after this is all over. I had to go back last year to edit because I had the opportunity to direct an episode last season so I was in L.A. for four days and I really thought I would go out of my mind. I lost my edge. Wilmington has made me soft.

Yeah, it'll do that.

(Laughs) Yeah, you know, you realize, "Hey, you know what? Life is for living." It's really nice.

Yeah, it's a much slower pace.

Uh-huh.
How much of a gap is there between the episode you're filming and the episode that's being aired each week?
About four episodes, three to four episodes. Sometimes we double up and we're doing two episodes at the same time or finishing one. It's a lot of work, it's a lot to get in in eight days. At this point, we're pretty much a machine that can run.
Filming on location, and having presumably most of the cast and crew living around the area, I would think that would foster a sense of family amongst everyone involved that may not be as strong on other projects. Have you found that to be the case?

Yeah, and I also find that it really determined... where you're at in your life. I know that the young kids hang out an awful lot and there was a time when I probably would be out every night hanging with the crew. This experience is different for me. I've got a family now and so I'm connecting more with the parents on set. Barbara [Alyn Woods] and I connect more because we relate a lot over being moms so it's just really where I'm at. You pull what you need from your environment at work. We all work very well together.

It was a little rough in the beginning but I think everything's kind of worked itself out and everyone has settled into their place. But I don't go out as much with the crew or anything like I used to. I kind of miss a little piece of that myself. It used to be fun because I really am a crew girl. I used to love hanging out with them. But I love being a mom too. It's a much better place.

Season Four of "One Tree Hill" premiered this fall and to strong numbers. Can you give us any idea of what this year might hold for Karen Roe?

Well, we know that she's pregnant and carrying Keith's child so hopefully that will all turn out nice and she will be a mom again, in a sense. I don't know -- it looks like they're trying to work Dan and Karen a little closer. I'm not sure how that's going to all play out. Obviously, we're going to have to find out at some point that Dan did kill Keith so I think that Karen's in for a major -- not letdown, but certainly, a moment of darkness when she realizes that Dan, who's trying to be so sweet, really did kill Keith. So that'll be interesting when that's revealed.

Of course she's in kind of a tense relationship with Deb right now, because of what she's going through. I think she'll have a close relationship with the character of Haley -- well, I wonder if this is out already? I'm not going to say anything, then... Alright, closed lips on that. (Laughs) [There are] certain different areas for Karen to go into. I don't think she's going to have a major love life or anything like that. I think it's more preparing to have another baby and seeing where this relationship with Dan goes.

It's very interesting and exciting to see where that's going to go. I want to thank you for taking the time to talk with me.

Oh, you're welcome, Aaron. I'm glad we got to talk. Take care.
---