Family sitcoms are about as old as television itself and almost all of them start with a twist or gimmick. Unorthodox family compositions, a larger-than-life member, magical powers, fish out of water, the freedom of animation, and nostalgia have been behind some of the more successful family sitcoms over the years. Others have forgone establishing a single selling point, opting instead for the characters and situations to sufficiently endear viewers. Unhindered by a gimmicky premise, the shows in this group tend to be a more earnest reflection of their times.

This is true of the long-running 1980s comedy "Family Ties", which fits into that class and ranks highly among some real gems.

The closest thing to a gimmick that "Family Ties" can be charged with is something that, sure enough, does arise often in discussions of the series. In fact, it's on the back of Paramount's The Second Season DVD, available today, as such: "'Family Ties' flipped the typical sitcom dynamic on its head. Instead of conservative parents butting heads with rebellious kids, the heart of the series is the generation gap between former hippie parents and their square offspring."

This is somewhat true. The Keaton family heads, Elyse (Meredith Baxter Birney) and Steven (Michael Gross) are indeed former hippies who possess some progressive social values. Their oft-suited eldest son Alex (Michael J. Fox) is a staunch Young Republican with an unusually conservative and grown-up view of the world for someone who turns 18 in Season 2. But to say the generation gap is the heart of the series overestimates the contrast's significance. For instance, the points of view of the two Keaton girls, boy-crazy teen Mallory (Justine Bateman) and 10-year-old Jennifer (Tina Yothers) never really clash with those of Elyse and Steven in any way more severe than typical parent/child conflict.
At its heart, "Family Ties" lives up to its title, focusing on a close family which gets through ordinary, trying experiences in humorous ways. It's something we don't see much of today: a conventional sitcom that's smart, sincere, and funny. I don't hesitate giving "Family Ties" any of those three winning labels. The series can't be credited with changing the face of television, but that was never its intention.

While adhering to sitcom formulas -- self-contained storylines, guest stars that make an impact then disappear for good, action that's mostly limited to the household -- "Family Ties" excels with clever, witty scripts that gently comment on contemporary life while showing new sides of the likable Keaton clan.

Though he was still a couple of years from becoming a young leading man of big screen blockbusters (the summer of 1985 dealt him both Back to the Future and Teen Wolf) and though he receives middle billing among the Keaton family, Michael J. Fox is clearly the show's star by Season 2. The occasional episode will spend considerable time on one of his sisters or parents, but by and large, Alex P. Keaton is the main focus. Both Fox and Keaton are different from the types of young actors and characters that viewers are used to seeing. Five years older than his persona, 22-year-old Fox boasts impeccable comic timing and proves himself to be a mature and versatile actor, something that a lesser sitcom wouldn't require. Fox emerged as a teen heartthrob but, more importantly, an excellent comedic talent, but his bright line didn't shine at the expense of his castmates, who each hold their own and give their characters' relationship with Alex a distinct flair.

In Season 2, the series touches upon some serious issues in addition to the school and teen romance plots. In one episode that may seem especially outlandish today, golden boy Alex P. Keaton gets hooked on speed (a.k.a. Mallory's classmate's diet pills) to help him handle a hefty load of midterm work. In another, Tom Hanks (on the cusp of movie star status) returns from a two-part Season 1 arc, playing Elyse's irresponsible brother Ned, whose alcohol problem gets noticed by Alex and is depicted in a humorously dramatic fashion. There are also brushes with infidelity, the subject of losing one's virginity, and Elyse's season finale struggle of returning to out-of-home work.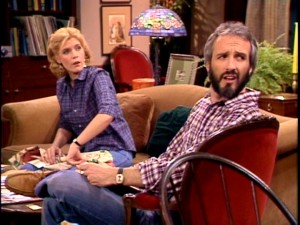 "Family Ties" entertains through broad and heady material alike. Despite being so firmly entrenched in an early 1980s mindset, the series has aged quite gracefully, especially when compared to other popular media from the time whose popularity may retrospectively baffle.
In its third season, "Family Ties" became a ratings behemoth as part of NBC's potent Thursday night comedy lineup, where it was sandwiched between immediately popular "The Cosby Show" and slowly but surely rising "Cheers." Seasons 4 and 5 maintained the series' large viewership (it was second, only to "Cosby"), but the series would take a dive in Season 6 when it was moved from its comfy timeslot to Sunday night, where it stayed for its final two seasons. Not being familiar enough with "Family Ties" to assess Season 2's quality in relation to the rest of the 7-season run, I can only attest to the fact that the show seems confident and content in its sophomore year. Some series take a while to find their groove, but a single season on the air seems to have been enough for this one, which was created by Gary David Goldberg, who would go on to give birth to the acclaimed but short-lived "Brooklyn Bridge" and Michael J. Fox's late-'90s hit "Spin City."
Seven and a half months since issuing The First Season on DVD, Paramount gives us The Second Season. The four-disc set contains 22 episodes and though that's one shy of what Internet episode guides list, airdates suggest that "missing" episode "The Gambler" will be included with Season 3, as it debuted the week before that year kicked off. Unlike the previous DVD set, this one gladly boasts some supplements, which are covered after these succinct episode synopses.
As usual, a star (

) denotes my ten favorite episodes from the season.
Disc 1
1. Tender is the Knight (23:58) (Originally aired September 28, 1983)
Still intimidated by childhood friend Carrie (Talia Balsam) and reluctant to admit her feelings of attraction are mutual, Alex agrees to a date only to keep her from being too wild.

2. The Homecoming (24:05) (Originally aired October 12, 1983)
Home from Princeton, Mallory's boyfriend Jeff (John Dukakis) asks her to go steady with him, but he's driven more by feelings of homesickness than affection for her.
3. The Harder They Fall (24:07) (Originally aired October 19, 1983)
On Teachers Night at the kids' high school, Elyse punches Alex's rude history professor Mr. Tedesco (Edward Edwards). She and the rest of the family face difficulty in trying to make amends.

4. This Year's Model (24:07) (Originally aired October 26, 1983)
Elyse reluctantly agrees to participate in the mother-daughter modeling contest that Mallory has entered them in. Things go well... for Mrs. Keaton. Meanwhile, Alex "helps" Jennifer make a topographic map for school.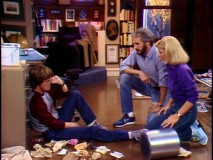 5. Not an Affair to Remember (24:07) (Originally aired November 2, 1983)
Steven gets tempted towards infidelity when a co-worker (Judith Light, "Who's the Boss?") takes a strong romantic interest in him.

6. Speed Trap (24:08) (Originally aired November 9, 1983)
Faced with a busy week of midterm preparation, Alex turns to amphetamines, which Mallory secures for him. You haven't lived until you've seen Alex P. Keaton on speed cleaning, playing Monopoly, and addressing Richard Nixon's picture.
Disc 2
7. Sweet Lorraine (23:36) (Originally aired November 16, 1983)
Much to his parents' dismay, Alex begins dating and spending all his time with a French woman who's approaching 40 (Carolyn Seymour).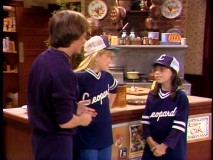 8. Batter Up (24:07) (Originally aired November 30, 1983)
An open slot on Jennifer's little league team (which is passionately coached by Alex) leads her to ask Skippy's younger sister Arlene (Tanya Fenmore) to fill it, with some mixed consequences.

9. A Keaton Christmas Carol (24:07) (Originally aired December 14, 1983)
Alex is the only Keaton lacking the Christmas spirit, but that changes when he gets visited by the Ghosts of Christmas Past and Future, who look a lot like Jennifer and Mallory.
10. To Snatch a Keith (24:05) (Originally aired December 21, 1983)
Recently-divorced family friend Richard (James Sutorius) visits the Keatons and after talking with Steven, he decides to run off with his young son Keith (David Faustino, "Married... with Children").

11. Birthday Boy (24:07) (Originally aired January 5, 1984)
Alex's 18th birthday is the source of agitation when Elyse won't let him celebrate it with friends at a West Virginia bar. Michael J. Fox's Back to the Future dad Crispin Glover has a small part as one of Alex's two friends.

12. Go Tigers (24:07) (Originally aired January 12, 1984)
Mallory tags along with Alex for a weekend in Princeton,

where he's got a faculty interview and she finds boyfriend Jeff with another girl. Back home, Steven tries to get work done while watching the indefatigable Kenneth (Joshua John Miller).

Disc 3

13. M is For the Many Things (24:07) (Originally aired January 19, 1984)
Elyse is bothered that her in-the-midst-of-divorce mother (Priscilla Morrill) is already dating her dentist. Alex enters into a partnership with Steven to sell graduation merchandise at school.

14. Say Uncle (24:08) (Originally aired January 26, 1984)
Elyse's fun brother Ned (Tom Hanks) is in town. Uncle Ned's heavy drinking concerns Alex, but others only notice when he blows an important job interview. In true '80s sitcom fashion, the serious treatment of a serious issue seems humorous today.

15. Ladies' Man (24:06) (Originally aired February 2, 1984)
To attract his fellow yearbook editor Deena (Tracy Nelson), Alex adopts a strong pro-ERA (Equal Rights Amendment) stance. While impressing many feminists and being selected keynote speaker, he decides he's got to come clean.
16. Ready or Not (24:09) (Originally aired February 9, 1984)
After her collegiate boyfriend Rick (Tom Byrd) asks her, Mallory thinks it's time to lose her virginity, but she has thinking and talking to do first.
17. Double Date (24:09) (Originally aired February 16, 1984)
Alex's social calendar gets double-booked when he agrees to attend senior prom with both the popular Jocelyn (Jami Gertz, "Still Standing") and the shy Rachel (Daphne Zuniga, Spaceballs). At least Skippy is there to help out!
18. Lady Sings the Blues (23:40) (Originally aired February 23, 1984)
Seeking to rekindle an old passion, Elyse takes a job as a folk singer at a local club, where she finds some resistance. Meanwhile, Mallory learns to drive, the aftermath of which we hear and see. It's pretty clear that one song performance has been cut (I can't figure out what it is), but I suppose we should be thankful that Elyse's performances of tunes penned by Woody Guthrie, Bob Dylan, and even Michael Jackson are kept intact.
Disc 4
19. Baby Boy Doe (24:06) (Originally aired March 8, 1984)
Skippy's world is rocked when he finds out he is adopted. Alex drives him to meet his biological mother. Meanwhile, Jennifer prepares for camp.

20. The Graduate (24:06) (Originally aired March 15, 1984)
The time for high school graduation arrives and Alex is devastated when he's not chosen valedictorian...and his girlfriend Rachel is!
21. Diary of a Young Girl (24:08) (Originally aired May 3, 1984)
While in the hospital to have her tonsils removed, Jennifer keeps a diary that allows her to think about (and regret) her recent interactions with each of her family members. The transgressions are depicted as flashbacks, but they're unique to this episode.

22. Working At It (23:55) (Originally aired May 10, 1984)
After twelve years out of the office, Elyse gets a job with an architecture firm, where has trouble working the machines and juggling parental responsibilities.
VIDEO and AUDIO
Appearing in its fullscreen broadcast ratio, "Family Ties" looks okay on DVD, which, in consideration of the show's age and origins, deserves some praise. The picture is undoubtedly soft, but the element is clean, colorful, and consistent. Any shortcoming is minor and usually attributable to the modest early-'80s taping technology.
The thin Dolby Digital Mono soundtrack is quite limited in what it offers. However, dialogue is almost always perfectly intelligible, which helps a little to overlook the complete lack of subtitles. (Closed captions are provided.)
BONUS FEATURES, MENUS, PACKAGING and DESIGN

After an extra-less Season 1 release, "Family Ties" joins what feels like a minority of classic TV series that are actually treated to some DVD bonus features and valuable ones at that.

Located on every disc for each of its episodes is a thirty-second promo that previews what will happen "next time on 'Family Ties'." There's the choice to view a reel of the commercials for all the disc's episodes or just the episode you're about to watch.

While they could be presented in a more easy-to-view fashion, the vintage promos are a great way of knowing what to expect from each disc and any given episode (without reaching for the case or looking online) and also to see how it was promoted during its original run. Surprisingly, these promos are in very good condition too, suggesting they too have been remastered.

Additional newly-produced supplements are found on Disc 4. "The Making of Family Ties" (20:50) is a great little documentary that covers the series' casting, storylines, Friday night tapings, and ongoing legacy. We're treated to interview comments from creator/executive producer Gary David Goldberg plus actors Michael J. Fox, Michael Gross, Tina Yothers, and Marc Price. Their poignant recollections are complemented by well-timed Season 2 episode clips and even a bit of outtake and archive interview footage.

"The Best Gig in the World" (8:35) focuses on Michael J. Fox, with Fox himself and Goldberg separately talking about the popularity of Alex Keaton and his portrayer. We hear how drastically getting the part changed the actor's life and how Fox remained humble and giving through it all. It's a praise piece, but a good one that seems wholly merited.

Next and sort of last comes "The Year of the Beard" (2:45), in which Michael Gross and his castmates talk about Steven's trademark look and how it came to be at the start of the second season. It is, without doubt, the best facial hair featurette I've encountered on a DVD.
All of these inclusions are terrific, although they do make me wish to see more outtakes and 1983 cast interview material. I also would love to hear from these people in a few episode commentaries. There are five more seasons for those to come, however... let's hope CBS and Paramount come through with more great stuff so rarely seen on vintage sitcom DVDs.
The section's top listing is for a 30-second Michael J. Fox public service announcement that finds a way of visually conveying the degenerative nature of Parkinson's Disease. Though its designation as Special Feature may be questioned, the message certainly is special and it is presented effectively as far as PSAs go. Personally, I think having a portion of the proceeds go to PD cure research would have been better on customers' consciences.
The silent, static 4x3 menus opt for a bulletin board look, with stylized, affixed publicity stills conveying an appropriately dated feel. Before reaching the menu of Disc 1, one can choose "Previews" for a promo for Paramount TV on DVD and a shorter one for next month's Season 2 releases of '70s/'80s sitcoms "Happy Days", "Laverne & Shirley", and "Mork & Mindy."
Though there are no booklets or inserts found inside the keepcase, that's okay because the clear keepcase holds episode synopses and airdates on the reverse side of the cover art. The plastic makes reading the notes a bit of a challenge, as does the fact that discs need be moved or removed to see them, but the information is still appreciated. As is the fact that chapter stops are placed at appropriate points, like immediately after the minute-long intro and at commercial fadeouts, enabling quick scene access should that ever be desired.
CLOSING THOUGHTS
"Family Ties" is one yesteryear sitcom that holds up as more than nostalgia and needn't be considered a guilty pleasure. This funny and endearing show remains abundantly entertaining in revisiting its second season nearly a quarter-century since it was made. While unintentional humor occasionally enters the picture (as essentially an added bonus), for the most part, the series' stellar comedic values have withstood some test of time and continue to deliver a good time today.
As one of many good old TV programs not currently found in syndication, "Family Ties" has a fanbase that's at the mercy of CBS/Paramount. Gladly, with this Second Season DVD, the studios deliver a product that's more than just an acceptable legal alternative. Picture and sound are good for their age and origins, plus in an unusual move, a healthy, pleasing slate of special features has been included. Between the quality of the show and the DVD, it's easy to overlook the two mild shortcomings (the lack of one short song rendition and a list price that's a little high). This 4-disc set garners a hearty recommendation for "Family Ties" and Michael J. Fox fans and another strong one for those who are unfamiliar with this show but fans of family sitcoms in general.