At what point did sitcoms start needing a hook to make it on the air? I can't imagine a network show getting on primetime today without a distinctive angle or star personality. That's not a bad thing. Comedy is an ever-changing art and the move away from multiple cameras, laugh tracks, and outlandish premises

has undoubtedly brought an increase in sophistication. But the subject of this review illustrates that when the old ways worked, they really worked.

The simple way to describe "Growing Pains" to somebody is to say that it is about a family. From there, you might go into some detail. Say that the Seavers are an upper middle class family (of course) living in Long Island (not that it matters beyond the occasional location reference or snowy establishing shot). By this point, you'd realize that the personalities and the family dynamic are what make the show so enjoyable.

Character descriptions are no substitute for spending time with this family and getting to know and like its members. But as this is a review and my first of this show, I see no task more fitting than acquainting or reacquainting you with the Seavers.
The father of the family, Jason (played by Alan Thicke), is a psychiatrist who works from home, counseling patients (something we see very little of by Season 2) in his office. His wife, Maggie (Joanna Kerns), has a successful career as a newspaper reporter. The couple is grounded and tested by their three kids. Mike (Kirk Cameron, the show's de facto star) is the mischievous one, always with a scam and the opposite sex in mind. Fellow teen Carol (Tracey Gold) is the brainy one, expected -- and usually -- on her best behavior. Rounding out the lot through the first three seasons is Ben (Jeremy Miller), the blonde boy whose youth distinguishes him.
I've enjoyed "Growing Pains" for as long as I can remember. I have fond memories of making a habit of catching its daily reruns, one summer back in the middle of the 1990s and about five years ago on ion television. It's a show I can't imagine anyone strongly disliking, particularly anyone who had a remotely comparable nuclear family experience during the show's 1985-1992 run.
Much like "Family Ties", whose own seven-season stretch began three years earlier, "Growing Pains" satisfies with its depictions of relatable family life and interactions. It's funny, smart, and comforting. Sure, there is the air of artifice that lingers over almost all television and is one of the sitcom's long-defining features. Problems are tidily resolved in a little over 20 minutes and emotional growth is soon forgotten. That is all normal for a sitcom, and "Growing Pains" is about as prototypical a sitcom as there is for someone of my generation.
I don't think I'm alone in being able to demand less and overlook more when it comes to sitcoms. People don't turn to multi-camera comedy expecting pathos, to be moved, or to ever really go anywhere or do anything. It's just fun to peek in at a family, enjoy how they reflect your own (or don't, as the case might well be) and follow them through years of scripted situations. It's easy to intellectualize the medium, deconstruct the methods, and point out the artistic limitations. But I find it easier still to enjoy the ride for what it is. And "Growing Pains" offers an agreeable ride that any sitcom fan should enjoy taking.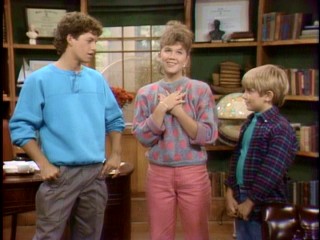 As if the seven-year run didn't make that clear, "Growing Pains" was quite a popular program. It ranked 19th among all primetime shows in its first season.

By season 2, it jumped to eighth and settled in as the strong center of ABC's high-performing Tuesday night lineup, where it aired in between fellow Top 10ers "Who's the Boss?" and "Moonlighting."

In its fourth season, "Growing Pains" was moved to Wednesday nights, where it spent three years getting decent ratings but less than it had in its Tuesday glory. In its final season, the one that introduced Leonardo DiCaprio as a regular cast member (perhaps the show's greatest claim to fame for the young and unfamiliar today), "Growing Pains" was exiled to Saturday nights where it languished along with its original Tony Danza lead-in, also cancelled at year's end. The Seaver house would live on, mildly refurbished for the 1992 pilot of "Hangin' with Mr. Cooper", a fact observed in Alan Thicke's baton-passing cameo there. The "Growing Pains" cast (minus DiCaprio) would also reunite twice last decade for a pair of ABC television movies: 2000's The Growing Pains Movie and 2004's Growing Pains: Return of the Seavers.

Though coming at the height of DVD popularity, neither of those TV movies came to disc. Nor has the majority of the popular show that preceded them. Warner Home Video released The Complete First Season back in February 2006 to quite a bit of fanfare, including cast reunions on "Larry King Live", a press event, and the DVD itself. Despite or perhaps because of that effort, the studio seemed unimpressed by the sales numbers, keeping Season 2 on the shelf and shedding no light on the delay in chats at the Home Theater Forum. The decline of DVD sales, aided no doubt by the industry's overzealous push for Blu-ray, has made many a studio hesitant to release catalog TV series these days. But Warner, its catalog unrivaled in size, recently gave "Growing Pains" another shot with the April 26th release of The Complete Second Season.

While there aren't any big name guest stars this season, there are a number of young actors you'll recognize from subsequent work, like Heather Graham, Kristy Swanson, Olivia d'Abo (whose "The Wonder Years" dad Dan Lauria also turns up in another episode), Titanic's Danny Nucci, and Kirk Cameron's sister, "Full House" star Candace Cameron. In addition, Jamie Abbott who would play Ben's friend Stinky Sullivan (already mentioned here) beginning in Season 3, shows up as feared bully Louis Vasco.

Although you probably don't remember much music on "Growing Pains", there is a fair amount of it either sung by characters or excerpted in Season 2, presumably (and thankfully) all retained here.

Synopses of the 22 Season 2 episodes follow with red stars (

) denoting my favorites.
Disc 1
1. Jason and the Cruisers (23:56) (Originally aired September 30, 1986)
Jason feels his age after watching old home movies of himself. To cheer him up, Maggie reunites his old band, The Wild Hots.

2. Fast Times at Dewey High (24:10) (Originally aired October 21, 1986)
On the first day of school, Mike ends up with two dates to the dance, Ben fears a bully, and Carol tries to change things up.
3. Long Day's Journey Into Night (23:33) (Originally aired October 28, 1986)
Carol's ulterior-motivated social new friend (Katy Boyer) has her acting differently.
4. Call Me (23:28) (Originally aired November 11, 1986)
Ben explains how he wound up calling a sex phone line 67 times.

5. Employee of the Month (23:58) (Originally aired November 18, 1986)
Against his parents' concerns, Mike takes a job at World of Burgers. After covering for a co-worker (Olivia d'Abo) gets him fired, he keeps its secret while looking for a new job.
6. Dream Lover (23:57) (Originally aired November 25, 1986)
Carol tutors the captain of the football team on Shakespeare, which leads to rumors of sexual romance.

7. Do You Believe in Magic? (23:00) (Originally aired December 2, 1986)
The Seavers use Ben's supposedly magic rock to teach Mike a lesson about conning people.
8. Jason's Rib (24:00) (Originally aired December 9, 1986)
A parent conference at school causes Jason and Maggie to fight.
Disc 2
9. The Kid (24:00) (Originally aired December 16, 1986)
Ben invites a homeless girl (future "Lizzie McGuire" matriarch Hallie Todd) to celebrate Christmas with his family. This extends the series' tradition of weird Christmas episodes, following Season 1's suicidal patient on roof episode.

10. The Breakfast Club (23:51) (Originally aired January 6, 1987)
While Jason and Carol attend a Frank Sinatra (Jr.) concert in Atlantic City, Maggie and Mike stay at home, grounded for lying.

11. Choices (23:53) (Originally aired January 13, 1987)
Carol has the opportunity to skip a grade. Mike meets with a stewardess.

12. Higher Education (23:55) (Originally aired January 20, 1987)
Mike desperately wants to go on a class ski trip with his friends,

until going means he has to go with a date (Renιe Estevez, sister of Emilio and Charlie Sheen). With Jason and Maggie sick, Carol tends the house.

13. Some Enchanted Evening (23:36) (Originally aired January 27, 1987)
Crushed that Bobby doesn't ask her to the winter formal, Carol joins her family for a night of surprises at the Empire State Building.

14. Thank You, Willie Nelson (24:01) (Originally aired February 3, 1987)
While Mike and Ben try to crash Carol's pajama party, Maggie's parents (Gordon Jump, Betty McGuire) show up unexpectedly in a marriage-straining RV.

15. Thank God It's Friday (23:49) (Originally aired February 10, 1987)
Mike and his friends attend a party where cocaine is being used. Complete with a closing camera address by Kirk Cameron, this is the first and possibly most memorable of many "very special" episodes of "Growing Pains."
Disc 3

16. My Brother, Myself (24:02) (Originally aired February 24, 1987)
Hit with an interest in the opposite sex at a taping of "The Cosby Show", Ben tries to put moves on his babysitter (Melanie Gaffin), while Mike sets his sights on her coed sister (Brooke Thiess).

17. Jimmy Durante Died for Your Sins (23:42) (Originally aired March 3, 1987)
Carol wants a nose job. After she wins a radio contest, Jason and Maggie renege on their deal to let her get one if she pays for it.
18. Carnival (23:30) (Originally aired March 10, 1987)
With work keeping Maggie busy, Ben feels neglected as she heads up the mothers' club carnival committee.
19. The Awful Truth (23:56) (Originally aired March 17, 1987)
After finding a strange note, the Seaver kids scour garage possessions, convinced their parents have secret pasts.

20. Born Free (23:42) (Originally aired March 31, 1987)
After a disastrous report card, Jason tries to get Mike thinking of college with a trip to his Boston alma mater. Plans change when an expectant mother aboard the plane goes into labor.

21. The Long Goodbye (23:53) (Originally aired May 4, 1987)
With help from his classmate (Candace Cameron), Ben videotapes home life on Seaver Chore Day, as Maggie thinks the family's aging handyman (Douglas Seale) has gotten too forgetful to fix the furnace. Also, Mike gets Boner (Andrew Koenig) to paint his room for him.
22. Confidentially Yours (23:52) (Originally aired May 11, 1987)
Doctor/patient confidentiality is put to the test, when Jason knows but can't explain why Maggie shouldn't take a New York City editor's job offer. Back home, Mike, Carol, and Ben work together to cover up their living room damage.
Watch a video clip from the Season 2 "Growing Pains" episode "The Awful Truth":

VIDEO and AUDIO
Like most sitcoms from its time, "Growing Pains" was shot on video, which limits how good it can look. Accordingly, the DVD is fairly low-definition. The show hasn't been easily found in syndication for a while, but I can't imagine these early episodes looking much worse there than they do here. Not that the DVD's presentation isn't acceptable and fine, it's just very blurry and unflattering. It's also marred by some minor glitches, like the occasional flicker. The cocaine episode and the one that follows it flicker at the top of the frame faintly and intermittently throughout playback.
The Dolby stereo soundtrack's elements are clearly limited by their age and recordings. I can't accuse Warner of subpar work, but it is disappointing the show isn't more presentable on DVD. In a nice touch not always afforded TV shows, English SDH and French subtitles are provided on everything but the theme song.
BONUS FEATURES, MENUS and PACKAGING

Unfortunately, Warner hasn't included any bonus features here. Season One's satisfying extras were relatively unusual company for an inactive sitcom,

so it's not too surprising that the studio supplies no supplemental content. It is disappointing, though, especially with five years having inexplicably passed since Season 1's release.

In typical Warner fashion, the menus are static screens, several of which recycle imagery from the packaging. Each disc's main menu plays the theme song "As Long As We Got Each Other" in full ad nauseam.

Five years may have passed since the release of Season 1, but that hasn't fuzzied Warner's memory of that DVD. Season 2's packaging matches it almost perfectly. The box is a fraction of an inch taller, thinner, and more narrow, but the design is practically identical. Whereas Season 1 employs a Digipak to hold its four discs, Season 2 uses a standard clear keepcase, supplying cast artwork inside and out (but not on the bland silver and red discs). The set even includes the format's once everyday, now endangered species: an insert. The 6-page booklet lists and synopsizes the episodes of each disc, along with their writers, director, and original airdate. It's a great, inexpensive resource no TV DVD should be without.
CLOSING THOUGHTS
No one will mistake "Growing Pains" for high art, but as far as 1980s family sitcoms go, this is one of the best. The show definitely has some weird storylines in its second season, from child sex line calls to a Christmas-threatening vagrant to a casual high school cocaine party. I imagine if you didn't grow up with this or shows like it, the whole thing might seem terribly dated, more than a little corny, and only moderately funny. If you are or were a fan, though, you are sure to enjoy revisiting this endearing primetime version of '80s family life.
Arriving over five years after its predecessor, Warner's Season 2 DVD is fairly underwhelming, with its modest presentation and void of bonus features. But the price is reasonable and the alternatives (relying on old videotapes or going without) are not, making this a no-brainer purchase for anyone interested. I hope there are enough of those people for Warner to continue releasing the series, preferably at a rate that doesn't take until 2036 to finish.
More on Growing Pains: Season Two / Buy from Amazon.com / Buy Season 1