By Aaron Wallace

With "Touched by an Angel," CBS dedicated Sunday nights -- already home to family entertainment -- to the inspirational drama. Later, the same network made an even more revolutionary change to prime time television when "Survivor" introduced unscripted dramas, known as "reality TV," as an unstoppable force in entertainment. While CBS enjoyed success, ABC faced barrel-bottom ratings. In late 2002, ABC jumped on the reality TV path paved by CBS with "Extreme Makeover," in which lucky winners would be granted the physical beautification work that they desired. It ran for three irregular seasons before being cancelled last summer. While it didn't last, 2004 brought its spin-off, "Extreme Makeover: Home Edition", which helped homes rather than the homely and proved to have more

staying power. With "Angel" off the air, "Home Edition"'s do-gooding nature persuaded ABC to place it on their Sunday night line-up. Over time, it became a runaway hit and even a national phenomenon, and along with shows like "Lost" and "Desperate Housewives," it allowed ABC to take down the once-supreme NBC and give CBS a run for its money, as is currently the case.

Each week, a crew of contractors and home-building experts travel somewhere in the United States to inform a troubled family that their home is going to be completely and utterly transformed, courtesy of ABC (and the show's numerous sponsors). The home makeovers truly are "extreme," in that the enhancements are on a scale far grander than most could imagine. The family is sent on vacation for a week -- almost always to a Disney theme park -- while the crew brainstorms for the most creative and customized changes they can make to suit the tastes and needs of the owners. Often, the recipients suffer from some sort of hardship, and you can bet that the improvements will address concerns of either functionality or emotional encouragement. Throughout the week, the cameras check in on the family and their week of fun while most of the screen time is spent with the crew, busy at work on completing what should take months in exactly one week. When the family returns, they're surprised with a creatively luxurious abode worthy of boasting about.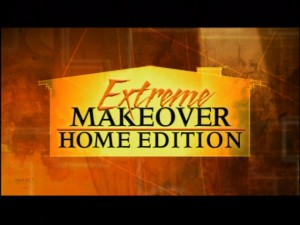 Heading the "Home Edition" team is Ty Pennington (TLC's "Trading Spaces"), who oversees each project and reserves one room in each home to specially remodel in secret and unveil only when the family returns. Joining him are sarcastic carpenters Paul and Preston, designers Tracy and Constance, handy-gal Paige, and the flamboyantly effeminate Michael Moloney, who handles interior design. The team works together toward impressive output, but often gets caught up in quarrels along the way. The first season originally aimed to make the tension between the team members the focus of the show. The earlier episodes certainly take that tone and it's not at all a pleasant one. This dynamic robbed the gifts being given of their sentimentality and stained the show with the nasty stigma of mean-spirited reality TV. As the show progressed, it was retooled so that it remained the same in structure, but kinder and more inspirational in tone as the remodeling team learns to get along and the emphasis is placed back on the family and the changing of lives.
It's not easy to take a philanthropic series to task. After all, the everyday family doesn't benefit from "Desperate Housewives," outside of perhaps the engagement of a guilty pleasure. Sure, an abundance of corporate sponsorship and product placement is woven into the show, but those corporate dollars are going somewhere, and are they not better spent on bettering the lives of others than enticing a group of money-hungry individuals to eat insects or swim with rodents? Undoubtedly, this brand of reality television is a positive thing. Perhaps the one criticism that can be leveled even at more recent episodes of "Home Edition" is that the gift given to each family is always, without exception, a home. But who couldn't use a new home of luxury? That's true, but it doesn't always seem to be the most direct fulfillment of each family's need or the most appropriate allocation of that stack of cash. It makes each episode somewhat predictable as well.
But therein lies an important distinction. NBC took a page from ABC's book this past year when it launched "Three Wishes," an unscripted show that was similar in design to "Extreme Makeover: Home Edition," but entirely different in focus and tone. While NBC's show more effectively realized the charitable potential of television by answering needs directly and abundantly along with delivering a more inspirational story of good deeds, "Home Edition" panders to the same crowd that made shows like "Trading Spaces" (which lent cast & crew to both NBC and ABC's shows) such hits for The Learning Channel. So although the emotional elements are very much present in the more recent

episodes of "Home Edition," the primary source of entertainment is wrapped up in watching the construction and design itself unfold. In this way, the show appeals to both the TLC audience and the "Touched by an Angel" crowd (we're talking sentiment, not religion here), though it won't fully satisfy the latter.

"Extreme Makeover: Home Edition" is currently in its third season on ABC. Buena Vista, which owns and distributes the show (and its network), recently released a 2-disc set entitled "Extreme Makeover: The Home Edition" - The Most Inspiring & Unforgettable Makeovers From Season 1. That might imply some sort of best-of clip show, but it's actually a collection of nine complete episodes from the first season, commercial bumpers and all. That's only five episodes short of a full season run (and one of those would have been a post-9/11 special), so why wouldn't Disney tack on a third disc and advertise this as a more marketable complete season set? There doesn't seem to be a good answer to that, which should frustrate fans, since a complete season set seems less likely now, or will at least require a single-disc follow-up to this release or a double dip purchase. As these episodes all come from the series' earlier days, some of them are of the nastier, combative kind and are neither "inspiring" or "unforgettable." The nine episodes that did make the cut are at least presented in fine fashion.
Disc 1
1. The Powers Family (42:40) (Originally aired February 15, 2004)
Olivia Powers is a young girl who struggled with Leukemia. Now cured, she and her family are looking to have their home remodeled and the "Extreme" team step up to the plate. Can they finish the job within a week without finishing off each other first?
2. The Woslum Family (42:50) (Originally aired February 22, 2004)
While Trent Woslum is serving in Iraq, his family wants to fix up their new home in preparation for his return. The team sends them to Disneyland for the week, but little do they know that Trent awaits them when they return.
3. The Cox Family (42:55) (Originally aired March 7, 2004)
A deserving family of do-gooders get the home fix-up they've dreamed of. There's a big country fan in the family, so Nashville superstar LeAnn Rimes pays a surprise visit.
4. The Mendoza Family (42:52) (Originally aired March 21, 2004)
Contessa Mendoza is a single mother of one daughter as well as two young men that she's taken in as foster children. That makes four to a household, not counting the other six siblings of the foster kids who are welcomed in for the weekend. What they really need is more space and the design team know how to give that to them.
5. The Harris Family (42:55) (Originally aired April 11, 2004)
The neighborhood that she has lovingly served for three decades calls her "Sweet Alice." When her house was damaged by a flood, the neighborhood and "Extreme Makeover" crew decide to repay her kindness. The community's affection for Alice is apparent.
Disc 2
6. The Zitek Family (42:56) (Originally aired April 18, 2004)
Robert Zitek is a pretty cool 22-year-old music lover. After a severe car accident left him injured and bound in a wheel-chair, the family's home had to be rearranged. Accessibility proved to be a big problem, even keeping Robert away from his own bedroom. The result is one of the more extreme makeovers that the team delivers in the first season.
7. The Walswick Family (42:48) (Originally aired May 9, 2004)
Martha Walswick has nine children but she lost her husband to cancer. The family has struggled to cope with their loss but are determined to face the future with a positive disposition. The design team is touched by their story and grants them a remodeled home with the help of a close family friend who has found himself in a similar situation.
8. The Powell Family (42:50) (Originally aired May 16, 2004)
Keenan Powell has dealt with a life-threatening cell disorder his entire life. Breathing has been a challenge for him lately, a problem which turns out to be due to a mold infestation inside their walls. This is just the kind of problem that "Extreme Makeover" can help, and they pull off a solution pretty well.
9. The Cadigan-Scott Family (42:55) (Originally aired May 23, 2004)
In a matter of days, the eight Cadigan-Scott children lost both of their parents in unrelated tragedies. The two older kids moved back into the home to take care of their siblings after the deaths, but the small house can't hold them all.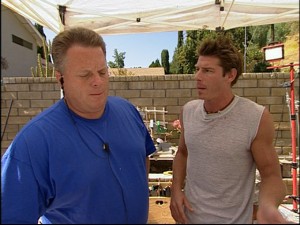 VIDEO and AUDIO
The show was made for television, where it is presented in 1.33:1 fullscreen. That's presumably what it's filmed in too, and it's the way it's presented on this DVD. The picture is crisp and the element is entirely clean. These episodes are only about two years old and they look every bit as good as they should on DVD.
The audio comes by way of a 2.0 Dolby Digital Stereo track, true to its original exhibition. The audio, too, is most pleasing, as it makes great use of the available sound field with clean quality and an adequate level of bass.
BONUS FEATURES, MENUS, PACKAGING and DESIGN
"The Construction of 'Extreme Makeover: Home Edition'" (12:55) is a making-of featurette for the show to date. It's a fascinating and very well-made (albeit relatively short) look at how the show works. If ever there was any doubt that the construction took place in a week's time, it's more or less dissolved here and viewers even learn that it actually goes down in closer to five days. It's easy to find in this plenty about the show to appreciate, from inception to realization.
"Rest and Relaxation" (3:01) and "Bloopers and Outtakes" (6:22) are both brief, fast-paced segments that go inside and behind the scenes to show the team members goofing off and taking it easy. "Preston and Paul" (2:08) is another quick and somewhat humorous sequence in which a variety of quips exchanged between the two always-on-edge carpenters are strung together in succession.
The creatively animated 16x9-enhanced main menu plays the show's theme song while cycling through the cast members' photos and names. All the bonus features are found on Disc Two and the sub-menus are all still and silent. Inside the black keepcase, one disc lies atop the other (each on their own panel) and there's a helpful four page guide to the included episodes. There are also ads for "Extreme Makeover: Home Edition" - The Official Companion Book and Habitat For Humanity as well as a coupon for All Small & Mighty laundry detergent (go figure). Each episode is divided into about ten chapters, though they aren't selectable from any menu.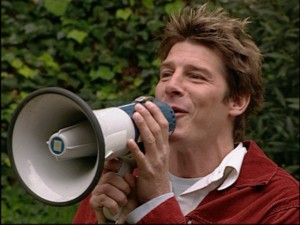 CLOSING THOUGHTS
"Extreme Makeover: Home Edition" is a commendable show. It's found a way for TV to serve a good greater than mere entertainment while still delivering on this essential goal. That said, it's not all halos and hallelujahs, and not all viewers are guaranteed to be charmed. Still, a lively pace and polished editing style allow it to always at least hold one's attention. This new release marks the series' DVD debut, but it frustratingly comes very close to a complete season set without going all the way to make a more recommendable product.
The DVD presentation is excellent, however, with several satisfactory bonus features and great audio and video quality. Unfortunately, the show's earlier days weren't its better ones and it seems to have improved since the first season. Those already in love with Ty & Company will be mostly satisfied with this, but others with only a casual interest are reminded that this set of episodes does not represent the best of "Extreme Makeover: Home Edition" and more recent makeovers can be seen for free every Sunday night on ABC.
More on the DVD / Buy from Amazon.com