DISC 2
We move to the second disc, whose basic menus deceptively house the same extras again and again in various sections. What's worse is that not a single feature runs longer than six minutes, so the closest thing to documentary is playing the "Journeys" which include some but not all of the features from a specific section. Speaking of the sections, I shall now break them down.
Story covers the film's inspirations, from Shakespeare's Hamlet (plot) to religious epics like Ben-Hur (style and direction). There are three brief featurettes, which run 11 minutes 50 seconds in total and mix a heavy amount of fullscreen film clips with new interviews with the writers and other filmmakers, and some on-set footage. These segments are among the more insightful bonus features on the DVD, analyzing the film as allegory for humans and fitting the archetype of timeless myths. It also describes the progression the film made from being referred to as "Bambi in Africa" to its changing level of Hamlet awareness.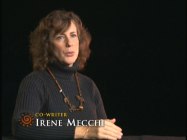 The second journey would appear to be the most important one - Film. It is here in the "Origins" featurette that the film's place at the studio is discussed - labeled as a B-picture to their overlapping project Pocahontas. The "Production Research Trip" which runs just under 2 and a half minutes, is one of the nicest features on the disc - it shows animators and designers (including production designer Chris Sanders, who has since gone on to direct Lilo & Stitch) traveling to Africa to observe the scenery and culture.

There's photographs and some taped footage, but what comes across here (and not in just about any other feature) is an enthusiasm and passion for what they do. There's no hook to this featurette, no encouragement to buy a direct-to-video sequel or to go to a park or play. This brief section is probably the most human of all included and it's so short.

"Art & African Influence" details the look of the film, and its influence from African landscapes, wildlife, and culture. "Reflections" is kind of a general lookback at the film - something that you might hope to have more of. The two problems are it's short-sighted (most of the comments are from Disney execs) and it's short (running 5:10). Overall, the Film journey runs 17 minutes and 25 seconds. But there's more...

Not played as part of the journey but also listed under Film are some more content pulled from the laserdisc. In general, this is all noticeably superior to the newly-produced content. "Storyboard Process" is a 1994 feature which is dominated by directors Roger Allers and Rob Minkoff, something you wish to happen more often, but it only runs 1 minute and 55 seconds. "Computer Animation" (4:20) is pretty similar to what was covered in the 1994 half-hour documentary, it might even be pulled directly from there. It's an interesting little piece about how the wildebeest stampede scene was done. Art Director Andy Gaskill is enlightening and a very good speaker and in the 2-minute "Production Design" featurette from the laserdisc, he discusses the different stylistic paths the filmmakers considered, cartoonish, National Geographic-like, and something more in line with David Lean's epic films.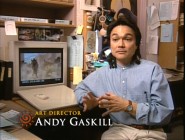 Also from the laserdisc are the Character Design clips, which run a minute or two on each of the following characters: Mufasa, Simba, Scar, Rafiki, Timon & Pumbaa, Zazu, and the Hyenas. The effects of casting and the actual animals are both noted in the development of the characters. "Film Character Design Galleries" provides between 15 and 40 drawings for each of the previous characters plus Sarabi, Nala, and Miscellaneous Characters. At the start of each gallery, the narrator gives a short introduction of what to notice in the development of the characters, and who worked on each one.
Stage is a collection of well-presented features on the popular Broadway musical that spun off from Disney's film. Ultimately, very little of this section has anything to do with the movie. The five featurettes run 16 minutes and 14 seconds, and detail the jump from animated film to lavish and overdone Broadway production. We learn that Lion King filmmakers essentially laughed off Disney CEO Michael Eisner's suggestion that it be made into a musical. Eisner explains that he told them, "If you don't figure out what to do, then I'm just gonna go do it."
Much time is spent singing the praises of Julie Taymor, who served as the play's director, costumer designer and a variety of other tasks and whose 2002 film Frida won Oscars for Disney's Miramax branch. The other topics include how to transform animal characters and vast African landscapes to fit a human cast and a New York stage and how the 'audio sequel' Rhythm of the Pridelands by Lebo M and Mark Mancina was incorporated into the musical score by Tim Rice and Elton John. In spite of all the praise and awards it's received, watching this, I'm glad I've eschewed seeing the musical. There is also a Stage Musical Publicity Gallery that contains 11 posters and documents that advertise the play in various languages and countries. All of the features in this section conclude with a note about where to see Disney's Lion King and Beauty and the Beast on stage.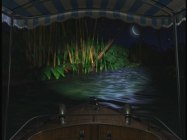 With all that's gone into promoting the Virtual Safari feature, which is given its own section and is highlighted on Disc 1's preview of Disc 2, you'd expect a lot more. Essentially, it's a computer-animated first-person tour by land or water, with "witty" comments provided by Timon & Pumbaa. The "Virtual" part isn't that you're not really travelling around in Africa seeing the animals - it's that the animals are virtual too, which makes this feature virtually pointless, but addictive enough to continue through. You choose which way to go, and you'll encounter a stampede, snakes, monkeys, and occassionally a big drop to what seems to be death, but apparently poses no real harm to the meerkat and warthog, who end up just fine and show you the out-of-focus virtual "photographs" of your virtual safari.

Each tour lasts about 10 minutes or so, I'd guess, and although you make a number of choices throughout, each one takes you to the same place after the instant alteration. So, it's not like it's different every time you play or anything. In addition to the jeep and boat tours, there's an "Under Construction" section, which of course promotes something,

in this case it's promoting more Virtual Safaris on next year's DVD releases of The Lion King 1 1/2 (the trailer is again provided here) and The Lion King II: Simba's Pride (due for a re-release August 2004, though it doesn't say that here).

The Music Journey contains 7 featurettes and runs 24 minutes and 15 seconds total. Music is one of many areas where the film excels, with input from lyricist Tim Rice, writer/composer/vocalist Elton John, composer Hans Zimmer and African choirs led by Lebo M. Much of the good stuff presented here is taken from the laserdisc - Hans Zimmer talks about his collaboration with Lebo M, of his original plan to use just percussions (as he did when he first worked with Lebo M on 1992's The Power of One), his personal influences that helped him make the music, and scoring the stampede scene. The "audio sequel", Rhythm of the Pride Lands, a 1995 popular CD follow-up compiled by Lebo M and Mark Mancina, is covered in one of the vignettes. Elton John talks about the thrill of winning an Oscar for "Can You Feel the Love Tonight?"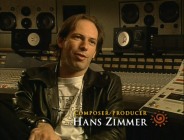 The second page contains three music videos from the laserdisc - "Can You Feel the Love Tonight?" (4:00) and "Circle of Life" (4:50) performed by Elton John, and the Rhythm of the Pridelands version of "Hakuna Matata" (3:56) by Jimmy Cliff and Lebo M. These are a nice inclusion.
Animals, as you can guess, covers the real wild animals that inspire characters in the film. This journey begins with an Introduction by Roy Disney (1:30), which weaves in thinly-veiled promotion for Disney's Animal Kingdom before setting up the relevant nature content to follow. Brief vignettes on Lions (2:50), Meerkats (2:40), Warthogs (2:50), and Hyenas (2:20) compare and contrast the characters in the movie and the real life animals who inspire them. In spite of a narrator who sounds like he's presenting for children, these have pretty wide appeal and provide some interesting facts for those who aren't already an authority on African animals.
The journey wraps up with "Disney & Animals" (5:45) which appears repeatedly throughout Disc 2. Naturally, the featurette is too short to go into detail, but it briefly discusses projects that Walt worked on that showcased animals. It eventually begins to just roll off movie titles and degrades into a promotional featurette that again pushes Brother Bear and the Animal Kingdom park. Altogether, Animals runs 18 minutes and 15 seconds.
In addition to the aforementioned six 'journey' categories, there are six continents listed which repeat nearly everything that's been covered in the other categories. All six continents include galleries of 16 International Soundtrack Covers and 11 International Large Format Release artwork (though this includes some International posters from the 1994 release, as well). The six continents also include a Multi-Language Reel which after a 40-second introduction from Senior VP of Creative Disney Character Voices (whose human name is Rick Dempsey) plays the 4-minute "Hakuna Matata" sequence in a variety of languages, including Italian, German, Dutch, French, Korean, Finnish, Mandarin, Swedish, Hebrew, and Zulu. When the language name and accompanying logo are displayed you can press pretty much any button to see a "country's favorite scene" in that language - though I'm not sure how official any of the rankings are, most of them seem to focus Timon and Pumbaa. In case you're wondering, Antarctica is given short shrift and is the one continent not listed in the menus.
The menus are surprisingly low-key and don't really show off anything specifically Lion King (something that can be said for many, if not most, of the extras, too), except for instrumentals of songs from the film. Of course, in spite of the simple nature of the menus, the layout and design is excessively complex and the booklet's information (which is supposed to be like a Zoo Guide of some sort) is little help.
What's as important as what's included here is what is NOT. The deluxe laserdisc and videocassette sets both included the fantastic 25-minute documentary, "The Making of The Lion King" which is noticeably missing here. Hosted by Robert Guillaume (the voice of Rafiki), the 1994 documentary covered a variety of aspects of the film's production (some only briefly touched on this DVD), including voice casting, African inspirations, using computers to aid the wildebeest stampede, and the animation and style of the film. Some clips that were used in this are scattered here and there, but it's most effective in documentary form. It makes absolutely no sense why Disney chose not to include this terrific piece - surely disc space was not an issue, as the bonus disc contains less than two hours of content. Rights would also appear not to be an issue, as it was released on two home video formats already, and most of what was on the laserdisc was directly ported over. Had Disney created a new documentary for the DVD, this feature's absence might have made the slightest bit of sense. But they didn't, and it's most disappointing that they opted to give us a Disney Channel stars music video, and lots of content that was either promotional or not directly related to the movie and NOT the existing "Making Of."
Another disappointing exclusion is one of the most basic and readily found supplements for a movie. Nine times out of 10, if a movie is released to DVD with just one feature, it's the original theatrical trailer. Within these two discs, there isn't a single trailer for The Lion King. Now surely a trailer is promotional in nature, and I've complained about the promotional element of the supplements that were included here. But there's a distinction - the thing that trailers are advertising, you already have. It isn't Disney telling you to go out and see this or buy this; a trailer is more of a historical document, a time capsule that shows you what moviegoers and TV viewers saw 9 years ago as their first impressions of the film. While the entire "Circle of Life" sequence was used as a preview in some places, there also existed a number of theatrical trailers for the film, in addition to the Fall 1994 re-release, trailers from its record-shattering 1995 home video release, countless TV spots, and even last year's IMAX previews and TV ads.
While Disney has shown a befuddling resistance to including a film's theatrical trailers on its DVD, the exclusion here is most absurd. The closest thing to a Publicity gallery doesn't contain most of the theatrical posters or print ads. For a film that reigned as the highest-grossing animated film for 9 years, you'd think they'd care to show us. Instead, we get less than the single trailer we got on Lion King II: Simba's Pride.
Missed opportunities abound on this set. None of the talented voice cast, many of whom have reprised their roles in direct-to-video sequels, were approached to lend insight. There are no Oscar speeches. No new feature that runs longer than a few minutes by itself. Had Disney not broken down all of their featurettes into smaller, more focused segments (of which they actually padded the running times for the booklet listings), they might have been able to put together a decent 1-hour documentary or so, but instead they chose small fragmented pieces to make it look like there's more here than there really is, to support Joel Siegel's half-baked quote that "the king of animated films is now the king of all DVDs."
There is some worthwhile material included on the bonus disc, but it's just not nearly as insightful, in-depth, or well-organized as one would hope, especially considering the amount of time that could have gone into producing this DVD, and the two years that Disney claims did. Much of the bonus material seems to be designed to sell Disney - its parks, plays, and other movies. It's really disappointing that they made this DVD a loosely-related marketing vehicle rather than a collection that documents the making and impact of the film.