After years of small roles in comedy films, "MADtv" alumni Keegan-Michael Key and Jordan Peele see their work on the popular Comedy Central sketch comedy series "Key & Peele" pay off in the form of their first feature vehicle.

Keanu is advertised as being "from the visionary minds of Key & Peele", which seems somewhat true. Peele co-wrote it with "K&P" contributor Alex Rubens and both stars also serve as producers.

The simple premise of the film is that milquetoast team builder Clarence (Key) and his stoner/slob cousin Rell (Peele) find themselves thrown into Los Angeles' gang world. We open in a church where drugs are manufactured for some reason by people in their underwear. That Latino gang headquarters is attacked by the Allentown Brothers, two silent, deadly, alien-like Neanderthals (also Key and Peele, just barely recognizable in heavy make-up). In this lethal scene where bullets whir left and right, an adorable kitten makes it out unscathed, but not before winning the affections of those ice-veined Allentown Brothers.
That photogenic little kitty, a meowy gray tabby, escapes the crime scene and runs around L.A., eventually winding up on the doorstep of Rell on a day in which he is broken up about a fresh break-up. Two weeks later, Rell and the kitten he has named Keanu are inseparable. Rell has been photographing the cat in recreations of famous movies (which, like the posters on his wall, all happen to hail from distributor Warner Bros. Pictures).
On a weekend when Clarence's wife and daughter are away on a trip with another family, his and Rell's male bonding time comes to a halt when Rell's messy bachelor pad has been broken into and Keanu is missing. On a tip from neighbor/drug dealer Hulka (an amusingly committed and dreadlocked Will Forte), the two trace the missing feline to the 17th Street Blips, a gang of Blood and Crypt cast-offs based out of a seedy strip club.
Clarence and Rell must reinvent themselves to blend in, adopting deep voices and punctuating their sentences with the N-word and other obscenities. That is the big running joke of Keanu and it surprisingly does not get old. The Blips' Mortal Kombat-playing head honcho Cheddar (Method Man, on point) inexplicably mistakes the two neatly-dressed outsiders for the Allentown Brothers and agrees to give them his new gangster cat, Keanu (who he has renamed New Jack Kitty). They just have to make a drug run with some Blips and impart some of their wisdom on them.
You kind of expect Keanu to devolve into violence and vulgarity in this substantial central stretch of the film and there are some brushes with both, but it mostly remains witty and sharp. The one exception is a dead on arrival scene involving Anna Faris as a buyer of the Blips' potent new drug. It's almost, but not quite, saved by the revelation that Faris is playing herself.

Obviously, the straight-laced guys are out of their league, but they somehow get by on dumb luck and innocent charm.

They are pushed to their limits, driven always by the desire to reunite with that lovable little kitten who steals every scene he's in.

Keanu is a promising "debut" for these two seasoned comedy vets. Key especially delights on a consistent basis, having both a convincing nerd act and a believable gangster voice down pat. The material reminded me of Malibu's Most Wanted, the profitable 2003 Jamie Kennedy movie, with the protagonists acting based on their media-shaped knowledge of gang culture. The laughs are frequent and the targets varied. The film's most whimsical moment finds a tripping Clarence making his way into George Michael's "Faith" music video (Michael's music is humorously and extensively celebrated in a way that any past-prime musician can only dream of) and Keanu talking in the not so identifiable voice of Keanu Reeves with wisdom derived entirely from Keanu Reeves movies. Keanu pays tribute not only to the John Wick star but to a host of urban crime movies. It's all in good fun, held together by a passable plot, plenty of humor, and the seven cute kitties who share the title role.

Though well-reviewed by critics, Keanu didn't make a huge impact at the box office, grossing a little over $20 million on a $15 M budget. Still having a ways to go towards profitability, the film reaches DVD and Blu-ray this week in separate editions, not a combo pack, from Warner Home Video.
Blu-ray Disc Details

2.40:1 Widescreen
5.1 DTS-HD MA (English), Dolby Digital 5.1 (Descriptive Video Service, French, Spanish, Portuguese)
Subtitles: English for Hearing Impaired, French, Spanish, Portuguese
Not Closed Captioned; Extras Subtitled
Release Date: August 2, 2016
Suggested Retail Price: $29.98
Single-sided, dual-layered disc (BD-50)
Blue Eco-Friendly Keepcase
Also available on DVD ($28.98 SRP) and on Amazon Instant Video
VIDEO and AUDIO
Keanu unsurprisingly gets treated to a first-rate feature presentation on Blu-ray. The 2.40:1 picture is sharp and well-defined, while the 5.1 DTS-HD master audio soundtrack is full of life, demonstrating more directionality than a typical comedy film.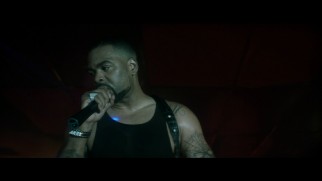 BONUS FEATURES, MENUS, PACKAGING and DESIGN

Keanu's Blu-ray comes

equipped with three HD bonus features.

"Keanu: My First Movie" (3:05) finds Key, Peele, and Jamar Malachi Neighbors addressing Keanu and giving him pointers on making movies and life in general. It's not as funny as you'd hope.

Next comes a long reel of eight deleted scenes (15:13), which includes Rell and Clarence discussing the fictitious Liam "Neesons" movie they just saw, extended shouting at God in the rain, the cousins bringing their issue to the police, a subtitled exchange of silent gestures en route to see Cheddar, Hi-C questioning Rell's credentials, a big speech by Cheddar at the strip club, and a shorter speech about mothers by Bacon (Luis Guzman) at his mansion. There are some amusing moments within.
Finally and, of course, there is a gag reel (5:39), which unfolds with uncooperative cat acting and takes understandably blown by laughter.

Alongside my review copy,

Warner niftily included a 12-month (July 2016 to June 2017) calendar featuring Keanu in those end credits re-creations of famous Warner movies. It is one of the best promotional items I've gotten in all my years in this business.

The disc opens with a trailer for The Nice Guys and a promo for digital movies. Neither is accessible by menu and Keanu's own trailers are not surprisingly not included at all.

No combo pack means no slipcover for Keanu. The eco-friendly keepcase holds your Digital HD insert alongside the nicely but simply labeled disc.

The static menu applies actiony score to an action still.
CLOSING THOUGHTS
The rare crime movie with a kitten at its center, Keanu consistently delights, even in the long central stretch when the titular animal is offscreen. Key and Peele's first feature vehicle ushers in a new phase of its stars' careers with much promise.
Warner's Blu-ray-only release is a bit light on extras, but the movie is funny enough to recommend nonetheless.
Buy Keanu from Amazon.com: Blu-ray / DVD / Instant Video