Transitioning from stand-up comedy to television doesn't seem all that difficult. There's a long list of comics who have successfully made that leap, from Roseanne and Jerry Seinfeld to Louis C.K., Jim Gaffigan, and Aziz Ansari.

Transitioning from stand-up to feature films is a harder feat to pull off. Few have done that for an extended period of time -- Chris Rock, Tim Allen, Kevin Hart -- and they've typically succeeded in television before flourishing on the big screen. Demetri Martin is not your typical stand-up comedian, though. His nerdy, hipster appeal seems a much closer step to an offbeat indie than some crude funnyman bringing down the house with broad pantomime.

A few years back, Martin seemed destined for stardom. He was creative, amusing, and easy to accept as one of the underdog protagonists who so prominently feature in comedy films. But Martin's big potentially starmaking performance came as the lead of 2009's Taking Woodstock, the unloved and little-seen movie that Ang Lee directed in the middle of a seven-year stretch otherwise marked by acclaim and attention (Brokeback Mountain, Lust, Caution, and Life of Pi). The same year, the deadpan comedian took to television in Comedy Central's sketch series "Important Things with Demetri Martin." It survived for a second season, but was not enough to advance Martin's career or turn him into a showbiz hyphenate rather than just a stand-up.

After more supporting roles in movies and low-profile gigs on television (Cartoon Network's animated "We Bare Bears") and the Internet (Funny or Die's "Our Fascinating Planet" series), Martin finally makes a leap he seemed destined to, as a first-time writer/director of Dean, an indie film that also stars him in the believably-cast title role.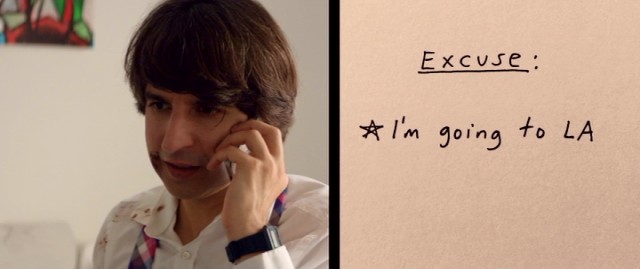 Brooklyner Dean makes comic observational doodles which are apparently popular enough to turn into books. Well, one book. He's struggling to find the motivation to complete the second. He's been mourning the recent death of his mother. So has his father (Kevin Kline), who shocks him with plans to sell the house the family has always called home.
After sharing best man duties at his friend's wedding, Dean reluctantly heads out west to California, where he is to meet with some "creatives", who have been looking to license some of his artwork. While there, he stays with his friend Eric (Rory Scovel), who's something of a pick-up artist. Dean also falls hard for Nicky (Gillian Jacobs). Meanwhile, his father develops feelings for Carol (Mary Steenburgen), the realtor helping him stage the family home for a more efficient sale.
Dean is pretty much what you expect from a movie with Demetri Martin as its writer, director, and star. The comic's dry wit features throughout and it's the one of the only things to distinguish this from any other run-of-the-mill indie dramedy. Martin does not give much of a performance, instead supplying his usual stage persona. Fortunately,

some pathos is provided by Kevin Kline, who sinks his teeth into the role like an upper sexagenarian with something to prove and not the Oscar-winning thirty-year film veteran he is.

You kind of expect more from Dean narratively. The banter-based romance between Dean and Nicky is a textbook indie film romance, whose "twists" add nothing and aren't even worth detailing here. And yet, there isn't a whole lot more to this brief film beyond that and Dean's mostly unspoken battle to cope with his mother's loss, which isn't nearly as autobiographical as you might suspect (the 43-year-old Martin lost his father...20 years ago). For example, the subplot involving Dean and an overdramatic actress inexplicably attracted to him does little to amuse.

On the order of the films of fellow late Gen X comic Mike Birigbilia (Sleepwalk with Me, Don't Think Twice), Dean feels a few years behind the curve. It'd be something you'd have expected to crop up in the wake of Zach Braff's Garden State back when Martin's star was clearly on the rise. This may have been a better vehicle to launch Martin's film career than Lee's misfire back in 2009. But it's not exciting enough to launch anything really for Martin on either side of the camera. It's an okay showcase for Martin's wit, just not particularly striking as a film.

After a very modest $250 thousand run in a max of 83 theaters, Dean hits DVD and only DVD this week from CBS Films and their theatrical/home video partner Lionsgate.
DVD Details

2.40:1 Anamorphic Widescreen
Dolby Digital 5.1 (English)
Subtitles: English for Hearing Impaired, Spanish
Not Closed Captioned; Extras Not Subtitled
Release Date: August 29, 2017
Single-sided, dual-layered disc (DVD-9)
Suggested Retail Price: $25.99
Black Eco-Friendly Keepcase in Cardboard Slipcover
VIDEO and AUDIO
If you're as used to watching Blu-rays as I am, you will notice Dean's standard definition presentation is notches below the 1080p norms. The 2.40:1 anamorphic picture lacks the detail and sharpness of hi-def and generally underwhelms. The Dolby Digital 5.1 soundtrack is adequate but unremarkable.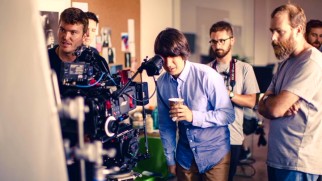 BONUS FEATURES, MENUS, PACKAGING and DESIGN

Extras begin with "This is a Movie: Making (Dean)" (7:23),

which is mostly just an interview of the star, who talks more about being a first-time writer-director than about acting in a movie. If there were an audio commentary, it probably would have been like a substantially extended version of this.

"Drawing on Film: Stories about (Dean)" (9:52) lets Martin reflect on using drawings in the film, writing aspects of a real life relationship into the screenplay, and having fun with the depiction of California and New York. Rory Scovel also chips in a little about his character and the coastal cities.

"Dean Q & A with Demetri Martin and Rory Scovel" (6:16) is not what we typically call a Q & A, but a chat between the two actors which Martin leads discussing the personal experiences that inspired the film.

Finally, "Trailers" repeats the disc-opening previews for The Sense of an Ending, The Lovers, Beatriz at Dinner and Last Vegas. Dean's trailer is, unfortunately, not included.

The basic main menu loops clips and score from the film.

No Digital HD is included here (though the lack of a Blu-ray option renders the cover's "DVD" banner...strange), which means you'll find nothing but a plain gray disc inside the slipcovered eco-friendly black keepcase.
CLOSING THOUGHTS
Though a passable filmmaking debut for the witty Demetri Martin, Dean falls short of one's expectations with routine indie dramedy material you'll forget the second the credits roll. Lionsgate's DVD complements an okay presentation with a trio of decent featurettes. If you're a fan of Martin or Kevin Kline or Mary Steenburgen, then this merits a rental.
Buy Dean on DVD from Amazon.com