As quite possibly the single most iconic figure in the history of rap music, Tupac Shakur was bound to get the biopic treatment. What's more surprising is that his story only reaches the screen in 2017, two years after Straight Outta Compton dramatized the pioneering group N.W.A and eight

after Notorious posthumously biographized The Notorious B.I.G.

All Eyez on Me tells Shakur's story from 1971 when he features as a bump in the stomach of pregnant activist Afeni Shakur to his ultimately fatal 1996 Las Vegas drive-by shooting by at large assailants. A good chunk of the film is framed within an interview Shakur is giving a journalist in 1995 from Clinton Correctional Facility, the New York prison where he is serving a sentence for sexual assault charges.

Shakur's upbringing in New York is represented by moments like Christmas 1982, when FBI agents raid his family's apartment after presents are unwrapped. As Afeni (Danai Gurira) wrestles with substance abuse, Tupac (newcomer Demetrius Shipp, Jr.) is harassed by cops and trained in theatre. He befriends the actress Jada Pinkett (Kat Graham) and then after moving to California, hooks up with Digital Underground, letting him provide backup vocals and the occasional verse for the group responsible for "The Humpty Dance."
From there, 2Pac (his stage name) emerges as a promising solo artist. He has to defend his breakout song "Brenda's Got a Baby" to the white executives at Interscope Records who fail to see the commercial value in the story of a molested, pregnant 12-year-old who winds up dead. Such hard-hitting tales of urban plight give way to party jams like "I Get Around" and "California Love."
Of course, the rivalry with Biggie, which many believe responsible for each iconic rapper's death within six months of each other, features. So too does a friendship between 2Pac and the oversized, soft-spoken East Coast rapper (played, again, by Notorious star Jamal Woolard).
All Eyez crams as many famous 2Pac songs as it can and they're all pretty fun. It gives the film the feel of a jukebox musical without a plot. It also pushes the running time beyond comfortable levels, although having a front row aisle seat with wildly distorted angle pretty much removed comfort from the equation for me in my theatrical viewing. Shakur's brushes with the law and criticism from Washington figures like Vice President Dan Quayle add interest and context to the music that has aged terrifically. And then along comes Suge Knight, like a seductive devilish Uncle Phil, to lure 2Pac to the West Coast powerhouse Death Row Records and then quash his plans to move on.
Shipp bears a striking and unusual resemblance to the man he plays. He gives himself thoroughly to what is likely to be not just the first but probably the richest role of his movie career.

Unfortunately, the performance is only as powerful as the movie around it allows it to be.

All Eyez is entertaining but not any more enlightening than Shakur's long Wikipedia entry. Director Benny Boom (Next Day Air) and his three lightly seasoned screenwriters don't unearth any secrets to their subject's life nor do they present it with much grace or artistry. Scenes like 2Pac hearing Biggie's "Who Shot Ya?" on a prison yard radio and growing concerned are amusing inventions that are hard to take seriously. The real Jada Pinkett was the first but probably won't be the last person portrayed in the film to take issue with its dramatic license. Able to quote Shakespeare to girls and penal code to overly forceful police officers, Shakur is a genius/martyr whose only flaw is holding loyalty in high regard and lack thereof in low regard.

With all the time it needed to perform original research, recreate decades past, and return hip hop artists to their youth, All Eyez on Me ought to have also taken the time to create a more compelling and concise narrative.

Hammered by critics, All Eyez nonetheless found a nice-sized audience in theaters...its opening weekend, anyway. The film opened mid-June (on what would have been Shakur's 47th birthday) in third place behind Cars 3 and Wonder Woman, grossing $26.4 million. The negative critical buzz might have seemed surmountable, but the movie ended up being as front-loaded as anything, dropping a staggering 78% its second weekend and earning just $18 million and change after the formidable opening weekend for a passable but underwhelming $45 M domestic on a $40 M production budget. Not surprisingly, the film hasn't been a huge draw in other parts of the world, chipping in a couple of million in Australia, the UK, and Germany, but not enough to make a huge difference on the bottom line.

Recognizing those weak legs, Summit and Lionsgate haven't waited to bring the film to home video, getting it in stores just two and a half months after it opened in theaters.
Blu-ray & DVD Details

2.40:1 Widescreen (DVD Anamorphic)
Blu-ray: 5.1 DTS-HD MA (English)
DVD: Dolby Digital 5.1 (English,)
Subtitles: English for Hearing Impaired, Spanish
Extras Not Subtitled; Not Closed Captioned
Release Date: September 5, 2017
Suggested Retail Price: $39.99
Two single-sided, dual-layered discs (DVD-9 & BD-50)
Blue Eco-Friendly Keepcase in Embossed Cardboard Slipcover
Also available on standalone DVD ($29.95 SRP) and Amazon Instant Video
VIDEO and AUDIO
All Eyez on Me was probably right on the cusp of getting a 4K Ultra HD, but Lionsgate has instead limited it to Blu-ray and DVD. Both are included in this combo pack. The Blu-ray's 2.40:1 widescreen presentation is everything you want it to be: sharp, vibrant, and well-detailed. The 5.1 DTS-HD master audio soundtrack also does a nice job of distributing the elements, brimming with life during musical numbers, but not overpowering or drowning out dialogue and effects.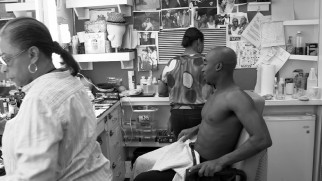 BONUS FEATURES, MENUS, PACKAGING and DESIGN
Extras begin with "Legends Never Die: The Making of All Eyez on Me" (26:46). Relying heavily on black and white interviews and behind-the-scenes footage, the piece details the long journey to get this film made as well as the circumstances by which it did get made, like making sure they got Pac's tattoos right and the casting of Jada Pinkett and Suge Knight.
"Becoming Tupac" (9:07) lets Demetrius Shipp, Jr. discuss in his words his relationship to Tupac's music (his father worked for Death Row Records before Tupac came there) and what the performance required of him.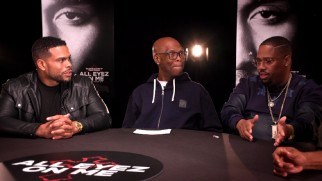 Next up, we get Demetrius Shipp, Jr.'s raw audition tape (4:42).

He seems to have earned the part before he even opens his mouth, though the nose ring and chain were inspired choices.

"All Eyez on Me Conversations" (35:21) gathers three different groups of people (a mix of principal crew and cast and current musicians) to discuss Tupac, his legacy and influence, and this movie. There's a lot of defending both the man and the movie's depictions of him. Among those sharing their views are director Benny Boom, producer L.T. Hutton, Demetrius Shipp, Jr., and various artists you'll be glad are identified by caption.

Eleven deleted scenes run 8 minutes altogether. They include a childhood Christmas, Tupac being admitted into and released from prison, meeting Leila Sternberg, auditioning for Juice, having a friendly chat with Biggie, donating money to a random poor single mother with two young kids (chuckle), and playing craps in a casino. With the movie running as long as it does, it's not surprising that these were probably cut more for timing than quality.

Finally, "Also from Lionsgate" repeats the five disc-opening trailers for John Wick: Chapter 2, "Power", Meet the Blacks, The Perfect Match, and Kevin Hart: Let Me Explain. The trailer for All Eyez is not included here.

Of these extras, the DVD only includes "Legends Never Die" and "Becoming Tupac."

The two similar discs and the obligatory Digital HD insert share an eco-friendly keepcase that is topped by a glossy, embossed slipcover.

The main menu plays clips in the blank space left in the reformat of the cover art while a minute of the censored version of the titular song (full of jarring edits) plays. Why a profanity-filled R-rated movie can't have profanity on its menu, I don't know.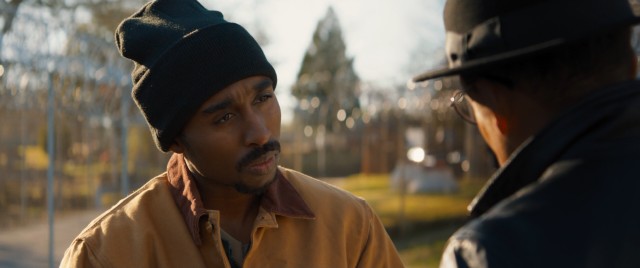 CLOSING THOUGHTS
Widely lambasted by critics and avoided by moviegoers after a strong opening weekend, All Eyez on Me is not the disappointment it might seem like from a distance. Yes, this rose-colored 2Pac biopic fails to do justice to the compelling rapper's short life, but it does an admirable job of recreating bits of it and celebrating the music that keeps him immortal decades later. If you're a fan of Shakur, then this movie certainly merits a viewing.
Lionsgate/Summit's combo pack warrants no picture and sound complaints, while the hour-plus of extras is a nice complement to the fine feature presentation.
Buy All Eyez on Me from Amazon.com: Blu-ray + DVD + Digital HD / DVD / Instant Video