After a slight lull, the musician biopic is back in full force. Since Bohemian Rhapsody grossed nearly a billion dollars worldwide on a production budget of just $52 million last fall, movie studios are not going to think twice about giving similar treatment to any musician with a beloved catalog.

Elton John fits that bill and now just seven months after Bohemian began its award-winning run, the director who completed that film sans credit gives us Rocketman, a biography of John that is executive produced by the accomplished singer, songwriter, and pianist.

Rocketman opens with the artist (played by Kingsman's Taron Egerton) in one of his signature flamboyant costumes walking out to what we assume is a stage. Instead, it's an Alcoholics Anonymous meeting where the ornate Elton hopes to expel the demons of his addictions to booze, drugs, and sex. This meeting serves as the frame story for John's tale.

Soon, he's a young, chubby-cheeked prodigy (Matthew Illesley) able to play back on the piano melodies he's only just heard. His parents do not appreciate Reggie Dwight as a genius. His father (Steven Mackintosh) is emotionally distant and shows him no affection. His mother (Bryce Dallas Howard) is only slightly more invested in the boy and his scholarship at the Royal Academy of Music. Reggie starts playing with established bands and lands a meeting with a record executive, or a young assistant posing as one. The meeting, which finds the young man deciding on his famous new name, goes well enough to connect Elton with songwriter Bernie Taupin (Jamie Bell), whose soulful lyrics he is able to nimbly set to music.
Elton's success composing songs with Taupin and performing them on his own is rapid and soon he's relocating to Los Angeles, where he is impressing all the right people and soaring up the sales charts. The excesses of addiction present themselves gradually, but all the while John and Taupin are able to create one enduring hit after another. A number of these songs, of course, are heard. Egerton admirably does not just lip-sync (like Oscar winner Rami Malek did as Queen's Freddie Mercury) but records the songs anew and does well enough that you're not sure you're not hearing the original John track.
Rocketman does not have much of a narrative, at least not one we haven't encountered before on most other biopics and the dead-on spoof Walk Hard: The Dewey Cox Story. John's collaboration with Taupin is surprisingly devoid of conflict. While the claim they never have argued seems like a stretch, even just by what is dramatized here, the partnership remains fruitful and friendly for decades, not affected even by John's romantic advance that the heterosexual Taupin rejects.
John's homosexuality is as well-known as any part of his life and Rocketman doesn't shy from dealing with this, touching upon his brief marriage to a woman, his coming out to his mother, and his relationship with a handsome Scotsman (Richard Madden) who becomes his personal manager.
One of the biggest criticisms leveled against Bohemian Rhapsody (and there were a lot, despite and perhaps because of its tremendous success at the box office and award ceremonies) was that it toned down Freddie Mercury's character. It was rated PG-13 and Mercury's life does not appear to have been. Rocketman earns an R rating and does depict John repeatedly using cocaine and also being amorous with the aforementioned manager. It's not a graphic R and the movie isn't any noticeably better for taking this approach, although realism is always welcome, especially amidst the skepticism bred a biopic that is produced by its subject.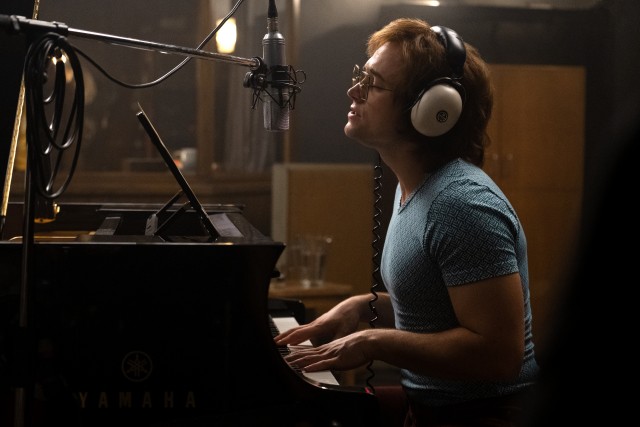 That Rocketman is bound to be compared to Bohemian Rhapsody is inevitable because of its timing, Rhapsody's success, and the fact that Dexter Fletcher sort of helmed both. The films are not really any more alike than Ray and Walk the Line were. Fletcher, the actor turned director (who also fills a supporting role here), previously teamed with Egerton on the appealing 2016 ski jumping dramedy Eddie the Eagle. The two films suggest a great rapport between the filmmaker and young actor, who stretches himself to play someone most people should be quite familiar with even if, like me,

they were born after John's 1970s heyday. Egerton avoids the tempting biopic trap of simply doing an impression and manages to earn sympathy, which isn't a given from the story of John's life. You could apply the word "caricature" to Malek's Mercury, but not to Egerton's Elton even though John is as campy a musical icon as any.

Fletcher and screenwriter Lee Hall (Billy Elliot) attempt to inject some creativity into the proceedings. Besides the frame story, the two allow this to play not just as a music film but an actual musical where characters break into song and dance numbers as real people do not. The results are more good than great, but I welcomed every opportunity taken to break free from the extremely familiar biopic mold. Similarly, attempts to play loose with the laws of space and time, most noticeably on a magical moment of a "Crocodile Rock" performance at West Hollywood's Troubadour, are a nice touch.

John's story is no more or less compelling than that of Queen...had Freddie Mercury not died of AIDS and effectively ended the band too soon. It seems unrealistic to expect Rocketman to perform like Bohemian Rhapsody, especially since no other musician biopic ever has. But Rocketman is made with care and love plus more imagination than many a biopic. That all tends to get rewarded. Opening at the end of May, though, the film seems less likely to stick around in the cultural consciousness long enough to compete for the major awards that Rhapsody vied for and, in many cases, won.