Roger Allers and Rob Minkoff came to Disney in the 1980s. In his early twenties,

Minkoff started as an in-between artist on The Black Cauldron and worked his way up to animator on The Great Mouse Detective and The Little Mermaid. He made his writing and directing debut on the Roger Rabbit short Tummy Trouble and went on to write or direct two of the character's other shorts, along with the 1992 Disney-MGM Studios theme park cartoon Mickey's Audition. Thirteen years Minkoff's senior, Allers had been around a while, collaborating with director Steven Lisberger on late-1970s "Sesame Street" segments, Animalympics, and Tron. Allers went on to find work in Toronto on Nelvana's Rock & Rule and in both in L.A. and Tokyo on the musical fantasy Little Nemo: Adventures in Slumberland. Allers then made his Disney debut as a storyboard artist on Oliver & Company and proceeded to work in the story department there on films like Little Mermaid, Beauty and the Beast, and Aladdin.

Both Allers and Minkoff made their feature directing debut on The Lion King, and what a debut it was. This would end up being the apex of Disney's exciting 1990s animation renaissance, captivating the public to a degree unseen since Walt himself began the tradition on Snow White and the Seven Dwarfs. Today, The Lion King seems more beloved than every other animated movie ever made, even Snow White. Its popularity has been reinforced by an ongoing chart-topping 3D and 2D theatrical rerelease, which set the stage for Tuesday's much-anticipated Blu-ray debut/DVD return. Both of these events have made this the autumn of The Lion King, giving the film its most attention and admiration since its record-setting 1995 video debut.

Since The Lion King, Allers has done story work on The Emperor's New Groove and The Lion King 1½, and directed Sony Pictures Animation's 2006 film Open Season. Minkoff has ventured into live-action, helming the animation-driven first two Stuart Little movies, Disney's The Haunted Mansion, and the hit martial arts film The Forbidden Kingdom. His next movie is the 2014 DreamWorks Animation release Mr. Peabody & Sherman, based on the "Rocky and Bullwinkle" characters.

With ample reason to reflect on The Lion King, Allers and Minkoff recently did so for DVDizzy.com and other press outlets, answering questions in a "virtual roundtable." I've grouped their thoughts by theme for a structured and logical read. Enjoy!
On 3D and The Lion King's Return...

Do you think 3D adds something to The Lion King or is only fashionable now?

Roger Allers: Sure. I think it adds a more visceral experience to the film. It's been fun to see how "3-Dimensionally" we'd been thinking when we originally made it in 2D.

Rob Minkoff: I must confess that I am a fan of 3D when it's done properly. Avatar was amazing on screen. There have been a number of films released in 3D which haven't really delivered on its potential. But I think The Lion King 3D does. It adds a dimension to the world of our characters that makes the experience of the film more immersive. And it doesn't take anything away from the 2D version either. So The Lion King 3D was a worthwhile endeavor in my opinion.

How involved were you in the actual 3D transfer?

Rob Minkoff: [Producer] Don Hahn, Roger and I came in to meet with [3D stereographer] Robert Neuman and his team to launch them on the conversion. We watched the picture in 2D and conveyed our thoughts on things we'd like to see (and not see) in our 3D version...

Roger Allers: ...to enhance the storytelling and emotional content. Throughout the process, we then reviewed each scene to offer input. I also oversaw the color correction of the final version.

How did you determine which story elements would most benefit from the stereoscopic 3D enhancement?

Roger Allers: We screened the movie without sound, watching for the scenes of greatest potential and called them out to someone who was furiously taking notes!

What has been improved in the transfer to 3D and for Blu-ray?

Roger Allers: Besides the obvious addition of new depth and dimension, this print has the best clarity and color of anything previously released.

Watch a clip from the film's powerful "Circle of Life" opening sequence:


Were you surprised that hand-drawn animation worked in 3D?

Rob Minkoff: I had seen some attempts at traditional animation rendered in 3D and saw great possibilities in it.

But I think Robert Neuman and his team went beyond my expectations and delivered a really compelling presentation.

Which is your favorite 3D scene?

Rob Minkoff: I think for me, "Circle of Life" works amazing well. And is a great way to open the experience of watching the film. It always had a power and impact, but now it really jumps off the screen.

Roger Allers: I'd have to say in the "Circle of Life" sequence where Zazu is flying up to join Mufasa on the promontory of Pride Rock. Great sense of flying and space!

Were you ever tempted to pull "a George Lucas" and improve parts of The Lion King for the new release?

Roger Allers: No, I think we knew to leave well enough alone. Did some color correcting though on a few scenes that I was never happy with.

"The Morning Report" is no more part of the Lion King feature. Why?

Roger Allers: It was only included for the IMAX [sic] & first DVD release as a fun bonus feature. The song was originally written for the stage musical. We wanted this current version to be true to the original release.

How surprised were you when you saw the US box office figures [from the re-opening] weekend?

Rob Minkoff: I couldn't believe it! I originally heard they were estimating something in the range of $12 million. When it topped thirty, I was shocked and amazed but also very pleased. It's nice that audiences still love the movie!
Production and Collaborators
What was the idea that brought The Lion King to life in 1994?
Roger Allers: We wanted to do an animal picture based in a more natural setting, a story that dealt with the issue of taking on the responsibility of adulthood.
Rob Minkoff: Originally, it was thought of as a Bambi in Africa. More true-life adventure than mythical epic. But when Roger and I finally got together on it, we imbued it with the more spiritual elements that are a hallmark of the film.
How did you share the film's directing duties with each other?
Rob Minkoff: After working on the story together, we divided up the sequences so that each one had either Roger or me leading the way. For example, Roger did "I Just Can't Wait To Be King" and I did "Circle of Life."
Roger Allers: I took all the best parts and gave Rob the rest - (kidding!). We split up the film by sequences being particularly careful that we each had scenes that really spoke to each of us. We worked side by side on story, music and editing, while such things as animation, backgrounds, etc., we gave to separate domains according to the sequence.
What`s the key things in doing a larger than life movie like The Lion King?
Roger Allers: Story-wise, it's important to stay rooted in the main character's experience and emotions, not to let the sweep of story plots take you away from experiencing what happens through the character's point of view.
Can you talk a bit about how you went about recruiting animators to come work on The Lion King? I've always heard that -- because Pocahontas was supposed to be this prestige project -- most of the Studio's A-list animators gravitated to that production. Which then supposedly made it kind of tough to initially recruit animators to come work on The Lion King. Which at that time was still having some pretty significant story problems. Is that true?
Roger Allers: True, indeed. But this was a chance to give some really deserving young animators their chance to lead a character. Tony Bancroft (Pumbaa), Mike Surrey (Timon), James Baxter (Rafiki) are all brilliant guys - we lucked out!
Rob Minkoff: Lion King was originally called King of the Jungle and was not well regarded around the studio. So when [then-Disney chairman] Jeffrey Katzenberg announced that the studio would be split in two to make two films simultaneously, many of the top animators wanted to work on Pocahontas instead of The Lion King. Jeffrey had deemed Pocahontas the "home run" and Lion King the "risk." That gave a lot of newer animators a chance to step up to leadership roles.
If you did The Lion King now instead of 17 years ago, what would you change?
Roger Allers: The schedule. More non-working lunches!
How closely did you work with the voice cast and how essential are the right voices to an animated film's success?
Rob Minkoff: As directors, we work very closely with the actors to create their performance. Typically, there will only be one actor recording at a time. This can make it challenging for the actors who are working in a vacuum. Sometimes, we have someone reading lines with them. Other times, I will read with the actor, which I find is an excellent way of getting the performance you're after.
Could you share with us some memories of working with James Earl Jones?
Roger Allers: Ha ha! The very first time we had James in to record, before doing his first lines he proceeded to clear his throat. The strength and resonance of his "harrrunfs" practically blew us off our chairs in the recording booth! That man IS a lion!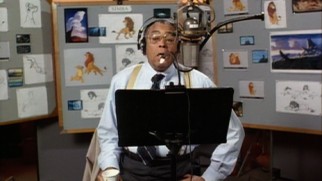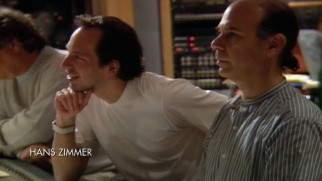 Rob Minkoff: James Earl Jones has one of the most incredible voices in the history of film. Perhaps Orson Welles is his only real rival in that regard. Getting to work with him, especially being such a big fan of Star Wars, was an amazing experience. Watching him warming up his voice before a session was remarkable. He would run through a bunch of vocal exercises and sometimes sounded like a real lion with a rumbling growl.

I think that Scar is the best villain of all Disney's movies. What do you think about Jeremy Irons' voice performance?

Roger Allers: Jeremy is a gentleman and a brilliant actor.

He always gave us extra interpretations of lines which were fantastic. I think I'd put his performance up on the top of all-time best vocal performances.

Can you talk about how you guys struggled to get a handle of Rafiki? Robert Guillaume tells these great stories about how he kept being called back in to re-record scenes that he'd already recorded dialogue for because you kept changing your approach / your take on the character. Evidently, you folks finally brought him back in and said " We finally figured out who Rafiki is. He's insane." Is there truth to that story?

Rob Minkoff: I remember the big breakthrough came when I asked Robert to laugh. His laugh was so amazing and really brought out the character of Rafiki as a crazy shaman witch doctor. We kept asking him to laugh before every line!

Hans Zimmer was more used to scoring live action movies. How did you get along with him in that regard?

Rob Minkoff: Hans really brought the movie to life via the music. It was his ability to [provide] authentic African flavor that really made the film come to life musically. Mark Mancina was working for Hans at the time and also contributed greatly to the feeling of the movie. He also was musical director and composer for the stage production. As for his experience as a live-action composer, I think there is very little difference in how a composer works on animation and live-action, although typically an animated score is more closely married to the images. It was a terrific collaboration.

Can you please talk about the contributions of Elton John, Tim Rice, and Hans Zimmer?

Roger Allers: Elton and Tim's songs help tell the story with humor and heart while Hans' brilliant score and arrangements (along with Lebo M's choral work) gave it its scale, drama, and placed it in Africa. Mark Mancina's arrangements of "I Just Can't Wait to Be King" and "Hakuna Matata" gave the film its moments of playfulness.

Rob Minkoff: It was Tim who suggested Elton for the job. Me, Don [Hahn] and Roger wanted Hans based on his work in The Power of One whose score also featured Lebo M. Their collaboration on the score and musical elements really brought the story to life and gave it its enduring power.

There's a plan for Elton John's biopic. Would you consider directing it, maybe?

Roger Allers: Sure, an animated version of his life story? I'm on it!
Getting Personal...

When you're working on a movie, what is most important to you?

Rob Minkoff: Story is the most important thing! But beyond that, the creative process and the excitement of working with top-notch artistic collaborators makes working as a director a very satisfying endeavor.

Roger Allers: What's most important to me is having an environment of mutually respectful, creative energy with my co-creators/artists.

Do you have Lion King items lying around your home?

Roger Allers: To my wife's dismay, I have a life-sized Simba plush. And in my office, I have some framed cels and couple of character maquettes, which are sculptural reference models. I also have the original theatrical poster signed by the cast and crew and that's my favorite item.

Rob Minkoff: I do, but most of them are currently in storage. I sold my house a while back and am in the process of building a new one. I'm really looking forward to creating the perfect place to house them all.

What's your favorite movie?

Rob Minkoff: There are so many films I love it's hard to pick just one.

But The Wizard of Oz is one that will always mean a great deal to me.

Roger Allers: Disney's Peter Pan fired up my imagination as a child and inspired me to become an animator. Still love that film.

What is your favorite Disney movie?

Roger Allers: As a child it was always Peter Pan, but Little Mermaid and Beauty and the Beast hold very special places in my heart. (Wellll, The Lion King goes without saying!)

Rob, who is your favorite character? Why?

Rob Minkoff: I always find myself drawing either Young Simba or Timon. Simba's innocence and enthusiasm are infectious and Timon, to me, is the funniest.

How has The Lion King changed your lives?

Roger Allers: Wow. It has connected me to the world in an intimate way that I could never imagine. And as I have continued to work on all the international iterations of the stage musical, it still takes me around the world.

Roger, The Lion King became one of the most successful animated movies ever. How come you've only directed one new movie since then?

Roger Allers: You know, this can be a tough business. I have developed several movies since then which for one reason or another never made to full fruition. Want to finance a film?

Continue to Page 2 >>
Directors talk family films, Shakespeare, animation, and Lion King's legacy


Support great cinema and this site when you buy The Lion King now from Amazon.com:
Blu-ray + DVD / Blu-ray 3D Combo Pack / 1-Disc DVD / 8-Disc Trilogy Collection