Disney animation roared to new heights in 1994 with the release of The Lion King. Following in the footsteps of the highly successful Beauty and the Beast and Aladdin, The Lion King lived up to its title with a princely domestic gross of over $300 million. That made it the top-grossing film of 1994, though its crown was handed over to Forrest Gump when Gump's theater count expanded to coincide with its 1995 Oscar season glory. Even so, The Lion King's earnings made it the biggest animated film ever and ranked it fifth on the all-time domestic list. Though twenty or so films outgrossed it since then (ignoring so much inflation), The Lion King recently shot back up the list with the most popular return theatrical engagement of this century. In its 3D and 2D reissue, the film topped the North American box office two weeks in a row, outselling Brad Pitt's acclaimed drama Moneyball, the family film Dolphin Tale, and other new releases given a significantly higher number of theaters. There is a chance that today's new openings could also bow before the King. If so, it would become only the second film this year to win three weekends in a row. To quote the wise baboon Rafiki, "The king has returned."

The demand for the film is all the more impressive considering that the movie returns to DVD and debuts on Blu-ray on Tuesday, October 4th in Disney's Diamond Edition Blu-ray + DVD, a Blu-ray 3D + Blu-ray + DVD + Digital Copy combo pack, and in a 8-disc Trilogy Collection accompanied by Blu-rays and DVDs of its two well-received sequels.

Watch the trailer:


Buy The Lion King: Diamond Edition from Amazon.com:
Blu-ray + DVD • Blu-ray 3D + Blu-ray + DVD + Digital Copy
8-Disc Trilogy Collection • DVD Edition (available November 15)
We're excited to be able to offer two DVDizzy.com readers in the United States a chance to win the two-disc Blu-ray + DVD combo. With just a tiny bit of effort, you can get up to seven (!) entries in this giveaway. The more entries, the better your odds are of winning a copy for yourself, your family, a friend, a relative, a neighbor, a colleague, an acquaintance, or a leonine Trick-or-Treater.
Enter the Giveaway:
1-3. First, take between one and three entries by filling out this simple form. Spotting the differences and finishing the quotes are optional and successfully completing each will net you an additional entry in the giveaway. One entry per household; multiple submissions, foreign submissions, and submissions with a gmail.com e-mail address will be disqualified.
Spot the Differences...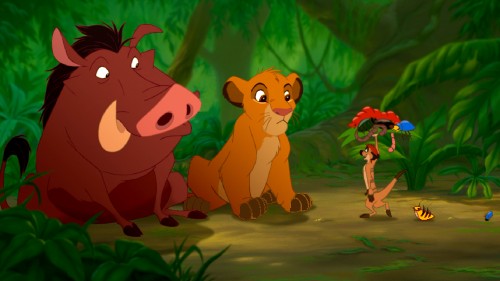 | | |
| --- | --- |
| | 4. Like DVDizzy.com on Facebook, then like this message and add a comment. Do that and remain a Facebook fan, you're entered! Make sure you're accepting messages there, so we can contact you if you win. |
| | |
| --- | --- |
| | 5. Finally, follow us on Twitter and tweet "Rawr! Enter me in DVDizzy.com's The Lion King Blu-ray + DVD giveaway! @UltimateDisney" Do that once and stay a follower and you're entered! |
6. "Share" any one of the posts on our Facebook fan page. We'll see it and add another entry to the pile.
7. Retweet any one of our Twitter posts that links to a piece of content on our site. That's good for another entry!
Entries must be received by 11:59 PM EST on October 11, 2011. Odds of winning depend on number of entries received. Void everywhere but in the United States. Winner will be contacted by e-mail, Facebook message, or direct Twitter message, depending upon winning entry method.
Information submitted for this giveaway will be used exclusively for the purpose of contacting winners and mailing prizes. No personal data will be saved, shared, or used following this giveaway.