In film, there exists a relationship between art and commerce. Good art often prompts enough positive word of mouth to generate profits. And for something to thrive commercially, there generally has to be some artistic value to excite the masses.

In the high-profile career of Jim Carrey, art and commerce have tended not to align.

Carrey's rise to prominence in 1994 sure looked sudden, despite following ten years of acting and four seasons on "In Living Color." Carrey enjoyed one broad comedy hit after another in Ace Ventura: Pet Detective, The Mask, and Dumb and Dumber. Attempts by the actor to show his dramatic range (The Truman Show, Man on the Moon and Eternal Sunshine of the Spotless Mind) have wowed critics and serious moviegoers alike. But Carrey's bread and butter has the remained high-concept humor of films like Bruce Almighty that rest heavily on his anything-goes style and rubbery face.

Carrey's latest film, Yes Man, appears to demand classification with the lowbrow mainstream PG-13 comedy fare that has paid him as much as $25 million for a few months of work. In fact, it looks an awful lot like Liar Liar. In that 1997 hit, Carrey's protagonist couldn't tell a lie. Here, he decides he has to say "yes" to anything proposed to him.
Carl Allen (Carrey) says no a lot -- to random offers on the street, to those who enter his bank seeking reasonable loans, to friends looking simply to hang out as planned. At the encouragement of an acquaintance (John Michael Higgins), Carl attends a self-improvement seminar. There, a popular guru (Terence Stamp) motivates a crowd with a philosophy that can be summed up in the word "yes." Put on the spot, Carl personally and reluctantly agrees to say "yes" to every offer that comes his way in the near-future.
Soon, he's acting against his better judgment, giving a ride to a homeless man, coming in to work a Saturday, and taking up every bulletin board offer he can find. Carl's friends (Bradley Cooper and Danny Masterson) make some use of his newfound agreeability. His willingness at work allows even the smallest and least promising loan requests to be approved. Carl even finds himself a love interest in Allison (Zooey Deschanel), a scooter-driving indie musician and jogging photography class instructor.
This by-the-numbers comedy plays out much like you foresee, with Carl advancing himself through the power of positivity. Of course, it doesn't end there. Obstacles arise when his eccentric behavior attracts attention and when his modus operandi becomes known by Allison.
Taken from British humorist Danny Wallace's six-month experiment and subsequent 2005 book, the film's concept does carry relevance and intrigue. And it does generate some diverting feel-good moments, like a spontaneous flight to Lincoln, Nebraska and an attempt to talk down a near-suicide with a performance of Third Eye Blind's "Jumper." Alas, both the movie and its leading man are more interested in letting Jim Carrey loose than in serving the story. A more sympathetic or funnier actor could have uncovered truth and humor in the material. Instead, we're just treated to an episodic style familiar from past Carrey "hits", an irrationally firm adherence to the "yes" concept, and a routine comedy romance.
Carrey can be a startlingly talented performer when he steps out of laugh-seeking mode. He doesn't ever do that here and never gives us much to chortle at either. Deschanel doesn't tread new ground, nor does she seem too interested in what she's given. The supporting cast makes decent use of their limited moments, with Rhys Darby of "Flight of the Conchords" standing out as Carrey's amusing party-hosting boss/friend.
Are audiences growing tired of Jim Carrey's signature vehicles? Perhaps. Yes Man grossed over $97 million domestically, a strong number for an earthly comedy and much more than the actor's previous live-action film (thriller The Number 23). But the earnings were along the lines of modestly profitable Carrey works such as Fun with Dick and Jane and Me, Myself and Irene, not his bigger draws. Warner Bros. had to expect more from this December release, as must have Carrey, who reportedly passed up a traditional salary to accept about one-third of the back-end profits.
This week, as has quickly become the norm for Warner films, Yes Man comes to home video in one Blu-ray and two DVD versions. We take a look at the premium DVD, dubbed a 2-Disc (Digital Copy) Special Edition.
DVD Details

2.35:1 Anamorphic Widescreen
Dolby Digital 5.1 Surround (English, French, Spanish)
Subtitles: English for Hearing Impaired, French, Spanish
Not Closed Captioned; Some Extras Subtitled
Release Date: April 7, 2009
Two single-sided discs (1 DVD-9 & 1 DVD-5 DVD-ROM)
Suggested Retail Price: $32.99
Black Keepcase in Cardboard Slipcover
Also available in 1-Disc DVD, on Blu-ray Disc,
and On Demand
VIDEO and AUDIO
Yes Man looks fine in its 2.35:1 anamorphic widescreen presentation. Director Peyton Reed doesn't push to visually distinguish this movie from any other contemporary studio comedy, but as expected for a major project this costly, the DVD is uninhibited by any serious picture concerns. Those watching on a large screen may notice slight ringing and mosquito noises, issues that seem to turn up on Warner DVDs more often than others. The Dolby Digital 5.1 soundtrack is a little more deserving of praise, as it shows impressive and surprising vitality and atmosphere in a few sequences, most noticeably the seminar ones.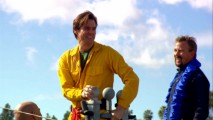 BONUS FEATURES, MENUS and PACKAGING

The standard single-disc DVD of Yes Man contains an alternate fullscreen presentation of the feature, but no other genuine bonus features. You get five extra listings on the Special Edition's movie disc.

"Down Time on the Set of Yes Man" (3:59) shows us how Jim Carrey livens up filmmaking, what he calls "the most boring process on the face of the Earth", with infantile goofing around that cracks everyone up.

"Jim Carrey: Extreme Yes Man" (11:51) looks at the making of four stunt-type sequences,

involving a fierce dog, body blading, Ducati driving, and a bungee jump. It reveals what Carrey performed and what he simply observed stunt men performing. You might be surprised.

"Future Sounds: Munchausen by Proxy" (5:27) is a profile of the film's fictitious four-girl band. It's an okay mockumentary short.

Next, we get five Munchausen by Proxy music videos, which are extended bar performances and not the more adventurous videos sampled in the previous piece. The joke wears thin in these repetitive acts, but we might as well get to see what they shot. Zooey Deschanel fans should enjoy seeing and hearing her sing in these. The featured songs are: "Uh-Huh" (3:49), "Yes Man" (3:08), "Star-Spangled Banner" (1:16), "Sweet Ballad" (2:53), and "Keystar" (3:15).

Finally, the gag reel (5:32) offers plenty of Jim Carrey acting up and a bit from his co-stars as well. Some of it's slightly funny and there are also a few glimpses of deleted scenes presumably kept exclusive to Blu-ray.

The disc opens with a Blu-ray format promo and previews for He's Just Not That Into You and Ghosts of Girlfriends Past.

The only feature on the DVD-ROM second disc is the digital copy, something that studies show 90% of customers do not bother with. As opposed to the downloads Warner offers, you've already got the file here, which means no cheesy $3 fee. Still, you only have until April 2010 to activate it in either iTunes or Windows Media formats.

In typical Warner fashion, the menus are static screens that set publicity poses against a consistent backdrop (in this case, a field of flowers and a blue sky). Only the main menu is equipped with some looped music.

Yes Man's Special Edition comes with a cardboard slipcover whose front artwork differs from the keepcase cover's below -- something that far more sleeves should do. The only in-case insert is the sheet holding your unique digital copy authorization code.
CLOSING THOUGHTS
Have you been missing Jim Carrey, major comedy star? If you answer in the affirmative, you're most likely to appreciate Yes Man, a movie that lets the actor be goofy, fall in love, and learn a lesson in exactly the way we've come to expect. The film has plenty of moments; some good, some bad (take a guess where the senior citizen fellatio falls). But in the end, it's unlikely to be remembered as anything other than a second-rate comedy that could and should have been sharper, funnier, and less formulaic.
There's some value in the 40 minutes of bonus features on Warner's Special Edition that could and should have landed on the film's standard disc. It's only worth paying another $6 or more for if you're both an extras junkie and planning to make use of the included digital copy. Outside of Jim Carrey's fanbase, though, a rental should suffice.
Buy Yes Man from Amazon.com:
Standard 1-Disc DVD / 2-Disc Special Edition DVD / Blu-ray Disc / The Book by Danny Wallace