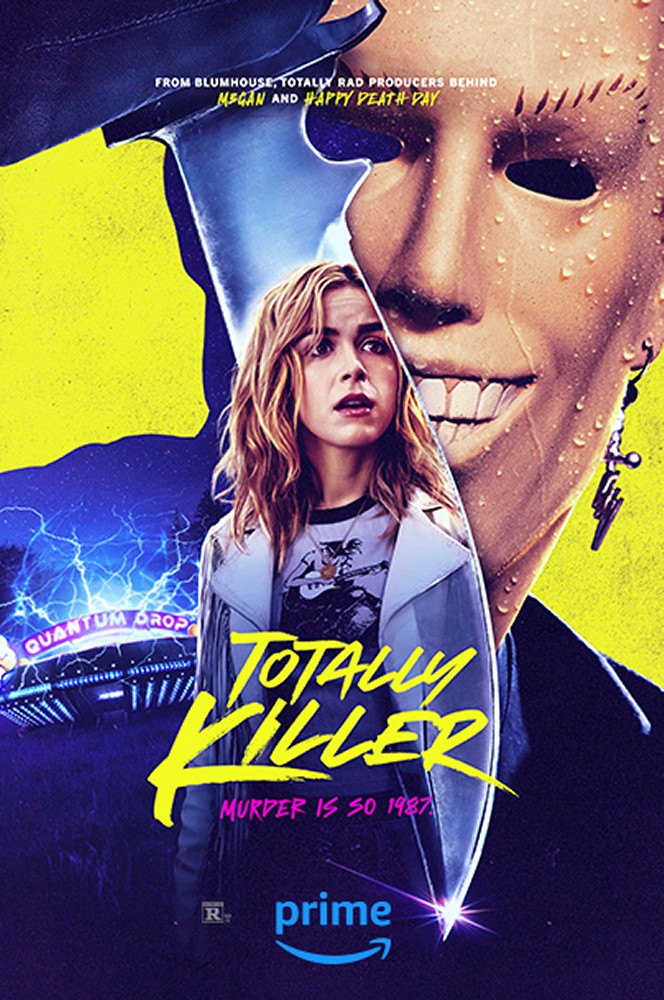 Time travel is one of fiction's great devices and has inspired so many creative and entertaining movies. This isn't one of them.
---
Totally Killer (2023)
It is the job of a trailer to make a movie look appealing. A successful trailer gets members of the public to take notice of a movie they might otherwise have missed. An even more successful trailer goes beyond good marketing and into the realm of false advertising by pretending a barely watchable piece of trash could be quality entertainment.
The person or people who cut the trailer for Totally Killer is guilty of such a crime. They made this horror comedy look like a fun throwback when in reality it is merely feature-length content for mindless streaming.
The movie opens on Halloween 2023 in a town that is famous for three brutal murders of teenage girls that occurred around Halloween 1987. That was thirty-six years ago, but the movie always and often calculates it as thirty-five years ago. Bad math won't bother many viewers, but it annoyed me and it is indicative of a general lack of care and pride here. Perhaps this movie was supposed to come out last Halloween, but it's hard to believe something this sloppy and schlocky getting an extra year of postproduction and also not using it to change either the year or its distance.
Jamie Hughes (Kiernan Shipka) is planning to spend the night at a concert with her friend Amelia (Kelcey Mawema), but shortly after her dad (Lochlyn Munro) drops her off, Jamie's mother Pam (Julie Bowen) is attacked and murdered by someone sporting the same mask and look as the 1980s killer. Before the killer can also get to Jamie, she gets sent instantly and unexpectedly back to Halloween 1987, courtesy of a work-in-progress time machine her bestie has been working on.
Time travel is one of fiction's great devices and has inspired so many creative and entertaining movies. This isn't one of them. Posing as an exchange student from Prince Edward Island, Jamie is accepted at the high school her teenaged mom (Olivia Holt) and her endangered friends are enrolled in. Probably the wittiest gag in the screenplay attributed to three is just how trusting everyone was back in the '80s. That's used a couple of times, but the trio of scribes are more interested in reminding us of how problematic the '80s were. Offensive mascots. Unbridled toxic machismo. Casual homophobia. It's just too bad that these writers of our more sensitive and enlightened times are so hopeless when it comes to crafting something amusing, surprising, or even just interesting.
The script and "Fresh Off the Boat" creator/showrunner Nahnatchka Khan, making her feature directing debut, have no desire to subvert expectations or divert thinking viewers. Their vision of the '80s is wildly unimaginative. Putting Jamie through the beats of trying to fit in as a new kid while also warning the endangered victims to be of the imminent murders is simply dull and belabored. There's a better 80-minute movie that is padded to 106 minutes because…more runtime equals more Prime subscriber screentime?
With close to twenty years of experience to her name, the 23-year-old Shipka ("Mad Men", "Chilling Adventures of Sabrina") is a talented and charismatic young actress who deserves better than this. But it's hard to make that argument on the basis of anything we see here.
While it screened for me, a few of my fellow critics, and a few dozen members of the general public in a cinema, Totally Killer is 100% a television movie. It's not like network TV movies of the past or HBO TV movies of today. It's strictly a low effort, by-the-numbers streaming product that would not exist in any other time or place. There is more profanity, sexual conversation, and drug usage than you'd expect for something clearly aimed at members of Gen Z. But this frugal production shows no interest in winning over horror fans (minimal CGI blood) or anyone old enough to remember the '80s. The creative shortcomings that might be easy to overlook when you're browsing Instagram with this on as background noise are glaring and frustrating projected on a big screen.
Like Luke's work?
Consider leaving a tip and sharing this review to support DVDizzy.