By Christopher Disher

Danish film director Susanne Bier enters the Hollywood scene with her first English-language effort Things We Lost in the Fire. Her 2006 film After the Wedding was nominated for the Best Foreign Language Film Academy Award, bringing her attention and prestige in the US market. Brothers, winner of the World Cinema Audience Award at Sundance in 2005,

is currently being remade with Natalie Portman, Jake Gyllenhaal, and Tobey Maguire. Furthermore, the story for her successful Dogme flick Open Hearts has been optioned by Zach Braff.

With all of this forward momentum, it can't be said that Bier's Hollywood journey has brought her any more success than the past. Things We Lost pulled in about $7 million internationally to its $16 million budget and failed to garner the expected attention with the Academy. If history can be an accurate judge for cross-cultural remakes, both Brothers and Hearts are also set for failure.

Taking a look at Bier's success in Denmark further illustrates the demise imported directors often face when relocating. Open Hearts was the highest grossing Danish film in 2002 at over $5 million. To put that in perspective, it earned more than Spider-Man but less than Harry Potter: Chamber of Secrets in Denmark. Still, Hearts nearly made as much domestic revenue in a country of 5.5 million people as did Things We Lost in the Fire in the US with over 300 million people.

The fault can't be blamed on the lack of stars. Academy Award winners Halle Berry and Benicio Del Toro dominate the screen with TV star David Duchovny at their side. Alone, Berry's films average $64 million at the box office and Sam Mendes, of American Beauty fame, produces along with M. Night Shyamalan collaborator Sam Mercer. With such a talented and successful bunch, one must ask how such a disappointing film can be made?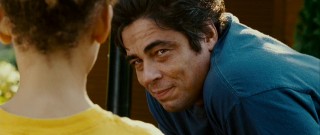 Ultimately, Things We Lost fails at its most important level, the script by Allan Loeb, even with its compelling premise. Halle Berry plays Audrey Burke, a strong-willed woman who loses her husband, Brian (David Duchovny), after he is shot trying to intervene in a domestic dispute. As she unravels with grief, Audrey reaches out to Brian's friend, Jerry (Benicio Del Toro), despite having long questioned his character.

She invites him to live in the garage so he can get his feet back on the ground, find a job, and stay clean of drugs. As Jerry forms a bond with the family, things start to look up for the lot. Suddenly, Audrey breaks down over Jerry fulfilling the father roles Brian was meant for. She tosses him out of the house and the rejection leads to a drug relapse. Realizing her mistake, Audrey takes him home and the two slowly iron out their emotional scars.

Though the mood is heavy, little seems to happen during the 118 minutes. This can be attributed to the poorly developing theme -- how one overcomes the loss of someone or something. Audrey struggles with the death of her husband, yet Bier ultimately pays most attention to how she copes without all of the comforts Brian gave her. For example, Brian's ability to satisfy his wife and family is given significant prominence. He helps Audrey fall asleep by rubbing her ear, he gets ice cream for his kids, his calm responses quell arguments. Jerry, on the other hand, is constantly at battle with resisting the need for a fix. He even says, "...you chase that initial feeling but you never get it back."

Ultimately, everyone is in withdrawal from a feeling they once had. The problem with this is that it alienates each character, resulting in a closed-up, one-dimensional caricature of misery. Even so, if a sense of urgency were involved the story would at least be compelling. As far as we know, it could take Audrey the next five years to move on and no negative consequences would result. The only clear need introduced is for Audrey to care for her children, but even that doesn't seem necessary in the script. Consequently, the film is broken down to shallow and unconvincing conflict between Audrey and Jerry -- greater subtext is implied but never sells -- that completely overshadows the heavy-handed acting and overtly emotional camerawork.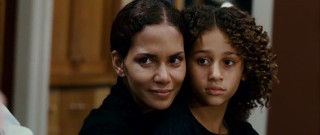 All things considered, the film really isn't all that bad. Susanne Bier clearly knows what she is doing but was either duped by her emotional reaction to the script or was frazzled by the culture shock of working Hollywood-style. The frame is visually intimate; Duchovny plays Duchovny well, as always; Del Toro's roughed-up persona surely helped in his being cast as a drug addict; and the kids are natural and charming actors despite their weak dialogue. Halle Berry pulls off an ungrateful, surly wife who shows no clear love to either her husband or her children. However, her performance is often unrestrained to the point that her character makes little sense.
Bier is still able to make otherwise contrived scenes feel natural. One such scene involves the extended family and friends telling a story about Brian in a way you'd expect a layman to tell it: with mistakes and corrections as one may naturally retell an unfamiliar story. She also keeps the frame active with appropriate close-ups and insert shots. Even so, no amount of excellent talent can rescue poor writing, making me wish one of the "things they lost in the fire" was the script.
DVD Details

2.35:1 Anamorphic Widescreen
Dolby Digital 5.1 (English, French, Spanish)
Subtitles: English, French, Spanish
Closed Captioned; Extras Subtitled
Release Date: March 4, 2008
Suggested Retail Price: $29.98
Single-sided, dual-layered disc (DVD-9)
Black Keepcase
Also available on HD DVD
VIDEO and AUDIO
After taking the Vow of Chastity on behalf of the Dogme 95 group with Open Hearts, Bier employs a glossy look for Things We Lost in the Fire that stands in stark contrast. Instead of having the grainy, natural look of a Dogme film, the 2.35:1 anamorphic widescreen frame is full of vibrancy, emotional lighting, and high contrast.
Dolby Digital 5.1 tracks are offered in English, French, and Spanish. For a drama, the sound is mixed well and provides a nice surround environment. Strong against ambient sounds, the center channel levels are neither too quiet when a character whispers nor too loud when a character shouts. All three language choices are also offered in subtitles form.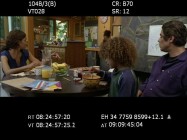 BONUS FEATURES

The first bonus feature is a 20-minute discussion with director Susanne Bier, screenwriter Alan Loeb, producers Sam Mendes and Sam Mercer, and actors Halle Berry, Benicio Del Toro, David Duchovny, Alison Lohman, and Omar Benson Miller.

Loeb says that the film came to him as a series of scenes -- something most viewers will understand after watching Things. The discussions from the filmmakers, particularly Bier, offer a good deal of insight into why the film is the way it is. It's a well-made piece and worth a watch for the information provided.

Next is a series of seven deleted scenes running 9:26. Some are quite lengthy while others are short characterizations. These scenes are also subtitled.

Finally, is the theatrical trailer (2:25). Other previews provided showcase Into the Wild, Shine a Light, Beowulf, Margot at the Wedding, and The Kite Runner.
CLOSING THOUGHTS
Things We Lost in the Fire is a film that many will like and many will hate. It is executed to the best of its ability, considering the script. Those who are enraptured by tales of loss or drug use will surely find the fare moving. Otherwise, several of director Susanne Bier's Danish films are more worthy of your time.
More on the DVD / Buy from Amazon.com / Buy on HD DVD from Amazon.com