Independent films do not dabble in a great variety of genres. Many of them are comedies, dramas, or, most likely, a combination of the two. Such movies, especially if set in contemporary times, do not demand a huge budget, which is good because budgets are almost always tight on indie productions. As a result, high concepts are pretty scarce in indie films.

That suits many filmmakers fine, as indies are a way for them to draw from experience and tell personal tales of love, friendship, work, and coming of age without studio interference and having to make sure there is enough appeal to play to a nationwide audience.

Once in a while, though, indie filmmakers find a way to tell a big, high-minded story without needing a large cast or tons of visual effects and production design. The One I Love is such a film, a mind-bending, thought-provoking fantasy posing as an ordinary romantic dramedy.

We open with spouses Ethan (Mark Duplass) and Sophie (Elisabeth Moss) attending couples' therapy. They describe a romance that began with excitement but now is cold and distant. Their therapist (Ted Danson) listens attentively and then decides to recommend a weekend retreat, which they agree to. A 90-minute drive north brings the couple to a scenic locale that is apparently all theirs this weekend. The idyllic facility consists of a house and a guest house. The grounds also include a pool, an orange grove, and a recording studio.
It is a magical place. Literally. Ethan and Sophie notice something is strange when they have altogether different memories of their first night. They eventually figure out that they are not alone there. When only one of them enters the house, they encounter an alternate, idealized version of their spouse. Ethan's alternate Sophie happily cooks him bacon. Sophie's idealized Ethan does sit-ups and doesn't wear glasses. Each alternate is more attentive, articulate, understanding and pleasant than the genuine article.
Though the couple at first tries to write off this bizarre experience as a fluke and move on, they are too compelled to leave this place unexplored. After laying down some ground rules and treating it like a trust exercise, they agree to take turns spending 15 minutes at a time with their mate's double, while the other passes the time in the guest house. The real Ethan grows jealous and suspicious of Sophie, as she so clearly prefers the company of this slightly improved version of him. There's more to the situation than initially meets the eye, but nothing that must be described to a potential viewer. In fact, I fear I may have already said too much.
The feature writing debut of Justin Lader, The One I Love is intelligent, creative, frightening and funny. It feels like the type of relationship movie that Charlie Kaufman might have written if he allowed himself to return to material similar to Eternal Sunshine of the Spotless Mind. Just when you think that all aspects of romance have been exhausted on film, you encounter something new and fresh. It happens about once a year. Before this movie, it was Her. Before that, 2012's Ruby Sparks. I expect a year from now, I will be appreciating the next breath of fresh air in romance cinema.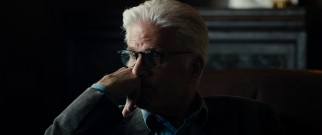 Despite a principal cast of just two and one primary location, the movie feels entirely unencumbered. Scenes in which the actors must be doubled are seamlessly realized; motion control camerawork and visual effects have gotten a lot more sophisticated since Hayley Mills (and even Lindsay Lohan) had to be duplicated in The Parent Trap. Still, it is the ideas, not the images that most resonate in this first film directed by Charlie McDowell, the son of Malcolm McDowell and Mary Steenburgen. There's enough of value here to establish both Lader and McDowell as filmmakers to watch.

While it's quite possible their creative juices are sharpened by the shoestring budget, those juices are remarkable enough to hold promise for the future.

The two actors impress thoroughly. Duplass has established himself as one of the go-to guys to have on either side of an indie film's camera (he also executive-produced this with his brother Jay). Moss, who hasn't had a great number of opportunities to demonstrate her acting chops outside of "Mad Men", is also up to the challenges of playing two versions of the same character, sometimes in the same scene.

Just two days after premiering at January's Sundance Film Festival, The One I Love was acquired by The Weinstein Company's Radius-TWC niche label. Although critics were highly approving, the film still ran into a ceiling in limited late summer release (which per the Radius model occurred day and date with VOD), reversing expansion after hitting 82 theaters and finishing up with a domestic gross of just half a million dollars (Weinstein paid $2 million for the rights). The film is now ripe for discovery on Blu-ray and DVD from Weinstein home video partner Anchor Bay Entertainment.
Blu-ray Disc Details

2.35:1 Widescreen
5.1 DTS-HD MA (English)
Subtitles: English for Hearing Impaired, Spanish
Not Closed Captioned; Extras Not Subtitled
Release Date: November 4, 2014
Single-sided, single-layered disc (BD-25)
Suggested Retail Price: $29.99
Blue Keepcase
Also available on DVD ($29.98 SRP) and on Amazon Instant Video
VIDEO and AUDIO
The One I Love may not have had a huge budget, but you wouldn't know that from the Blu-ray's wholly satisfactory feature presentation. Both the 2.35:1 widescreen picture and 5.1 DTS-HD master audio leave nothing to be desired. English SDH and Spanish subtitles are included.
BONUS FEATURES, MENUS, PACKAGING and DESIGN

The film is joined by an audio commentary by director Charlie McDowell and actor/executive producer Mark Duplass. Their discussion largely focuses on what's onscreen, and the details about shooting conditions, cast chemistries, and editing decisions are worthwhile. Even better,

they share some interesting information about how they reverse engineered the film to suit the locations and budget they could secure. All in all, this is a well above average track.

The only other bonus feature is a two-minute HD visual effects reel, which illustrates how actors were seamlessly doubled with the use of green screen and stand-ins.

The disc opens with HD trailers for Horns and Snowpiercer. Neither is accessible by menu and sadly, The One I Love's trailer is nowhere to be found here.

The menu loops an ordinary montage of clips. Typical for a Weinstein/Anchor Bay BD, this disc neither supports bookmarks nor resumes unfinished playback.

No inserts or slipcover join the plain keepcase and full-color disc, both of which nicely recycle the distinctive theatrical poster art.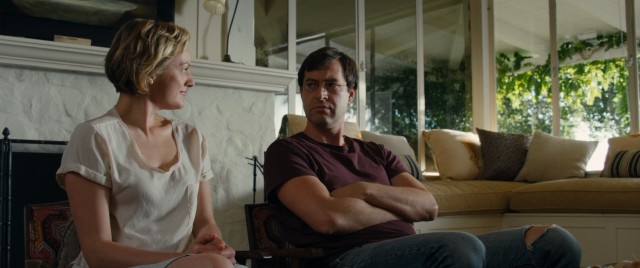 CLOSING THOUGHTS

Fast, fresh, and fascinating, The One I Love surely deserves a look.

It is one of those movies that you can go into knowing nothing (as I basically did), and be pleasantly surprised by its originality and ability to engage fully.

The Blu-ray is basic but satisfactory. Whether renting or buying, I don't think you'll be disappointed giving this movie your time and money.

Buy The One I Love from Amazon.com: Blu-ray / DVD / Instant Video