Oscar and multiple Emmy winner Helen Hunt (As Good As It Gets) makes a low-key return to acting and her big screen behind-the-camera debut in Then She Found Me. Hunt serves as writer, producer, and director --

three titles she hasn't held since later episodes of "Mad About You" -- on this independent romantic drama/comedy loosely adapted from a 1990 Elinor Lipman novel.

Protagonist April Epner (Hunt) is a Brooklyn schoolteacher who's eager to get pregnant while she still can. Before that can happen, she's dealt a triple whammy. Her immature husband Benjamin (Matthew Broderick) decides he's finished with her. Her adoptive mother passes away. And she's contacted by her biological mother, a local talk show host named Bernice (Bette Midler).

Amidst all this personal chaos, April still manages to take romantic interest in Frank (Colin Firth), a temperamental divorced parent of one of her elementary students. Struggling to keep his life in order, Frank is clearly piqued but reluctant to date again.
Then She Found Me proceeds on two fronts. One involves the sudden, forced mother-daughter relationship between April and chatty Bernice. The other centers on a love triangle that wouldn't exist except for the fact that April finally becomes pregnant via break-up sex with Benjamin, whom she isn't ready to dismiss.
Though nearly all of Hunt's many accolades stem from her fine comedic chops, she keeps the mood fairly somber here. Sure, you'll find some scattered levity, but the predicament faced by the devoutly Jewish April is not a cheery one, nor is it is masked that way by broad gags or wit.
Instead, the movie emerges as a dramatic character piece. Unfortunately, none of the characters are particularly appealing nor is the material they're given scintillating.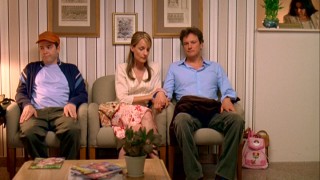 All of the lead actors turn in noble efforts, including Hunt, who looks too haggard to be playing late-thirties even if she's hardly older than that.

A few scenes nearly meet their intended poignancy, such as when April finds herself effortlessly falling into Frank's small family. There is also some substance to the exploration of adopted and biological bonds. But in spite of those feats, nothing comes together well enough to qualify Then She Found Me as a success.

The demographics most likely to dispute my assessment would have to be middle-aged and older women able to identify with April's complicated existence. Alas, the movie industry tends to trivialize those groups and thus the film played in just 150 theaters this spring. Word-of-mouth helped carry it to an attendance record somewhat respectable for an indie. Now, THINKfilm and distributor Image Entertainment bring it to DVD and Blu-ray this week.
DVD Details

1.78:1 Anamorphic Widescreen
Dolby Digital 5.1 Surround (English),
Dolby Stereo 2.0 (English)
Subtitles: English, Spanish
Closed Captioned; Extras Not Subtitled
Release Date: September 2, 2008
Single-sided, dual-layered disc (DVD-9)
Suggested Retail Price: $14.98 (Reduced from $27.98)
Black Keepcase
Also available on Blu-ray Disc
VIDEO and AUDIO
Then She Found Me appears in 1.78:1 anamorphic widescreen, with English tracks offering Dolby 5.1 and plain stereo experiences. Though you wouldn't expect four episodes of a '90s sitcom to be adequate training, Hunt fares fine as a director at least in visuals and staging. There is a modicum of art house cinema to the proceedings, but style is generally restrained and professional enough not to notice. The DVD's picture and sound is satisfactory but, expectedly, not very remarkable. You'll probably notice the film is a little softer and grainier than those funded by major studios. A default subtitle track translates some Hebrew and a little Italian dialogue, doing more than needed.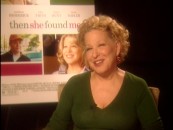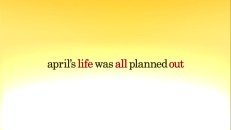 BONUS FEATURES, MENUS and PACKAGING

A suitable collection of bonus features begins with an audio commentary by Helen Hunt. She talks openly and fully about her experience as a first-time filmmaker. She discusses budgetary and creative challenges, explains specific choices,

and credits her inspirations (particularly singling out the late Anthony Minghella's debut Truly Madly Deeply.) It's pretty valuable as far as solo tracks go.

An untitled featurette (11:42) chiefly serves up sound bites from the lead actors, who offer praise for the film and Ms. Hunt.

Next come higher quality interviews with each of the four leading actors: Helen Hunt (4:08), Bette Midler (3:23), Colin Firth (3:58), and Matthew Broderick (3:22). They're a little more candid and enlightening.

Finally, we get Then She Found Me's 2½-minute theatrical trailer, a welcome inclusion that speaks for itself.

The disc loads with trailers for Re-Cycle (a tame red band), Taxi to the Dark Side, Crashing (another tame red band), and Far North.

The menus take a conventional montage approach with the main menu featuring a short looped excerpt of Iron & Wine's "Naked As We Came." There are no inserts inside the case.
CLOSING THOUGHTS
Then She Found Me isn't a bad debut feature for Helen Hunt the auteur, but I can't call it a good one either. Aside from some middle-aged to older women with whom this story may resonate, most viewers will probably find it merely tolerable. If you're looking for a new independent film, you could easily do much better or a lot worse than this one. Despite the limited appeal, THINKfilm and Image Entertainment have put together a fine disc that provides ample insight into production.
Buy Then She Found Me from Amazon.com: DVD / Blu-ray / The Book by Elinor Lipman