A Google search for "Roger Corman" returns only about one and a half times as many results as one for "Roger Corman B-movie." There is no disputing that the 83-year-old independent filmmaker's reputation will forever be tied to the low-budget sensational form, which one can politely say he has kept alive with recent under-the-radar, straight-to-DVD fare. But with over 50 directing credits and nearly 400 producing credits to his name, Corman occasionally has also tried his hand at more ambitious and less monstrous work.
A prime example of this is The Intruder, a racially-charged 1962 drama that Corman both produced and directed. Based on user votes at IMDb, this film ranks higher than any other that has enlisted Corman behind the camera. While it's not his best-known film (that honor is probably shared by Death Race 2000 and its 2008 remake), The Intruder is definitely one of Corman's most esteemed. Part of the reason why it's remembered today is that it offers the first starring film role held by Broadway/TV veteran William Shatner. Previously a supporting player in higher-profile movies, Shatner here enjoys leading man status, something he would permanently secure just a few years later as Captain James T. Kirk of the original "Star Trek" and its various offshoots.
Shatner's character Adam Cramer comes riding into the fictional southern U.S. town of Caxton in sunglasses and a white suit. With a smile, he helps a young girl and her mother disembark from their public bus. But it soon becomes clear that the "social work" he cites as the reason for his visit is far less benign.

Starting with some phone calls and chance interactions, then moving onto zealous public speaking, Cramer tries to stoke the townspeople's feelings of opposition to new legislation making the local high school integrate ten black youths into the student body.

Zeroing in on the citizens' fears and prejudices, Cramer proves to be a most effective coaxer. Single-handedly, he is able to unify and multiply racist sentiment. It's only a matter of time before the Ku Klux Klan is burning a cross and mobs are bombing a black church.

On the side, Cramer also dabbles in two different varieties of rape, first romancing a flattered underaged girl (Beverly Lunsford) and, not long after, pursuing a resistant married woman (Jeanne Cooper). The families of those two targets figure into the turn of events. Seeing the hatred and intolerance brewing, the teenager's father, a newspaper editorialist (Frank Maxwell), grows convinced of desegregation's importance. The woman's salesman husband (Leo Gordon) becomes the unlikely only one wise to Cramer's manipulation and dishonesty.

A far cry from the genre and exploitative films Corman is known for, The Intruder holds up as a pretty gripping and frightening tale of contagious racism and mob mentality. It was penned by famous "Twilight Zone" scribe Charles Beaumont, who adapted the screenplay from his own 1959 novel. The movie doesn't pull punches with its timely depiction of racial hostility, with the "N word", its now-offensive predecessor "Negro", and other slurs being used frequently. That makes it less TV-friendly than most cinema from this era, but also spares us the whitewashing of a more suggestion-based design. It's amazing to think how far the country and its inhabitants have come in less than 50 years.

Keeping his signature pauses to a minimum, Shatner is powerful as the suave bigot who you always suspect of having an ace up his sleeve. Some of his co-stars are guilty of overacting or underacting, but on the whole, the cast exudes a believable air of naturalness.

Reportedly costing $80,000 to make, The Intruder was one of the more expensive films the notoriously fast and frugal Corman had produced to date. It also was one of the few not to immediately turn a profit. Known for putting a lot of stock into movie's titles, Corman subsequently reissued the film as The Stranger, Shame, and -- most amusingly -- I Hate Your Guts!.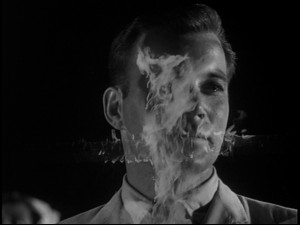 It's not quite clear what's up with the Roger Corman library. In September of 2005, Disney announced with some fanfare that it had acquired the U.S. video distribution rights to the more than 400 films owned by Corman's company, Concorde-New Horizons. Shortly thereafter, about two dozen DVDs were issued by Disney's Buena Vista Home Entertainment

with branding prominently attributing them to the producer. Two other releases trickled out at the end of 2006 and then September of 2007 brought The Intruder and Ron Howard's Eat My Dust.

Since then, nothing new has emerged, not to capitalize on the Death Race remake nor to honor the memory of the recently-deceased David Carradine (who starred in 15 Corman films). Further undermining the 2005 deal's announcement of a 12-year pact: all of Buena Vista's Corman DVDs have since been discontinued by the manufacturer. That means you'll quite likely have to pay more than list price for copies of these out-of-print titles if you want to own them now. Otherwise, it seems likely another distributor will step up to the plate and try to make selling these cheap movies work for them. The official New Horizons Picture website offers no information on the matter whatsoever.

Buena Vista's Special Edition became the second DVD release of The Intruder. The first came back in the spring of 2001, a slightly premature 40th Anniversary Edition from New Concorde Home Entertainment's days of DVD distribution. As of 2009, neither disc is in print anymore.

VIDEO and AUDIO

Whereas New Concorde's DVD presented The Intruder in letterboxed widescreen, Disney's delivers an open matte fullscreen transfer. The framing looks fine, but most potential buyers would prefer the film's theatrical aspect ratio being upheld. It doesn't make any sense why Disney would contradict the DVD from Corman's company instead of providing the 16:9 enhancement that should have been obvious in 2007.

Picture quality is far less sightly than what most 1960s studio films provide on DVD. The full frame video is hindered by scratches, jumps, and skips. The white intrusions sometimes dominate the screen. Still, while the black & white visuals are never sufficiently clean or sharp, they're usually quite watchable.

Not every utterance is easily discerned in the two-channel Mono soundtrack, but that's why it's nice to get English subtitles as well. More consistently noticed is the fact that the audio almost always seems to be inaccurately synched to the picture, albeit by just fractions of a second.

You have to take the modest budget into account when considering a picture like this, but even so, the disc's presentation doesn't feel too much better than what a $1 DVD of a public domain contemporary might look like.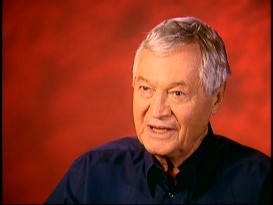 BONUS FEATURES, MENUS and PACKAGING

As fans of Disney's classic live-action films know, few of the company's pre-DVD-Era movies come equipped with any bonus features. This Corman acquisition joins their ranks, for it includes the featurette "Remembering The Intruder" (9:43), which catches up separately with Roger Corman and William Shatner. They recall making a hot button film in the actual South (well, Missouri), tricks to cheaply utilize genuine crowds,

and how -- though it took 40 years -- the movie has finally proved itself profitable. It's a solid, succinct retrospective and valuable inclusion. But it's unfortunate that this new piece isn't joined by the original trailer and 30-minute Shatner-Corman discussion that appeared on the New Concorde DVD.

The disc loads with a promo for Disney Blu-ray, a now-dated trailer for The Invisible, and an anti-piracy spot (which I'm only now realizing have been faded out, replaced by anti-tobacco ads).

The animated main menu makes the most of grainy low-res stills, forming two mini-montages out of them while a 20-second piece of score is looped. Secondary menus lose the animation but provide other bits of Herman Stein score.

A product of a time when DVDs still had inserts, this one's lists the 12 chapters and advertises other Buena Vista Corman DVDs. Believe it or not, it also had a cardboard slipcover when first released.
CLOSING THOUGHTS
In his first leading film role, William Shatner makes a big impression as an outsider who uses fearmongering to unbury racial hatred and enrage a southern town on the eve of integration. Though no less thrifty or riddled with picture/sound issues, The Intruder is more serious and engaging than probably the rest of Roger Corman's vast résumé, and certainly the little that I've seen. A single viewing may be more appropriate than a purchase, particularly now that the film is out of print. If you're set on owning the movie, however, the older New Concorde edition sounds like it'd be the better buy based on its (non-anamorphic) widescreen presentation, half-hour featurette, and trailer. As always, the longer you wait, the more hunting and spending you'll have to do, unless a new distributor opts to reissue it.
More on the DVD / Buy from Amazon.com / Buy the Book: The Intruder by Charles Beaumont