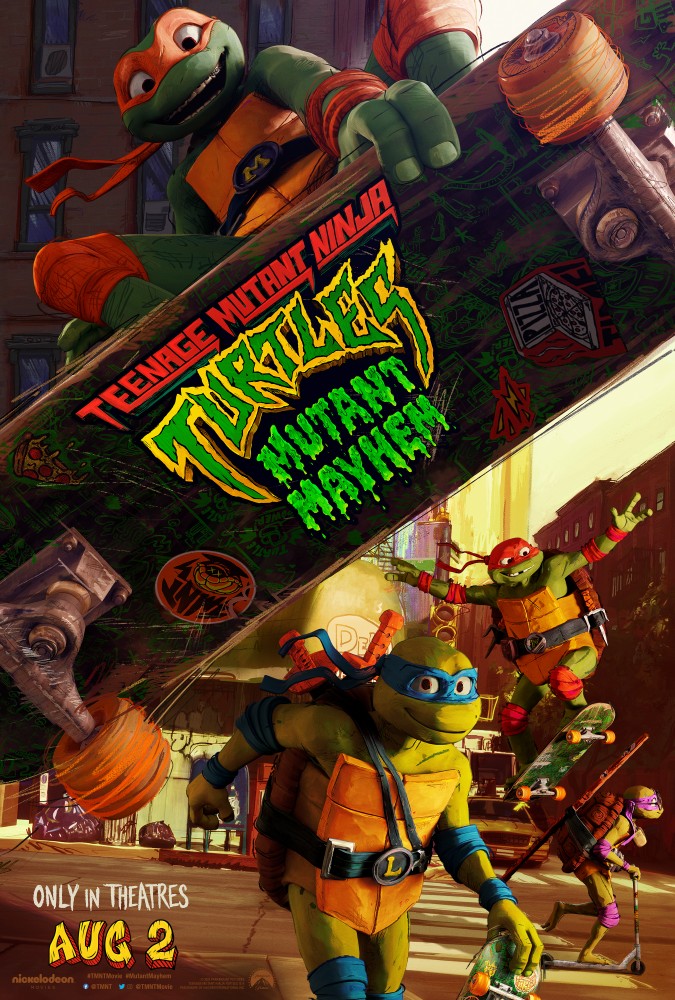 "Mutant Mayhem" wants "Super Mario's" returns and "Spider-Verse's" respect, but it deserves neither. Jump to review ↓
---
"Teenage Mutant Ninja Turtles: Mutant Mayhem" Movie Review
The last time that Seth Rogen and Evan Goldberg made an animated movie was 2016's Sausage Party, a film that tried to blend Pixar CG anthropomorphism with the writing/producing duo's signature ribald, juvenile sense of humor. Although it drew strong reviews and grossed just a shade under $100 million domestically, most people have come to see it as the dumb, crass comedy it is. The supermarket farce currently sits with a lowly 2.3 out of 5 average rating on Letterboxd.
Seven years later, Rogen and Goldberg return to feature animation as the writers and producers of Teenage Mutant Ninja Turtles: Mutant Mayhem. This time, instead of bringing their sensibilities to a new medium, the pair tries to adapt to fit existing pop culture channels with a mainstream, PG-rated action-comedy intended to breathe life into an aging but still formidable piece of IP. Sadly, the results aren't much better.
Unimaginatively, every facet of Mutant Mayhem emulates Sony's Spider-Verse movies. It makes sense in a way. The two animated Spider-Man movies we've gotten are among the very best of all films released in the past five years. They've breathed life into terrain that has been extensively covered in the ongoing age of superhero movie dominance, made us reconsider what animation can do, and rewarded their makers with wealth and power. Imitation may be the most sincere form of flattery, but Mutant Mayhem is just so embarrassingly and unabashedly derivative of Sony Animation's franchise while still failing to reproducing even a tiny fraction of the fulfilling artistry.
At every point in this film, you can imagine Rogen and Goldberg asking "What would Phil Lord and Christopher Miller do?", referring to the power duo producing the Spider-Verse movies. Alas, what Phil and Christopher wouldn't do is make an ugly, inane nostalgia play that tries to bridge the gap between the pop culture of their '80s youth and the more progressive standards of today's entertainment offerings.
Whereas the Spider-Verse movies have inventive comic books at their foundation, Mutant Mayhem simply has nearly forty years of TMNT storytelling and a quintet of early millennial males to make it new. Rogen and Goldberg are the big names, although a critical look at their shared résumé reveals a team that has been on the decline creatively for a decade now. The promise of their early collaborations, the hit R-rated comedies Superbad (2007) and Pineapple Express (2008), gave way to a studio payday in Michel Gondry's wildly underrated Green Hornet (2011) and then more raunchy comedies to diminished returns. The pair together directed 2013's hit apocalyptic meta farce This Is The End and then 2014's The Interview, a political satire that nearly got shelved at the demands of the group that embarrassingly hacked Sony. The controversy surrounding that film did not derail Rogen and Goldberg's careers (nor did it advance it as the free speech cause célèbre it became), but Mutant Mayhem still represents their first realized screenplay together in seven years.
Rogen has continued to prosper off his lucrative goofball stoner image, taking a bunch of easy, well-paying voiceover jobs like Pumbaa in Disney's CG-animated, soon-to-be-prequelized behemoth 2019 remake The Lion King and Donkey Kong in 2023 box office king The Super Mario Bros. Movie. He also got to work with Steven Spielberg in the acclaimed but commercially irrelevant The Fabelmans.
Joining Rogen and Goldberg at the top is Jeff Rowe, a writer on Disney's "Gravity Falls" and Netflix's "Disenchantment" who graduated to co-directing on Sony/Netflix's Oscar-nominated The Mitchells vs. the Machines for none other than producers Lord and Miller. Mutant Mayhem marks his solo directing debut and, not even one degree separated like the other two, he seems enamored with Lord and Miller's other work and determined to copy it. Rounding out the quintet are another seasoned writing duo, Dan Hernandez and Benji Samit, whose past writing credits include Detective Pikachu, The Addams Family 2, and the Amazon Prime live-action series "The Tick."
Mutant Mayhem follows the Spider-Verse playbook as closely as it can, as if having a gritty and contemporary New York City as your backdrop, a soundtrack of hip-hop throwbacks, a distinctive hybrid visual palette, and the involvement of Post Malone (who voices the singsongy mutant manta ray Ray Fillet) are all you need for a profound and delightful piece of modern animation. That thinking is fundamentally flawed and though I suspect it will fool the first round of critics and moviegoers into thinking it's hip and smart, I look forward to it getting reevaluated at some point as the limp knock-off it is.
The movie opens fifteen years ago, with the turtles coming to life, a scientific breakthrough from Baxter Stockman, a sewer scientist who's just lonely and wanting a family. Ooze renders the four brothers into the anthropomorphic, human-sized teens we know them as: Donatello, Leonardo, Raphael, and Michelangelo. Historically distinguished by the colors of their eye masks, here one sports glasses, one is missing a tooth, and one is short because, as we all know, representation matters. It's kind of surprising that none of the Turtles is missing a limb and the movie only teases the notion that one of them is gay.
The brothers secretly love human culture, although their father, the wise and loving rat Splinter (voiced by Jackie Chan) has taught them to avoid mankind at all costs. Still, being the pizza-loving teens they are, they still sneak out to steal groceries and catch a showing of Ferris Bueller's Day Off in a park.
While practicing their ninja skills on a rooftop, the four cross paths with high school student and aspiring journalist April O'Neil (Ayo Edebiri), who as in the most recent Nicktoons series is Black and now sports dreadlocks and uses slang like "sus." The Turtles beat up the bad guys behind the theft of her scooter and, as a result, she becomes their first human friend and confidante. She sees news story potential in them as heroes, particularly when they set their sights on Superfly (Ice Cube), the mutant fly who has been wreaking havoc on New York.
There are some interesting seeds of ideas in the movie, like Superfly's evil plan to wipe out humanity and the internal conflict the Turtles wrestle with over obeying their father or following their hearts. But it's all so cringey, calculated, and plainly derivative. Spider-Verse found a way to stay true to its mythology while expanding it, while here the writers only want to refashion the Turtles to make it hip and 2023. But also full of throwback jams like Blackstreet's "No Diggity", Ol' Dirty Bastard's "Shimmy Shimmy Ya", and A Tribe Called Quest's "Can I Kick It?" and some kind of remix of 4 Non Blondes "What's Up." I guess this is what the marketing campaign meant when it billed Rogen as a "permanent teenager."
As I alluded to in my recent review of Transformers: Rise of the Beasts, there's little that's worse than hearing the revered hits of your childhood attached to a bad movie and I do not hesitate to call Mutant Mayhem that, even anticipating a certified fresh rating and solid CinemaScore. Good movies don't just closely emulate great ones. They don't try to latch onto prevalent trends in pop culture. It's in succeeding that they themselves define the culture.
It may be difficult for many to judge this franchise objectively, but even though I was born the same year as Rogen and Goldberg, grew up with all the same stuff, and consider myself wildly nostalgic, I do not struggle to judge this new film on its own merits with an open mind and a clean slate. My appreciation of the Turtles was short-lived and mainly consisted of me enjoying the animated TV series in my first few years of elementary school. The pizza-scented scratch n' sniff stickers and, I think, Pizza Crunchabungas both left a greater impression on me than the specifics of the plots, although the Renaissance character names have all stayed with me.
I remember the live-action movies being hugely popular in the early 1990s, but I considered them first-time viewings when I watched all three in full and in order a couple of years ago. From today's perspective, they're impressive for the practical costume and production design more than anything else. I clearly remember 2007's computer-animated TMNT trying to capitalize on the original audience's increased disposable income and possible offspring. It was, and probably remains, pretty okay, although I've never had any desire to revisit it in the past sixteen years since I reviewed it. Then in the 2010s, there was Michael Bay, riding high on his Transformers riches, producing live-action with CGI hybrids, presumably craving some of that Alvin and the Chipmunks-type generational gold. I only saw the first of the two, but that was enough to know they were not good.
Despite this pretty modest legacy, the powers that be keep returning to this franchise, probably because brands remain king in Hollywood. The first Bay movie did gross nearly half a billion dollars worldwide and the initial 1990 live-action movie's domestic gross, adjusted for inflation, is nearly the equivalent of $300 million now, a sum that very few movies these days hit in North America, even those with budgets in that same neighborhood.
Paramount Pictures has struggled to stay competitive in recent years, despite Top Gun: Maverick positively dominating the box office in 2023. They've closely followed the Disney model of high-cost, low-quantity output and yet since surrendering Marvel to the Mouse more than a decade ago, have failed to connect with moviegoers with any consistency. Even last year's savior, Tom Cruise, is seeing his latest Mission: Impossible movie underperform for them right now, embarrassingly trailing that crowdfunded conservative Jim Caviezel movie. For their rich history and countless contributions to cinema, I hope that Paramount can change course and avoid obliteration. The correlation between quality and commerce seems tenuous this year, with Super Mario Bros. being the only movie to cross the $1 billion threshold globally. Mutant Mayhem wants Mario's returns and Spider-Verse's respect, but it deserves neither.
Like Luke's work?
Consider leaving a tip and sharing this review to support DVDizzy.