DVDizzy.com | DVD and Blu-ray Reviews | New and Upcoming DVD & Blu-ray Schedule | Upcoming Cover Art | Search This Site
Pete's Dragon (2016) Movie Review
Pete's Dragon

Theatrical Release: August 12, 2016 / Running Time: 110 Minutes / Rating: PG

Director: David Lowery / Writers: David Lowery, Toby Halbrooks (screenplay); Malcolm Marmorstein (original screenplay); Seton I. Miller, S.S. Field (original story)

Cast: Bryce Dallas Howard (Grace Meacham), Robert Redford (Mr. Meacham), Oakes Fegley (Pete), Oona Laurence (Natalie), Wes Bentley (Jack), Karl Urban (Gavin), Isiah Whitlock Jr. (Sheriff Gene Dentler), Marcus Henderson (Woodrow), Aaron Jackson (Abner), Phil Grieve (Bobby), Esmιe Myers (Mom), Gareth Reeves (Dad), Levi Alexander (Young Pete)
Walt Disney famously declared, "We keep moving forward,

opening up new doors and doing new things." The company bearing his name, however, has had tremendous success in recent years by looking back and treating the studio's highly regarded films of the past to lucrative remakes (The Jungle Book, Cinderella) and reimaginings (Maleficent, Alice in Wonderland).

Pete's Dragon is a reimagining rather than a remake of the 1977 musical comedy of the same name, which overcame mixed reviews to have endured four decades somewhat well-known and relatively well-liked. This new version takes the idea of a boy who befriends a generally invisible dragon and throws out everything else from the original film to create an overdramatic adventure more in line with modern tastes. It loses a lot of appeal in the process.
The film opens with 5-year-old Pete (Levi Alexander) on a car ride with his parents. One deer encounter later, Pete is an orphan, though one who is soon being looked after by the large, friendly, and furry green dragon he comes to name Elliot. Personified by Don Bluth-directed traditional animation in the original film, this Elliot is of course rendered in photorealistic CGI. We jump ahead six years and find that Pete (now and henceforth Oakes Fegley) has evolved into a Mowgli of the Pacific Northwest, a wild child who has somehow avoided notice and survived on the kindness of his one and only friend, a dragon.
The friends' adopted town of Millhaven is also home to forest ranger Grace Meacham (Bryce Dallas Howard), whose long-widowed woodcarver father (Robert Redford) excites kids with dubious tales of the time he once saw a dragon in the woods. After six years on his own, Pete finally crosses paths with civilization and comes to be taken in by Grace and befriended by Natalie (Oona Laurence), the daughter of Grace's lumber mill owner beau, Jack (a traditionally bearded Wes Bentley).
Upon seeing Elliot, Jack's brother Gavin (Karl Urban) becomes obsessed with hunting and catching the giant winged beast. This provides the central conflict of the film, as Elliot is jeopardized.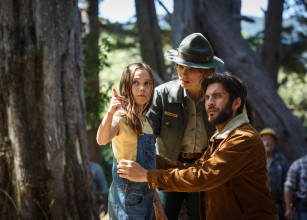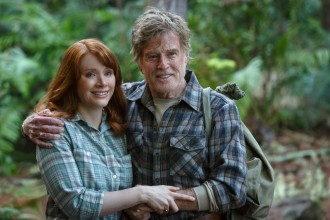 One questions the purpose and wisdom of a remake that takes a film's title and concept while discarding everything else that made it what it is. The original Pete's Dragon is old and dated enough to require reinvention rather than a straight retelling, which would be a pointless exercise in its own right. But director/co-writer David Lowery shows zero regard for the source material and everything he replaces it with feels generic and underwhelming. Turn-of-the-century New England fishing town Passamaquoddy becomes an unremarkable logging town evidently in the late 1970s.

Mickey Rooney's alcoholic kook becomes a Robert Redford sage who goes missing for a solid hour of the film. The charming musical numbers of Al Kasha and Joel Hirschhorn are gone, with nothing more than some folksy period radio tunes in their place. Snake oil salesman Doc Terminus, hillbilly family the Gogans, and the lighthouse setting: gone, gone, gone, without anything you could even consider to be substitutions.

Editor-turned-director Lowery (Ain't Them Bodies Saints) is no family filmmaker and though he's been tapped by Disney to helm another one of these live-action remakes in the upcoming Peter Pan, he doesn't seem well-suited to the genre. Pete's Dragon aims for the feel of the kind of family films that Lowery grew up on, like E.T., but it relies too much on convention and not enough on invention. There isn't a character here we develop a liking or appreciation for. Not even the mostly nonverbal, camouflage-equipped, kind-hearted Elliot wins us over, as easy as that should be.

Pete's Dragon is very much in line with Disney's other live-action 2016 output, Jon Favreau's smash hit The Jungle Book and Steven Spielberg's summer flop The BFG. I expect the movie to perform more like the latter, its source not exactly breeding universal awareness/appreciation and its stately yet bland composition not exactly finding the all-ages entertainment value of Jungle Book. Even if it does disappoint commercially (and with a modest $60 million budget, the stakes are much lower than on most of the studio's new films), there is no reason to think Disney is going to move away from this type of production, which has paid off more often than it hasn't.

Related Reviews:
Pete's Dragon (1977)
Now in Theaters: Florence Foster Jenkins • Ghostbusters • Suicide Squad
The BFG • The Jungle Book (2016) • How to Train Your Dragon • Race to Witch Mountain • Pan
Bryce Dallas Howard: Jurassic World • The Help • The Village • Hereafter
Robert Redford: Captain America: The Winter Soldier • Truth | Wes Bentley: The Hunger Games

DVDizzy.com | DVD and Blu-ray Reviews | New and Upcoming DVD & Blu-ray Schedule | Upcoming Cover Art | Search This Site

DVDizzy.com Top Stories:


Reviewed August 12, 2016.



Text copyright 2016 DVDizzy.com. Images copyright 2016 Disney and Whitaker Entertainment.
Unauthorized reproduction prohibited.