Joel and Ethan Coen just can't seem to tire of making films that center on crime and the interesting characters affected by it. The brothers were still in their twenties when they made their feature debut, 1984's Blood Simple, which dealt with these themes. Now in their early fifties, they continue to deal with similar themes and garner praise doing it.

No Country for Old Men differs from most of the siblings' work for having a source text. Cormac McCarthy's 2005 novel of the same name has apparently been faithfully adapted,

but in a way that bears the distinct imprint of the Coens, whose past triumphs have included Fargo, The Big Lebowski, and O Brother, Where Art Thou?. Set around the Texas/Mexico border in 1980, No Country follows the consequences of a major drug deal gone wrong, with particular emphasis on three men.

Closest to a protagonist is Llewelyn Moss (Josh Brolin), a simple welder and Vietnam veteran whose casual hunting session brings him to the ghostly desert scene of the crime and a satchel filled with enough money to secure financial comfort. In taking the drug money, Llewelyn puts himself in the middle of a cat-and-mouse hunt. Closest on his tail is Anton Chigurh (Javier Bardem), a psychopathic hitman equipped with a cattle gun and an ice-cold demeanor. Also interested in the case is calloused West Texas sheriff Ed Tom Bell (Tommy Lee Jones), whose narration opens the film.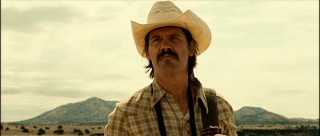 Much of No Country is filmmaking at its most primal. There is a noticeable paucity of dialogue, and much of it is uttered by hotel clerks and cashiers, odd bystanders with no stake in the action. Though each of the three leads has a unique angle and definite tie to the situation, we rarely see any of their paths cross. Instead, the relationship between fate and circumstance is observed from separate perspectives, as additional parties get involved in the pursuit.
Most compelling among the subjects tackled are Llewelyn's guilt and his hope to escape with his life, found money, and young wife (Kelly Macdonald) intact. These are not concepts that are new to the Coen brothers, but their considerable experience has only sharpened their long-held ability to make scenarios foreign to most viewers utterly palpable and real.
At its best, No Country delivers suspense on par with grade-A Hitchcock. It grips throughout, gradually pulling tighter as we become more involved in the saga. It is also a brutally violent film, sure to induce a wince here and there even while occasionally leaving some gruesome sights unseen (perhaps to keep an R rating?). What the film provides in bloody murders, it lacks in levity. The Coens are known for injecting even murderous mysteries with dark humor, but there is very little of that here.
Though engrossing, the film also isn't especially complicated or complex. Now, that might well be a non-issue had the film not been awarded Best Picture, Best Directing, Best Adapted Screenplay, and Best Supporting Actor at last month's Academy Awards ceremony. It's not the first time the Coens' work has been recognized by the Academy, but it's by far the most Oscars bestowed upon any of their films. Even though I've seen over 70 of last year's films, many of the major award candidates are only now coming to DVD and into my sight. As such, I'm not yet sufficiently equipped to pass judgment on the wins. But while I find more to like about this film than a considerable number of big Best Picture winners, it is a bit simple and detached next to the sweeping epics and socially relevant flicks frequently awarded. With the increased scrutiny that comes with the honor, No Country can be questioned for its indecisive ending and lack of a discernible purpose.
The cast deserves some brief mention for what they bring to the proceedings. As the persistent, stoic sociopath, Oscar-winning Spaniard Bardem is remarkably unflinching. Brolin may claim the most screentime and he does fine, but his character is more reactive than anything else and therefore doesn't make much of an impression. Tommy Lee Jones could play this type of law enforcement character in his sleep, though the weariness he effortlessly brings feels more authentic than a lesser actor seeking to stretch his chops might have. Woody Harrelson and Stephen Root also make marks in very limited appearances.
If there were a comprehensive film dictionary, Joel and Ethan Coen might very well appear next to the phrase "not everyone's cup of tea." I have mixed feelings on most of their films, easily recognizing some technical proficiency but remaining less sold on their overall effectiveness. From its warm theatrical reception, No Country appears to divide audiences less than most of the brothers' earlier works. That makes sense, since this is a good and not especially quirky film.
DVD Details

2.35:1 Anamorphic Widescreen
Dolby Digital 5.1 (English)
Subtitles: English, Spanish, French;
Closed Captioned; Extras Subtitled
Release Date: March 11, 2008
Suggested Retail Price: $19.99 (Reduced from $29.99)
Single-sided, dual-layered disc (DVD-9)
Black Keepcase in Embossed Cardboard Slipcover
Also available on Blu-ray Disc
VIDEO and AUDIO
Picture quality is without issue in this stunning 2.35:1 anamorphic widescreen transfer. No Country is the ninth consecutive Coen brothers film on which Roger Deakins has handled cinematography. Clearly, there is a comfortable working relationship here, and Deakins' striking visuals gives us every reason to believe he's carrying out the siblings' visions with the utmost skill. There's not so much as a minor imperfection with which to lament the stellar video.
Dolby Digital 5.1 is the only one soundtrack offered and most will agree it's the only one needed. From gunshots and the disconcerting sound of Chigurh's captive bolt pistol to blowing sand and the rare verbal exchange, the aural elements of the film are conveyed with absolute clarity. Directional effects are both common and adequate.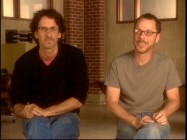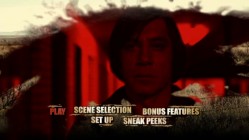 BONUS FEATURES, MENUS and PACKAGING

Quite surprisingly for a film that's turned big profits, earned nigh-universal acclaim,

and won major Oscars, No Country comes to DVD with a slight supplemental slate of just three featurettes.

The 24-minute "The Making of No Country for Old Men" employs a standard format, but covers a lot of ground primarily with interview comments and set footage. Among the topics discussed are the cast and characters, the location shooting, the period setting design, and the sometimes gory stunts. It's a satisfyingly in-depth companion to the film.

"Working with the Coens" (8:05) lives up to its title, as cast and crew members discuss the filming experience as it pertained to the writer/director/producer sibling team.

Finally, "Diary of a Country Sheriff" (6:40) is kind of an odds and ends piece, commenting more on the characters of Tommy Lee Jones and Javier Bardem without much reasoning.
The concurrently-released Blu-ray Disc version of the film has the same bonus features. Don't expect to find a commentary or even the trailer on there.
The main menu invades on serene wilderness shots with montages of action clips colored blood red. Though static, submenus also play selections of Carter Burwell's score.
Greeting you at disc insertion are an anti-smoking ad, a Disney Blu-ray promo, and trailers for National Treasure: Book of Secrets and Gone Baby Gone. The latter three are also accessible from the Sneak Peeks menu, where they're joined by a Dan in Real Life DVD trailer.
Sneaking out just too soon to boast the Best Picture Oscar victory, the DVD's obligatory cardboard slipcover instead features a sticker singling out top honors from four respected news sources. Inside the keepcase, one finds a coupon for a whopping $10 off on No Country on Blu-ray (only through the end of next month) and a scene and bonus features list.
CLOSING THOUGHTS
Nothing I can say regarding No Country for Old Men will have anywhere near the power of its recent wins of Best Picture and other major Oscars. That said, I can still endorse this Coen Brothers' drama as being thrilling, engaging, and well worth a viewing. Many would go one step further and advocate a purchase. I can't quite decide if such action is justified. I liked the film and would rank it among the Coens' better and less polarizing works. But I didn't love it and I'm wondering if that's in part due to the Oscar trophies unfairly raising my expectations.
Regardless of what you think of the film, Miramax's DVD provides admirable picture/sound. Fans will be disappointed not to get any deleted scenes, audio commentary, or any abundance of bonus material, but the solid making-of featurette goes far, as does the film itself, in earning a recommendation.
More on the DVD / Buy No Country for Old Men from Amazon.com:
Original DVD / Original Blu-ray / Collector's Edition DVD / Collector's Edition Blu-ray




The Book: No Country for Old Men by Cormac McCarthy