Hereditary was the best horror movie of 2018 to many, if not most, cineastes and critics. That puts its first-time writer-director Ari Aster's follow-up, Midsommar,

among 2019's most anticipated releases for many in those same demographics. Aster's sophomore feature is in much the same vein and those who found a lot to love in Hereditary should find even more to marvel at here. Once again, the filmmaker delivers a horror movie that shocks, subverts, and disturbs.

The opening scene of Midsommar finds Dani (Florence Pugh) struggling to get ahold of her parents after receiving a troubling email from her sister. In distress, she calls her boyfriend Christian (Jack Reynor), who provides some comfort over the phone and makes plans to see her. Dani suspects from his tone that Christian is trying to work up the nerve to end their relationship after about four years. Granted the perspective of Christian and his circle of male friends, we learn those suspicions are well-founded and that a break-up might be best for everyone.

Instead, family tragedy leaves Dani extra vulnerable and prompts her to join Christian and his guy friends on a summer trip to Sweden that they've been planning and not telling her about. The group is journeying to the little rural commune where one of them (Vilhelm Blomgren) was raised. And it's the perfect time because the village is hosting an elaborate festival that is only held every ninety years.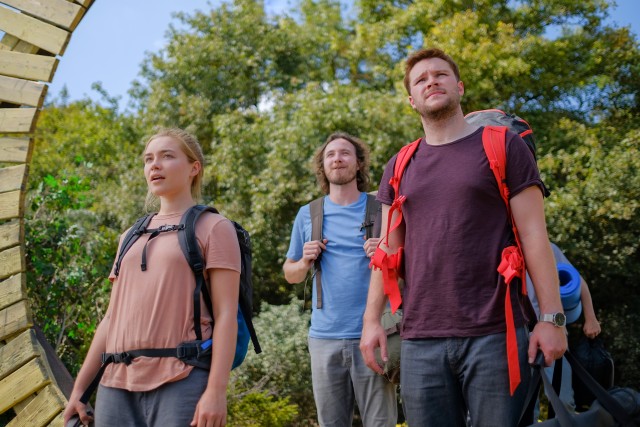 Rather than follow through on the breakup hinted at early on or exploring the fallout from the tragedy, Aster changes gears completely to have this group of young Americans experience a very different way of life. Christian, who has been struggling to decide upon a topic for his thesis, thinks there could be some value in writing about this community. His friend Josh (William Jackson Harper) already has been planning to do just that, which creates some tension among them.
But as you can imagine Aster has cooked up some mayhem worse than the horrors of breaking up and performing graduate level research. It is easy to pinpoint the exact moment when Midsommar's plot and central conflict become clear. It's a jaw-dropping scene that will likely have you wincing and looking away. That decapitation in Hereditary, so brutal and unexpected in the moment, seems almost tame compared to what goes down here, none of which I can really detail until you've seen the movie.
I can't comfortably stand behind either recommending Midsommar or advising you stay away. It is obvious that Aster has some genuine cinematic craft, which he uses to build atmosphere and set a scene. It is also obvious he's drawn to telling lurid and sordid tales. If nothing in Midsommar makes you uncomfortable, then Aster has failed and you also might not actually have a pulse.
Once again, Aster lays out clues you'll have to be watching actively to pick up. That approach was one of the things that made those who loved Hereditary love Hereditary. It was almost like this secret club, where critical plot points and foreshadowing could be easily missed, leaving the movie's second half to seem especially flat and out of left field.

The storytelling of Midsommar is more coherent and less reliant on genre tropes. But once again, Aster plunges into the depths of darkness with sinister cults, shrouded motives, and twisted rituals. Even being desensitized by a lifetime of movies, I still found this to be a most unpleasant experience, with the inevitability of calamity building to stifling levels.

Aster's film can be compared to more mainstream efforts, like Final Destination, Hostel, and I Know What You Did Last Summer, where good-looking young people find themselves in grave danger and many of them meet horrific ends. But the writer-director comes up with far more wicked and disturbing threats and gives the whole thing an arthouse aesthetic more akin to some European horror film that would need word of mouth to reach a privileged class of urban moviegoer here. (Shot in Hungary, the film was an assignment from a Swedish production company.)

Midsommar's maker deserves credit on that basis. This isn't just another horror movie and it's not one that will be soon forgotten. Only with a rich imagination and a firm understanding of cinema's power could Aster make this film as jarring as he does and that is essential to understanding why this is earning near-unanimous critical approval.

Having said that, "is this something you'd actually enjoy seeing?" is a question I cannot answer. I'm not sure enjoyment is an emotion many sane people would associate with this film. There are unmistakable cinematic delights to admire here, such as the way that hallucinogenics are conveyed in a compelling visual manner. And as with any horror movie that genuinely gets under your skin, there is some catharsis to be had, even as you add everything up and wonder if Aster hasn't committed some cheats for his desired effect.

For all of its praise from critics and cineastes, which even included two wins and a Best Picture nomination from my group, the Online Film Critics Society, Hereditary was not well received by the public at large. Its $44 million domestic gross, the second highest in the history of distributor A24 (behind Lady Bird), was generated in little more than a month, with steep declines and theater drop-offs occurring almost immediately. Perhaps no other recent movie illustrates the divide between cineastes/critics and the general public more than Hereditary, which got a rare D+ CinemaScore from opening weekend moviegoers, yet stands with a lofty, almost unheard of 3.9 out of 5 average rating on Letterboxd (putting it on the same level as Gone with the Wind, The Sound of Music, and Ben-Hur there). I expect Midsommar sparks a comparable divide, with A24 again opting to open wide instead of expanding to buzz.