By Aaron Wallace

Veteran theatre star Michael Stuhlbarg suddenly found himself front and center in the film world with last fall's A Serious Man. Joel and Ethan Coen's latest film was among the ten announced as Best Picture Oscar nominees last week, the nod coming as something of a surprise to Academy watchdogs. In his first lead movie role, Stuhlbarg plays a professor named Larry Gopnik whose unfortunate stretch of life gives rise to both laughter and compassion. Less somber than its title suggests, the dark comedy is nevertheless being praised for its contemplative approach to misfortune.

Stuhlbarg earned a Best Actor nomination at the Golden Globes for his work in A Serious Man, which is now on DVD and Blu-ray.

To talk about the movie, how he got the part, and his plans for the future, Mr. Stuhlbarg recently called in for a chat with DVDizzy.com.
---
DVDizzy.com: There was some good news for A Serious Man this week, so I just want to start by asking you, how does it feel to be the lead actor in a Best Picture nominee?
Michael Stuhlbarg: (Laughs) It's fantastic! I'm really happy for all of us who were involved in making the movie and I'm so pleased that the Academy invited us to participate in the event. It's exciting for all of us.
I can imagine. A Serious Man wasn't on everyone's list of predicted nominees. What was your reaction when you learned that your movie had gotten the nomination?
Michael Stuhlbarg: I was thrilled, you know? I was really happy for Joel and Ethan, I was happy for all of us -- it's a very exciting thing for us to be involved in that and I'm just happy that perhaps a larger audience of people will get a chance to see the movie.
I'm curious, how did you get the part?
Originally, I was asked to come in to audition for the part of the husband in that Yiddish parable in the beginning of the movie...
Really?
...The one who's pulling the cart behind him and has the whole argument with his wife and so I had to learn that whole scene in Yiddish, which was a big challenge. I went to a tutor and I learned it and brought it in for Joel and Ethan and they laughed a lot and that made me really happy. They weren't sure at that point whether or not they wanted to hire folks who could speak the language of Yiddish fluently or if they wanted to hire an actor who could speak it phonetically, and they ended up going with folks who could speak it fluently, and rightfully so.
Then the project sort of went away for about five or six months and then I got a call to come in to audition for both Larry and Uncle Arthur and I learned, you know, three scenes for each of those characters and then did them all for them. Then I kept asking periodically if I was still in the running and I kept getting phone calls back saying, "Yeah, you're still in the mix, you're still in the mix," and eventually I got a call saying, "you're gonna get one of these parts, they just don't know which one yet." (Sighs) So I started working on both of them and then about six weeks before shooting was to begin, Joel called me and said, "We'll put you out of your misery, you're playing Larry." And that's sort of how it happened for me.
...Very interesting, and that makes me wonder, because a lot of people have called this a very Jewish film...
(Laughs)
...and you play a Jewish man who's on sort of a spiritual quest. The movie struck me as seeming very authentically Jewish in a lot of ways, so I'm wondering whether you were drawing on any personal experience, or did you do research for that?
Well I went to a reform Jewish synagogue growing up, so I was familiar with some of the aspects of the film, but there were still a few elements that I was a stranger to as well. But those elements were explained during the course of the film, so I could bring my own experiences along. I was not Larry's age [at the time in which the movie is set], I was not even born yet, but I found my way into it and had a great time asking questions and learning what Larry's life might have been like.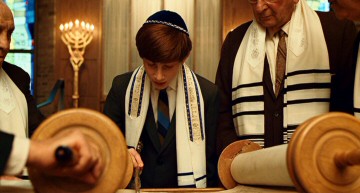 Every actor wants to work with the Coen Brothers. You just got a chance to do that, obviously, in a big way. What was that experience like?

They couldn't have been kinder to me. They were everything you'd expect them to be: smart, easygoing, passionate, articulate, and very generous, you know?

They were also very hands-off in terms of letting me do what it was that I felt would be right for the character. They let me sort of run with it and, you know, they couldn't have been gentler and more fun to be with on the set.

And, like so many of their movies -- and many great movies, really -- A Serious Man, I think, leaves its audience debating what it all means and so I'm wondering, what do you think is the movie's message?

Well, I think in some ways, the message is presented at the very beginning of the movie. There's a quote that says to receive with simplicity everything that happens to you. I feel like that's kind of the watchword for the entire story. Perhaps a challenging but helpful way to think of living one's life, even when difficult things happen, particularly when difficult things happen.

Speaking of the beginning of the movie, you mentioned that prologue, which is in Yiddish. It's a pretty enigmatic scene, so I'm wondering, do you have any interpretation of that, and how it fits in with the rest of the film?

I kind of feel like the quote resonates as well. The man is helped out by a stranger on the road, he invites him home for a bowl of soup, and then he tells his wife. And she says if it was that person that he's not supposed to be alive, that he's an evil spirt, perhaps, and he's invited into their home -- and the wife tends to believe one thing, and the husband believes another, and then she does something that somewhat alters the scene and complicates the situation tremendously, and that's sort of what we're left with. That quote seems to resonate for me a little bit in terms of, you know, even when what you think might be an evil spirit comes into your life, it's best to treat it with simplicity (laughs), [rather] than to complicate your situation.

You mentioned Uncle Arthur. A lot of people will recognize Richard Kind and he has some fairly dramatic scenes in this movie but he's always struck me as being an exceptionally fun guy in real life.

Absolutely.
What was working with him like?

Oh, it was a blast, you know? Richard has tremendous stories, he made me laugh every day and he's a real hard worker and a great spirit to sort of play with. I loved being in the sort of brotherly relationship that we got to do together. I felt it very easy to have affection for him and to play together. It was a treat.

What's next for you -- more film work, going back to the stage, or something else?

I'm actually right in the middle of shooting a new HBO series called "Boardwalk Empire", which is based on a book called Boardwalk Empire about the birth and high times of Atlantic City.

This television show, it's executive produced, and the pilot was directed by, Martin Scorcese. It was created by Terence Winter, who wrote and produced for "The Sopranos." And it has a wonderful cast including Steve Buscemi, Michael Shannon, Michael Pitt, Kelly MacDonald, Dabney Coleman, Stephen Graham, and Vincent Piazza. I'm playing Arnold Rothstein, who was allegedly responsible for fixing the 1919 World Series. It's a wonderful sort of amalgam of new characters and historical characters like Rothstein and Al Capone and Lucky Luciano -- they're all characters in the piece.

That sounds exciting, and that's a remarkable cast.

Yeah, it's a fantastic group. We're about halfway through shooting it. At the moment, I have four more episodes to shoot. And then I don't know what's gonna happen (laughs).

Well, you've got the Academy Awards to look forward to, so I wish you and everybody else the best of luck there.

Thank you.

It was a pleasure to talk with you and I want to thank you for making the time for it.

Thank you, my pleasure.

A Serious Man is now available on DVD and Blu-ray.
Read our review. Buy it from Amazon.com: DVD / Blu-ray