The cast of "Scrubs" has made so many people laugh so many times that by now, over eight years after the medical comedy's debut,

you'd expect all of the actors to have lucrative movie careers. Instead, nearly all of them have stayed on television and made recent appearances on the oft-threatened and since-overhauled program. To see leading lady Sarah Chalke in a starring role outside of a hospital, I had to agree to review this Lifetime miniseries.

Maneater is based on the second novel by Gigi Levangie Grazer, Stepmom writer and ex-wife of producer Brian Grazer. Ms. Grazer's third book, The Starter Wife, became a USA Network miniseries in 2007 and then a slightly longer TV series in 2008. There probably weren't the same hopes for Maneater, which with just a pair of 2-hour episodes last Memorial Day weekend feels more like a long movie and is now marketed as such on DVD.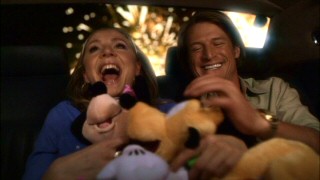 Chalke plays Clarissa Alpert, an Angeleno accustomed to carefree, fashionable living. Socialite Clarissa and her three best friends do not work, but they do spend... on clothes, accessories, and cosmetics. Aware that she's getting older (though 32, she claims she's still 29), Clarissa confidently announces her plans to get married. There's no special guy in her life, but that is just one of the details she plans to work out quickly and cunningly.
Clarissa sets her sights on Aaron Mason (Philip Winchester), a new arrival with strong producing prospects in Hollywood, a slight limp, and a giant plush doll collection in his home. Playing her cards carefully by not seeming too interested, Clarissa hooks the southern softie and all seems right. Before long, Clarissa is successfully choreographing a wedding engagement from Aaron.
But, there's also Simon Taylor (Paul Leyden), the Australian ex-boyfriend for whom Clarissa still has lingering feelings. When Simon starts showing renewed interest in Clarissa, a love triangle is clearly born. It is one this miniseries takes its dear time to resolve, crafting obstacles and twists but never allowing the protagonist to move towards commitment either way.
At least we're not asked to stay invested in the triangle for the entire substantial runtime (4 hours of broadcasts run just shy of 3 hours without commercials). Clarissa's supportive circle of friends is often on hand to supply girl comedy. Each of them has flaws and romantic complications of their own. Gravy (Judy Greer) is a pill popper who's been waiting years for her married lover to leave his wife. Jennifer (Marla Sokoloff) is nice to the point of timidity, which explains why her interest in family gardener/reformed criminal/aspiring caterer Pablo (Shalim Ortiz) doesn't extend beyond longing looks.

Polo (Noureen DeWulf) isn't afraid to speak her mind, but she is afraid of various ailments, rendering her the group hypochondriac and a fan of doctors.

Clarissa also has her parents to think of. Her feisty Hispanic mom (Maria Conchita Alonso) struggles with the English language and may be too forgiving towards her ex-husband, but she is there to give her daughter advice and reality checks. White-collared convict Dad (Gregory Harrison), meanwhile, has issues with monogamy and back taxes.

Among the bigger plot points that feature, most introduced on either side of Part 1's conclusion, is an unplanned pregnancy of indefinite paternity. And when both Clarissa and Aaron find themselves financially cut off by their parents, they struggle adjusting to modest living. (The journey leads her to both get a magazine job and develop a conscience.) There is also a twist, as the revelation of an assumed identity looks to stir up some intrigue.
Will anyone who's not a regular viewer of Lifetime programming really be able to enjoy Maneater? Probably not. Although the project was first developed at Universal Pictures, the network's signature blend of romantic comedy/fantasy/melodrama is evident throughout. Men are stupid and impulsive, women are stupid and emotional, and, regardless, they both need each other.

That is the basic mantra of anything the prefix "rom" can be attached to and Lifetime doesn't bother to pretend it's anything but women's entertainment. Still, for what this is, it's pretty capably made.

With up to four or five household names in the cast (depending on the household), Maneater's talent pool runs deeper than most Lifetime original productions. Your reaction may be to feel sorry that skilled, seasoned actresses are stuck working on a cable TV gig, but that bodes well for this movie/series. The ladies don't approach the project like a dumb paycheck.

Claiming by far the most screentime, Chalke impresses as always. Her great comic timing comes through in the fast, sharp friend banter and in her character's neurotic voiceover narration. Clarissa bears certain resemblances to Chalke's "Scrubs" doctor Elliot Reid, but the comedy is less off-the-wall imaginative and more gender-related and generic. Chalke is no slouch when it comes to drama, either, even comfortably handling the ridiculous melodrama she's often given here. Chalke's co-stars, especially Greer and DeWulf, also do their best to land the jokes penned by Suzanne Martin ("Ellen", "Frasier").

VIDEO and AUDIO

Like many a theatrical movie, Maneater is presented in 1.78:1 anamorphic widescreen and Dolby Digital 5.1 sound on DVD. Picture quality is highly satisfactory. It is a touch softer and brighter than cinematic fare, but the clean and clear transfer nicely shows off the sunny photography (Arizona largely stands in for Los Angeles). The soundtrack is a bit thin, but still provides a decent amount of atmosphere for a dialogue-driven piece.

BONUS FEATURES, MENUS and PACKAGING

No bonus features are found here. That's a bit odd, but having three hours of feature video leaves little room for even the typical making-of fluff you might expect.

The disc opens with a Blu-ray promo. It's also the last listing on the Previews menu, where it's accompanied by trailers for Michael Jackson's This Is It, By the People: The Election of Barack Obama, "Dawson's Creek": The Complete Series, The Nora Roberts Collection, Ice Castles, and Girls' Night DVDs.

The lack of frills carries over to the silent, static menus that recycle the packaging's prominent Sarah Chalke publicity shots (sadly, the closest we get to actual maneating). There are no inserts in the environmentally-cut keepcase.
CLOSING THOUGHTS
For being as frothy as a typical Lifetime outing, Maneater does get to hit a lot of notes. It runs the gamut from ditzy comedy to overdramatic love triangle to tearjerker, never completely letting down the viewer in any of those phases. It turns one of its knowingly shallow, self-involved, spoiled lead characters broke, pregnant, and socially aware. It even delivers Emmy-nominated non-prosthetic make-up and the oddest Vaseline gel product placement you're likely to see. There are some laughs and a small dose of humanity, but neither of those elements is worth going out of your way for if you're not already drawn to the Lifetime brand of telefilmmaking.
More on the DVD / Buy from Amazon.com / The Book: Maneater by Gigi Levangie Grazer