Warren Miller celebrated his 88th birthday on Monday. Don't feel bad if you don't recognize that name. Miller started directing in 1950, but his hundreds of movies are niche works, all documentaries and all capturing footage of skiers and snowboarders. Miller stopped directing in 1988 and stopped producing in 2004,

but the company he founded, Warren Miller Entertainment, lives on, continuing his tradition of making one new film a year. The films no longer include any involvement whatsoever from Miller, but they still bear his name and implied seal of approval.

Last year's effort Warren Miller's...Like There's No Tomorrow comes to both DVD and Blu-ray next month from WME home video distributor Shout! Factory a year after making its debut in a single premium-priced showing at the Broome County Forum in Binghamton, New York.

It's surprising that a niche work can muster enough interest to support a release on a niche format like Blu-ray, but Shout! knows its economics and this is the fifth WME skiing doc to turn up on the format. Clearly, there must be an audience for hi-def skiing films, even if five-figure Amazon sales ranks and what I know about home entertainment suggest it is a very small one.

...Like There's No Tomorrow is my first and likely last visit to this subgenre. I've never skied nor snowboarded in any way that couldn't be considered "virtual." And my own athletic tastes lean more towards participation than spectatorship. So, as expected, this 98-minute feature did nothing for me.
The film opens with first-person footage, edited together with sickening speed, and title-explaining motivational narration from narrator and U.S. Olympic gold medalist Jonny Moseley. There is no attempt to appeal to someone who isn't a seasoned skier or to ease new viewers into this franchise. We're told these skiers aren't going to delay planned daring feats for next winter, but to try them now... like there's no tomorrow.

It's fascinating to discover an entire culture you didn't know or care existed. These skiers and boarders aren't like a yuppy family on a weekend vacation. They're cool and extreme. At one point, a guy says, "If you're sittin' on the couch, you're obviously not riding powder."

At that moment, I couldn't be happier to be sitting on the couch, except of course if I was watching anything other than bros talking about "riding powder." The appeal of skiing may be largely lost on me, but being so into skiing that you'd enjoy just watching other people you don't know doing it for nearly two hours strikes me as absurd.

I say this as someone who maintains a great fondness for the 1990 videocassette NBA Superstars (which I gladly upgraded to DVD long before it went out of print) that set pro basketball highlights to pop songs of the time. I guess ...Like There's No Tomorrow will work for some people on a similar level, provided they're passionate about the individuals captured here. Their names are certainly dropped like you're supposed to know who they are and respect their achievements. It seemed more akin to those And1 streetball videos that have never held any interest for me.

The movie spans the globe, making stops in such locations as India, Chile, Helsinki, Norway, Tuckerman Ravine in New Hampshire, and Squaw Valley in California. There is a little bit of philosophizing, as athletes try to put into words the thrills of skiing, its importance in their lives, and the unique appeal of the featured locations. There is a little bit of comedy in staged bits involving sarcastic big deal Colby James West and sightings of an elusive skiing Yeti.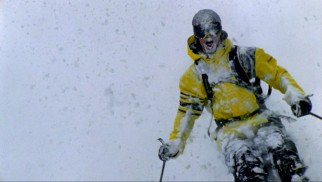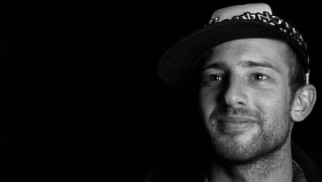 For the vast majority of the time, though, there is simply skiing and boarding, set to music. The film flirts with feature music video status, but it does far too much talking to be considered anything but a documentary. The business model of this niche further baffles me by having the ability to feature recognizable music on the constant soundtrack: songs from the likes of Dean Martin, Beastie Boys, Radiohead, Bill Withers, Foo Fighters, Santana, Randy Newman, and The Cure. How is that possible?! Who buys this?!
I did manage to find some skiing forums with passionate discussions of Warren Miller Entertainment productions, who are generally admiring of Miller and less so the company bearing his name, which filed an unpopular lawsuit against a much smaller company whose film featured Miller himself in it. The threads revealed to me that young people are at least aware of these movies and of the people who make them, if only selectively fond and supportive of them.
VIDEO and AUDIO
...Like There's No Tomorrow boasts some stunning landscape footage, which may be the primary attraction both to viewers and the filmmakers. The Blu-ray's original 1080p visuals are very pleasing to the eyes and even the occasional archival footage (regrettably stretched to 1.78:1) is presentable enough. Likewise, the 5.1 DTS-HD master audio soundtrack is exemplary, nicely distributing the crisp narration, constant flow of eclectic music, and infrequent bit of mountain ambience. Sparse profanity is bleeped. As usual, Shout! Factory unfortunately forgoes subtitles.
BONUS FEATURES, MENUS, PACKAGING and DESIGN

For extras, we get eight HD "teasers", which don't promote films but the locations from this film: Tuckerman Ravine (1:38), Portillo (1:43), British Columbia (1:22), India (1:53), Norway (1:49), Squaw Valley (1:44), Utah (1:24), and New Zealand (3:47).

Camera operators set up and describe the terrain to be shot. I can't pretend to understand the point of these or the lack of a "Play All" option.

The other bonus feature, also HD, is "Denver Big Air Event" (1:17), which gives a similar behind-the-scenes look only of a controlled slope. Pretty dang light for what the cover bills a "Collector's Edition Deluxe Blu-ray."

The menu plays music over nearly screen-filling clips from the film. The disc sadly doesn't support bookmarks or resume playback.

The translucency of standard Blu-ray cases allows Shout! to feature their standard double-sided artwork. An insert supplies chapter listings on one side while promoting Shout!'s other Warren Miller titles on back.
CLOSING THOUGHTS
...Like There's No Tomorrow offers some cool sights with its spectacular hi-def footage of snowy mountains all over the world. But that is merely the backdrop for looks at countless ski and snowboard jumps. If that's the sort of thing you're into, I am glad you might enjoy this. I personally found the content so very far from interesting that I could barely endure the 98-minute runtime.
Buy ...Like There's No Tomorrow from Amazon.com: Blu-ray / DVD