2012 is the centennial of Edgar Rice Burroughs' influential Barsoom series, which began with a pseudonym-published serial in All-Story Magazine. It is also the year that finally saw a filming of Burroughs' science fiction adventures sent to theaters, in Disney's John Carter.

No one is as well aware of the novels' long journey to feature adaptation as those in charge of the corporation bearing the author's name, copyrights and trademarks.

In conjunction with John Carter's June 5th release on DVD, Blu-ray, and Blu-ray 3D, James Sullos, the president of Edgar Rice Burroughs, Inc., and archivist/executive assistant Cathy Wilbanks recently took some time to speak with journalists from all over the world about the realization of a long-challenged filming and Burroughs' experiences with Hollywood.

On Disney's John Carter...

What do you think Burroughs would have thought of this adaptation of John Carter?

Jim Sullos: Burroughs would have been pleased that the movie accurately portrayed much of what was in his first novel, A Princess of Mars. And he would have been amazed that current technology could finally do justice to his vivid imagination which was not possible until CGI was developed.

In a few words, can you compare the movie to the books?

Jim Sullos: The movie was a fairly accurate portrayal of A Princess of Mars. One concept was borrowed from the second book entitled The Gods of Mars by bringing the Therns into the first film. The concept of the Therns having sinister plans for the planet Earth as well as Mars could be an intriguing storyline for the second film.

How do you feel that John Carter interpreted A Princess of Mars?

Jim Sullos: I think Andrew Stanton, the fabulous director who read all of the eleven Mars books as a youngster, gave Dejah Thoris an added dimension as both a scientist and an accomplished fighter, greatly expanding her role with positive effects.

How do you think the film's production design compares to the J. Allen St. John illustrations?

Jim Sullos: J Allen St. John was a master artist who gave us some of the very first visualizations of what Mr. Burroughs described in such detail in his books.

I think the film did an excellent job in interpreting the detailed descriptions provided in the books. Not only was the storyline fairly closely followed but also the depiction of people and places in the film that were reproduced and portrayed followed closely to original production designs.

What do you think about John Carter?

Cathy Wilbanks: I absolutely loved the movie. The first time I saw it, I was blown away by the detail and the plot twists. The special effects were incredible and I laughed and cried throughout. I had not read the script so I experienced many surprises and really enjoyed how the movie unfolded. I thought Andrew Stanton/[producer] Jim Morris/Disney did a fabulous job.

What part of the film do you think most embodies Edgar Rice Burroughs' work?

Cathy Wilbanks: The part of the movie I believe best embodies the work of ERB would be the hatchery of the Tharks and the depiction of the Tharks.

What scene did you most enjoy in John Carter?

Jim Sullos: It is very difficult to select just one scene that I most enjoyed because the whole movie was an incredible joy to see. Andrew Stanton was a genius in bringing visualization to the entire storyline that had never been seen before. As I watched the movie I could feel the passion he devoted to each segment of the film. Picking one scene would not be fair to so many successful portrayals of this timeless story.

What is your favorite scene in the movie and who is your favorite character?

Cathy Wilbanks: My favorite scene in John Carter would have to be when John Carter saves Dejah during the marriage ceremony. My favorite character would have to be John Carter, but Woola is a close second!

Attempts to adapt the John Carter story to the screen stretch all the way back to 1931. Do you think this film would have been made if the previous attempts to bring the story of A Princess of Mars had been a success?

Jim Sullos: All previous attempts to film John Carter suffered from the fact that technology that then existed could not do justice to the detailed John Carter. It was then known as the "Curse of John Carter" in Hollywood as studios realized they could not make the film until CGI technology finally evolved to its current state.

What do you feel sets Andrew Stanton's vision for the film apart from all the other aborted attempts at realizing John Carter?

Jim Sullos: Andrew Stanton read all eleven books as a youngster, and at that age so many concepts stay with you for a lifetime. When you combine his early knowledge of the literary content with his professional talent and CGI, you get a classic film. It would have been difficult for someone coming into contact with material for the first time as an adult to stretch their imagination to the extent he did making this film.

Watch a clip from John Carter:


Were you excited to be working with Disney on John Carter?

Cathy Wilbanks: Yes! We were thrilled to be working with Disney on the John Carter movie. Disney was the perfect studio to tackle the property because not only do they do things first rate, but also they would allow us to reach a new audience with the story.

Do you think that Edgar Rice Burroughs would have appreciated the movie?

Cathy Wilbanks: Yes! I believe Edgar Rice Burroughs would have been extremely impressed with the John Carter movie. Mr. Burroughs wrote for entertainment purposes and filled his stories with tons of action. The John Carter movie follows this vision very well.

Do you think there should be a sequel to John Carter movie?

Jim Sullos: I definitely think a sequel should follow. The first film established John Carter on Mars but he has yet to become the Warlord of Mars. There are eleven Mars books that can be drawn on to create several more exciting movies.

Despite being a hundred years old, the characters of John Carter and the Barsoom series are still relevant and don't feel the least bit dated. Why do you think that is?

Cathy Wilbanks: Edgar Rice Burroughs wrote the story focusing on human conditions such as love and conflict. He understood that to have a successful story, he must include factors that would have a wide appeal. John Carter was developed with characteristics like humor, intelligence, emotion and strength. John Carter (Taylor Kitsch) is very relatable which makes the story current in today's world.

Can you explain how Burroughs came to the idea of John Carter, and specifically why he chose a Confederate soldier as a hero? Why didn't he place the story in his own contemporary times?

Jim Sullos: Mr. Burroughs' father was an officer in the Union army during the Civil War, so he had heard many stories of the Civil War. As a teenager, he went to work on his brother's ranch in Idaho, where he learned how to break wild horses and became an expert horseman. In the late 1890s, he volunteered to join the U.S. Calvary and requested to be assigned to the toughest post in the army and the army was happy to oblige. He was assigned to Fort Grant in Arizona with the job of chasing renegade Apaches. He commented that lucky for him he never met up with one. But that whole experience brought the concept of the Arizona desert which inspired his literary adventures. It could be that he chose a Confederate soldier because he had an interest in starting with an underdog that becomes eminently successful which is a thread that exists in his other works.
In your opinion, what is the key to make "larger than life" characters like John Carter?

Jim Sullos: There was a time when heroes had predictable traits of virtue, morality, honor and a sense of doing right over wrong. In recent years, the concept of the antihero has become the preferred style. What's interesting to observe is that ultimately these antiheroes (to be bad is good) adopt the same virtuous traits even though they do so reluctantly in their character development. Those that become larger than life continue to demonstrate these traditional heroic traits of which John Carter embodies.

What would you say motivates John Carter?

Jim Sullos: John Carter discovered that he could be a successful warrior but after the Civil War he was exhausted. He wanted no part of civilization and enjoyed the relative solitude that came from prospecting for gold in the Arizona desert. When he was teleported to Mars, he discovered his human side again and it gave him a reason to live. He is motivated by his sense of fairness and his love for a beautiful princess.

What was the biggest challenge of the bonus feature "John Carter: 100 Years in the Making"?

Cathy Wilbanks: The biggest challenge was finding an actor to portray Edgar Rice Burroughs. We were able to talk John Burroughs, ERB's grandson, into taking on the part. When I saw it for the first time, I was amazed to watch John interact in the background because he resembles ERB so much. It was like ERB was back with us again.

Watch a clip from John Carter:


On Edgar Rice Burroughs and His Work...

What do you think about Burroughs' complete sci-fi literary legacy?

Cathy Wilbanks: Edgar Rice Burroughs was a visionary. After trying many different professions, he finally turned to writing at age 35. He began with A Princess of Mars and received $400 in 1912 for that story. There is a quote from ERB stating that receiving that money was the most satisfying income of his life. From there, his career was set. I believe that writing allowed ERB to use his imagination and create worlds beyond his existence. While he used newspaper clippings to enhance his storylines, he really allowed his creativity to flow in his stories. He was a prolific writer and ended up finishing his career with over 70 novels and 40 short stories. While sci-fi is only one of the genres that he wrote, he is known as the "Grandfather of Science Fiction" and the "Master of Adventure." He has been credited for the ideas behind Star Wars and Avatar so I believe his legacy is an amazing body of work.

What kind of science fiction author was Edgar Rice Burroughs? How was he different than others of his time or before?

Cathy Wilbanks: Edgar Rice Burroughs was different from other writers because he was not officially "educated" to be a writer. Of course, Edgar went to school and successfully graduated; however, he had no inclination to write. After attempting many different careers, Edgar turned to writing because he needed money. At the time, he had two children and one on the way and he was selling pencil sharpeners. He had read some stories in the pulp magazines and felt he could "spin" a yarn just as good. Mars had appeared in the news so he piggybacked on the current news of the time. Later, Edgar hired a clipping service to continue to use current events in his stories.

Is the Barsoom series considered ERB's first science fiction work? Why do you think he chose Mars as a setting instead of other planets?

Cathy Wilbanks: Edgar Rice Burroughs wrote A Princess of Mars in 1911. It was his first attempt at writing and at the time, Mars had appeared in the news. Later, Burroughs wrote about Venus.

Burroughs said he wrote for the money. But on the other hand he had an unbelievable imagination. What kind of author was he?

Jim Sullos: Mr. Burroughs did indeed begin his writing career because he needed the money. He commented that he had a wife, two children and a third one on the way which would have been difficult to provide for without money. He began reading pulp fiction stories and realized that if people got paid for writing such stuff, he could do better than that.

He wrote to entertain the reader and did not worry about the literary world's opinion of his writing style. This had to be a successful approach because over 100 million of his books have been sold.

One hundred years ago, Edgar Rice Burroughs created one of the most popular characters in literature, Tarzan. In 1912, Burroughs created John Carter, too. Which character is more timeless: John Carter or Tarzan?

Jim Sullos: Both Tarzan and John Carter were survivors in the environment in which they found themselves, but beyond that they both became natural leaders and ultimately protectors of all of the people and places that surrounded them. These are timeless virtues which is why they both continue to attract readers and viewers.

What were Burroughs' sentiments toward filming his works in general?

Jim Sullos: Mr. Burroughs was generally frustrated by the interpretation Hollywood gave to his literary creations. The Tarzan films were the most numerous but almost never followed the storyline he maintained throughout his 24 Tarzan novels. At one point, he refused to see some of the new Tarzan productions which led him to produce his own Tarzan film, Tarzan's New Adventures in 1935. And after about a dozen Tarzan films, this was the first film that portrayed Tarzan as the English Lord that he was.

Cathy Wilbanks: Edgar Rice Burroughs moved from Chicago to the San Fernando Valley in 1919 so he could be closer to the Hollywood scene. He was very excited and realized that he wanted to move in that direction. However, once filming started, he realized that he had to give up some of the control of how his characters were portrayed. Burroughs was mostly frustrated with the portrayal of Tarzan. He wanted his Tarzan to be portrayed as an intelligent, insightful hero and did not like the line "Me Tarzan, You Jane."

Do you think that Mr. Burroughs would have been fonder of Disney's animated Tarzan than of the disappointing early films of his Tarzan stories?

Cathy Wilbanks: I believe that Mr. Burroughs would have enjoyed the Disney's Tarzan animated movie tremendously. The main difference between the early films and Disney's animated movie is the portrayal of the Tarzan character. It seems that Edgar Rice Burroughs was mainly unhappy with the character from the early movies and I feel that Disney was successful in depicting a character that shows depth while still appealing to a different audience.

What do you think makes the book A Princess of Mars so unique?

Jim Sullos: At the time this book was written in 1911-1912, the scientific knowledge of planet Mars was limited and scientists had to guess as to the makeup of the surface of the planet. Mr. Burroughs' novel gave a vivid description in detail of Mars that persisted for decades as the imaginary life that might exist on any planet in the universe.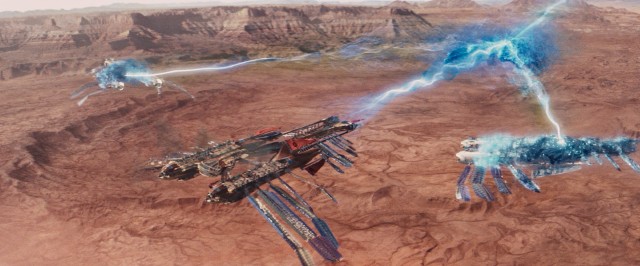 Are there any similarities between Edgar Rice Burroughs and John Carter?
Cathy Wilbanks: There are similarities between Edgar Rice Burroughs and John Carter. As you may know, Mr. Burroughs wrote A Princess of Mars in 1911 and it was his first story. Mr. Burroughs was 35 at the time and had gone through many careers before he tried his hand at writing. At the time, he had two children and his wife was expecting a third and he was working at selling pencil sharpeners. I believe Mr. Burroughs fantasized about escaping his reality by living vicariously through "John Carter." As far as personality characteristics, I believe they shared many traits such as a sense of humor, strength, morals and intelligence.
If you had to choose another adaption of Burroughs to be made into a feature, which would it be?
Jim Sullos: First, I would hope that the planned sequels will be produced because they will show the path that John Carter took to become the "Warlord of Mars". But in addition Mr. Burroughs wrote many other science fiction novels and particularly intriguing is the Venus series which portrays the hero Carson Napier who planned to fly his spaceship to Mars but miscalibrated and ended up on Venus to discover an unknown world.
How you would evaluate the influence of Burroughs on American sci-fi literature?
Jim Sullos: Mr. Burroughs is referred to as the "Grandfather of Science Fiction" because he brought clarity to a bewildered literary world that was searching for an understanding of the greater universe. His influence is all around us when you realize that this is the seminal story that created Superman, Star Wars, and Avatar plus other very successful projects. The producers all gave credit to Mr. Burroughs for substantial content of the films.
Which influence do you think that Edgar Rice Burroughs works has had on the history of sci-fi movies? Many said that Star Wars, Superman and even Avatar benefit from the fictional world he created in his novels, do you agree with that?
Jim Sullos: Absolutely. And that is why Edgar Rice Burroughs is known as the "Grandfather of Science Fiction." All of these great films drew on his literary imagination.
We wouldn't have Star Wars if it wasn't for Princess of Mars. Do you think pop culture gives Burroughs the credit he deserves for being such an influence?
Cathy Wilbanks: No, I don't believe pop culture gives Edgar Rice Burroughs enough credit. He was a gifted, prolific writer and unfortunately has not been recognized for his contributions.
How would you convince someone to read Burroughs novels who has not yet read any?
Jim Sullos: I would suggest that if they really wanted to be entertained they should read some of Mr. Burroughs' early novels. They would gain an appreciation for the timelessness in his stories. He developed characters that represented enduring virtues and a sense of morality and honor when surrounded by hardships and difficult circumstances.
Why does Edgar Rice Burroughs' work still resonate with readers, all these years later?
Cathy Wilbanks: Edgar Rice Burroughs wrote for entertainment purposes. His stories were filled with conflict, action and love which are story-lines that appeal across the generations. The characters display emotion, strength, morals, humor and depth.
Watch a clip from John Carter's bonus features:

Working at Edgar Rice Burroughs, Inc.
What do you enjoy most about working with Burroughs' archives?
Cathy Wilbanks: I really enjoy working with the archives because every day is an opportunity to find treasures. The archives are filled with amazing artifacts from the past and I have the pleasure of discovering each and every one.
Can you give us some examples of the artifacts you worked with in the treasure trove of ERB material?
Cathy Wilbanks: The archives at Edgar Rice Burroughs, Inc. are filled with historical treasures. I have had the pleasure of holding in my hands many first edition books, a huge variety of comic books, toys, merchandise from around the world, movie props like a pterodactyl, and of course, original art. But some of the most meaningful artifacts include the handwritten Tarzan of the Apes manuscript as well as the A Princess of Mars manuscript and personal letters signed by Edgar Rice Burroughs himself.
What has been the most amazing fact that you have discovered since working with the archives?
Cathy Wilbanks: The most amazing fact that I discovered was the Edgar Rice Burroughs was denied admission to the Rough Riders. I found a signed letter from Teddy Roosevelt in the archives stating that he would not be allowed to join.
What can you tell us about your work in the Archives since the movie came out? What do you get to do on a daily basis?
Cathy Wilbanks: In the past, the archives have mainly contained items focused on Tarzan. Since the movie came out, our archives have grown to include John Carter collectibles. We have had a huge increase in novels, comic books, and miscellaneous merchandise like t-shirts, mugs, bags, and posters. My work has grown! Every day is different. I have the greatest job in the world because I am surrounded by Tarzan and John Carter all day! My job assignments vary; some days I attend meetings while others I stay in the office. Usually I prepare letter agreements with licensees, complete inventory of merchandise, and tackle special projects as they come up.
What's the best part of working on Mr. Burroughs's legacy?
Jim Sullos: Mr. Burroughs wrote over 70 novels and 40 short stories. There is no end to the literary content that he created. I continually read material that has not been published for quite a few years and yet the storyline are still exciting. That why his legacy is never ending.
Will there be other movies on the books of Edgar Rice Burroughs soon?
Jim Sullos: At the present time Warner Bros. has in development a Tarzan live-action movie. And Constantin films will release its first Tarzan 3D animated film in 2013. We are currently in discussion with several producers who are looking at other Burroughs novels for potential new films.
Wrapping Up...
Any final thoughts on John Carter as we close out this virtual roundtable?
Jim Sullos: I am thrilled that we now have a visual reference that has been applied to this 100 year old story. This is a film that brings to life a classic story that continues to transcend many generations. It shows what can be accomplished by applying current CGI technology to classic stories. I would hope that the film industry will continue to explore classic literary adaptations for stories that could result equally timeless films.
Cathy Wilbanks: I am extremely impressed with the questions and interest level of this event. This movie John Carter is a dream come true for us. When I first hired at Edgar Rice Burroughs, Inc. in 1984 I was fortunate enough to work with Danton Burroughs, the grandson of ERB. He inspired me and his passion was catching. I often remember him talking about how wonderful it would be to finally see this movie on the big screen. We all loved it and want to thank you and Disney for supporting the project.
Related Review:


John Carter (Blu-ray + DVD Combo)
Support this site when you buy John Carter from Amazon.com:
Blu-ray + DVD / DVD / Blu-ray 3D + Blu-ray + DVD + Digital Copy / Instant Video