"The Flintstones", the first primetime animated series, provided Hanna-Barbera with its biggest hit to date upon its strong 1960 debut. The show's format, a cartoon sitcom centered on a modern Stone Age family, clearly laid the groundwork for the studio's third primetime series. Centering on a family of the future, "The Jetsons" spent the 1962-63 season airing Sunday nights on ABC. Unlike "The Flintstones",

which would run for six full seasons on the network, the Jetsons were cancelled after 24 episodes. However, those two dozen episodes would remain popular in Saturday morning reruns for decades to come.

In 1985, Hanna-Barbera renewed the dormant-but-not-forgotten property. This second incarnation of "The Jetsons" lasted for two years. In that time, 51 half-hour episodes were produced. By 1990, two television movies (one a Flintstones-Jetsons crossover), and a theatrical film had followed.

The '60s season of "The Jetsons" must have been a pretty high priority among Warner Home Video's vast library of television animation. It came to DVD back in May of 2004. Whether it didn't meet sales expectations or Warner simply foresaw less of a market for the '80s episodes, the remaining majority stayed unavailable officially and not in any channel's syndicated cycle.

Now, the family seems primed for a revival. In April, Universal Home Entertainment finally released 1990's big screen outing Jetsons: The Movie in a no-frills DVD. This week, Warner gives us the subject of this review, Season 2, Volume 1, holding 21 episodes from the fall of 1985. There is even a live-action feature film in development at Warner, with a script by Sin City's Robert Rodriguez intended to be realized by 2012.
The Jetsons' dynamic will seem familiar to anyone versed in TV sitcoms, particularly yesteryear ones centering on nuclear families. The head of the household, George, is an average working Joe. He's a digital index operator (whatever that is) at Spacely Space Sprockets, Inc. Jane, his better half, is a housewife whose duties are rendered easy by technology and the presence of spunky robotic maid Rosie. The free time enables her to shop and be styled often. George and Jane have two ordinary children; teenage daughter Judy is into boys, fashions, and fads, while younger son Elroy is the excitable, adventurous type.
Rounding out the original clan is Astro, a dog who talks fairly intelligibly and somewhat paved the way for Scooby-Doo. The second season introduces Orbitty, a second pet who's smaller and less focal than the pooch. This extraterrestrial addition is one with a distinctly 1980s feel; Orbitty is cute, colorful, and voiced by go-to warbler Frank Welker. Outside the family but a clear part of the core cast is Cosmo Spacely, George's little, quick-to-fire boss.
Though set in the distant future (2062 was apparently cited at some point, although a hint dropped here suggests we're at least in the 22nd century), "The Jetsons" obviously stands as a reflection of its actual production time. The depiction is largely optimistic. Progress has introduced flying cars, faithful robots, and rampant conveyor walkways, while reducing work to the pushing of buttons. Things are faster and more innovative, but people are generally as they were in the 1960s and '80s. There's some truth in that and the storylines of shopping, driving tests, economizing, and birthday parties aren't likely to lose relevance anytime soon. One recurring theme is that even high-tech appliances break down and need repair.
Even as we can recognize the advancements unlikely to be attained in the near-future as foreseen, we can appreciate the vision and enjoy it for all its comedic value. The 1980s incarnation actually appears to rely less heavily on the gimmick of the setting than the '60s version, in which the word "space" often was placed in front of anything as an adjective.

The format and characters remain incredibly true to the '60s season, but the '80s episodes hold up as being less dated. The loss of the laugh track helps (it never feels quite right on cartoons) and the writing is a little less broad, even if adults were less likely to catch the show in afternoon syndication. Those who discovered the series in its first run may feel this season doesn't live up to that one. Having viewed some of the original season for this review, I disagree.

Although life in the Jetsons' hometown Orbit City throws a fair amount of challenges at the family, our time spent there is generally pleasant. The '80s version is more open to fantastic premises and so imaginary inventions and ensuing complications offer more than the standard sitcom storylines used before. One of the easiest ways to find a difference in the two seasons is to look closely at acceptable behavior. The 1960s saw George unwind with a martini and cigarette; here he's more likely to dabble in the equivalent of a virtual reality sports video game. There's a gag involving answering machines and the recreational and educational values of home media are noticed. This isn't strictly kids' fare. There are a few fairly tame adult themes, such as the concept of adultery, in play here, but the passing of nearly a quarter-century isn't nearly enough to label this inappropriate for family viewing.

Visually, the lines are slightly thinner here than in the '60s season and though the medium had two decades of advances, it maintains the same look and style, generally running with minimalist animation and backgrounds.

It's not entirely clear why Warner chose to split up the 1980s "Jetsons" as they did. Twenty-one episodes fit comfortably on three discs, and presumably Season 2, Volume 2 will hold the remaining twenty 1985 shows. But that will mean that the short third season (just 10 episodes that debuted in the fall of 1987) will be released on its own. Nevertheless, however the studio sees fit to break up the canon, I'm sure that fans of the series will be glad to buy whatever they can.

Here's a look at this DVD's episodes with red stars (

) denoting my favorite of the bunch. As the dates make clear, they're not completely arranged as first aired, but continuity is largely a non-issue. One episode ("SuperGeorge") is missing a title card.
Disc 1

1. Elroy Meets Orbitty (21:10) (Originally aired September 16, 1985)
The rock Elroy brings home from his school's asteroid field trip is actually an egg, which soon hatches Orbitty, a springy endangered species. The alien proves to be skilled at fixing things, but Astro is upset by his diminishing attention.
2. Rosie Come Home (20:59) (Originally aired September 17, 1985)
With Rosie behaving strangely, the Jetsons look to buy the new part she needs. When she thinks they're replacing her, she runs away and looks for a new job. Needless to say, she's never been more appreciated!
3. Solar Snoops (21:12) (Originally aired September 18, 1985)
The joke's on Spacely when the robotic guard dog he takes from Cogswell Cogs has an industrial spy inside. To get back at his competitor and retrieve his stolen top-secret chocolate microchip cookie, Spacely has George dress in drag to become Cogswell's new secretary Georgina Jetstream.

4. Judy's Birthday Surprise (21:12) (Originally aired September 19, 1985)


View a clip from "Solar Snoops":


Judy fully and excitedly expects her family to throw her the usual surprise birthday party, despite asking them not to. After turning down a number of boys' Saturday night invitations, she starts to suspect disappointment is afoot.

5. SuperGeorge (21:06) (Originally aired September 20, 1985)
After the Jetsons' remote furniture rearranger system breaks down, they invest in a Thinko thought materializer product. When it breaks down, George is stuck as a powerful superhero. Spacely bets his company on a Jupiter Juggernaut wrestling match.
6. Family Fallout (21:13) (Originally aired September 23, 1985)
The Jetsons take on the Spacelys on a TV quiz show, and Mr. Spacely will use any way he can to win.
7. S.M.A.S.H. (21:13) (Originally aired September 26, 1985)
Spacely leaves his car with the Jetsons for his planned 2-week trip and Jane accidentally totals it. When he decides to skip the trip, a lie leaves George and Jane suspects in the car's theft.
Disc 2

8. The Mirrormorph (21:15) (Originally aired October 11, 1985)
Instead of the cosmic clay she ordered for her art project, Judy receives a Mirrormorph, a highly potent replicative creature from Mercury. Weird, mute clones of the Jetsons and anyone else who comes into contact with the substance emerge. Also, Jane wants the family to get a second car.
9. Mother's Day for Rosie (21:12) (Originally aired October 1, 1985)
After reading one of Elroy's Mother's Day poems leaves Rosie emotional, George tries to track down the robot's mother for a photo that will make her day. Jane hopes George will break the no-present promise she made him make.

10. Jetson's Millions (21:14) (Originally aired November 4, 1985)
The Jetsons' growing financial troubles disappear when George wins 10 million Venuties in the Venusian Sweepstakes. Upon finding out, Mr. Spacely plots to weasel the winnings out of his employee and save his company.
11. Fugitive Fleas (21:14) (Originally aired September 25, 1985)
As consolation for eliminating his expected pay raise, Mr. Spacely gives George and the Jetsons tickets to the Space Carnival on Pleasure Planet. A group of circus performer moon fleas return home with the family, settling in Astro's fur and preparing for stardom.
12. Rip-Off Rosie (21:12) (Originally aired October 24, 1985)
Called into work on a Sunday, George solves a robot malfunction and is rewarded for his heroics. When Rosie eats the problematic lug nut, though, she starts causing havoc with her rearrangings in and outside the house.
13. Far-Out Father (21:13) (Originally aired November 13, 1985)
Love-struck Astro's wild antics test George's patience. For a Father's Day project at school, Elroy looks to find out and record what George does for a living.
14. Astro's Big Moment (21:12) (Originally aired November 1, 1985)
Mr. Spacely appoints George judge at the company's dog show. The position comes with conflicting demands.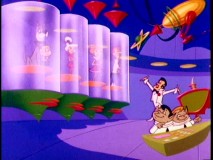 Disc 3

15. The Cosmic Courtship of George and Jane (21:08) (Originally aired October 14, 1985)
After George forgets his wedding anniversary, Jane and he recall their courtship. When they learn the minister that married them was an imposter, they fly to Las Venus to wed for real.

16. Fantasy Planet (21:14) (Originally aired October 28, 1985)
Needing to get away from work woes and a faulty dinner dispenser, George takes the family away on a trip. They wind up on Fantasy Planet, a place resembling TV's Fantasy Island. There, the Ricardo Montalban caricature and his tiny two-headed sidekick help each of the Jetsons live out their royal, rock star, and executive fantasies.
17. S'no Relative (21:11) (Originally aired October 2, 1985)
Expecting teenaged Moongolian cousin Hunky, the Jetsons instead get an unfrozen alien creature from Polaris that falls out of the hands of a couple of scatterbrained glory-craving scientists. Comic misunderstandings ensue.

18. Instant Replay (21:11) (Originally aired September 24, 1985)
George's bad day gets better when a fellow bus rider gives him the Replayola, a device that can rewind and improve experiences. Despite obtaining wealth and success, George learns the negative consequences of changing the past.
19. Haunted Halloween (21:14) (Originally aired October 31, 1985)
The Jetsons observe Halloween with a scary story, a nightmare, an executive costume contest, and one shady magic shop owner/waxite museum curator.
20. Future Tense (21:15) (Originally aired November 12, 1985)
Jane and Judy bring home something for everyone from their shopping in the stylish Bevdayo district. Jane's new glasses allow her to see a moment into the future. She and George take their new gift to the racetrack.
21. The Wrong Stuff (21:11) (Originally aired November 5, 1985)
For Elroy's science contest prize, the Jetsons attend the world's first humanoid space launch. There, Elroy and Astro wind up on the space shuttle.
VIDEO and AUDIO

The fullscreen picture is not without some problems. Most of them aren't too troubling, but one stands out as annoying. It is the show's weaving in and out of focus, which is evident on some (and unfortunately many) episodes.

I can only guess this results from some interlacing shortcoming. I can't imagine it having looked like this intentionally. But your mileage will vary. The issue definitely wasn't as noticeable and bothersome watching up close on a computer monitor.

Beyond that, there are some minor concerns: sparse wear/tear, slight aliasing and compression artifacts, and the general soft and blurry look of an '80s cartoon. On the last point, the episodes that don't exhibit the varying focus tend to look fuzzier on the whole. The opening title sequence comes directly from the '60s season and reflects its age. On the whole, the show could probably look a little better, but this should still satisfy the majority of viewers.

Though the box identifies it simply as stereo, the English audio is actually Dolby Surround. The track gives depth to music and effects, sometimes too much as they border upon drowning out the dialogue. For the most part, the sound is satisfactory, although there are instances where lines sound muffled.
BONUS FEATURES, MENUS and PACKAGING

The main bonus here is Disc 2's featurette "The Jetsons Return to the Future" (8:33). It's short but pretty terrific. The piece touches upon the characters, focus, and changes, but spends most time discussing how the original voice cast reunited in full to return to the family they voiced 22 years earlier. In addition to show clips, we get glimpses of behind-the-scenes photos and model sheets.

But the best and most prominent component

is sound bites stemming from six new on-camera interviews, which supply input from Judy Jetson's voice Janet Waldo (the sole surviving family member), casting director Andrea Romano, recording director Gordon Hunt, producer/director Jeff Hall, and animation historians Jerry Beck and Mark Evanier. An effort like this is always appreciated and adds quite a bit of value to the set, especially when it's so well-produced.

The only other bonus feature may dishearten some. Instead of being played at the end of every episode as they would have when aired, a single set of Episode Credits is included on each disc and run automatically after a full "Play All" session concludes. I guess that's one way to conserve disc space, although the 43-second reel wouldn't have really pushed any limits appearing an additional six times per disc.

As has long been the norm for Warner, the DVD boasts static 16:9-enhanced menus featuring a thematic backdrop behind character artwork. Each disc's main menu loops an instrumental version of the theme tune.

Company promos are divided among all three discs and not menu-accessible. Disc One loads with a spot that advertises the recently released "Tiny Toon Adventures" Volume 2 and "Freakazoid!" Season 2. Disc Two opens with an ad for Warner's recent Saturday Morning Cartoons 1960s and 1970s Volume 1 compilations. Disc 3 promotes Batman: The Brave and the Bold upon insertion.

The clear standard-sized keepcase slides into a cardboard box that repeats the imagery below. The inside of the cover provides an episode list and some more artwork, although Disc 3 must be removed from its fixed place to see a bit of its contents. There are two characters per each disc's colorful imagery.
CLOSING THOUGHTS
The second season of "The Jetsons" entertains about as much as any 1980s television cartoon can today. The mix of typical family and futuristic setting is winning enough for viewers of any age to enjoy. That said, this isn't above some basic rules for this type of DVD. The show won't do as much for you if you're encountering it for the first time now or if you push yourself to plow through a disc in one feature-length sitting. But in small doses, with enough attention and some nostalgia, it's hard to resist the charms of this Hanna-Barbera classic.
Warner's long-awaited DVD meets one's expectations. The picture could certainly be better, and aurally the set leaves room for consistency. Still, the presentation is adequate, the price is reasonable, and the fine featurette adds appropriate value. Fans of the Jetsons and of '80s TV animation in general have little reason to pass on this release.