It's a Wonderful Life is widely considered the definitive Christmas film. Even if, like me, you prefer holiday movies from more recent decades, you're apt to concede this 1946 Frank Capra drama is the best classic (i.e. old) picture set during the yuletide season. From earning five Academy Award nominations in its day to ranking highly on five distinct American Film Institute countdowns, its accomplishments are numerous.

Perhaps even more impressive, the film has played a major role in Christmas celebrations for many years, enjoying perennial airings on local networks and lately standing as NBC's hallmark Christmas Eve programming.

For being one of the best-known films of all-time, It's a Wonderful Life had some very humble origins. In the late 1930s, a New Jersey man named Philip Van Doren Stern wrote a short story that came to him in a dream. After no one would publish it, Stern had the story, titled "The Greatest Gift", printed and sent the 21-page booklets out to friends as Christmas presents in 1943. One of the 200 gifted copies made its way to an RKO Pictures producer. Passed around, the $10,000 purchase wound up at Liberty Films, the newly-established independent movie company of director Frank Capra. Today, the name "Capra" is short-hand for an old-fashioned feel-good film. The director had earned that reputation over the years with good-natured comedies like It Happened One Night and Mr. Smith Goes to Washington.

For Wonderful Life, Capra collaborated for the first time with the husband-wife team of Albert Hackett and Frances Goodrich, who had penned, among other things, the hit detective comedy The Thin Man and its first two sequels. Taking ideas from Stern's short story, three rejected RKO screenplays, and at least three contributing polishers, the three scribes came up with an archetypal tale of seasonal redemption.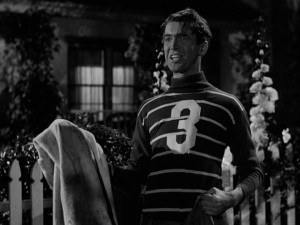 When the film opens, we see celestial beings in communication. One, presumably God, calls upon an angel named Clarence, who has not yet earned his wings, to respond to the many prayers asking to help a troubled man. For this assignment, Clarence gets briefed on the target. George Bailey (James Stewart) of Bedford Falls is an utterly decent man. As a child, he lost hearing in one ear saving his brother from drowning. He also saved a drugstore client (and pharmacist) from a potentially fatal accidental poisoning.
In adulthood, George has had to put his dreams of escaping small town life on hold. He's let his plans to explore the world and attend college fall to the wayside, in order to help his father and then his community with a generous building and loan business that believes in the people it lends money to. Just moments after getting married to Mary (Donna Reed), the sweet local girl whose advances he briefly deflected, George uses the money set aside for their honeymoon to ease his clients' fears amidst a bank run.
George's faith in mankind stands in opposition to one Mr. Potter (Lionel Barrymore), the ever-scowling town banker who profits from people's misfortunes. On Christmas Eve, George's absent-minded Uncle Billy (Thomas Mitchell) misplaces an $8,000 deposit from the family business. The money actually slips right into the hands of old Potter, who seizes the opportunity to thwart his threat. Immediately, George and his business are being investigated for illegal practices.
At wit's end over the puzzling calamity and the realization he's worth more to his family dead than alive, George gets a visit from his second-class guardian angel Clarence (Henry Travers). At George's incidental wish that he'd never been born, Clarence and those above make it so. We're treated to a powerful alternate reality that illustrates all the good that George alone has done for his town, which otherwise would be called Pottersville. After these revealing twenty minutes, both George and the viewer return to life as it was, wholeheartedly agreeing with the titular phrase.
It's sort of hard to believe that It's a Wonderful Life got mixed reviews upon release, with some feeling it was too sentimental or dreary. Viewed today, it is a practically perfect blend: humorous, heartwarming, and above all else, human. The film plays this well more than sixty years after being made largely because it's hardly aged at all. There isn't an irrelevant theme or passé value found here. Generosity, compassion, ambition, love, family, and despair remain among the most meaningful aspects of life.

A film tackling them today, when postmodern irony and subtlety reign supreme, would instantly earn a "corny" label. And I guess that explains the less than unanimous original appraisal. But filtered through the years, the film is strengthened as its style and presentation grow distanced from those now fashionable. Just as lingual and cultural translation enables a foreign film to seem more adept than a native one, the awareness that nearly everyone who worked on this film has passed away and the norms they knew have faded tends to sharpen the accomplishments and significance.

It's a Wonderful Life marked something of a return for Frank Capra and James Stewart, who had worked together twice before in the 1930s (You Can't Take It With You and Mr. Smith Goes to Washington). An Army major, Capra had spent World War II documenting the Allies' efforts and hadn't made a fictional film in the prior five years. Nor had Stewart, who had become a decorated Air Force pilot. After Wonderful, Stewart went on to much continued success, making a quartet of films with Alfred Hitchcock and a number of still-admired pictures without him. For Capra, this was more of a crowning work. His Liberty Films made only one more movie (the Tracy-Hepburn film State of the Union), and two forgotten Bing Crosby Paramount comedies later, the director turned to television, returning to theaters only twice more before enjoying thirty years of retirement.

Leading lady for the first time here, Donna Reed would act in movies for another twelve years before becoming one of the best-known moms in sitcom history by way of her long-running self-titled ABC series. Capra's co-writers Goodrich and Hackett would scribe other hits, including Easter Parade, Father of the Bride, Seven Brides for Seven Brothers, and both the stage and film versions of The Diary of Anne Frank.
Today, it's unfashionable to open a Christmas movie in theaters in December. The day before Thanksgiving is generally accepted as the latest to debut a film expected to experience a somewhat understandably sharp drop-off in attendance after Christmas Day. The bigger ones, like Disney's motion capture A Christmas Carol this year, arrive in early November. The movie business was much different back in the 1940s. It's a Wonderful Life opened in New York five days before Christmas, narrowly qualifying it for 1946 awards contention. The rest of the nation had to wait until January 7 (one day after the Epiphany feast considered the season's very end) to see the film.

Interestingly, another all-time classic Christmas film, opened even less seasonably four months later; the original Miracle on 34th Street began its financially comparable run on May 2, 1947.

Four of the five Oscars for which Wonderful Life was nominated went instead to war flick The Best Years of Our Lives. Though the latter is still considered a classic, Capra's film no doubt has the stronger reputation now. Certainly, the American Film Institute has illustrated this, ranking Wonderful higher on its "100 Years... 100 Cheers" inspirational film countdown and both versions of its all-inclusive "100 Years... 100 Films" list.

Although it's more identified with network television than any other medium, It's a Wonderful Life is no stranger to DVD. It first appeared on the format back in 1998 from Republic Pictures. That company and its parent, Aaron Spelling's Spelling Entertainment, were bought by Viacom, bringing It's a Wonderful Life into the media giant's Paramount Home Entertainment catalog. Paramount released the film as a 60th Anniversary Edition DVD in 2006, and again as a 2-Disc Collector's Set in 2007. This year, 2009, brings about the subject of this review: a 2-Disc Collector's Set and Exclusive Ornament. Correctly implied in the first part is that the DVD included here is indeed the same one released two Novembers ago. It isn't mentioned that the primary disc of that set happens to be identical to the 60th Anniversary. Since we haven't already reviewed any of the movie's prior releases and we weren't about to devote a page to describing that exclusive ornament, you can read on for our full, detailed critique of this set and how it compares to the movie's various others.
Limited Edition DVD Gift Set Details

1.33:1 Fullscreen (Original Aspect Ratio)
Dolby Digital Mono 2.0 (English, French)
Subtitles: English for the Hearing Impaired
Closed Captioned; Most Extras Captioned and Subtitled
Gift Set Release Date: November 3, 2009
Two single-sided, dual-layered discs (DVD-9s)
Suggested Retail Price: $29.98
Black Keepcase in Domed Felt & Plastic Box
Movie also available in 2-Disc Collector's Set DVD,
60th Anniversary Edition DVD, and on Blu-ray Disc
VIDEO and AUDIO
Presented in 1.33:1 to approximate its original Academy Ratio, black and white It's a Wonderful Life looks amazing here. This is one of the best classic film DVD transfers I have encountered. It's surprising that Paramount hasn't made more of a fuss about how presentable it's rendered this 60-year-old independent movie. Clarity, consistency, cleanliness and detail all make this a winner in the video department. Supposedly, it looks much better than Republic's late-'90s transfer. I don't doubt that for a second, although I wasn't able to directly compare the two here. I intended to compare this DVD to the 2006 one I owned, but as mentioned earlier, I discovered 2007's Disc 1 was absolutely identical to 2006's only disc.
The one feature exclusive to the 2-Disc Collector's Set is a colorized version of the film. Though the word "colorization" makes film purists cringe, this job performed by Legend Films in 2007 is the most tactful and tasteful of the few I've seen. The added hues are subtle and natural, giving the film the look of old Christmas cards. There are new dimensions and sensations gained here, such as when we see Violet's eye-catching dress is pink and that the letters of the Pottersville sign are lit. But, it's still immediately identifiable as a colorization job and I'm not sure why anyone would prefer this to the black & white presentation. I guess if the studio throws it in basically for free without the faithful original presentation suffering, there's no need to complain. If it really bothers you, you can even give the disc away to someone who might appreciate it.
The two-channel Dolby Mono soundtrack is largely a delight, with crisp dialogue and consistent volume levels. The only shortcoming is that there are a few pops heard, three quite jarring and one less noticeable. It's kind of surprising that these got past quality control since the picture and sound are so great otherwise. But they're not any major detriment to one's enjoyment. I can bittersweetly report that I didn't notice the pops on the colorized job, but I wasn't watching or listening as closely.
BONUS FEATURES and MENUS
This is the sixth different package that It's a Wonderful Life has been given on DVD. Though the studios and monikers may have changed, the bonus features have remained shockingly consistent. There are, as there always have been, three main supplements here.
First up is "The Making of It's a Wonderful Life" (22:44), warmly hosted by "Happy Days" paterfamilias Tom Bosley. It feels more like a TV special than a DVD supplement, with good reason; it is a television program, one made in 1990, long before the DVD era made such pieces expected accompaniment of classic films. Making direct addresses from a decorated fireplace setting, Bosley discusses the project's origins, actors considered for parts, production code script objections, construction of sets, revolutionary movie snow, Capra's good luck raven, and the surprising truth behind certain scenes.

All of this information has long been disseminated over the Internet, but it's more enjoyably absorbed here. This fine show includes brief borrowed interview clips with Frank Capra, Jimmy Stewart and supporting actor Sheldon Leonard.

Second comes "A Personal Remembrance" (14:05). Here, director's son Frank Capra Jr. (who passed away in 2007) shares production facts and some memories about the film in a polished 1991 piece evidently meant to precede the film in a TV broadcast. He covers much of the same ground Bosley did, mentioning only a few new things (like the clerical error that rendered the film part of the public domain and therefore ubiquitous on TV). We also briefly hear from Jimmy Stewart and the director himself near the end of his days. While not as thorough as the Bosley special, this is another nice, informative inclusion.

Third and shortest is the film's original theatrical trailer (1:44), which true to the era's promotional practices, names actors and throws out phrases instead of giving audiences any idea what to expect.

Finally, "Preview" gives us the same dated trailer for Queen Latifah's Last Holiday that opens the disc.

Disc 2 offers only the colorized version of the film, which was the Collector's Set's one new addition. I've already discussed it above.

The static, silent 4:3 menus recycle publicity stills. Disc 2's offer a slightly different coloring of them.
PACKAGING
This new edition is packaged more for retail presence than practicality. The unit is the height of a standard DVD and the portion that contains the DVD is also a standard width. But the package proceeds outward in a semi-circle. The bordering portions of the front, top, and back of this sideways dome are made of red felt. The clear center flips the one Bailey family image used on all releases and places a creepily-onlooking Clarence outside, as if he and we are looking in through an open window, which is bordered by what looks like powdered snow. Behind the Baileys stands a pop-up Christmas tree with glittery, holographic ornaments.
The one real ornament hanging on it is the aforementioned exclusive. It is a tiny silver bell, about two inches high and two inches wide, with the trademarked title printed on it. A red ribbon is looped through it for hanging on a real tree. Simple, cheap, and with not much of a clapper to it, the ornament's real value lies in the significance it has to the film's plot.
With or without that bell left inside, the box is nice enough to seasonally display, if you don't deem a movie case unfit to stand among angels, wise men, Santa's elves, and the such. The full case doesn't lend itself to placement among regular DVD cases, taking up about three times the width and looking odd.
To that end, though, the standard 2-Disc Collector's Set keepcase (sans cardboard slipcover) is housed in the back section. Placed behind it are two unusually worthwhile inserts. The first supplies a unique code enabling you to download eight free songs of your choosing from the somewhat limited Amplified.com. The other is a nice 8-page booklet featuring quotes, pictures, and, most importantly, information on the film's creation and makers.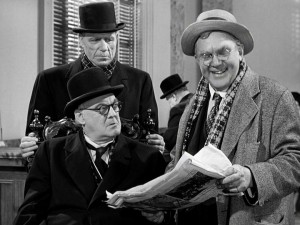 CLOSING THOUGHTS

It's a Wonderful Life is one of the most enjoyable and satisfying films ever made. That should come as no surprise to you, considering the many times this fantasy been paid homage and the countless stories, movies, and holiday TV episodes it has influenced. I guess there are those who will think the film's enormous reputation is beyond what it deserves. (For some reason, 2.8% of IMDb voters have rated the film a 1 out of 10.) But most viewers will find the heart and humanity as delightful as anything cinema has yet to offer.

The few minor flaws I can find (some gaps in logic and a handful of jump cuts) are beyond forgivable. Only in rewatchability does this pale next to my personal favorites.

Teamed with traditional television viewings, that slightly reduced rewatchability may be the only thing turning fans off from buying this classic. Paramount's latest release gives them another chance to reconsider, with its outstanding feature presentation. It's surprising that a film so widely celebrated hasn't gotten a more expansive release from the big studio that now owns it and keeps repackaging it. But while the film could still use some additional bonus features, the two main early '90s ones here satisfy more than most DVD supplements.

Do you need the dinky little bell, 8 free song downloads, and large eye-catching packaging? Absolutely not. But, this 2009 gift set is selling at around the same price as the same 2-disc DVD by itself. That discounting won't last long and, if truly limited, this set won't either. If you've finally decided to own Wonderful Life on DVD, any of Paramount's releases should suffice.

More on the DVD / Buy It's a Wonderful Life from Amazon.com:
2-Disc DVD with Ornament / Just the 2-Disc DVD / Blu-ray / 60th Anniversary Edition DVD