I can think of maybe five working American film directors familiar enough to the public to have their names used to advertise things they didn't direct. Quentin Tarantino is one of them and he has been used to this effect a few times by Miramax Films, the company that distributed his movies for over a decade.

On Hero, the phrase "Quentin Tarantino Presents" amounts to little more than a legally-certified endorsement, in which the verbs "Likes" and "Appreciates" could easily be substituted in the above-title billing. Tarantino had no role in making the movie and his name is attached basically to sell this 2002 Chinese martial arts film which took two years to reach English-speaking audiences.

Hero is set in ancient times, over 2,000 years ago. China is divided into seven warring states. One of them has a ruler who wishes to conquer the others and unify them. This paranoid King of Qin (Chen Dao Ming) has made his palace open to a man who has achieved something improbable. The man, a lowly local prefect called Nameless (Jet Li, The Forbidden Kingdom), has apparently killed three of the kingdom's most feared enemies, skilled assassins who have kept the monarch up at night. With Qin's massive army watching closely, Nameless is allowed to enjoy an unprecedented proximity of ten paces from the King, who wishes to hear the details of this unfathomable accomplishment.
As Nameless narrates, we see these recent encounters, beginning with a swordfight in which he uses music to outwit Sky (Donnie Yen, Blade II). Nameless then poses as a student at the disciplined calligraphy school of Snow (Maggie Cheung, In the Mood for Love)

and Broken Sword (Tony Leung, Infernal Affairs and also In the Mood). There, he exploits the slaying of Sky to turn the couple against one another, with Broken Sword's young servant Moon (Ziyi Zhang, Crouching Tiger, Hidden Dragon and Rush Hour 2) becoming a pawn in jealous retribution.

Although Nameless' story is delivered believably and with ample detail, the King smells a rat. The ruler questions the account and his suspicions provide a second version, in which Nameless is in cahoots with Sky, Snow, and Broken Sword and their deaths have merely been convincingly staged to give Nameless the access to pull off an assassination attempt with one lethal maneuver. The divergent tellings lend a Rashomon angle to the film and bring about yet a third rendition of the truth, with allegiances and incidents shuffled.

It's been about seven years since I saw Crouching Tiger, Hidden Dragon and I remember being extremely underwhelmed by it. Certainly, it is different from American fare and delivers some interesting fight choreography. But I felt the leaping and lunging martial arts scenes were in excess and weren't grounded to any story I could invest in. Hero operates with a comparable palette. There are plenty of instances where characters square off, defying gravity and other laws of physics (by the magic of unseen wires) for sword duels of unbelievable speed and grace. Visually, such sequences are stunning and for many viewers, they are the highlight of the film.

But unlike those of Crouching Tiger, the worldwide phenomenon and Best Picture nominee, Hero's fight scenes don't wear out their welcome. Instead, they integrally enhance and develop a gripping story made richer by the cunning non-linear design. Hero doesn't just compel with the intriguing mysteries of its ambiguous characters and relationships, it entrances with splendor in visuals and design.

The unique imagery wields genuine dramatic power. A Snow/Moon fight takes place in a fantastic forest full of yellow leaves falling. A royal assassination attempt unearths the eerie beauty of blowing cloth. In a lake-top exchange, Nameless and Sword volley a drop of water between their swords. So unlike anything previously conceived, visions such as these arrest the viewer in the moments where standard action beats rely purely on logistical back-and-forth. I am no fan of combat cinema, certainly not when it's played seriously and at length. Director Zhang Yimou found a way to engage those like me, for whom routine sword-clanging doesn't cut it.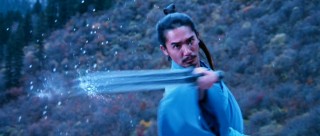 Perhaps the film's greatest visual effect is the sheer immensity of the settings. Computers have made large crowd scenes a snap, but looking at the army assembled here, most played by real Chinese soldiers, you can tell it's no sheer illusion. I believe the claim that the film employed an estimated 18,000 extras. Ambition and scope like that can't be faked, a fact that helps explain how Hero became the most expensive Chinese film made to date (costs have since been exceeded by several big productions).
Despite the delay in bringing Hero to U.S. moviegoers and the uphill battle imports face, the film did good business for Miramax in its relatively wide release. In fact, it became the first foreign film on record to open #1 at the weekend box office, something it did in the generally slow time of low August. It even held onto the top spot its second weekend, Labor Day 2004, en route to a respectable $53.7 million North American gross. The numbers were on par with Jet Li's best-performing English language vehicles (2000's Romeo Must Die and last year's Forbidden Kingdom). Though it didn't have the theatrical endurance of Crouching Tiger, Hero still became the third highest-grossing foreign language film all-time in the States (excluding Mel Gibson's ancient dramas), just shy of Life is Beautiful's second place. Seventeen months before bowing in U.S. theaters, Hero competed for the Best Foreign Film Oscar, but lost to Germany's Nowhere in Africa.
Although Buena Vista Home Entertainment has largely avoided revisiting anything lacking animation and the Disney name on DVD, they recently issued a new single-disc Special Edition DVD of Hero alongside its Blu-ray debut. It supplants the film's now-discontinued original DVD.
DVD Details

2.35:1 Anamorphic Widescreen
Dolby Digital 5.1 (Mandarin Chinese, English, French, Spanish)
Subtitles: English, English for Hearing Impaired, Spanish, French
Closed Captioned; Extras Subtitled and Captioned
Release Date: September 15, 2009
Single-sided, dual-layered disc (DVD-9)
Suggested Retail Price: $29.99
Black Keepcase in Embossed Cardboard Slipcover
Also available on Blu-ray Disc
and in The Ultimate Force of Four Blu-ray Collection
VIDEO and AUDIO
Hero delights eyes and ears with its presentation of 2.35:1 anamorphic widescreen and Dolby Digital 5.1. While I can't compare it to the 2004 DVD, this transfer delights on its own merits. The film chooses different colors to represent each telling of events. The first is fiery and filled with oranges, the suspicious King's update is rendered icy and blue, and the third assumes a heavenly white palette. The movie dazzles in each of these phases and others as hues remained vibrant, contained and natural, in all but the busiest of shots.
The sights are matched by the lively and powerful soundtrack. Every major action sequence offers apt atmospheric audio, giving your system an exhilarating workout without requiring you to ever adjust volume levels. By default, the feature is presented in its original Mandarin Chinese with English subtitles. Should reading while watching be too much for you to handle, there are dubs in English, French, and Spanish. It will disappoint some, but surprise fewer people, that the original DVD's DTS track is not carried over here, as studios have all but abandoned bothering with that less compressive sound format on DVD.
BONUS FEATURES, MENUS and PACKAGING
Hero's Special Edition adds just one new bonus feature to the four that are carried over.
"Close-Up of a Fight Scene" (9:17) actually gives us insight on three fight scenes: Nameless vs. Sky in the chess court, Snow vs. Moon in the autumny forest, and Nameless vs. Sword on the lake. Each has some interesting stories behind it (director Yimou seizing the three days of ideally colored leaves, Jet Li requesting a rematch with his Once Upon a Time in China II co-star Donnie Yen), which the featured actors share in English in addition to some collective praise by Quentin Tarantino.
"Hero Defined" (24:00) is a good making-of piece that touches upon the movie's music, filming locations, cast and crew of varying martial arts experience, visual flair, and key sequence production. The filmmakers speak in a mix of subtitled and English comments, while Beau Weaver ('90s TV's Mr. Fantastic) narrates in the style of a 1980s sports documentary.
"Storyboards" (5:21) are provided in split-screens that compare sketches to the corresponding film shots while score plays. It's always kind of cool to see how much specific visual planning goes into some films and this presentation is preferable to a navigable gallery. The briefly-excerpted scenes are "Golden Forest", "Library", "Ring of Iron", and "Lake."
"Inside the Action: A Conversation with Quentin Tarantino and Jet Li" (13:54) provides some amusement. It begins like a talk show with fawning Tarantino asking Li questions while the two are shot by a cameraman with a thing for swaying back and forth. It devolves into a parade of clips from Tarantino's favorite Li films of the past and then a promotional look at Hero.
Last and least is "Soundtrack Spot", a 40-second commercial for Hero's score album. Trailers for the film itself would be far more valuable.
Exclusive to the Blu-ray is a second disc, a DVD-ROM holding only a digital copy of the film redeemable for a year.
The main menu tastefully animates Chinese symbols and papyrus artwork. Submenus are static but scored. The keepcase is housed in an embossed cardboard slipcover (which repeats the old release's front and back cover artwork, complete with illogical Zhang Ziyi-based marketing); inserts promote Blu-ray, supply a Miramax Insider code, and offer a $10 rebate for repurchasing Hero (or one of five other Miramax/Touchstone films) on Blu-ray by September 2010.
The obligatory disc-opening previews promote "Castle": The Complete First Season, "Lost": The Complete Fifth Season, The Proposal, Miramax Films, and Blu-ray. To these, the Sneak Peeks menu adds spots for Adventureland, Cheri, and "Life on Mars": The Complete Series.
CLOSING THOUGHTS

I can understand why Hero connected with American audiences. The film is easy to follow and thanks to its blend of exciting action and character drama, easy to enjoy. (Plus, there was Quentin Tarantino's endorsement and Miramax's substantial marketing muscle.)

I say this with no particular leaning towards Asian cinema or martial arts movies. While I don't have much of a frame of reference to compare this to other films from Zhang Yimou or China, I can say this works, engaging the mind and senses.

If you already own the movie, I can't see the new featurette giving you any reason to buy it again. And even it comes at the price of a DTS track. Of course, if you're serious about getting the highest quality presentation, you'd probably choose the Blu-ray, which is why it's Amazon.com sales rank is currently over 25,000 places above the new DVD despite costing almost twice as much.

If you're not buying into Blu-ray or exhibiting more selectivity than the studios would like, then this DVD does fine as a first-time purchase, although the disparity between retail and secondhand pricing suggests you can find a price that works for you.

Buy Hero: Special Edition from Amazon.com: DVD / Blu-ray / Ultimate Force of Four Blu-ray Pack